Crop factor is one of those terms you hear all the time in the photography crowd, but you might not know exactly what it means and how it effects your photography.
Well let me break it down for you really simple. Crop factor is the size of your cameras sensor as it relates to the "standard" 35mm size. Due to film being 35mm for so long it became the standard size for a camera, and therefore "Full Frame" means equivalent to 35mm.
For example, if you were to purchase a full frame DSLR like the Sony Alpha A99, the sensor will physically measure ~35mm wide like the image below on the left. Crop Factor cameras like the Sony A57 for example will measure significantly smaller and usually have a much higher pixel density.
Compare Sensor Sizes
If your using a Full Frame Camera there is No Crop Factor = 35mm, so the lens focal length is what it actual says on it. If your camera does have a Crop Factor, your lenses effective focal length will have a "Multiplier" associated to it.
For example my Canon 70-200mm f/2.8 L IS lens on my Full Frame 5D Mark II has no crop factor because it's full frame. However, if I slap that same lens on my Canon 40D, which has a 1.6x crop factor sensor, I would need to do some math to figure out the actual effective focal length of the lens. The simple math would be (70mm X 1.6 = 112) and (200mm x 1.6 = 320) In other words the lens effectively becomes a 112-320mm f/2.8 L IS on a 1.6x crop factor camera body. Pretty simple actually and incredible important if your looking to spend $1000 Plus on a lens!! 🙂 Here is a link to a crop factor calculator.
The simple math would be (70mm X 1.6 = 112) and (200mm x 1.6 = 320) In other words the lens effectively becomes a 112-320mm f/2.8 L IS on a 1.6x crop factor camera body. Pretty simple actually and incredible important if your looking to spend $1000 Plus on a lens!! 🙂 Here is a link to a crop factor calculator.
Looking from a lens perspective at my buddy Chubs up top, you can see how the full frame sensor size takes full advantage of the whole lens, while the crop factor sensors use more of the center area only.
Some say the crop factor takes advantage of the "sweet spot" of the lens. The center of the lens is proven to be the best based of all the sharpness test I've seen and it just makes sense from an optical perspective. I still prefer the full frame though for the other clear advantages. Although if you need more zoom for sports or something, the 1.6x crop factor might be the way to go to save cash on lenses! Keep in mind though, that the extra zoom you gain is amplifying the flaws of the lens. Sweet spot or not all lenses still have flaws. Chromatic aberration, Vignette, etc..
Until recently the Full Frame DSLR's were extremely expensive. Then Canon introduced the 5D which although pretty expensive at the time, it had a Full Frame Sensor that aspiring Pro's drooled over and could actually afford. Sony Also re-leased the A850 Full Frame camera around the same time. Now we have the Sony A99 and DSC-Rx1!!
Common Manufacture Sensor Size Info
Sony Info:
Canon Info:
Nikon Info:

If you study this illustration below you can see the effect of the lens crop factor pretty clearly. Also if you understand DOF, you could imagine how the focal length difference would also drastically effect the depth of field produced by the lens.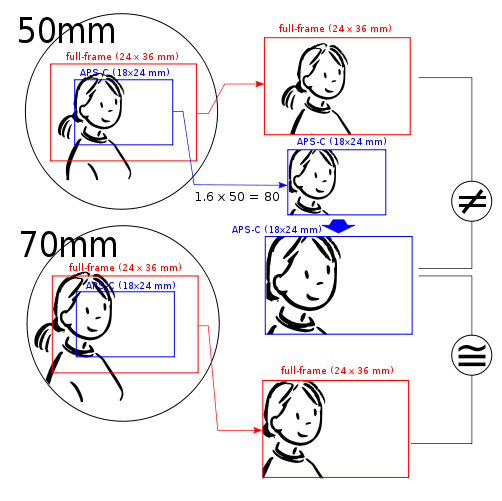 That was the simple explanation 🙂 Beyond this I'm going to go into more detail on crop factors and the advantages of "Full Frame" sensors over crop factor sensors etc… So if you want to know more, please continue reading!
Full Frame Sensor Advantage
In this illustration below you can get a sense of the field of view advantage on the Full Frame Sensor.
Regardless of format, Full Frame sensors are all about image quality. The most obvious advantage of full-frame sensors is the ability to combine high resolution with large pixel sizes. Compare two sensors with the same number of pixels, one a full-frame unit and one smaller like a 1.6x crop factor. The pixels of the full-frame sensor are larger in comparison. Each larger pixel has a greater surface area available for gathering light. More light collected means less amplification needs to be applied to the output signal of each pixel for the purposes of read out and image processing. Less is better here because magnifying low-level signals inevitably entails picking up and increasing noise that will then have to be removed as thoroughly as possible in a later step.

Check out the diagram above you can see that bigger pixels offer higher sensitivity because they can gather more light in less time than smaller pixels. The diagram also shows that larger pixels are less inclined to light overflow or spill over because of their greater capacity, improving dynamic range!!! Finally, for a given quantity of noise, more light gathered means a higher signal-to-noise ratio and increased optical signal purity.
In the diagram below there is an example of the full frame sensor microlens gap. The Gap for all intensive purposes is good. All of this stuff is huge when it comes to image quality, and believe me it is is noticeable! Going from the 40D to the 5D Mark II was an incredible eye opening insight into the old phrase "you get what you pay for". Once you go Full Frame you won't go back IMO 😉
Depth of Field
One last thing about the full frame vs crop factor sensors is the effect on "Depth of Field". DOF is a huge subject on it's own, but basically what you need to know is this: Because of a smaller circle of confusion, if we shoot from the same subject distance with the same aperture, and same lens of course , the depth of field will be less on crop factor sensor than on a full frame sensor. However, that is just because of the increased focal length caused by the crop factor multiplier and the subject would appear much closer like in the illustration towards the top of this article. So the way that the crop factor effects the DOF can vary depending on the subject distance and/or focal length. Man that sounds confusion, but it's correct!
I hope this article helped clear a few things up for those curious about Crop Factor!!
Jay
Your support is greatly appreciated as we run this site in our spare time and are not paid. We can however, make a small commission if you click a product link that your interested in. That click will then give us credit if you choose to purchase any given item. This has no effect on the cost of the product, and is a simple way to give back to SonyAlphaLab.com for the effort and info we provide.
Tip Jar: https://www.paypal.me/SonyAlphaLab
Support SonyAlphaLab by becoming a | Patreon
Also, be sure to keep following us on Google+ | Twitter | Facebook |
Direct Shopping Links – Thanks for your Support!!
BHPhotoVideo | Amazon – US | CA | UK
Thanks,
Jay