With so many options for Sony Flash Photography and Video Lighting Accessories out their, It can be hard to figure out where to start?? This Sony Flash Guide is for you!!
You can go many different directions when it comes to lighting for photography of video. The Sony HVL-F58AM On Camera Flash for example, can be used to create excellent of camera lighting with the addition of flash units as the transmitter and receiver are already built in.
You can also go the Continuous Lighting route which is really easy to use and A Must for Video, but it is more expensive than flash and requires serious power!
Then, of course we have Natural Lighting and using reflectors and/or diffusers. This is the way to go if you can as natural diffused light is unbeatable and very flattering to your subjects. It's also Free!! Often you can find good spots to use and no reflectors or diffusers are needed, but with diffusers you can use direct sunlight. Reflectors are great for bringing the light in by bouncing it towards your subject from elsewhere. Reflectors and diffusers can work for Flash, Constant, and natural lighting, or any combination of them all, but I used them most with Natural Light and In the "Lab".
Then we have actual Off Camera Flash Units that fire with their own power and are usually triggered by the Camera Hot Shoe. This set-up allows you to use Manual Mode on the camera, and then use the flash units to light your seen. The flash transmitter and receiver are the communication link between the camera and flash units. The flash units can then be powered by AC cords and/or batteries for remote shooting. What I love about this solution is the fast flash recycle time, and ease of use. You can just fire away all day with AC power and with a good battery pack you can get 1000's of flashes. I've used this set-up for On-Location Portrait and Wedding work in particular. I use it now for product photography mostly 😉 I have a pretty good video tutorial I created a while back on Basic Studio Photography Lighting on my other tutorial website if your interested (Click Here).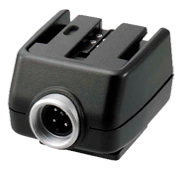 You may have heard of Pocket Wizards before? They are amongst the most popular wireless flash transmitter solutions out their and I know several Pro's that use them.
One thing about the Sony Hot Shoe worth noting, is it's different than all the other brands out there pretty much!! Therefore you'll need to get Hot Shoe Adapter to use a lot of the after market products that mount on the Sony Hot Shoes. This really isn't a big deal at all, but certainly worth noting as you will need an adapter most likely if it's not a Sony product attaching to the hot shoe.
Flash Photography Tutorial Using the Sony Nex-6 >>
On Camera Flash
Sony HVL-F60M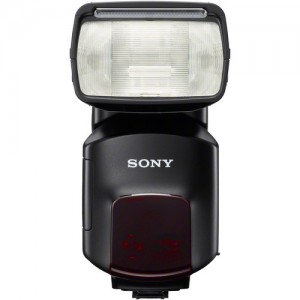 The Sony HVL-F60M External Flash is designed for both photographers and videographers, with dedicated flash and a continuous LED video light. HVL-F60M delivers high-illumination output with an effective range of more than 90′ (28 m) and guide number 60. High Speed Synchronization mode enables the flash to sync with shutter speeds from 1/500 to 1/4000 of a second to catch fast-moving subjects.
The built-in LED video light allows users to check and adjust the light and shadow conditions before shooting still images or movies. Other advanced features include automatic focal length adjustments, auto white balance compensation, flash compensation and advanced distance integration.
Sony HVL-F60M Full Features and Specifications
Key Features:
Dedicated Flash and Video Light
90′ Effective Range and Guide Number 60
High Speed Synchronization Mode
Quick Navi and Large Dot Matrix LCD
Stroboscopic Lighting Control
Wireless Radio Control
Automatic Focal Length Adjustments
Auto White Balance Compensation
Flash Compensation Operation
Advanced Distance Integration
High-Illumination Output

HVL-F60M has an effective range of more than 90′ (28 m) and guide number 60. Guide number measures the illumination capability of the flash; the higher the number, the higher the light output. Tested at ISO 100, 105mm.
LED Video Light

The LED video light has a maximum luminance of 1200 lux (0.5m), with a max illuminating distance of approximately 6.5′ (2m) at ISO 3200, f/5.6.
High-Speed Synchronization

Many flashes only work well at shutter speeds synced by the camera – for example – from 1/125 to 1/250 of a second. HVL-F60M features a High Speed Synchronization mode that enables the flash to sync with shutter speeds from 1/500 to 1/4000 of a second to catch fast-moving subjects.
Quick Navi and Large Dot Matrix LCD

Quick Navi control is the intuitive user interface from Sony Alpha camera bodies. A large dot matrix LCD display is easy to see and intuitive button layout makes it easy to configure the HVL-F60M for a variety of shooting needs.
Stroboscopic Lighting Control

Stroboscopic lighting fires multiple times during a single exposure, allowing customers to capture stroboscopic images, where moving subjects are frozen several times.
Wireless Radio Control

Wireless Radio Control enables control of up to three groups of flashes and allows users to specify the luminosity ratio for each group.
Automatic Focal Length Adjustments

HVL-F60M automatically adjusts flash relative to focal length settings, from 24mm to 105mm. A built-in, slide-out wide-angle panel increases wide-angle coverage to 15mm.
Auto White Balance Compensation

Auto White Balance compensation allows for more accurate white balance in flash photography. Color temperature information is sent from the HVL-F60M to the camera, where it is incorporated into the camera's white balance settings.
Flash Compensation Operation

When used with the SLT-A99V and NEX-6 camera bodies, the flash compensation settings can be operated by the flash unit, in addition to the settings made with camera body.
Advanced Distance Integration

Advanced Distance Integration metering enables HVL-F60M to work more effectively with lenses equipped with distance encoders, combining TTL flash metering with guide number control.
Modeling Light Capability

Modeling light capability allows HVL-F60M to pulse, helping photographers determine where shadows will fall before taking the picture, so they can alter lighting or subject positioning as necessary.
Built-in Diffuser

Using a built-in diffuser reduces glare and softens light. It can also lessen unnatural multiple shadows.
Color Conversion Filter

The color conversion filter changes the color temperature to about 3,200K at maximum brightness.
Slide-Out Bounce Sheet

HVL-F60M features a slide-out bounce sheet built into the flash head, which can be used in portraits and other bounced light shots to direct light toward the subject.
Dust and Moisture Resistant Design

The body, LCD panel, the mounting foot and key joints in the unit's exterior are weather sealed.
Mini-Stand

HVL-F60M comes with a mini-stand that can stand on its own or be mounted to a tripod or lighting stand for increased wireless freedom. The stand folds up for easy storage.
Price: ~$548 US
Compare Prices @ BHPhotoVideo | Amazon

Sony HVL-F58AM
The Sony HVL-F58AM Flash is Sony's Best flash unit, and provides you with all of the powerful and professional features you would expect and need as a Pro shooting weddings and portraits!! It features an effective range of more than 45′ (14.5 m) and a guide number of 190'/58 m (at 105mm), and a fast, five-second recharge time. It is the perfect flash for formal portraits, weddings and special events, still-life photography, hobby shots and more. It's also capable of Wireless control!!
Price: ~$499.99
Compare Prices @ BHPhoto (Click Here) Amazon (Click Here) Adorama (Click Here)
Sony HVL-F43AM
The Sony HVL-F43AM Flash provides Sony Alpha camera users with many features: it extends the illumination range beyond the camera's built-in flash, offers TTL (through the lens) flash exposure that's automatically controlled by your Sony Alpha DSLR for easy and intuitive operation, has adjustable bounce angles, and it's dust- and moisture-resistant. It's ideal for portraits, weddings and special events, still-life photography, hobby shots and every-day photography. The ultra-compact design folds flat when not in use.
Price: $349.99
Instant Savings: -$30.00
Offer ends APR 28 '12
You Pay: ~$319.99
Compare Prices @ BHPhoto (Click Here) Amazon (Click Here) Adorama (Click Here)
Sony HVL-F20AM
This surprisingly compact Sony HVL-F20AM Flash is meant to be a trusty standby for novice photographers who have found the output on their pop-up flashes lacking. The HVL-F20AM essentially doubles the output of most pop-up flashes while not adding any great bulk or hindrance to a camera's operation. The flash has a hinge that allows it to compress downwards on the camera, eliminating the need to fumble with mounting and unmounting a hotshoe flash as it is needed. Simplicity is further established by the elimination of complex displays and button interfaces. The HVL-F20AM operates with a tug and a twist. Raise the flash from its compressed position to activate it; a simple switch on the side changes the flash from its indoor mode to an outdoor one. Take a picture, then pop the flash back down when finished-it is that easy.
Price: $149.99
Instant Savings: -$20.00
Offer ends APR 28 '12
You Pay: ~$119.99
Compare Prices @ BHPhoto (Click Here) Amazon (Click Here) Adorama (Click Here)
Sony HVL-F20S
Sony's HVL-F20S External Flash for NEX Still Cameras is a lightweight, easy-to-use flash that has double the range of the NEX built-in flash. With Indoor/Outdoor settings and accurate, automatic TTL (Through The Lens) exposure when used with your a NEX camera, you can get soft bounce lighting indoors and accurate fill-flash outdoors. A built-in diffuser helps light wide-angle photos, and a Tele setting extends the flash range for subjects further away.
Key Features:
Extended Flash Range
Easy Intuitive Operation
Shadowless Indirect Lighting
Built-In Diffuser
ADI Flash Metering System
Price: ~$149.99
Compare Prices @ BHPhoto (Click Here) Amazon (Click Here) Adorama (Click Here)
Bower SFD296S Flash

The Bower SFD296S SFD296S Zoom Bounce Flash is for use with Sony Alpha DSLR and Minolta Maxxum cameras with automatic flash output control and a hot shoe. It has a Guide Number of 99′ (30 m) and is designed with an array of high-end features at an affordable price. Photographers can accomplish soft lighting, shadow fill, dramatic lighting or improve all-over flash image quality. It has a bounce and swivel head, a zoom head (manual), and it conveniently uses 4 AA Alkaline or NiMH batteries.
Price: ~$39.99
Compare Prices @ BHPhoto (Click Here) Amazon (Click Here) Adorama (Click Here)
Metz mecablitz 58 AF-2 TTL Shoe Mount Flash
The Metz mecablitz 58 AF-2 TTL Shoe Mount Flash for Sony Alpha DSLR is the premier Metz shoe mount flash designed to be compatible with all digital Sony Alpha SLR cameras. To better facilitate compatibility with current and future cameras, this flash features a built-in USB port that allows for future firmware updates via the internet. Advanced features include a secondary reflector with 3 light output ratios, built-in reflector card for soft light, a permanent "modeling" light for checking the photo, and a high quality metal base that allows quick and easy attachment to the camera.
Price: ~$399.99
Compare Prices @ BHPhoto (Click Here) Amazon (Click Here)
Hot Shoe Adapters
You will need one of these if you want to use a None Sony compatible Hot shoe product such as a Wireless Flash Transmitter for studio work.
Sony FA-CS1AM Off-Camera Shoe
The Sony FA-CS1AM Off-Camera Shoe is used to add an off-camera cable socket to Sony Alpha system flash units (or Minolta Maxxum type models), which do not have this socket built into it. You can then use the FA-CC1AM Off-Camera Cable to operate the flash away from the camera. This allows for more flexible flash positioning and more precise light balance control with Sony Alpha SLR camera series.
Price: $37.01
Compare Prices @ BHPhoto (Click Here) Amazon (Click Here) Adorama (Click Here)
Vello Hot Shoe Adapter

Vello's Hot Shoe Adapter – Converts Sony Hot Shoe to Standard Hot Shoe + PC Socket allows you to use standard hot shoe mount flashes (or other accessories) on a Sony or Minolta camera. Because Sony cameras have a proprietary hot shoe, standard hot shoe accessories can't be used on them – until now. In addition, this adapter allows you to add a PC connection to any camera that does not come with a built-in PC sync connection, while still retaining the existing hot shoe functionality (manual mode only, non-TTL).
Price: $19.95
Compare Prices @ BHPhoto (Click Here) Amazon (Click Here) Adorama (Click Here)
Sony FA-HS1AM Hot Shoe Adapter

The Sony FA-HS1AM Hot Shoe Adapter allows international standard hotshoe and coldshoe devices to affix to the Sony/Minolta proprietary shoe mount. Now third-party flashes and wireless transmitters are compatible with Sony Alpha cameras.The camera itself is protected from dangerous synch voltages with an electrical guard built into the FA-HS1AM. Additionally there is a LED check light for the included battery.
Price: $99.94
Compare Prices @ BHPhoto (Click Here) Amazon (Click Here) Adorama (Click Here)
Sony FA-CC1AM Off-Camera Cable

The Sony FA-CC1AM Off-Camera Cable allows for flexible flash positioning and precise light balance control with the Sony Alpha SLR camera series. This cable's plug connects directly to any compatible flash featuring an off-camera socket (e.g. HVL-F56AM), and the shoe connects to the Sony Alpha's hot shoe. For using this cable with flash units that don't feature the off-camera socket, add the FA-CS1AM shoe adapter.
Price: ~$45.43
Compare Prices @ BHPhoto (Click Here) Amazon (Click Here) Adorama (Click Here)
Studio Flash
Here's a few Off Camera Flash Solutions that are great if your just starting out with Off Camera Flash Photography. Once you get the hang of it you can invest boat loads of money into Flash Heads, Light Stands, Booms, Soft Boxes, and on and on. Tons of Manufactures are out their making quality equipment. I do recommend going the cheaper route first however, as learning off camera flash photography can be quite challenging and time consuming. One light is the way to go until you master it, then try two lights etc..
Impact One Monolight Kit (120VAC)
The Impact One Monolight Kit (120VAC) is an economical 100 watt/second monolight with modeling light and power adjustment. This kit includes a softbox with mounting ring, to soften the light output. A 32″ convertible umbrella is also included to offer a crisper bounce or shoot-through option. The air cushioned light stand supports it all up to a height of 8 feet. Perfect for the beginner looking to try out some off camera flash photography, but not ready to invest big just yet 😉
Price: ~$118.95
Compare Prices @ BHPhoto (Click Here) Amazon (Click Here) Adorama (Click Here)

Impact Two Monolight Kit with Bag
The Impact Two Monolight Kit with Bag (120VAC) is an economical 100W/s monolight with modeling light and power adjustment. This kit includes two monolights, two softboxes with silver interiors and mounting rings to soften the light output, two 8′ air-cushioned light stands, and a light kit bag for storage and transport. Perfect for the photographer on a budget!!
Price: ~$234.95
Compare Prices @ BHPhoto (Click Here) Amazon (Click Here) Adorama (Click Here)
AlienBees™ B800 Flash Unit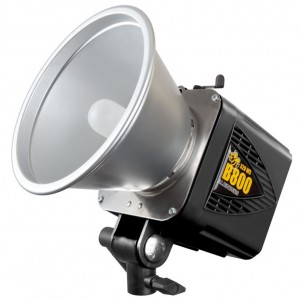 This is what I personally own, and they have worked flawlessly for my needs since day one!
The AlienBees™ B800 is a powerful, self-contained studio flash unit with adjustable output from full power (320 Ws) down to 1/32nd of the total power (10 Ws). This flashpower is adjusted on the back control panel with a slide fader, capable of adjusting in whole f-stop increments and everywhere in between. When adjusted from a higher to a lower setting, the unit will automatically dump the excess power for accurate output. With precision voltage regulated circuits supplying consistent output, the B800 boasts true "what-you-see-is-what-you-get" modeling lamp accuracy. The modeling lamp can be set to full brightness, turned completely off, or set to track the power changes. Furthermore, the standard 150 Watt modeling lamp may be used as a recycle indicator, turning itself off when the unit is recycling, and coming back on to let you know when the unit is fully recycled and you are ready to shoot again. Ready for heavy-duty, all-day shooting, the AlienBees™ have built-in cooling fans to keep up with their fast recycle. The B800 arrives with a sync cord allowing you to connect your camera to the unit to trigger the flash. The unit additionally has a built-in slave tripper to allow wireless firing. The unit has standard 120 VAC (50-60 Hz) power requirements and arrives with our 15-foot power cord to connect to a standard, grounded outlet for power. Both versatile and indestructible, the AlienBees™ units are housed in high-impact Lexan polycarbonate (the same material used for bullet-proof glass), keeping them lightweight and ready to travel.
Price: $279.95 @ Paul C. Buff.com (Click Here)
Dynalite MK8-1222 RoadMax 800W/s 2 Head Kit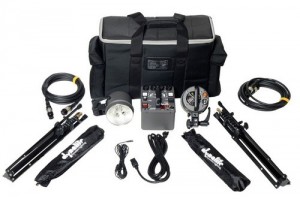 This Dynalite MK8-1222 RoadMax 800W/s 2 Head Kit is powerful and versatile enough to handle a wide variety of on-the-run assignments like fashion, corporate work, portraiture, weddings and interiors. The MP800 pack has 4 head outlets and breaks down its output symmetrically or asymmetrically over a 6 stop range with short flash durations at a super fast 1.2 seconds recycling time at full power. A variator knob allows fine tuned exposure adjustments over 2 stops in 2/10 stop increments. Triggering options include sync cord (provided), IR or optical slave as well as a built in PocketWizard 32 Channel Transceiver.
The included MH2050 flash heads have a 250W modeling light, user replaceable 2000W/s capacity flash tube and an ideal color temperature of 5400K. Fan-cooling means that you'll get extended life out of both the flash tube and modeling lamp. The detachable 18′ power cable insures that the heads have the smallest possible profile for packing and transporting. The kit's stands and umbrellas employ a unique design that lets them fold in upon themselves to fit in the sturdy Cordura case.
Although you may be tired at the end of a long shooting day, it won't be because of your equipment. The MP800 pack weighs a mere 5.3 lb, the MH2050 head less than 2 lb and the entire kit approximately 23 lb.
MP800 RoadMax Power Pack:

Fires from your PocketWizard radio slave transmitter, the included sync cord, or from the built-in optical slave (from other flashes).
Varies only ~0.1 stop from shot to shot
Color temperature varies ±80°K over the exposure range – not visible to the human eye
Compact and lightweight
Very precise power controls provide 6 stop power range
Fast – Recycles in 1.2 seconds @ full power
When used with the power control switches, up to 18 different settings with a single flash head are possible.
Switchable acoustic signal "beeps" when unit is fully recycled
MH2050 Roadmax Flash Heads:

Fan cooling of the lamp head allows for increased protection under the most demanding of circumstances
Bright 250W quartz halogen for easy positioning and focusing.
Continuous tilting for stand or suspension mounting
No tools are required to replace the "plug & play" flashtube assemblies
The reflectors are built-in – each head can be outfitted with optional parabolic reflectors, barn doors, and grid spot holders for greater light control.

Also Included in the kit:
Umbrellas – 40″ white umbrellas have black backing to prevent stray light and fold down to only 20″
Sync Cord – Monoplug to PC 16′ (5 m) is included
Kit Case – Soft padded case, with movable dividers
Price: ~$1879.00
Compare Prices @ BHPhoto (Click Here) Amazon (Click Here) Adorama (Click Here)
Video Lighting
Lots of options for video lighting and here are a few units that should point you in the right direction for your needs depending on what your looking to do.
Bescor 180 W AA Powered On Camera LED Light
The Bescor 180 W AA Powered On Camera LED Light has 180 LED bulbs (5 mm) and is completely dimmable to 25% power. It is suitable for use with 12 V Bescor batteries, full size broadcast cameras, and DSLR cameras. Powered by 8 AA batteries, the light offers 2 hours of run-time. It features a 5800° K clear frosted filter for softening glare and an amber 3200° K correction filter for shooting indoors. With the included Sony hot shoe adapter, the On Camera LED Light can be panned in all directions.
Features:
180 LED Bulbs (5 mm)
Dimmable to 25% Power
For Use with All 12 V Bescor Batteries
Powered by 8 AA Batteries
5800° K Clear Frosted Filter
3200° K Amber Filter
Sony Hot Shoe Adapter
Price: ~$119
Compare Prices @ BHPhoto (Click Here) Amazon (Click Here) Adorama (Click Here)
Vidpro Professional Photo & Video LED Light Kit
The Vidpro Professional Photo & Video LED Light Kit provides required illumination for your video footage in any location. It includes a 96 LED Video Light, Adjustable Hot-Shoe / Tripod Mount, 3200K Tungsten Filter, 4200K Soft Diffuser, Li-ion Rechargeable Battery, European Adaptor, Battery Charger (110V-240V), Vertical Interlock Accessory, and a Foam Padded Hard Carry Case.
With 96 high intensity LEDs, the video light can offer bright illumination by producing a powerful light beam. Using the adjustable stepless dimmer, you can control the brightness in the range of 0-100%. You can select different color temperatures (5600-4200K-3200K) using filters. Featured magnetic mounting system allows quick and secure filter/diffuser usage. Incorporating interlocking housing design, the video light supports creation of stackable multi-unit LED array. The video light supports HD Wide Angle (16:9) and Standard (4:3) signal formats. You can power the video light using 5 AA batteries, 7.2V Li-ion battery (Sony L Series), or an AC power supply.
Key Features:
96 LED Video Light
Adjustable Hot-Shoe / Tripod Mount
3200K Tungsten Filter
4200K Soft Diffuser
Li-ion Rechargeable Battery
European Adaptor / Battery Charger
Vertical Interlock Accessory
Foam Padded Hard Carry Case
Adjustable Stepless Dimmer
Magnetic Mounting System
Price: ~$169
Compare Prices @ BHPhoto (Click Here) Amazon (Click Here) Adorama (Click Here)
Litepanels Croma On-Camera LED Light
The Litepanels Croma On-Camera LED Light produces a shadowless soft light at variable color temperatures adjustable by a dial on the side of the panel.
Visually accurate color can be selected from 3200K tungsten to 5600K daylight. Via a smooth 0-100% dimmer dial, brightness can also be regulated without causing shifts or abnormalities in color. Light is produced flicker free at any frame rate or shutter angle. Power is by six AA batteries for up to 1.5 hours or by an included AC adapter. An efficient power management design yields low consumption, and a controlled current management affords a 50,000 hour bulb life.
The Croma features cool-to-the-touch operation and a rugged black soft-touch rubber coated housing.
Key Features:
For Cams / DSLRs / Stands / Handheld Use
Flicker Free Shadowless Soft Light
Dial-Adjustable Color Temperatures
Smooth 0-100% Dimmer Dial
Low-Consumption and 50,000 Hour LED Life
Cool to the Touch Operation
Soft-Touch Rubber Coating
Ergonomic and Intuitive Controls
Operates by AA Batteries or AC Power
Price: $585.00
Instant Savings: -$100.00
Offer ends JUL 15 '12
You Pay: ~$485.00
Compare Prices @ BHPhoto (Click Here) Amazon (Click Here) Adorama (Click Here)
Chimera Video Pro Plus 1 Triolet Kit
The Chimera Video Pro Plus 1 Triolet Kit is a combination of several products–for much less than if you bought everything a la carte.
A small Video Pro Plus 1 softbox (with speed ring) and the Triolet continuous light fixture (with a 500W bulb) form the core of this kit. The softbox is designed for use with a hot light but can be used with flash as well. With a silver interior intended for the heat of a continuous light, the Small Video Pro Plus 1 is ideal for work in small spaces when medium soft light is required.
The 24 x 32″ size is lightweight and portable. The "Plus 1″ designation means the front face of the softbox is removable–Chimera makes different strengths of diffusion material for front face applications. The softbox comes with a one-stop diffuser, (hence the "1" designation). Purchasing the 1/2 and 1/4 grid cloths separately would allow for more light transmission and less softening of the light. A fabric eggcrate light modifier that attaches to the front of the softbox, directing
and narrowing the beam (to 40°) for more control, is also included.
This fixture is equipped for 120V AC operation. It will also function with 220-240V AC with the appropriate bulb and plug adapter, available separately.
Key Features:
Triolet Fixture, 500W Bulb
Integral Mounting Ring
24×32″ Video Plus 1 Softbox
120V Bulb
Price: ~620.00
Compare Prices @ BHPhoto (Click Here) Amazon (Click Here) Adorama (Click Here)
Light Modifiers
Reflectors, diffusers and more will be covered here…
Your support is greatly appreciated as we run this site in our spare time and are not paid. We can however, make a small commission if you click a product link that your interested in. That click will then give us credit if you choose to purchase any given item. This has no effect on the cost of the product, and is a simple way to give back to SonyAlphaLab.com for the effort and info we provide.
Also, be sure to keep following us on Google+, Twitter, RSS-feed, or Sign up for Email Updates!!
Direct Shopping Links – Thanks for your Support!!
BHPhotoVideo | Amazon – US, CA, UK | Adorama | Ebay – US, CA, UK, DE, FR, ES