Sony recently announced their new flagship full frame A-Mount professional camera, the A99 II DSLR. Oh yeah, it's got better everything pretty much and blows away the competition is many areas! A 42mp sensor and 12fps with full AF, for example are incredible, not to mention the killer updated autofocus system, and 4k video capabilities. For all those that thought the A-Mount line was dead, guess what, it's alive and back with a vengeance! For $3198 US, this camera offers ridiculous power and features!
Sony Pro A-Mount DSLR users have been demanding a new top quality camera for a really long time, and Sony took forever to come up with an answer due to the full frame mirrorless explosion. I also think the insane speed that technology was progressing, also resulted in design delays, updates, and overhauls. Sony finally wrapped up all the critical elements in their Mirrorless E-Mount camera line, and learned a ton in the process. It looks like they then incorporated some of the newer hybrid AF sensor technology like the A7r Mark II has, and 4k video capabilities, plus all the other pro quality and features you would expect.
Pro Features like: Dual memory cards, large battery, all needed ports with real weather sealing and rugged rubberized doors, fully articulating screen with the armored close option, 5-axis Steadyshot inside, 14-bit Raw files, and super high ISO 102400 abilities if needed, just to name a few…
Based on my initial impressions of the New Sony A99 II, it looks like the best value for the dollar pro DSLR style camera that has ever been made! Sony consistently blows away the competition with technology and value for dollar in my opinion, and the new A99 II is just another example of this from my perspective.For all those that thought the A-Mount line was dead, guess what, it's alive and back with a vengeance!
Lets break this New A99 II down a bit more shall we 🙂
Key Features: 
42MP Full-Frame Exmor

R

BSI CMOS Sensor
Max Resolution = 

7952 x 5304

BIONZ X Image Processor & Front-End LSI
0.5″ 2.36M-Dot XGA OLED Tru-Finder EVF

Internal UHD 4K Video

&

S-Log3

Gamma
S&Q Motion in Full HD from 1-120 fps
Hybrid Phase Detection AF System

ISO 102400

and

12 fps

Shooting with AF

5-Axis

SteadyShot INSIDE Stabilization
3.0″ 1,228.8k-Dot Tilting LCD Monitor
Built-In Wi-Fi & NFC; 14-Bit Raw Output
Weight =
Price =

$3198 US 
Sony A99 II Body Shots and Promo Illustrations:
From the front you can se the camera body has been totally overhauled. For starters its much more box shaped and meaner looking than the softer cornered original A99 as you can see blow this image. This new unit has much harder corners and from my perspective has a much more rugged look. I greatly prefer this updated harder looking design.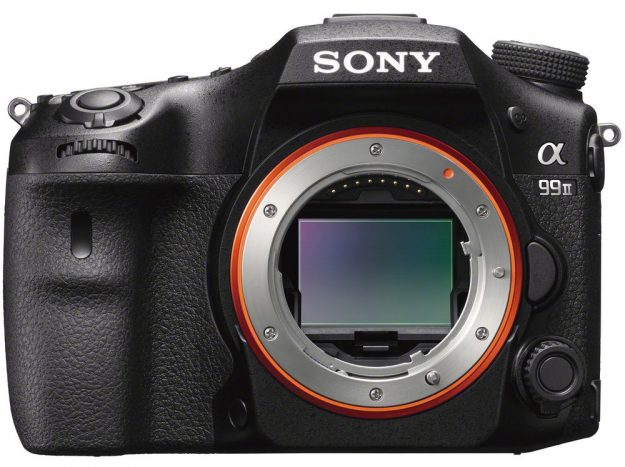 Blow is the original A99 front and you can see several differences in design compared to the NEW A99 II above.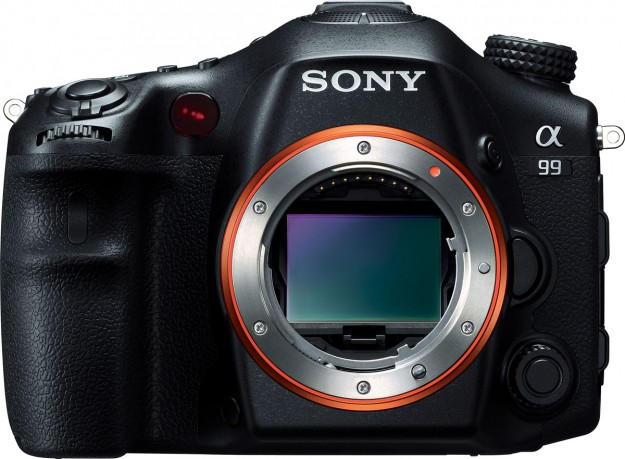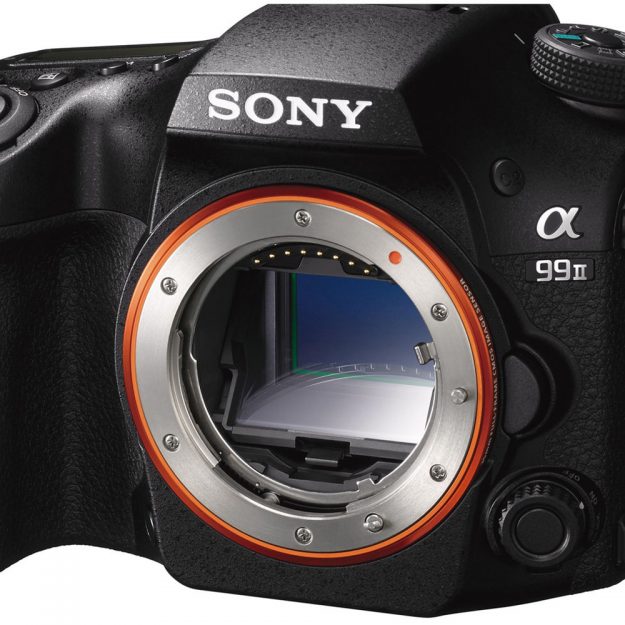 This A99 II looks awesome from this 3/4 angle.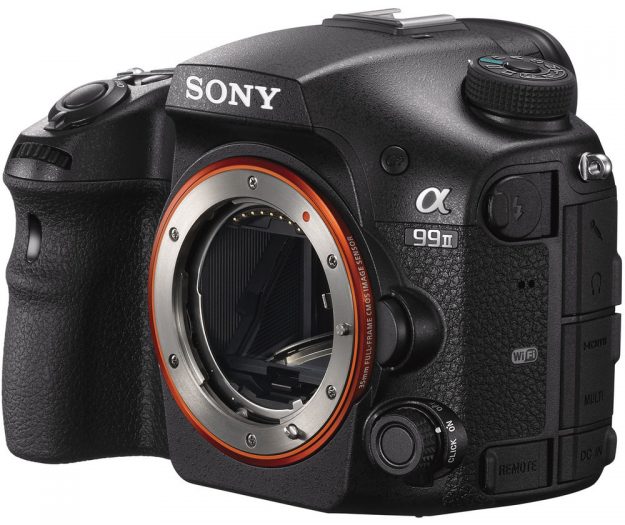 From the back we have a fully articulating 3″ LCD screen (Not Touch), and buttons, controls, and more buttons! Awesomeness new design clearly continues on the back: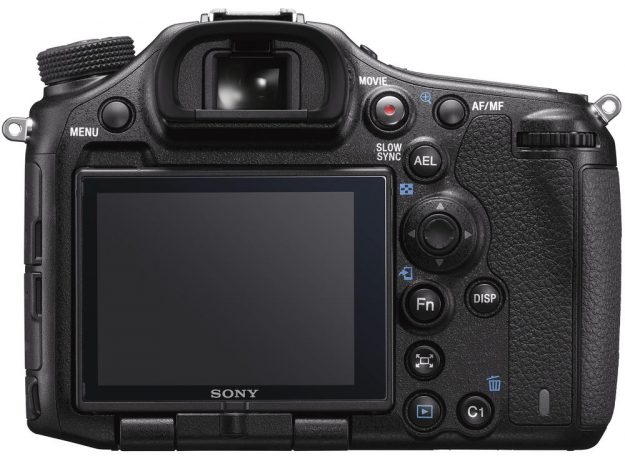 Original A99 backside.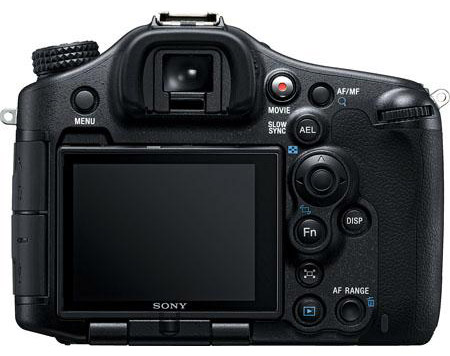 Here she the New A99 II is in armored screen mode.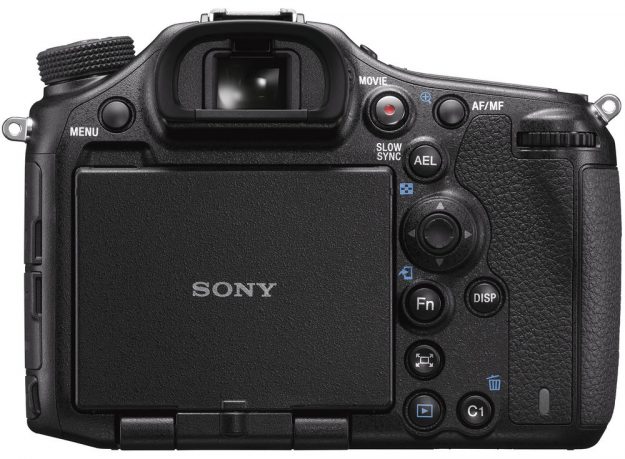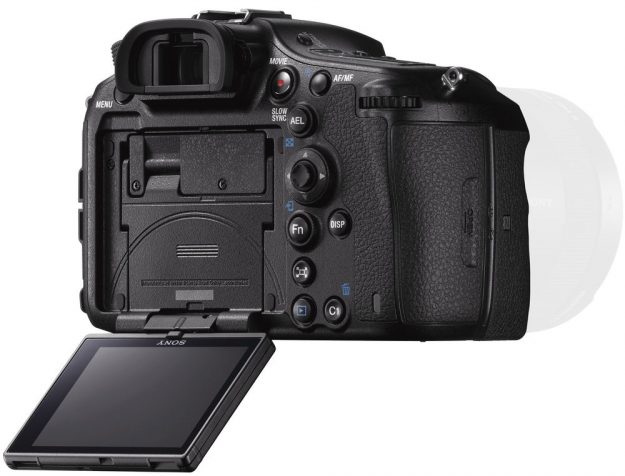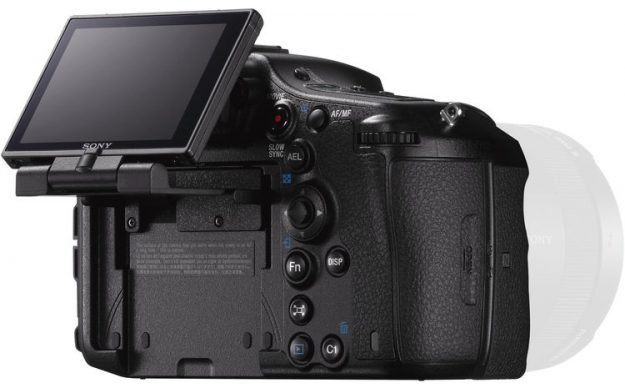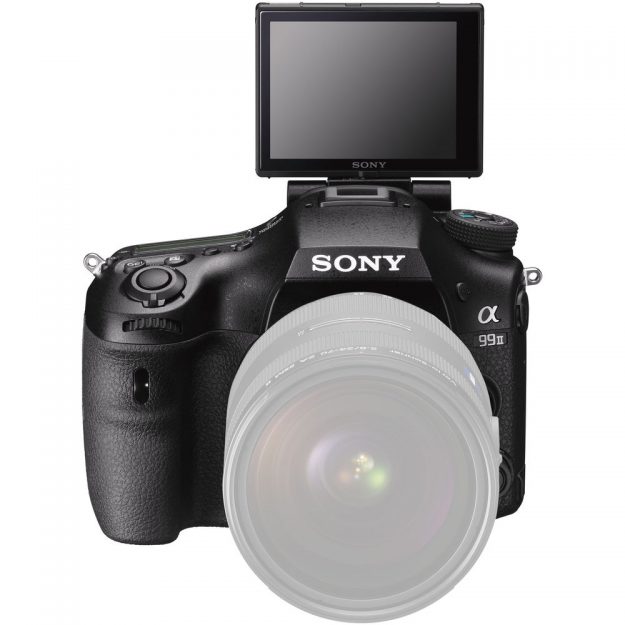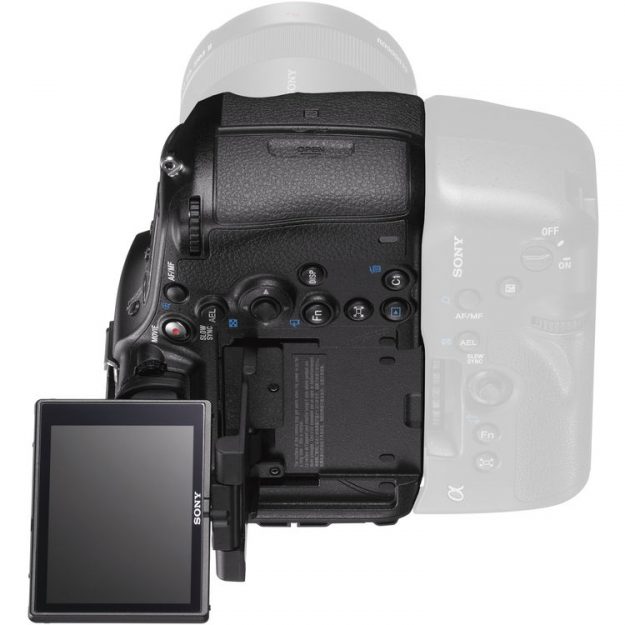 The New A99 II from the sides: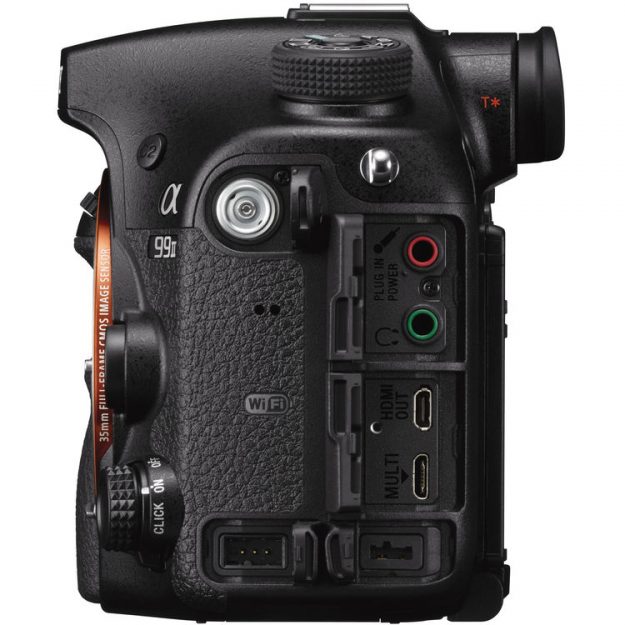 The original A99 – left side: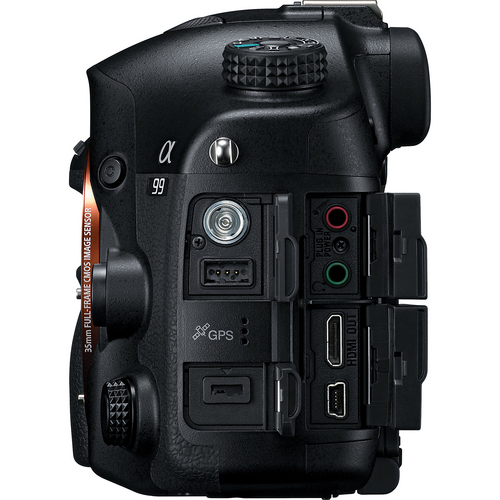 New A99 II with port doors closed: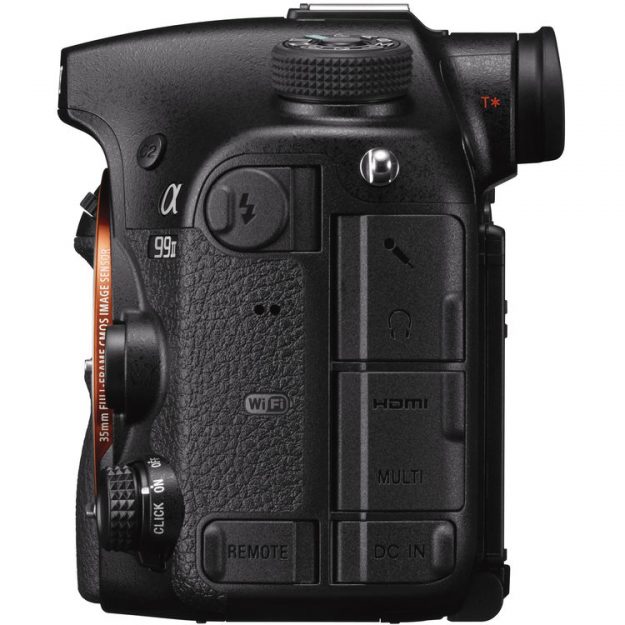 Right side: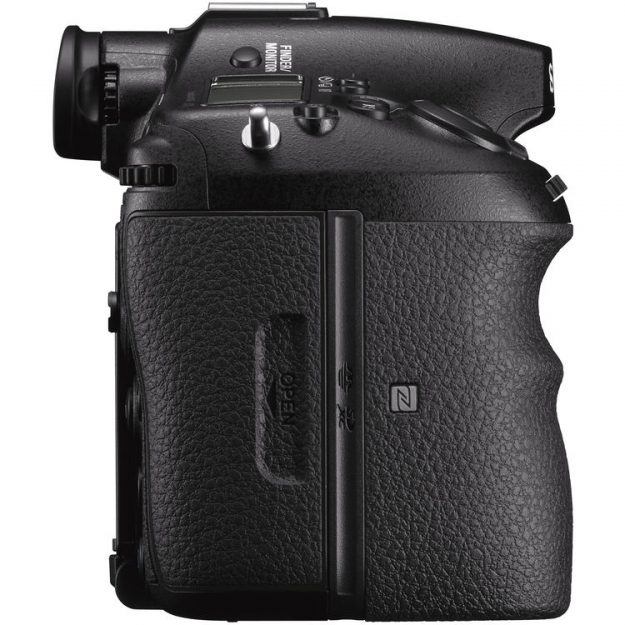 Here is a closer look at the dual memory card slot load design which is incorporated into the grip. It looks to be very well designed and hopefully will not have any accidental opening issues or anything like that. The A7r and A7r II for example due have issues opening accidentally for some people, but those cameras are much smaller and not designed to the same pro standard as this rugged beast.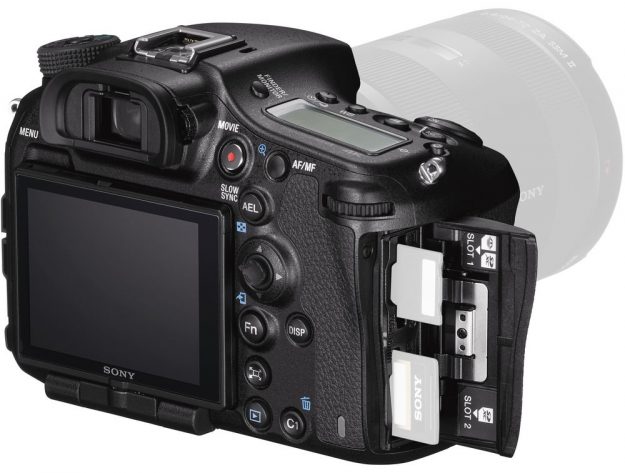 Sony A99 II from the top side view: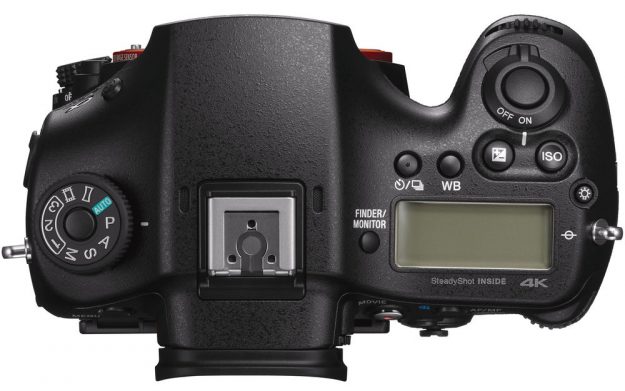 Note the design differences while comparing to the original A99 which you can see below here: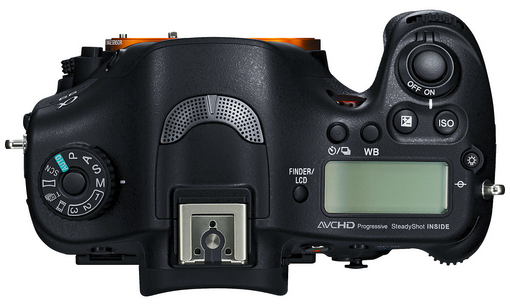 Here is the A99 II bottom view: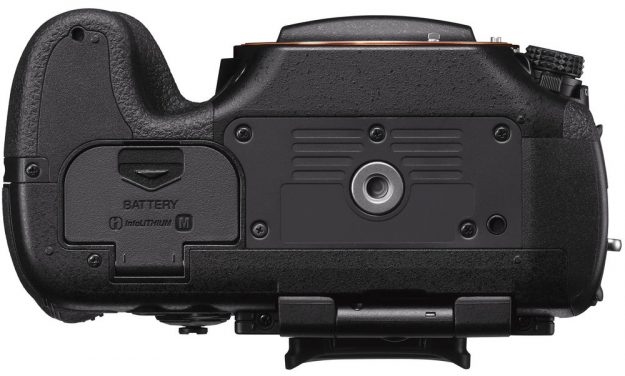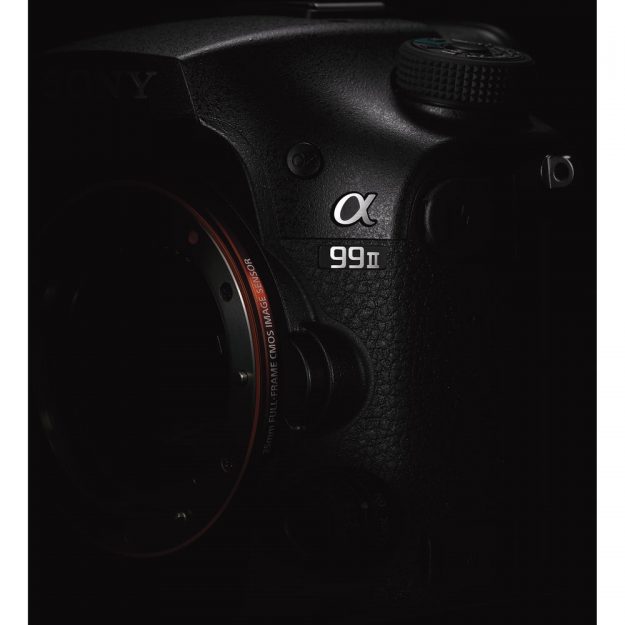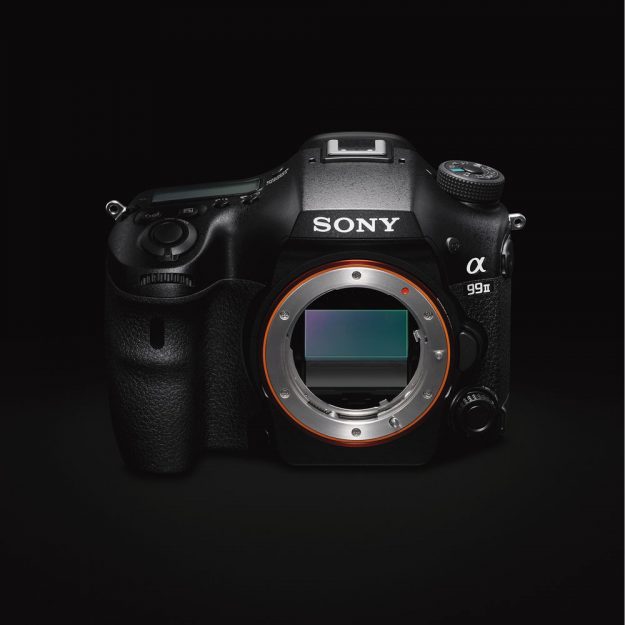 Sony A99 II Promo Videos:
Reviews and Testing Videos:
A very nice Sony A99 II Hands-On Review courtesy of Dan Watson
And another from Max Yuryev
A great breakdown from Cinema5D
Some A99 II HIGH ISO testing courtesy of bramansde
Sony A99 II Eye- AF testing by mobile01
Sony A99 II vs A7r II courtesy of Jeff Mack
Sony A99 II Vs Canon 5D Mark IV
Closing Remarks:
As you can see Sony is still in the Pro Photography game and is pumping out quality to cost ratios that really have put the competition in check. $3198 US for all the features the new A99 II has is a steal in my opinion. Just quickly looking at the newer Canon 5d Mark IV for example, and other than the dual pixel technology it offers, I don't see near the power the A99 II offers. The Canon offers 7fps vs Sony's 12fps, the sensor on the Canon Mark IV is 30mp w/ dual pixel technology, and the Sony has the 42mp Exmor R  Sensor technology. The Canon does have a touchscreeen option, and goes for $3499 US. A few hundred more, for significantly less performance in the areas that matter to a lot of Pro photographers. Frames per second are big, and the Sony destroys the competition in this regard with 12pfs. The sensor technology the Canon is offering looks pretty amazing and I do love the Canon 5d Mark II camera owning one myself. I have nothing bad to say about the Canon 5d camera's, but when you look at the bang for the buck, it seams clear that Sony is offering more for the money when it comes to the features and power.
Switching camera lines is a daunting task when huge lens investments are at play, which is why I never got rid of my Canon Pro gear. I went down the Sony mirrorless road instead and have the older Nex-6 and original full frame Sony A7r. If I need to do pro work, which I very rarely do anymore, I will use my now old  Canon 5d Mark II and the Sony A7r as a second shooter. I know a ton of people doing this, but they are using the newest Sony A7r II or A7s II mostly as a second shooter. I am no longer an active pro photographer, so I can't afford or justify upgrading my gear very often. What I have works awesome, so that is my deal these days just so you guys are aware.
As new reviews come out, we will learn more about the real world performance of the new flagship Sony A99 II DSLR camera. I can tell you the older A99 performed incredible when I used it a few times over the years, so this new refined unit should be significantly better based on what I just learned creating this breakdown article.
Please let me know what you guys think, and have a great day!
Jay
Check availability and Pricing for the New Sony A99 II @ BHPhoto and Amazon
Your support is greatly appreciated as we run this site in our spare time and are not paid. We can however, make a small commission if you click a product link that your interested in. That click will then give us credit if you choose to purchase any given item. This has no effect on the cost of the product, and is a simple way to give back to SonyAlphaLab.com for the effort and info we provide.
Tip Jar: https://www.paypal.me/SonyAlphaLab
Support SonyAlphaLab by becoming a | Patreon
Also, be sure to keep following us on Google+ | Twitter | Facebook |
Direct Shopping Links – Thanks for your Support!!
BHPhotoVideo | Amazon – US | CA | UK
Thanks,
Jay