Sony just announced yet another full frame mirrorless camera called the Alpha A7s. It's basically a 4k video monster that has killer dynamic range and high ISO abilities thanks to the new 12.2mp full frame sensor. Many other features for the hardcore video enthusiasts or film makers for that matter including S-Log2 Gamma and ISO 50-409600.  the A7s supports recording uncompressed 4:2:2 4K video to an optional external recorder, as well as full HD 1080 video in the high-quality XAVC S format at 50 mbps in multiple frame rates.
The sensor and processor combination also provides huge speed throughout the camera system, including a top continuous shooting rate of 5 fps, support for 4K video recording, and a fast 25-point contrast-detection AF system with sensitivity to -4 EV.
Unfortunately the A7s can only write 4k video to an external recording device, and the Panasonic GH4 is capable of writing the info to a card? Not sure why the Sony cannot, but most folks using 4k would be using a monitor and additional recorder hardware anyway most likely.


A7s Key Features:

12.2MP Full-Frame Exmor CMOS Sensor
BIONZ X Image Processor
Gapless On-Chip Lens Design
3.0″ 921.6k-Dot Tilting LCD Monitor
XGA 2.36M-Dot OLED Electronic Viewfinder
Full HD Recording in XAVC S
4:2:2 UHD 4K Output via HDMI
Full Pixel Read-Out, S-Log2 Gamma
Expandable Sensitivity: ISO 50-409600
Fast Intelligent 25-Point AF System
Sony Alpha A7S
 Click Photos for the larger High Res images!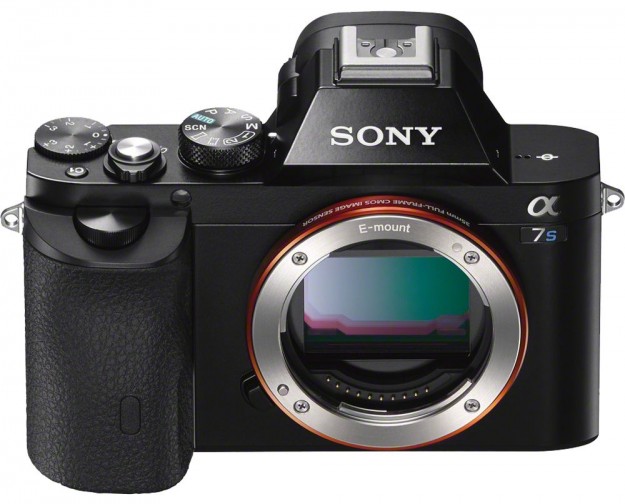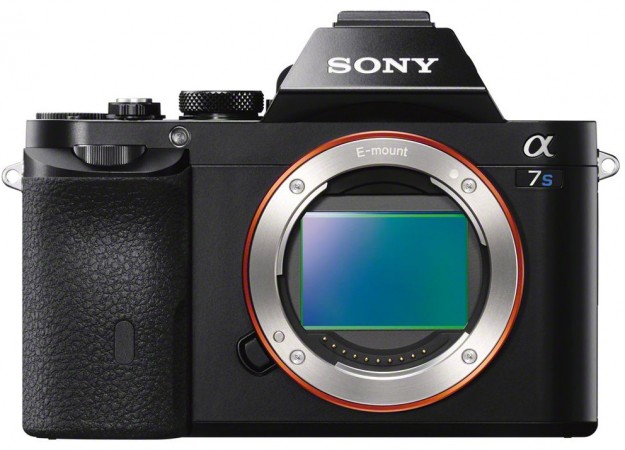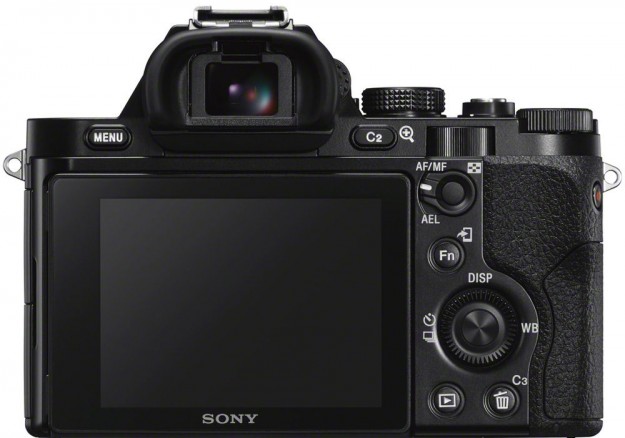 Sony A7s Official Videos…
Overview Courtesy of BHPhoto
The Sony Alpha a7S Mirrorless Digital Camera features a full-frame 12.2MP Exmor CMOS sensor and BIONZ X image processor to enable notable video and still image quality with an expansive dynamic range, low noise, and extended sensitivity to ISO 409600. At the sensor level, this full-frame sensor features a unique on-chip gapless lens design, which incorporates small lenses between neighboring pixels in order to increase light-gathering efficiency and promote greater image quality across the entirety of the sensor plane. The sensor and processor combination also avails a wealth of speed throughout the camera system, including a top continuous shooting rate of 5 fps, support for 4K video recording, and a fast 25-point contrast-detection AF system with sensitivity to -4 EV.
Beyond its still image performance, the a7S is also quite adept in regard to recording video. It supports recording uncompressed 4:2:2 4K video to an optional external recorder, as well as full HD 1080 video in the high-quality XAVC S format at 50 mbps in multiple frame rates. Extending the video recording capabilities is support for the S-Log2 gamma, which helps to expand the effective dynamic range during recording, as well as picture profile options, time codes, and zebra and marker display aids. Sound can be recorded in the AAC/Linear PCM format via the internal stereo microphone, with a built-in headphone jack for on-board monitoring, or via an external microphone.
Rounding out the a7S's imaging capabilities, both a 3.0″ 921.6k-dot tilting LCD monitor and 2.36 million-dot OLED electronic viewfinder are available for image monitoring and review. Built-in Wi-Fi connectivity, with support for NFC, is available, too, for instant sharing of imagery from the camera as well as remote camera control from a linked mobile device.
Full-Frame Exmor Sensor and BIONZ X Image Processor
Incorporated within the sleek body design is a 12.2MP full-frame Exmor CMOS sensor and BIONZ X image processor, which work together to enable an expansive dynamic range with minimal noise and notable sensitivity. The a7S features a native sensitivity range from ISO 100-102400, which is further expandable to ISO 50-409600. Coupled with the large individual pixel size the 12.2MP sensor affords, this camera is well-suited to use in low-light conditions.
The sensor's design also features a new-generation RGB color filter array, as well as a gapless on-chip lens design. Together, these two technologies enable truly efficient light-gathering abilities that further reinforce the low noise, high-sensitivity design. Furthermore, an anti-reflective coating has also been applied to the seal glass of the image sensor to minimize surface reflections, glare, and ghosting for contrast-rich, color-neutral imagery.
The sensor and processor combination also avail a wealth of performance-related benefits to still shooting, including a Speed Priority continuous shooting rate of 5 fps, or a 2.5 fps shooting rate with continuous AF. The contrast-detection AF system employs 25 distinct points to quickly and precisely acquire focus in light levels as low as -4 EV to support working in a wide variety of shooting conditions.
Optimized for 4K and Full HD Video Recording
The entire width of the full-frame sensor is utilized during video acquisition, alleviating the need for cropping or line skipping. This results in the ability to utilize information from each individual pixel and truly reap the benefits of the large sensor size. By using full pixel read-out, without pixel binning, users are capable of producing full HD and 4K video output with reduced moiré, aliasing, and false color artifacts.
When working in video mode, users can record uncompressed UHD 4K video at QFHD (3840 x 2160) in 4:2:2 to an external recorder via HDMI connection, as well as record full HD (1920 x 1080) at 60p, 60i, 30p, and 24p directly to an in-camera memory card. Both full-frame and APS-C video modes can be utilized and, when working in APS-C crop mode, HD 720p video can be recorded at 120 fps for 5x slow-motion playback. In addition to the conventional AVCHD and MP4 formats, full HD recording is also supported in the high-quality XAVC S format, with a data rate of 50 mbps using the Long GOP (Group of Pictures) data compression.
Clean HDMI Output:
3840 x 2160 (30p/24p/25p)
1920 x 1080 (60p/24p/50p)
1920 x 1080 (60i/50i), YCbCr 4:2:2 8-bit/RGB 8-bit
Additional Video Features
As used in Sony's line of professional video cameras, the a7S incorporates S-Log2 gamma, which is able to expand the effective dynamic range by 1300% to increase detail in both shadows and highlights. Dedicated picture profiles settings further allow users to control a variety of video settings, such as gamma, black, level, and color adjustments, which can all be saved for use in multi-camera setups.
Benefiting the editing process, full HD and 4K base band HDMI output is possible as well as the use of time code/user bit during recording. When utilizing time codes, the a7S can provide a Record Run setting, which only advances the time code while recording; a Free Run setting, which advances the time code whether recording or not; both drop frame and non-drop frame methods; and can output an embedded time code when the clean HDMI setting is in use. Synchronous recording is available with compatible devices and a variety of markers, including zebra and MF focus peaking, can be seen on external displays as well as the on-board LCD monitor and electronic viewfinder.
In addition to the headphone and microphone jacks incorporated into the a7S's design, the top Multi Interface terminal can also be used in conjunction with an optional XLR Adapter Microphone Kit to enable the use of professional microphone systems.
Body Design
Revolving around a compact, sleek body design, the a7S features both a large rear LCD monitor as well as a bright electronic viewfinder. The rear 3.0″ 921.6k-dot Xtra Fine LCD features a tilting design (up 90° and down 45°) to benefit working from both high and low angles. Also benefitting visibility with the rear monitor is the incorporation of WhiteMagic technology, which noticeably increases brightness for easier viewing in sunlit conditions. When shooting at eye-level, the 0.5″ XGA OLED electronic viewfinder features a high 0.71x magnification and a 2.36 million-dot resolution for precise monitoring capabilities.
Built-In Wi-Fi Connectivity with NFC
Built-in Wi-Fi connectivity enables the a7S to instantly share imagery to mobile devices for direct sharing online to social networking, via email, and to cloud storage sites. NFC (Near Field Communication) is also supported, which allows for one-touch connection between the camera and compatible mobile devices; no complex set-up is required. Once connected, the linked mobile device can also display a live view image on its screen and remotely control the camera's shutter.
Additionally, PlayMemories Camera Apps are also supported via the built-in Wi-Fi connection, and allow you to personalize the camera's features depending on specific shooting styles. Apps are available to suit creating portraits, detailed close-ups, sports, time lapse, motion shot, and other specific types of imagery.
Other Camera Features


Picture Effect modes: Posterization (Color, B&W), Pop Color, Retro Photo, Partial Color (R/G/B/Y), High Contrast Monochrome, Toy Camera, Soft High-Key, Soft Focus, HDR Painting, Rich-Tone Monochrome, Miniature, Watercolor, and Illustration.
Create Style settings: Standard, Vivid, Neutral, Clear, Deep, Light, Portrait, Landscape, Sunset, Night Scene, Autumn Leaves, Black & White, and Sepia (all with +/- 3 step contrast, saturation, and sharpness adjustment).
Color space: sRGB standard (with sYCC gamut) and Adobe RGB standard compatible with TRILUMINOS Color.
Picture Profile parameters: Black Level, Gamma (Movie, Still, Cine 1-4, ITU709, ITU709 [800%], S-Log2), Black Gamma, Knee, Color Mode, Color Level, Color Phase, Color Depth, Detail, Copy, and Reset.
Scene Selection modes: Portrait, Landscape, Macro, Sports Action, Sunset, Night Portrait, Night Scene, Hand-held Twilight, and Anti Motion Blur.
Face Detection is available to base exposure and focus on up to eight recognized faces. Furthermore, Eye AF can be used for even greater precision by maintaining critical focus on a subject's eye.
Auto Object Framing automatically creates compositions revolving around portrait and still life subjects and aesthetically crops imagery based on the rule of thirds, where the subject is located within the frame, exposure on your subject, and, in the case of portraiture, the direction he or she is looking.
2x Clear Image Zoom can be used to effectively double the magnification afforded by any lens in use with minimal image degradation. For even greater magnification, 1.5x and 2x Smart zoom is available, as well as 4x digital zoom.Playback modes: Single (with or without shooting information, Y RGB histogram & highlight/shadow warning), 9/25-frame index view, Enlarged display mode (Maximum magnification L: 13.3x, M: 8.7x, S: 6.7x), Auto Review (10/5/2 sec., off), Image orientation (Auto/Manual/Off selectable), Slideshow, Panorama scrolling, Folder selection (Still/Date/MP4/AVCHD/XAVC S), Forward/Rewind (Movie), Delete, and Protect.
Closing Remarks
So it looks like Sony is trying to get a 4k full frame video camera out in the market asap. I wonder why the rush and also wonder why the camera can't record to a memory card if the Panasonic GH4 can. Unfortunately I don't have any info on the price yet, but my guess it will be more expensive than both the A7 and A7r based on the specs. I could be totally wrong though of course 😉
If your interested in seeing what the Sony Alpha A7 or A7r can do in the real world, be sure to check out my highly detailed reviews linked below:
Questions and Comments greatly appreciated as always,
Jay
Your support is greatly appreciated as we run this site in our spare time and are not paid. We can however, make a small commission if you click a product link that your interested in. That click will then give us credit if you choose to purchase any given item. This has no effect on the cost of the product, and is a simple way to give back to SonyAlphaLab.com for the effort and info we provide.
Tip Jar: https://www.paypal.me/SonyAlphaLab
Support SonyAlphaLab by becoming a | Patreon
Also, be sure to keep following us on Google+ | Twitter | Facebook |
Direct Shopping Links – Thanks for your Support!!
BHPhotoVideo | Amazon – US | CA | UK
Thanks,
Jay