The A99 II is the current flagship full frame DSLR style camera for Professionals made by Sony. It has the best autofocus system ever created for a Sony camera, and offers incredible build quality, insane pro oriented features, awesome battery life, and image quality to die for. At a price point of $3198, the Sony A99 II blows away most of the competition when you look from the perspective of bang for the buck in my opinion.
So why is there not much coverage about the Sony A99 II and/ or the Sony A77 II for that matter?
Well everybody, including myself, has been fixated on the new Mirrorless camera phenomenon.  They are smaller, lighter, have the same killer image quality, and for most people, provide everything needed in a camera body. However, they are not really pro oriented in a number of ways. For example, they do not have the super rugged build quality, they don't have the best battery life in general, lens selection is close now, but still lacking in some areas, and they tend to cost more for what you actually get performance wise.
Sony DSLR Style Camera Time
I think it's time I give some love an attention to the DSLR style A-Mount cameras like the pro oriented A99 II and A77 II in particular! For the current lens line-up, be sure to check out my Sony A-Mount Lens Guide, which is completely redesigned and updated!!
I'm currently reviewing the New Mirrorless Sony A9, but after that is complete, I plan on getting the Sony A99 II for Review! With that in mind I wanted to get your requests in for what lenses and accessories you would like me to test and/or review? Please let me know in the comments area below or shoot me an email if you would rather.
Quality Sony A99 II Reviews and Videos
Courtesy of TheCameraStoreTV a high quality field test style review which covers a number of features and   the real world performance of the Sony A99 II.
Published on Jun 27, 2017
After years of speculation that Sony had abandoned the A-Mount, everyone (including us) were shocked when the A99 II was announced, boasting the best specs of any full frame camera on the market. We took the A99 II out to shoot action and landscapes, and talked to photographer Ken Locke about shooting portraits with this flagship A-Mount camera. Is it worth investing in a mount on life support? Chris Niccolls and Jordan Drake take a look.
Courtesy of Tony & Chelsea Northrup
An awesome Sony A99 II Tutorial Video
This is totally worth watching if you are new to Sony cameras and/or the A99 II. Even if you know what your doing, I guarantee you will learn a few things in this video!
I always enjoy John Sison's reviews and I hope you do as well!
Published on Mar 10, 2017
I take a look at the Sony a99ii, Sony's newest top of the range full frame A-mount camera. Featuring Sony's translucent mirror technology with dual phase detection autofocusing, this camera looks to be promising for people that shoot fast action photos. The camera also features a 42 megapixel sensor, 12 fps, 5-axis stabilisation, Wi-Fi and a lot more features for any type of photographer.
Courtesy of Dan Watson
Published on Mar 19, 2017
The Sony A99II absolutely has my favorite spec list of all time. While using one of the most amazing full frame 42mp sensors on the market today from the A7RII, the A99II is still able to maintain 12fps with full AF and AE. But there is always more to the story so let's dive a bit deeper with this Sony A99II Review
Courtesy of Max Yuryev
We put the $3200 42MP 12FPS hybrid up against the $6500 Nikon
In the famous words of an unnamed Monty Python character: 'I'm not dead yet!'
Joking aside, the a99 II is the ultimate SLT. It is the SLT that should be used by any photographers that have had prior doubts about the system, as its all-round balance of features and capabilities leave the ultimate decision for many photographers up to two things: EVF vs. OVF, and the lens system. For those that love SLT, the a99 II is definitely worth a look, but for those that need a solid all-rounder, or a lens selection beyond A-mount, the complications of SLT may not be worth the advantages.
Full highly detailed A99 II Review Here @ DPReview >>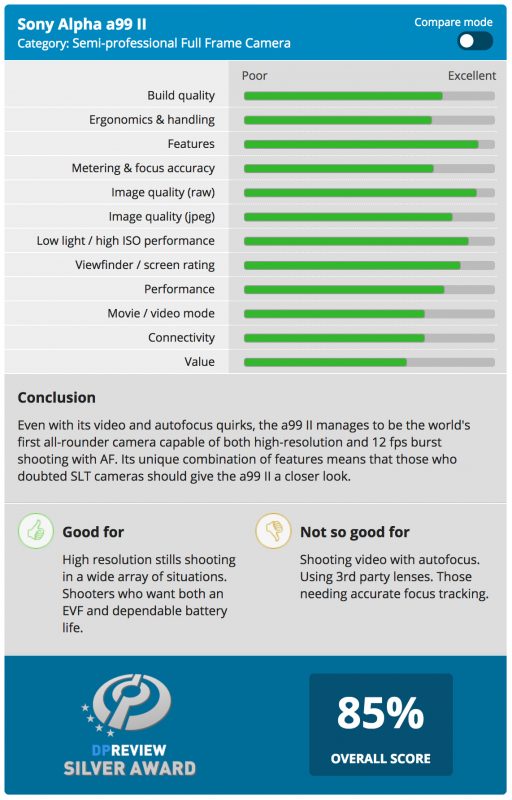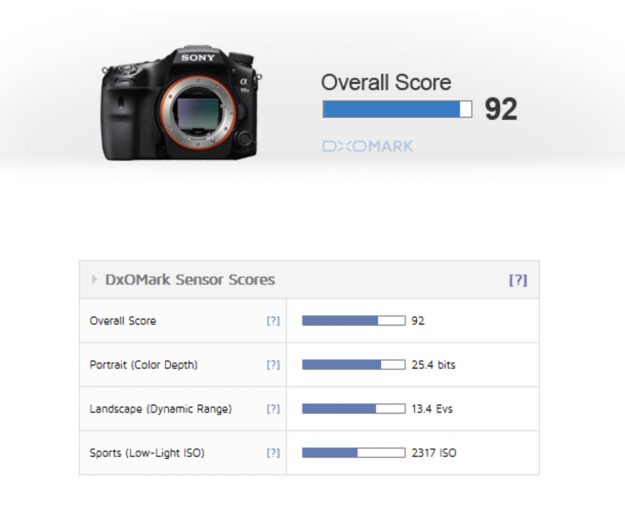 This is a great tutorial style video for those looking for recommendations on camera settings for sports photography with the Sony A99 II courtesy of Patrick Murphy-Racey
Closing Remarks
As you can see from these quality Sony A99 II Reviews, it's a beast of a camera and a clear contender for the title shot! I would love to own one to replace my now old Canon 5d Mark II, but I honestly don't want to go thru the pain stacking task of selling all the L lenses and accessory gear I have for my occasional pro type work. Plus, my wife loves the Canon for taking photos of the kids and stuff, so why mess up a good thing. She does not want to learn another camera system, and I can't blame her for that.
I do plan on reviewing the Sony A99 II after the Sony A9 if you guys are interested in that?? Please let me know and what lenses and/or accessories you would like me to test the camera with.
Thanks again for checking in and please have a wonderful day,
Jay
Sony A99 II for $3198 @ BH | AMZ
Your support is greatly appreciated as we run this site in our spare time and are not paid. We can however, make a small commission if you click a product link that your interested in. That click will then give us credit if you choose to purchase any given item. This has no effect on the cost of the product, and is a simple way to give back to SonyAlphaLab.com for the effort and info we provide.
Tip Jar: https://www.paypal.me/SonyAlphaLab
Support SonyAlphaLab by becoming a | Patreon
Also, be sure to keep following us on Google+ | Twitter | Facebook |
Direct Shopping Links – Thanks for your Support!!
BHPhotoVideo | Amazon – US | CA | UK
Thanks,
Jay