The Sony FE 70-200mm f/2.8 GM OSS Lens was announced a long time ago now, and is finally making it's way into quality reviewers hands 🙂 In this article I'm going to link up all the quality Hands-On Reviews I have found on the web!
The basic's of this lens are it's the best possible quality available 70-200mm lens, and a pro grade unit in all regards. Not exactly cheap at $2598 US, but with the killer build quality and fast f/2.8 ultra high quality optics, you do get what you pay for. Also, it was rumored to be over $3k, so the price fair considering other Sony high quality optical prices in my opinion. Two teleconverters are also available for use with this lens and cam provide you a extra 1.4x or 2x depending on your needs. The Sony FE 1.4x Teleconverter goes for $548 US and the Sony FE 2.0x Teleconverter also goes for $598 US.
Sony FE  70-200mm GM OSS Lens – Key Features:
E-Mount Lens/Full-Frame Format
Aperture Range: f/2.8 to f/22
One XA Element, Two Aspherical Elements
Four ED Elements, Two Super ED Elements
Nano AR Coating and Fluorine Coating
Linear SSM Focus System
Optical SteadyShot Image Stabilization
Internal Focus, Focus Range Limiter
Dust and Moisture-Resistant Construction
Eleven-Blade Circular Diaphragm
Weight = 3.26 lb (1480 g)
$2398 US @ BHPhoto | AMZ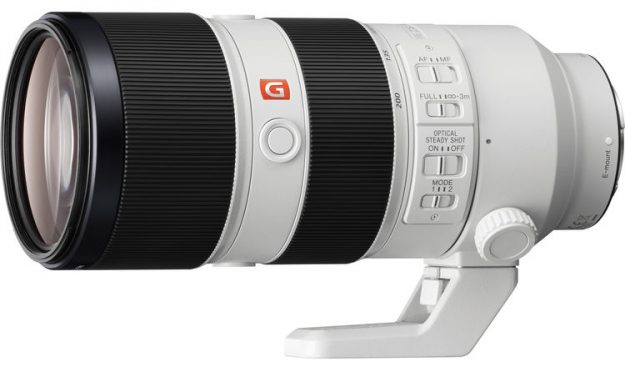 Features Breakdown
Courtesy of BHPhoto
Boasting exceptional optics, a complete feature set, and outstanding speed in all aspects, the Sony FE 70-200mm f/2.8 GM OSS Lens easily takes its place as the de facto telephoto zoom for professionals. A member of the G Master series, this 70-200mm delivers high sharpness alongside smooth, clean bokeh and with an absolute minimum of aberrations. This is guaranteed through the use of an XA element, two aspherical elements, four extra-low dispersion elements, and two Super ED elements in the optical design. Furthermore, the lens has a Nano AR Coating that reduces reflections, flare, and ghosting for improved contrast and color.
Optimized for speed, this lens is equipped with a fast and constant f/2.8 aperture that will be an asset in low-light conditions as well as for creating images with shallow depth of field. Bokeh is made even better by the implementation of an eleven-blade circular diaphragm for smooth out-of-focus areas. Also, there is a double-linear and ring Super Sonic wave Motor system that provides fast, responsive autofocus in both stills and video.
As a top end telephoto zoom, this lens is equipped with a variety of other technologies to assist shooters, including Optical SteadyShot image stabilization for combating camera shake, especially at longer focal lengths. Users will enjoy faster and more intuitive operation with a plethora of physical controls on the lens barrel, including three focus hold buttons, a focus range limiter switch, and both AF/MF and OSS switches. For durability and working in tough conditions, the lens is dust and moisture resistant, and it has a fluorine coating on the front element to resist water and oil.
As part of Sony's esteemed G Master series, this lens is designed to achieve notably high resolution and sharpness through the correction of a wide variety of spherical and chromatic aberrations. Additionally, these lenses feature robust and intuitive-to-handle physical designs to benefit both photography and cine applications.
– A popular telephoto zoom designed for full-frame E-mount mirrorless cameras, this 70-200mm lens is also compatible with APS-C models where it provides a 105-300mm equivalent focal length range.
– A constant f/2.8 maximum aperture offers consistent performance throughout the zoom range and also lends greater control over focus position for shallow depth of field techniques.
– Of the three aspherical elements incorporated in the lens design, one is an XA element with superior surface precision to effectively reduce astigmatism, field curvature, coma, and other monochromatic aberrations from imagery.
– Four extra-low dispersion elements and two Super ED elements are featured in the lens design, too, and help to control chromatic aberrations and reduce color fringing for increased clarity and color fidelity.
– A Nano AR Coating has been applied to reduce surface reflections, flare, and ghosting for increased contrast and color rendering in strong lighting conditions.
– An advanced double-linear and ring Super Sonic wave Motor system ensure fast, precise and accurate autofocus in both stills and video.
– Optical SteadyShot image stabilization helps to minimize the appearance of camera shake for sharper imagery when shooting handheld with slower shutter speeds. This stabilization system can also be combined with select camera's sensor-shift type image stabilization for more effective control of camera blur. An OSS Mode switch lets you choose Mode 1 for general image stabilization that is suited to most types of shooting as well as a Mode 2 setting that is specifically intended to be used with panning movements.
– A floating elements system benefits image quality when working at the 3.15′ minimum focusing distance with 0.25x magnification.
– The lens barrel is equipped with three focus hold buttons and a focus range limiter switch to permit fast, intuitive operation of the lens while shooting.
– The front lens element features a fluorine coating to protect against smudges and dust from adhering to the glass surface.
– Dust- and moisture-sealed design better permits working in inclement conditions.
– A rounded 11-blade diaphragm contributes to a pleasing bokeh quality when employing selective focus techniques.
– A removable, rotating tripod mount permits quick switching from horizontal to vertical shooting orientations.
-The included petal-shaped lens hood helps prevent flaring and has a filter access window for making adjustments to rotating filters such as polarizers and variable NDs.
-Compatible with Sony's optional 1.4x and 2x teleconverters, this lens can be easily transformed into a 98-280mm or 140-400mm optic, respectively.
Sony FE 70-200mm GM OSS Lens Reviews and Testing
First, Some FE 70-200mm f/2.8 GM OSS Lens testing via the Sony A6500 from yours truly….
Courtesy of That1CameraGuy, A pretty quick review using the Sony A6300 and FE 70-200mm f/2.8 GM OSS Lens recording video of girls soccer at night in relatively low light. Very impressive results to say the least and pushes the auto focus abilities of both the camera and lens for sure!
And here is another excellent FE 70-200mm GM OSS Lens review from John Sison! He covers all the info that you need to know with some really good hands-on testing and footage.
Steve Huff also did a quality FE 70-200mm GM OSS Lens review with tons of really nice sample photos for your viewing pleasure. (Click Here)
Sony 70200 f2.8 G Master – Pre Wedding shoot courtesy of HR Images
Ultimate Sony Zoom Battle: Sony 70-200 G Master f/2.8 vs Sony 70-200 F4
In this video review courtesy of The Hunter Report, Both the Sony FE 70-200mm F/2.8 GM OSS Lens and FE 70-200mm f/4 G OSS Lens are tested and compared!
Battle of the G Masters! Sony FE 100mm STF vs. the 70-200 f/2.8 Sony G Master
In this video courtesy of Jason Lanier, the Sony FE 100mm f/2.8 STF GM OSS Lens is compared to the Sony FE 70-200 f/2.8 GM OSS Lens.
Comparing Sony 70-200mm F2.8 vs F4 Outdoor Sports
In this video courtesy of Dave Dugdale, the Sony FE 70-200mm f/2.8 GM Lens is compared to the FE 70-200mm f/4 G OSS Lens in the outdoor sports environment!
Super advanced testing comparisons are always done at DXOmark!
Ephotozine always does a great job!
Some really amazing sample photos from Steve Huff!
Closing Remarks:
Well, that is about it for this review oriented article on the Sony FE 70-200mm f/2.8 GM OSS Lens, but be sure to ask questions and comment below as always 😉 I will add more quality reviews as they come out, and if you se any worth sharing, please let me know!
Please have a great day and thanks again for checking in,
Jay
Sony FE 70-200mm f/2.8 GM OSS Lens for $2598 @ BH | AMZ
Your support is greatly appreciated as we run this site in our spare time and are not paid. We can however, make a small commission if you click a product link that your interested in. That click will then give us credit if you choose to purchase any given item. This has no effect on the cost of the product, and is a simple way to give back to SonyAlphaLab.com for the effort and info we provide.
Tip Jar: https://www.paypal.me/SonyAlphaLab
Support SonyAlphaLab by becoming a | Patreon
Also, be sure to keep following us on Google+ | Twitter | Facebook |
Direct Shopping Links – Thanks for your Support!!
BHPhotoVideo | Amazon – US | CA | UK
Thanks,
Jay