Yesterday was a huge day for Sony as they also announced the new A-Mount 70-200mm f/2.8 G SSM II Lens, which is now available for pre-order officially. The price tag is not an easy swallow at $2998 US, but the cost must come from somewhere. The latest technology costs money and for $3k this Sony lens must have some seriously high quality elements inside!
From I can tell off the specs it has a focus range limiter, SSM (super Sonic Wave Motor), two ED glass elements, and a Nano AR coating is used. Not sure if this justifies the price, but time will tell once the lens is put through its passes and reviewed.
Official overview:
The Sony 70-200mm f/2.8 G SSM II Lens is a versatile zoom lens covering portrait-length to telephoto perspectives and featuring a constant f/2.8 maximum aperture for enhanced low-light shooting and focus control throughout the zoom range. A Super Sonic Wave Motor (SSM) focusing mechanism provides fast, smooth, and quiet focusing performance with enhanced tracking capabilities that are well-suited to photographing quickly moving subjects. Also helping to increase focusing speeds is the integration of a Focus Range Limiter, which enables you to set pre-defined limits for the lens to focus within for faster response times. Additionally, when paired with Sony A-mount cameras, in-body image stabilization renders this lens stabilized and supports the use of longer shutter speeds with a reduction in appearance of camera shake.
The optical design employs two extra-low dispersion elements to minimize chromatic aberrations throughout the zoom range as well as heighten image clarity and overall sharpness. A Nano AR (anti-reflective) coating has also been applied to lens elements in order to reduce lens flare and ghosting for more contrast-rich imagery and high color neutrality.
Portrait-length to telephoto zoom lens featuring a constant f/2.8 maximum aperture for consistent low-light performance and focusing control throughout the zoom range.
Super Sonic wave Motor (SSM) provides fast, smooth, and quiet focusing performance with enhanced subject-tracking capabilities.
Focus Range Limiter enables you to preset a defined focusing range for faster, more controlled focusing.
Two extra-low dispersion elements help to minimize chromatic aberrations and improve image quality and sharpness throughout the zoom range.
Nano AR coating reduces lens flare and ghosting for higher clarity, contrast, and color fidelity.
Nine-blade circular diaphragm produces a smooth out-of-focus quality that is well-suited to selective focus imagery.
Compatible with optional 1.4x and 2.0x teleconverters for extending the reach of the lens even further.


Key Features:

Sony A-Mount
Aperture Range: f/2.8-32
SSM (Super Sonic Wave Motor) AF System
Two Extra-Low Dispersion Glass Elements
Nano AR Coating
Focus Range Limiter
Nine-Blade Circular Diaphragm
Sony 70-200mm f/2.8 G SSM II Lens – SAL70200G2
Check it out with and without the tri-pod mount lens collar.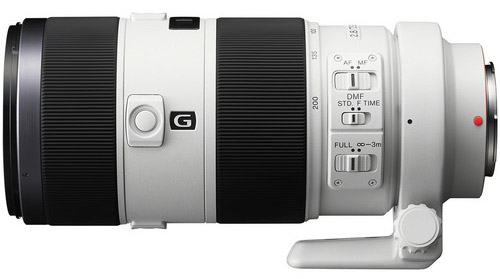 All New Sony Gear Pre-Order Links:
Sony A-Mount to E-Mount Lens Adapter with Translucent Mirror Technology (LAEA4) $348 @ BHPhoto | Amazon
Closing remarks
Clearly Sony is planing on coming out with top quality a-mount cameras in the near future if they are releasing lenses like this. $3000 is a lot of money considering it does not have OSS built in like most of the competition. Demand might have something to do with it in comparison to the big guys I suppose.
I also read this on SAR today: "As reported on Amateur Photographer and Photographyblog, Sony stressed to say that A-mount stays well alive. Both lineups will continue. And Sony even told at PB that a new mid to high-end Alpha mount camera body is currently under development. Due to be released in 2014" 🙂
I'm also heading down to the PhotoExpo next week and hopefully I can get my hands on all this new Sony gear and ask the experts some questions! Let me know if you want me to ask anything in particular as I'm making a list 😉
Jay
Your support is greatly appreciated as we run this site in our spare time and are not paid. We can however, make a small commission if you click a product link that your interested in. That click will then give us credit if you choose to purchase any given item. This has no effect on the cost of the product, and is a simple way to give back to SonyAlphaLab.com for the effort and info we provide.
Tip Jar: https://www.paypal.me/SonyAlphaLab
Support SonyAlphaLab by becoming a | Patreon
Also, be sure to keep following us on Google+ | Twitter | Facebook |
Direct Shopping Links – Thanks for your Support!!
BHPhotoVideo | Amazon – US | CA | UK
Thanks,
Jay