I'm a huge fan of HDR Photography, so of course I had to try out some HDR with the Sony Nex-C3!
It was stormy day yesterday with bursts of thunder and rain throughout, but when I was was cruising paste one of my favorite Church's in the afternoon the sky opened up. I pulled over and grabbed my tri-pod, the Sony Nex-C3, and the 16mm f/2.8 wide angle Pancake lens. Next, I was hunting for a cool composition and went for the standard full frame shot.
If your not familiar with HDR Photography, I put together a tutorial video a while back that will explain the fundamentals to you. Check it out over Here >>
Now, to take an HDR Photograph with the Sony Nex-C3 I recommend using either M (Manual) Mode or A (Aperture Priority) mode.The Nex-C3 does have an auto bracket feature, but it only goes to 1/3 of a stop in either direction. Not very useful if you ask me, but it is there if you want to try. To get a much better result and capture more dynamic range you will want to use one of the creative modes.
I used Aperture Priority mode and the exposure compensation to get the job done. Using this method is not as powerful as manual mode, but it is easier imo. The exposure compensation gives us the ability to adjust the exposure -2 Ev and/or +2 Ev. So in other words I'm going to take 3 photographs. All of them with the camera set to f/8, ISO 200, in A Mode. Then I simple adjusted the exposure compensation to Ev -2 and took a shot. Then I quickly adjusted it to Ev 0, then Ev +2.  The Ev 0 actually looks great, but opening up the shadows with some HDR will really add some drama to the scene.
Here's the three exposures and be sure to click on them for a larger version:
For the HDR Processing I used Photomatix Pro 4. Here is the resulting HDR Composite with no adjustments or any additional editing.
This could benefit from additional editing no question, but It looks pretty good right out of Photomatix Pro 4!
Here is the fully edited HDR Photograph. For additional editing I fixed the perspective distortion and added some pop. Clearly the Sony Nex-C3 is capable of creating some killer HDR Photographs!!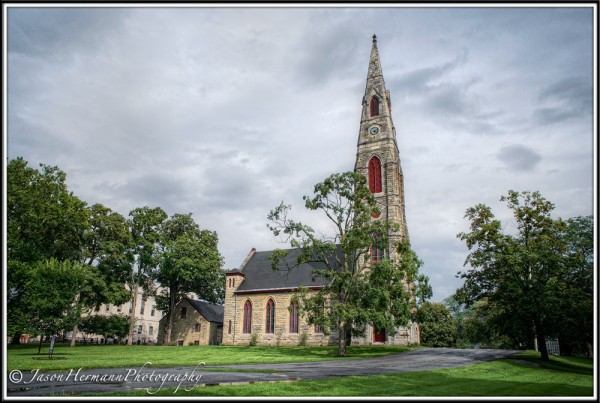 Your support is greatly appreciated as we run this site in our spare time and are not paid. We can however, make a small commission if you click a product link that your interested in. That click will then give us credit if you choose to purchase any given item. This has no effect on the cost of the product, and is a simple way to give back to SonyAlphaLab.com for the effort and info we provide.
Tip Jar: https://www.paypal.me/SonyAlphaLab
Support SonyAlphaLab by becoming a | Patreon
Also, be sure to keep following us on Google+ | Twitter | Facebook |
Direct Shopping Links – Thanks for your Support!!
BHPhotoVideo | Amazon – US | CA | UK
Thanks,
Jay