As you probably know if your waiting a Sony Nex-7, manufacturing has been delayed due to some flooding. Courtesy of SonyAlphaRumors I've been fallowing the rumors and a factory in Ayutthaya was totally flooded out.
Sony had to stop production of the Nex-7 and a77!
Sony is now "rumored" to have converted a factory in Chonburi Thailand to a fully operational A77/65 and NEX-7/5n production factory! Oh yeah 🙂
Check this out: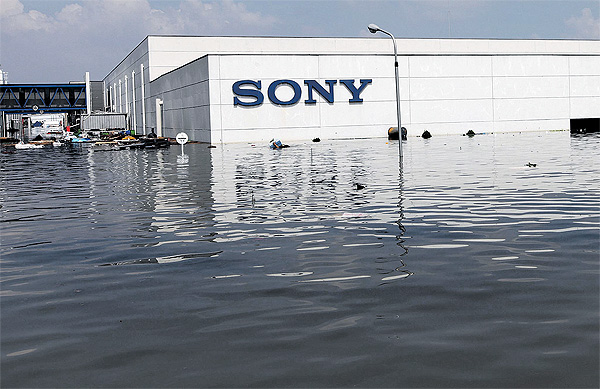 My updated skinny on the Nex-7:
After using the Nex-5n for several weeks I really fell in love with the little ultra compact power house. The ergonomics really bothered me at first coming from an slr, but once I adapted it was totally usable. Check out my Full Hands on Review of the Nex-5n over here >> 
In any event the Nex-5n left a few spots open for improvement in my opinion. One being a built in viewfinder so shooting in the sun is easier, and the other being more physical buttons so the screen did not have to be used all the time to access common features.
The Nex-7 addresses both these issues with it's built in view finder and dual adjustment wheel design:
What has me concerned about the Nex-7 is the 24mp sensor. I've been shooting with the a77 for about a week now and just did some High ISO Testing against the 5D Mark II and it really hit me how poor the Sony 24mp sensor in the a77 is at high ISO in comparison to the 5d Mark II in particular. So that brought me back to the question? Do I really want the Nex-7 now or would I be better off with the Nex-5n and the option Viewfinder?? Seems pretty clear to me I would be better off with the Nex-5n for low light which is exactly what it's primary use would end up being most likely. In fairness I do need to compare the high ISO performance of nex-5n vs the a77 to really see. Also the Nex-7 will not have the translucent mirror so that should help a bit in the noise department, but it still won't make up for the incredible pixel density on that APS-C sensor size.
Thoughts??
Your support is greatly appreciated as we run this site in our spare time and are not paid. We can however, make a small commission if you click a product link that your interested in. That click will then give us credit if you choose to purchase any given item. This has no effect on the cost of the product, and is a simple way to give back to SonyAlphaLab.com for the effort and info we provide.
Tip Jar: https://www.paypal.me/SonyAlphaLab
Support SonyAlphaLab by becoming a | Patreon
Also, be sure to keep following us on Google+ | Twitter | Facebook |
Direct Shopping Links – Thanks for your Support!!
BHPhotoVideo | Amazon – US | CA | UK
Thanks,
Jay