In this article I'm going show you How To Get More Creative with your Photography by using an Articulating Arm – Manfrotto Magic Arm in my case. It's an incredible useful accessory that I use whenever I need something a little different.

For my first contribution to SonyAlphaLab I thought about introducing myself, going into my background, sharing some of my work and talking about what I'd be writing in the future. I began a post that did all of those things and I knew I wanted to share some of my images.  I went through my portfolio to find some shots to sprinkle into my post and I found myself choosing pictures that I consider unique or captured from a different perspective. Most of the shots I wanted to use took advantage of an accessory called an articulating arm. It's an super useful accessory that allows me to get my camera (or a flash) into a strange position. When I'm on location it's my secret weapon. For my first post as an author here at SonyAlphaLab, I'll share how I like to use my articulating arm.
About Me
Before I talk about how I use my articulating arm an introduction is appropriate. I'm a full-time photographer, Photoshop enthusiast, a designer and a business owner. Currently I live in Northern Virginia (close to Washington, DC) but I grew up in south east Michigan. My first camera was a 110 film camera I received about thirty years ago. In my teens I started shooting Minolta SLRs and when it came time to transition to digital I chose Sony Alpha equipment (an easy choice because my collection of lenses and flashes were compatible with the Sony A system).
Before I moved to Virginia I spent most of a decade working at Ford Design North America where I learned some pretty crazy lessons about color theory and working digitally. To this day I'm close with the designers at Ford and I still do some special assignment work with the North American Design team. Here's an image from a shoot I did for a social media campaign for the Ford Fiesta:
On Location Portrait Photography
After my time with Ford Design I moved to Virginia where I began my photography business. My business specializes in location portraits and on-site executive photography. I love flash photography (big flash and small flash) and I enjoy both incredibly complicated shoots and super simple shoots. Here's a few of my favorite location shots.
When I'm not on an assignment my photography is pretty diverse. That's because I love to create. I keep myself busy by shooting landscapes, stars & star trails, fireworks, historic locations, wildlife, equine shows, weddings, high dynamic range images, architecture and products. When the weather isn't cooperating I'll spend time developing new techniques for improving images in Photoshop. To stay connected with the photographic community I'm active on social media and I maintain a blog about photography and Photoshop (monicozphotographyblog.com).
| | | |
| --- | --- | --- |
| | | I have a photography studio and I enjoy the control I have when I'm shooting in it. But being out on location is what I truly love. A lot can happen on location so it pays to be prepared. To help my chances of success when I'm on location shoots I've invested in plenty of gear that helps me to solve some of the problems I run into when I'm outside the studio.  There's one piece of gear I own that's super handy and I take one wherever my camera goes. |
The Articulating Arm
Because I'm a full-time photographer I get asked a lot of questions about gear. Of course there's some things I can easily recommend to anyone that wants to take better pictures. It's good to own a tripod (the sturdier the better) and having a shoe mount flash is always a good thing. But here's something that I use all the time that didn't cost as much as my tripod and it gets used all the time. It's called an articulating arm. I use a product from Manfrotto called a 244N variable friction magic arm (I just call it a Magic Arm for short).
Manfrotto isn't the only maker of articulating arms (Kupo also makes one just like this) and if you're on a budget I've seen some available at a discount in the used department of some stores. By itself it doesn't look like much. In fact, it's just about useless without a few accessories. In the picture above you can see the Magic Arm (on top), a camera plate (lower left) and a studio clamp. Together these three pieces of gear cost me about $125. I have a few other accessories I use with my Magic Arm but these three items seem to get the most use.
Using the Magic Arm starts with a studio clamp. I use a LumoPro LP653 studio clamp that cost me less than $20 but almost every manufacturer of grip equipment sells a studio clamp. You can attach it to round surfaces like pipes or light stands or you can attach the (included) flat surface adapter to clamp onto book shelves, tables or counter tops. Here's a closer look at my Studio clamp.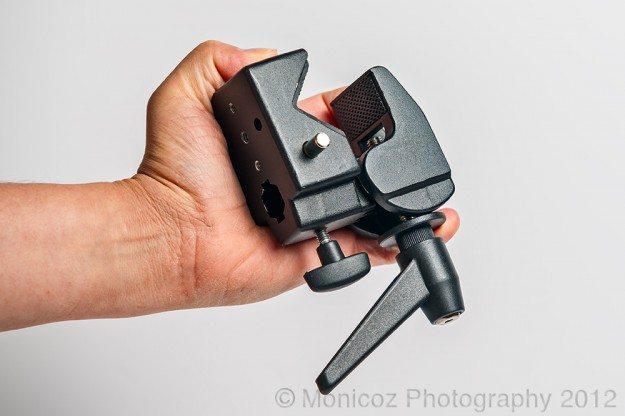 With your studio clamp mounted you simply attach the Magic Arm to your studio clamp. Here's a look at where the magic arm connects to the studio clamp: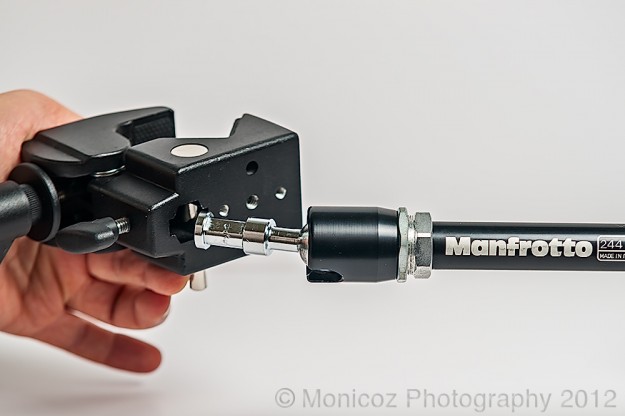 Now you can attach your camera (or a flash or other accessory) to the Manfrotto Magic Arm. Loosen the arm to make an adjustment and then tighten it back up to lock it in place. Now you're ready to start getting some unique shots.
The Magic Arm in Action
So what can you do with a Magic Arm? You can position a camera someplace you may not have thought of. One of my favorite ways to use my Magic Arm to mount my camera outside of a moving car. Here's a look at my Magic Arm mounted to my open sunroof to get my camera up high above my car: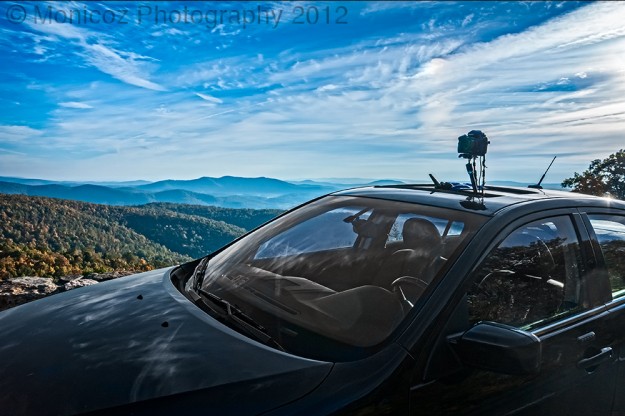 By mounting my camera here and setting my camera for a long shutter speed I can capture shots like this:
And forward isn't the only direction you can point your camera. When I want to get a shot of my dog enjoying a car ride I use my Magic Arm to get my camera outside while I'm sitting safely inside my car. Here's a look at my camera held steady with my Magic Arm:
By getting my camera mounted outside the car I was able to capture this shot:
You can use it to mount your camera in a place where you can't use a tripod. I'll use mine to photograph fireworks, for example, by clamping my camera to a rail. Here's a look at my camera before the fireworks show started at Disney World:
By using a Magic Arm I was able to keep my camera steady to get the super long shutter times that make firework shots look great.
Another place I've used my Magic arm is at the top of a lighthouse. It was super windy and I wanted a small aperture setting to get as much as possible looking in focus. To keep my camera steady for the longer shutter speed I clamped my Magic arm to the safety rail. In the confined space of the lookout there was no way a tripod would work but the ranger had no problem with me using my Magic Arm. Here's a look at it mounted to the railing: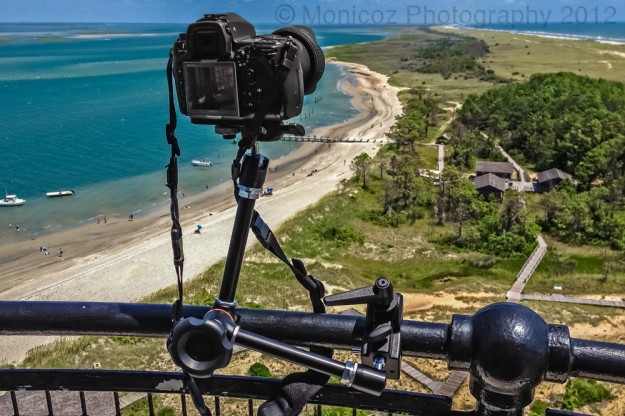 With my camera steady I was able to capture shots like this:
Another way I've used the Magic Arm is to steady my camera to photograph wildlife with a long lens while I'm staying safe inside my car. With the magic arm mounted to my window like this: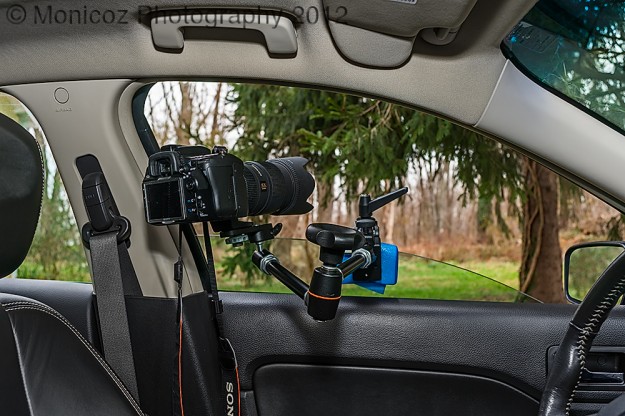 I was able to stay safe in my car while I photographed this black bear in a National Park:
It's Not Just For Cameras
It's important to remember that an articulating arm is not just for mounting a camera to something. I've used it to put a flash in crazy places where a full sized stand just can't fit (or will be a tripping hazard). With so much flexibility of movement I can put light exactly where I want it. Here's a look at my Magic Arm clamped to a book shelf to get a flash up high: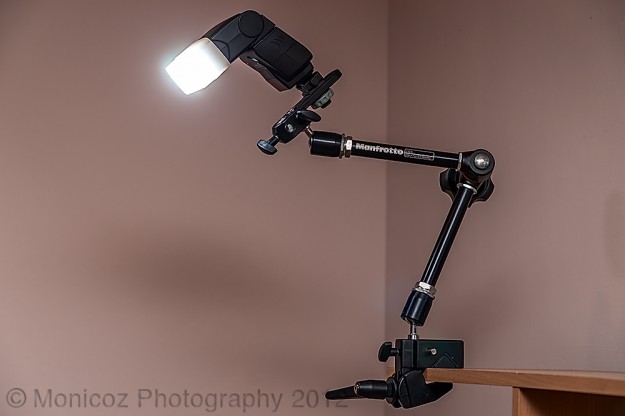 And I'll use my magic arm to position a flash to get a little bit of kick light during a shoot. Here's my Magic Arm mounted to a light stand in my studio. The small octa shaped softbox is the main light and the smaller flash is being bounced into a collapsible reflector for some kick light (great for opening up deep shadows).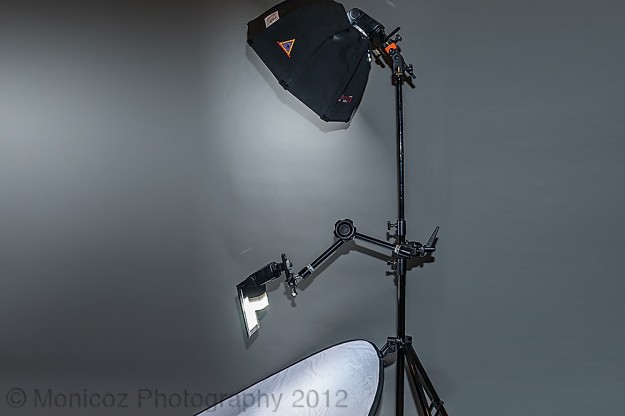 By using a clip clamp (instead of the camera mounting plate) and a black flag I can even use my Magic Arm to keep light away from the front of my lens. This helps prevent flaring and other problems caused by stray light. It's also a nice way to make your LCD a little easier to view in bright sunlight. Here's a look at my Magic Arm attached to my tripod to block some light: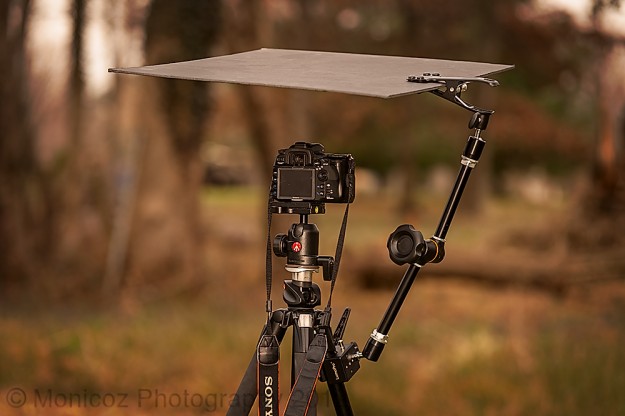 And that's just a small sampling of how I like to use my Magic Arm.
Wrapping Up
The bottom line here is that keeping your camera steady can really help you take sharper pictures. That's why it's great to own a tripod. But sometimes a tripod isn't the best tool for the job and that's where having something unique like an articulating arm comes in handy. I always try to use my tripod first but when that won't work I'm always happy that I have a backup option. When it comes to using off-camera flash you need control and placement to get the best shots or to add come creativity.  Sometimes a big stand with a boom arm just won't work. By using an accessory like the Magic Arm you'll be able to get a flash into places you wouldn't normally be able to put it. The possibilities are truly endless. Once you start using one an articulating arm becomes a real problem solver and you'll quickly find ways to take advantage of it's flexibility. I now own several and at least one Magic Arm goes wherever my camera goes.
If you're interested in learning more about my moving car shots I have two posts over on my personal blog you should check out.
Photographing Peaches in a moving car
For future articles I plan to share more of my photography techniques and some Photoshop/Lightroom tips and tricks. Until then you can find me on my blog, on twitter or on Google+.