Sony is running a killer promotion where you can trade in any old camera and get a minimum of $300 towards the purchase of a Sony Alpha A7 or A7r. The full frame mirrorless Sony A7 and A7r have been proven to be the most amazing cameras in a few years. The IQ and cost in relation to camera size and weight can not be matched by any other manufacture is the bottom line. Sony knows this, and they are trying to get the word out big time. this trade-in promotion is yet another deal they are pushing that is very enticing. Especially if you happen to have an old camera lying around that you no longer use. Might as well trade-in and get even more of a discount on the new amazing full frame format cameras while the deals last.
| | |
| --- | --- |
| | New full frame E-Mount lenses are going to be announced shortly plus the 70-200mm f/4 OSS lens (sel70200g) will be available in April. The Zeiss 24-70 f/4 OSS lens (sel2470z) is proving to be and excellent all around performer from what I have seen. Not perfect, but more than good enough to justify the price to performance ratio in my opinion 😉 The OSS looks significantly better than the that of the kit lens, plus sharpness, contrast, and bokeh and Zeiss quality. A full detailed review of the sel2470z lens coming soon… |
Sony is not playing games with these new full frame cameras and I am getting the Sony A7r for myself officially. I may sell it in a few months for those interested in a slightly used model, but I feel it will be a good investment to have both the Nex-6 and A7r on hand for testing lenses and creating tutorials etc..
Click Here For a Quote on your Trade-In @ BHPhoto >>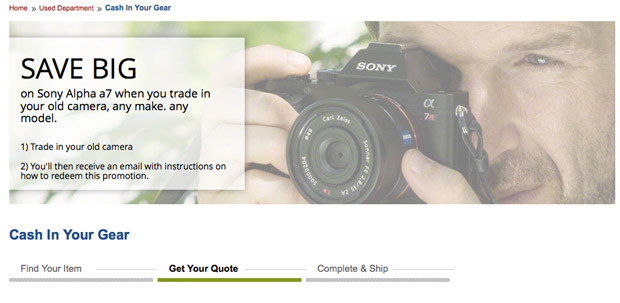 Sony A7 and A7r Deals
Save $200 on the Sony Alpha A7 and A7r – Up to $650 if you bundle!

Sony A7's from $1563 US @ Amazon | BHPhoto | Adorama | Ebay
Sony A7r's from $1855 US @ BHPhoto | Amazon | Adorama | Ebay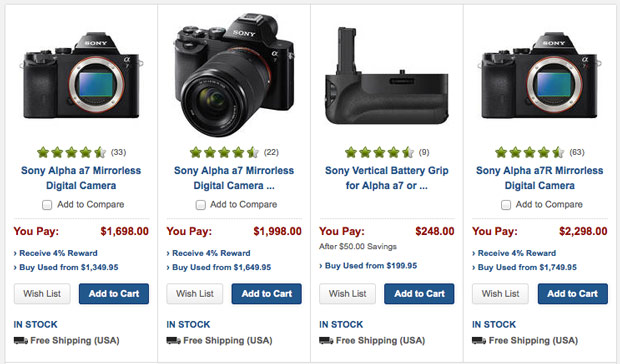 More Killer Deals:
Filming Movies?
If you're looking for professional results, then Geared Cine lenses along with some rigs are the way to go. Bower offers fast prime geared lenses for cheap @ BHPhoto. The lenses also sell under other names like Samyang, Rokinon, but the optics are the same just so you know.
– Save $100 on the Bower 16mm T2.2, and many more geared lenses for the Sony E-Mount cameras below: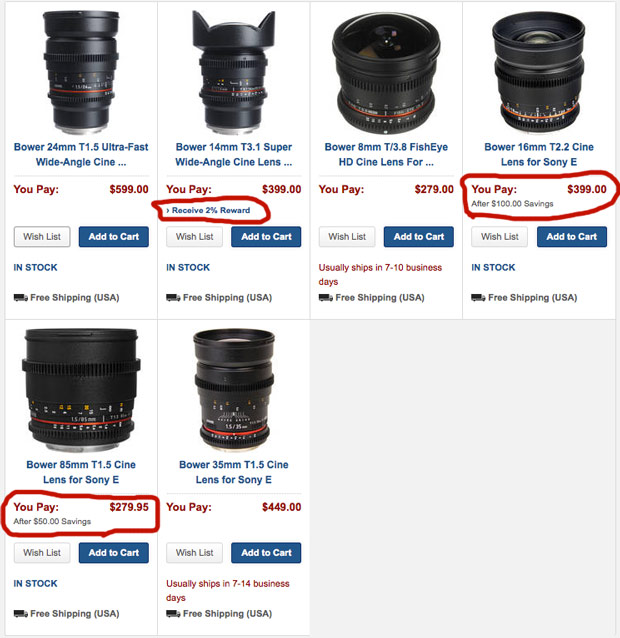 Save up to
$500

on Sony Alpha A99 Digital SLR Bundled Purchase
For a limited time, save $500 on the Sony A-Mount 28-75mm lens or $380 on the Sony VGC99AM vertical grip when you purchase the Sony Alpha A99 digital SLR camera.
Firmware Update
A major firmware update for the Sony A7 and A7r, plus the Nex-5r, Nex-5t, and Nex-6 get some updates. All the info in detail is posted on the forum linked below.
Closing Remarks and Latest Rumors
We have confirmation of a new A3500 E-mount DSLR style Camera that is coming out shortly, but it appears to be a modest upgrade of the A3000. Nothing particularly amazing about it as of yet per SonyAlphaRumors.com
The A-Mount Sony A77II is apparently coming soon according to rumors, and will be blazing fast hopefully 😉 Not sure on the real specs, but just the name sounds interesting to me. More mega pixels on a crop factor sensor? It's possible, but is it practical? Sony is always leading the way, so who knows…
That is about it for now, but stay tuned as some new full frame E-mount lenses and APS-C E-mount lenses come into the Lab for review 😉 I have the Nex-6 and Sony A7r to use for now. As soon as the A6000 is released I will get as well.
Have a great day and thanks again for checking in and the support,
Jay
Your support is greatly appreciated as we run this site in our spare time and are not paid. We can however, make a small commission if you click a product link that your interested in. That click will then give us credit if you choose to purchase any given item. This has no effect on the cost of the product, and is a simple way to give back to SonyAlphaLab.com for the effort and info we provide.
Tip Jar: https://www.paypal.me/SonyAlphaLab
Support SonyAlphaLab by becoming a | Patreon
Also, be sure to keep following us on Google+ | Twitter | Facebook |
Direct Shopping Links – Thanks for your Support!!
BHPhotoVideo | Amazon – US | CA | UK
Thanks,
Jay