Sony announces three new Alpha A-mount lenses (SAL70400G2, SAL50F14Z, SAL18552), a new standard flash unit (HVL-F20M), and new wired remote cable (RM-VP1).
Starting with the new Sony 70-400mm lens, we basically have a completely updated ultra high quality optical specimen!! A killer all around lens to have for any Alpha camera owner in my opinion. I used the older version of this lens on the Nex-5n with the LA-EA1 lens adapter (click here for article), and it was a blast to use!! On the Full Frame A99 it must be a dream I would imagine and perhaps I can get it to review at some point 😉
Next we have the killer long-awaited Zeiss 50mm f/1.4 Planar SSM lens. This lens is packing extremely high quality optics and perfect for weddings, portraits, and street photography in particular. That is what I would use it for anyway, although a great low light shooter as well with such a fast f/1.4 aperture. Close range indoor sports like basketball is also another area this lens would shine in my opinion. Especially on a crop factor camera like the SLT-A57, or SLT-A77 which will give you and effective ~75mm focal length!!
Lastly on the new Sony A-Mount lenses we have an updated version of the popular 18-55mm kit lens. It has some new optics in the rear to improve quality, and some updates to mechanical parts for a better user experience. I guess the focus and zoom ring gearing or whatever.
As far as the New Sony Camera Accessories go we have a long-awaited Standard Hot Shoe Flash (HVL-F20M) that is a relatively small form factor. Designed for the Nex-6 really in my opinion 😉 It's nice to have another standard flash option besides the really expensive pro grade HVL-F43AM Flash unit. Lastly Sony announced a new cable that can work with any versatile Multi Terminal interface that features handy controls for zoom and video recording start/stop.
Pre-Orders now available @ BHPhoto!!
Sony 70-400mm F4-5.6 G SSM II Lens
Sony's G lens line-up is strengthened for 2013 with the revised 70-400mm F4-5.6 G SSM II. Ideal for capturing wildlife and action-packed sports, the upgraded super-telephoto zoom builds further on the premium performance of its predecessor with enhanced optics and faster, more responsive autofocus. Thanks to a new LSI drive circuit, autofocus speed of the SSM (Super Sonic Wave Motor) is around four times quicker than before. Teamed with enhanced tracking AF, the upgraded lens is now even more suitable for capturing stills and Full HD video of fast-moving subjects.
While its optical design is carried over from the previous-generation model, the new-generation lens features Sony's proprietary Nano AR Coating on optical surfaces. Offering around five times the efficiency of conventional anti-reflection coatings, this advanced technology reduces flare and ghosting for exceptionally high-contrast images.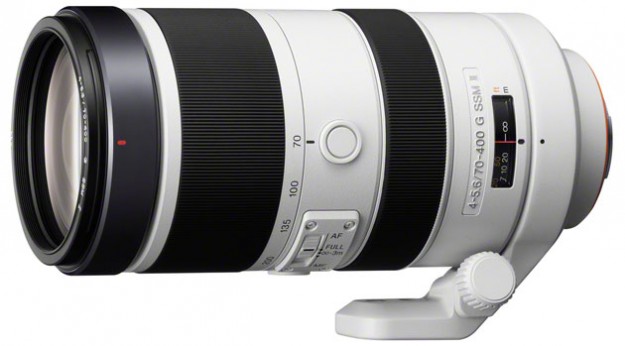 Carl Zeiss Planar T* 50mm F1.4 ZA SSM Lens
The new Planar T* 50mm F1.4 ZA SSM joins the existing Distagon 24mm, Planar 85mm and Sonnar 135mm in the A-mount range of prime length optics by Carl Zeiss. Offering a fixed 50mm focal length and extra-bright F1.4 aperture, the premium lens is an ideal choice for quality-critical portraiture and low-light shooting.
Featuring 8 elements in 5 groups with two aspherical elements, the brand new optical design is optimised for superb results with Sony's full-frame SLT-A99. Exceptional resolving power and contrast at all apertures are teamed with smooth, quiet autofocusing and a rear-focus system that maintains the same lens body length during AF. The dust- and moisture-resistant design extends the appeal of the new lens to a range of outdoor shooting applications.
Click the lens photo for 1200px High Res Version!!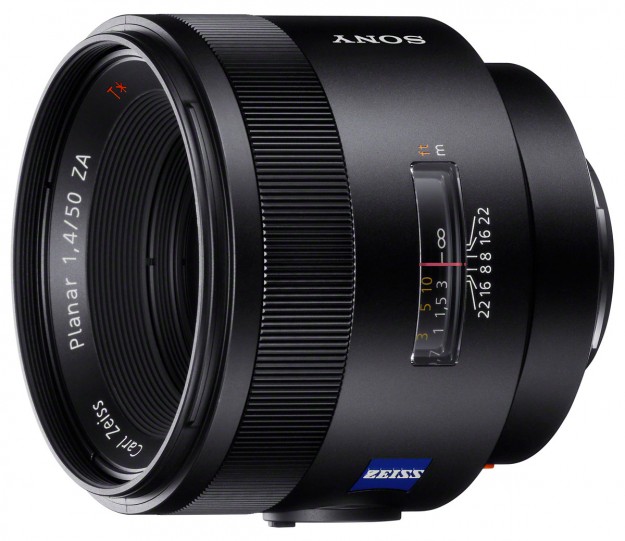 Sony DT 18-55mm F3.5-5.6 SAM II Zoom Lens

Boasting second-generation styling, this new lens succeeds the popular DT 18-55mm F3.5-5.6 SAM that was introduced in 2011. The light, compact 3x zoom lens covers a frequently-used range of focal lengths from wide-angle 18mm to standard 55mm (35mm camera equivalent range: 27-82.5mm). While retaining the same smooth AF motor (SAM) as its predecessor, newly-designed rear lens elements suppresses flare and ghost, while mechanical elements have been upgraded for more positive, comfortable operation.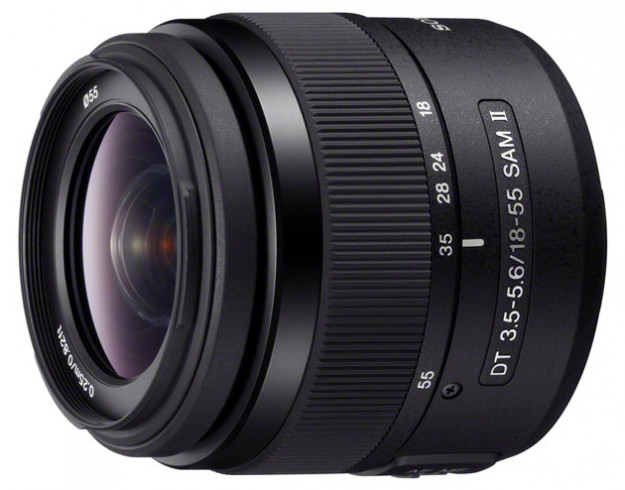 Key Lens Specifications
70-400mm F4-5.6 G SSM II
Planar T* 50mm F1.4 ZA SSM
DT 18-55mm F3.5-5.6 SAM II
Format
35mm (full frame)
35mm (full frame)
APS-C
Lens construction
(groups/elements)
12/18
5/8
7/8
Minimum focusing distance
1.5 m
0.45 m
0.25 m
Maximum magnification ratio
0.27
0.14
0.34
Filter diameter
77 mm
72 mm
55 mm
Max. dimensions (diameter x length)
94.5 x 196 mm
81 x 71.5 mm
71.6 x 69 mm
Weight (approx.)
1,500 g
excluding tripod mount
518 g
222 g
New Accessories for Sony Cameras and Camcorders
HVL-F20M Standard Mount Flash
The HVL-F20M is a space-saving, easy to carry new flash for Multi Interface Shoe mounted cameras, that's ideal for brightening up portraits, interiors and dimly-lit scenes. Despite its compact size, it's packed with pro-style features like wireless control for fuss-free multi flash set-ups, simple bounce operation and Auto White Balance compensation for more accurate, natural-looking white balance. It's refreshingly easy to use: just raise the flash head to switch on… then turn off again by lowering when the flash isn't needed.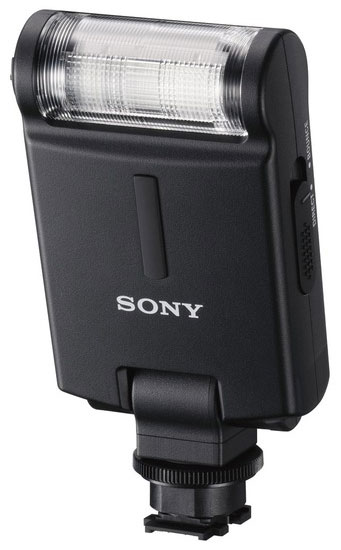 RM-VPR1 wired remote
Compatible with a growing range of A-mount and E-mount, Cyber-shot™ and Handycam® models that feature the versatile Multi Terminal interface, the RM-VPR1 wired remote commander features handy controls for zoom and video recording start/stop. It also includes a shutter lock function that's ideal for long-exposure 'bulb' shooting with 'A' cameras. The remote comes supplied with two cables. One is for use with Multi Terminal-equipped cameras/camcorders, while the other allows simple shutter release with 'A' A-mount cameras that only include a REMOTE terminal.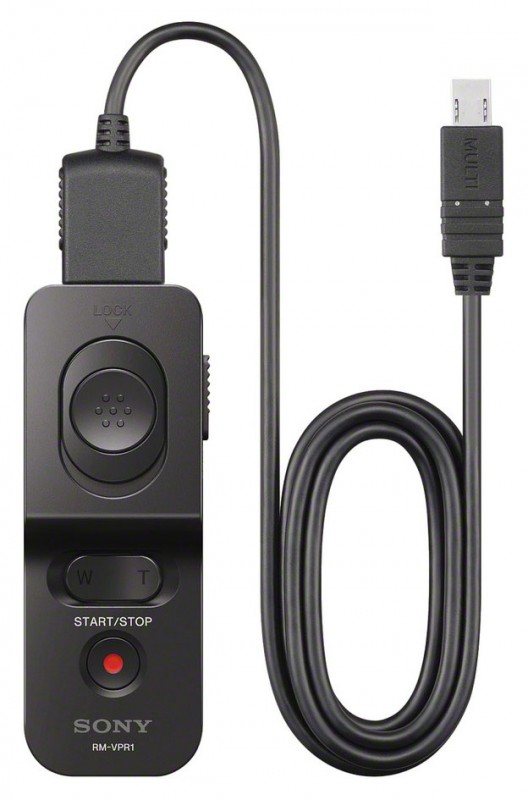 Pre-Orders now available @ BHPhoto!!
Closing Remarks
That is it for now, but some good stuff on the way for sure!! Stay tuned for the breakdown of the three new Cyber-shot cameras that I will work on next!! The new HX300 for example has a 50x Zeiss zoom lens!!!
I'm also polishing up my Nex-5r rolling review(click Here) today if you want to check it out again. I added a ton more content including auto hdr, portrait samples, and more!! I still need to wrap up the conclusion and a few other things though, just to let you know.
Catch up with you later and please feel free to ask questions or just comment on articles if you want! Also, be sure to check out the forum as some awesome photogs are posting more and more.
Your support is greatly appreciated as we run this site in our spare time and are not paid. We can however, make a small commission if you click a product link that your interested in. That click will then give us credit if you choose to purchase any given item. This has no effect on the cost of the product, and is a simple way to give back to SonyAlphaLab.com for the effort and info we provide.
Tip Jar: https://www.paypal.me/SonyAlphaLab
Support SonyAlphaLab by becoming a | Patreon
Also, be sure to keep following us on Google+ | Twitter | Facebook |
Direct Shopping Links – Thanks for your Support!!
BHPhotoVideo | Amazon – US | CA | UK
Thanks,
Jay