The buzz and confusion on the web is high on whether to get the new Sony A7 or A7R? A lot of people think resolution is everything and are diving in for the 36mp A7r with out taking into consideration some of the features the A7 has over it. In this article I will go over the differences between the Sony A7 and A7r in detail, so you can make your decision with confidence!
For starters the Sony A7r is approximately $600 more than the A7, and besides the obvious 36mp sensor it looks identical?
Lets go over the major differences between the two models so there is no confusion.
Sensors – 36MP VS 24MP
Sony Alpha 7R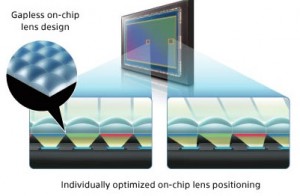 The A7R has a next generation 36mp sensor with a special gapless on chip design that utilizes offset micro lenses near the corners. This helps with the very short 18mm sensor to lens mount distance and the angle that the light is being received at. Towards the corners the angle is more extreme and gets harder for the sensor to capture the light accurately. This offset microlens technology should help with that. The higher pixel density on the sensor, the more of an issue this will be. The Nex-7 for example, suffers from this, but it does not have the offset micro lens design. The offset micro lens design is not good for legacy old school glass in my opinion. Only the the new full frame e-mount native lenses will really take advantage of the technology, and perhaps some of the other lenses with software updates. The older lenses will actually suffer a little bit in quality from this in my opinion. We shall see once more significant testing is done on the web.
Every gapless on-chip lens (OCL) is designed and positioned to cover every pixel and eliminate the spaces between the micro-lenses to collect significantly more light. Moreover, each on-chip lens is optimally positioned depending on its location to accommodate the sharper angle of light entering the periphery, which is caused by larger sensor dimensions being teamed with the E-mount's short flange-back distance.
The 36mp sensor has no low pass filter in front of it, so expect a slightly sharper and texture rich result at the cost of some moire' and possible banding. The larger resolution sensor also slows down the max frames per second to 4fps
Sony Alpha 7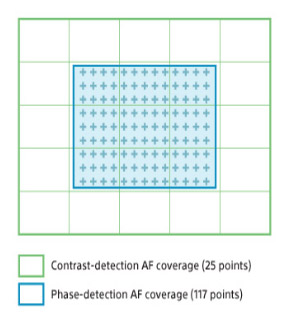 The A7 has a 24mp Hybrid Sensor with much faster auto focus and significantly lower pixel density than the A7r. It's based off the full frame A99 sensor and has been optimized somehow they say. The A7 does not have the offset micro lens design like the A7r, so corner sharpness performance may suffer a tad in comparison. We will have to wait and see some high res corner sample shots using each camera with the same lens to know for sure.
The 24mp Sony A7 sensor will be a better performer in the high ISO department thanks to the much lower pixel density. Even though it's an older re-designed sensor from the slt-a99, the lower pixel density will almost always produce cleaner results in high ISO testing. This was very obvious on the higher density 24mp Nex-7 APS-C sensor vs the lower resolution Nex-6 16mp sensor. I preferred the lower pixel dense chip personally although both performed outstanding at normal ISO levels. I'm sure these newer sensors will be similar with the 36mp being much closer to the performance of the 24mp sensors in contrast to the Nex-7 vs Nex-6 sensors.
The A7 has a slightly faster max frames per second than the A7r with a whopping 5fps.
Enhanced Fast Hybrid auto focus combines speedy phase-detection AF with highly accurate contrast-detection AF, which has been accelerated through a new Spatial Object Detection algorithm, to achieve among the fastest auto focusing performance of any full-frame camera. First, phase-detection AF with 117 densely placed phase-detection AF points swiftly and efficiently moves the lens to bring the subject nearly into focus. Then contrast-detection AF with wide AF coverage fine-tunes the focusing in the blink of an eye.
Build Quality Differences
The A7r has a full metal internal chassis design while the A7 only has a half metal half plastic internal chassis design. This make the A7r more robust in build quality and also more rigid when using heavier lenses. According to initial reviews the hands-on differences is not noticeable. If you plan on using heavy lenses, the stronger A7r camera body could prove to be a better option in the long run though.
Other than that, the camera bodies are identical.
Legacy glass users:
Check out this great article with full res sample photos using various old school lenses mounted to the Sony A7 by Ron Scheffler: http://www.ronscheffler.com/techtalk/?p=224
Thanks to Noovuss for sharing the link!
Conclusion
Well, for me personally I want the faster AF for taking pictures of Layla, the dogs and whatever else I decide to shot that moves. I take landscapes photos also, but the higher res 36mp sensor optimized with no anti-aliasing filter is not the best for my needs. I'm sure many of you are looking for exactly that, but I'm more into the family fun stuff these days and capturing the action is more important to me. The A7 has significantly better af tracking abilities for both video and regular photography. So again, for me this makes perfect sense.
If your a landscape shooter, commercial photographer, stock photography shooter, or  a Pro that requires the highest resolution possible for the best price, the A7r is for you. It will take better quality images, in regards to resolution, and super fast focusing is usually not required. The higher resolution also offers more editing flexibility for advanced Photoshop enhancement type work. Resolution makes a big difference when it comes to editing fine details in images. Model editing and eye enhancement for example is much easier when you have resolution to work with. Same goes for landscapes or anything else that has to be perfect for huge prints or high res stock photography files.
If your a legacy glass user and you prefer the much older fully manual lenses, I would lean towards the lower resolution A7 camera for sure. The optimized 36mp sensor is not going to be ideal for the older glass and the 24mp sensor will do a better job in my opinion. Time will tell for sure, but it makes logical sense to me that the older lenses are not designed for the digital sensors. Lower resolution seams to work better do to the angle of light being blasted on the sensor.  I honestly don't know how the offset micro lens design will effect the old school lens performance specifically, but from a resolution stand point, lower tends to be better.
So for $600 extra you get slower auto focus performance but significantly better resolution with next generation sensor design technology. You also get a more robust camera body and a cool red r logo next to the 7 which is very appealing I must admit 😉
What am I going to do?
I want to go with the lower resolution faster focusing Sony A7 kit w/ 28-70mm zoom lens. I'm also going to get the Metabones EF to E-Mount lens adapter, so I can use my high quality Canon EF L lenses that are currently collecting dust. I think this is the best investment choice I have currently for my needs and situation with pro gear etc..
Please feel free to ask questions if you have them or share your thoughts on the which camera your going to get and the reasons why?
Thanks again for your support and have a great day,
Jay
Pre-Order Links:
Sony A-Mount to E-Mount Lens Adapter with Translucent Mirror Technology (LAEA4) $348 @ BHPhoto | Amazon
Your support is greatly appreciated as we run this site in our spare time and are not paid. We can however, make a small commission if you click a product link that your interested in. That click will then give us credit if you choose to purchase any given item. This has no effect on the cost of the product, and is a simple way to give back to SonyAlphaLab.com for the effort and info we provide.
Tip Jar: https://www.paypal.me/SonyAlphaLab
Support SonyAlphaLab by becoming a | Patreon
Also, be sure to keep following us on Google+ | Twitter | Facebook |
Direct Shopping Links – Thanks for your Support!!
BHPhotoVideo | Amazon – US | CA | UK
Thanks,
Jay