Tamron is a serious 3rd party lens manufacture and they just announced a new 18-200mm f/3.5-6.3 Di III VC lens for the Sony Nex E-Mount system!! Ironically Sony already has that focal length lens covered, but this lens is in a different price bracket! Rumored to be around $1000 US.
Press Release
December 8, 2011, Saitama, Japan – Tamron Co., Ltd. (President & CEO: Morio Ono; Headquarters: Saitama City), a leading manufacturer of optical equipment, announced the introduction of an exciting new lens, the 18-200mm F/3.5-6.3 Di III** VC (Model B011). The new high-power zoom lens is designed for the Sony E-mount system of its NEX series interchangeable-lens, lightweight and compact digital cameras. Sales in Japan will commence from December 15, 2011.
Product Features
1. High-power 18-200mm*1) lightweight and compact zoom lens weighing 460g with a 62mm filter is designed for the E-mount system of Sony's NEX series mirrorless interchangeable-lens cameras. Equipped with Tamron's acclaimed VC (Vibration Compensation), the lens enables easy handheld shooting from 18mm wide angle to 200mm full telephoto.
2. Striking appearance worthy of the NEX series design. The metallic lens barrel exterior is available in two colors: black and silver.
3. Stepping motor adopted for the AF drive, a construction that accommodates Contrast-detection AF and shooting video.
* "Mirrorless interchangeable-lens cameras" are also known as "Compact System Cameras."
**Di III (Digitally integrated design): A designation Tamron gives to lenses engineered specifically for mirrorless interchangeable-lens cameras with no internal mirror box or pentaprism, adopting an optical design that matches the characteristics of the digital camera. (Note: These lenses cannot be used with digital SLR cameras with built-in mirror box or conventional 35mm film SLR cameras).
(*1) As the NEX series cameras (NEX-3, NEX-C3, NEX-5, NEX-5N as of December 8, 2011) have an image sensor equivalent in size to APS-C sensors, the angle of view is 27-300mm when converted to 35mm format.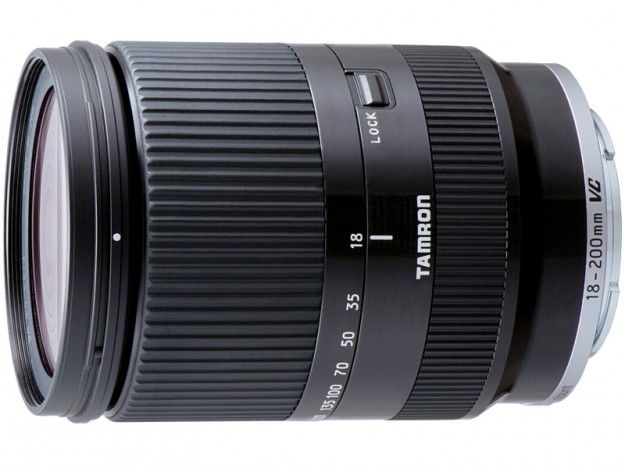 The 18-200mm F/3.5-6.3 Di III VC (Model B011) (referred to below as 18-200mm Di III VC) is a high-power zoom lens, developed by zoom lens pioneer Tamron, for use with the E-mount system of Sony's NEX series compact interchangeable-lens cameras. Tamron brings 19 years of high-power zoom lens development technologies to this product.
Tamron has created a lens that is compact and lightweight, featuring a 62mm filter and weighing only 460g, at the same time delivering superlative image quality. This size allows users to easily enjoy shooting across the whole range – from wide-angle to full telephoto – with just one lens.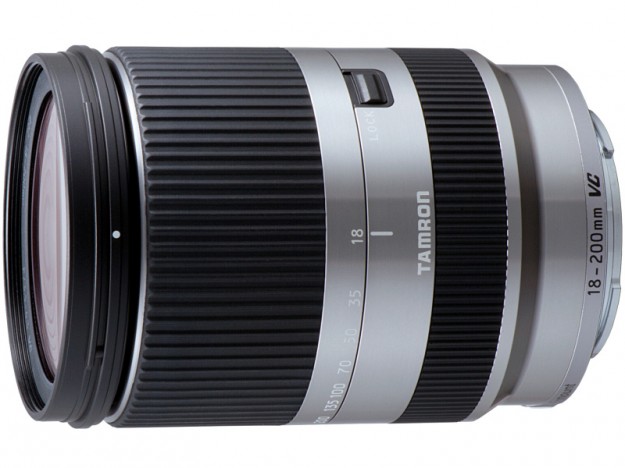 Featuring a striking appearance befitting the NEX series design, the lens is available in silver and black.
The AF drive has a stepping motor that is optimal for the Contrast-detection AF system employed by NEX series cameras. This has also enabled improvements in AF performance when shooting video. In addition, ease of operation is enhanced with the Direct Manual Focus (DMF) function, which allows the user to make fine manual adjustments after initially focusing by AF.
The focal length coverage is 18-200mm. Converted to the coverage of a the 35mm format, this is equivalent to a range of 27mm wide-angle up to 300mm full telephoto. This allows the user to take wide-angle shots of expansive landscapes and powerful telephoto images that enlarge the details of distant subjects—all with one lens. In addition, by setting the lens at the telephoto end (200mm) and moving in to the minimum focus distance of 0.5m, flower petals, jewelry and other small objects can be shot as expanded close-ups.
Equipped with Tamron's acclaimed VC (Vibration Compensation), and thanks to its light weight and compact size, this lens allows easy handheld shooting of sharp images with no camera shake over a wide range of settings, from everyday snapshots to memorable travel scenes.
This lens was developed, manufactured and will be sold based on the specifications for the E-mount that was disclosed by Sony Corporation under Tamron's license agreement with Sony Corporation.
About the stepping motor
The B011's autofocus mechanism uses a stepping motor that is an ideal match for the Contrast-detection AF system used in Sony's NEX series cameras. The stepping motor's actuator allows finely tuned control of angular rotation,
and since it drives the focusing mechanism directly without an intermediate reduction gear, it also provides superbly quiet performance.
VC (Vibration Compensation)
Tamron's VC mechanism employs a three-coil system, whereby three driving coils activate the shake-compensating VC lens group electromagnetically via three steel balls. The VC lens elements are held in place only by contact with the steel balls, achieving smooth movement with little friction. This provides a stable viewfinder image with excellent tracking performance that eliminates the blur from handheld shots for cleaner, crisper shots.
About the new VC mechanism (moving coil system)
Tamron's conventional VC (Vibration Compensation) unit has a moving magnet system with heavy magnets in the vibration-compensating lens. However, the new VC mechanism adopts a lightweight moving coil system that reduces the load on the drive system. This allows the drive to be operated with smaller coils and magnets, reducing the weight and size for the entire VC unit. In addition, improvements to software and other elements of the VC mechanism used in the 18-200mm Di III VC have made the mechanism even quieter
Specs
Model
Tamron 18-200mm F/3.5-6.3 Di III VC (B011)
Focal length
18-200mm
Maximum aperture
F/3.5-6.3
Angle of view
(diagonal)
76°10´-8°03´
(horizontal)
66°16´-6°43´
(vertical)
46°51´-4°27´
Lens construction
17 elements in 13 groups
Minimum focus distance
0.5m (throughout zoom range)
Maximum magnification ratio
1:3.7 (at f=200mm: MFD 0.5m)
Filter size
?62mm (2.4in)
Length

*1

96.7mm (3.8in)
Entire Length

*2

102.0mm (4.0in)
Diameter
?68mm (2.7in)
Weight
460g (16.2oz)
No. of diaphragm blades
7
Minimum aperture
F/22 – 40
Standard accessories
Flower-shaped lens hood
Compatible mounts
Sony E-mount
*1

. Length is the distance between the mount face and the tip of the lens.

*2

. Entire length is the distance between the tip of the lens and the tip of the protrusion.
*The angle of view is calculated based on the latest image sensor size of Sony's NEX series.
*The angle of view of the lens when used for video on the Sony digital HD video camera recorder
NEX-VG10 is 32.4 – 360mm when converted to the 35mm format.
NOTE: When using Continuous AF (AF-C) Mode
-Due to an inherent characteristic of this TAMRON lens, when using the Sports Action mode on Scene Selection, the continuous operation of the focus search function may cause some fluctuation in the LCD monitor image. However, there will be no associated problems on photos taken in this situation.
-In other Shoot Modes (P, A, S, M), when the focus mode is set to Continuous AF (AF-C), the same condition may also arise. There will also be no associated problems on photos taken in this situation.
*As an alternative to either of the above settings, you can change the focus mode to Single-shot AF (AF-S) or Direct Manual Focus (DMF) and continue shooting.
Your support is greatly appreciated as we run this site in our spare time and are not paid. We can however, make a small commission if you click a product link that your interested in. That click will then give us credit if you choose to purchase any given item. This has no effect on the cost of the product, and is a simple way to give back to SonyAlphaLab.com for the effort and info we provide.
Tip Jar: https://www.paypal.me/SonyAlphaLab
Support SonyAlphaLab by becoming a | Patreon
Also, be sure to keep following us on Google+ | Twitter | Facebook |
Direct Shopping Links – Thanks for your Support!!
BHPhotoVideo | Amazon – US | CA | UK
Thanks,
Jay