Hi everybody and welcome to SonyAlphaLab.com! This website is dedicated to Sony Alpha Camera and lens Reviews in particular, but will also cover other gear from time to time as well. I recently reviewed the Olympus OM-D EM-5 Mark II, for example, and I have a Yuneec Typhoon Q500 Quadcopter currently in the lab.  I also create tutorials for Lightroom and other programs occasionally if time permits.
In any event, I wanted to put together and article that shows you how to utilize my website and all it's content to the fullest. I have a ton of content, but a lot of it is hidden and you must select the menu links at the top of the website or on the sidebar of the website, to access it all.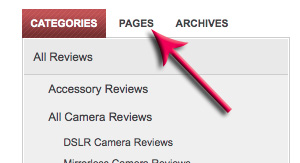 The SonyAlphaLab Guide Pages and Categories are intended to help you find what you need as fast as possible. The categories are used for organizing all the articles ever written on the website. So, finding specific lens or camera articles will be much easier.
Note the tab on top for the page option. The latest reviews, most popular articles, and Promoted Forum Activity are below that on the right side of the website.
The guide pages are updated regularly and do require a lot of maintenance to keep accurate, so if you see an error please let me know…
On the top of the website you will also find some navigation that will get you to all the page guides and most popular categories.

And at the very bottom is also some navigation links that will get you going in the right direction.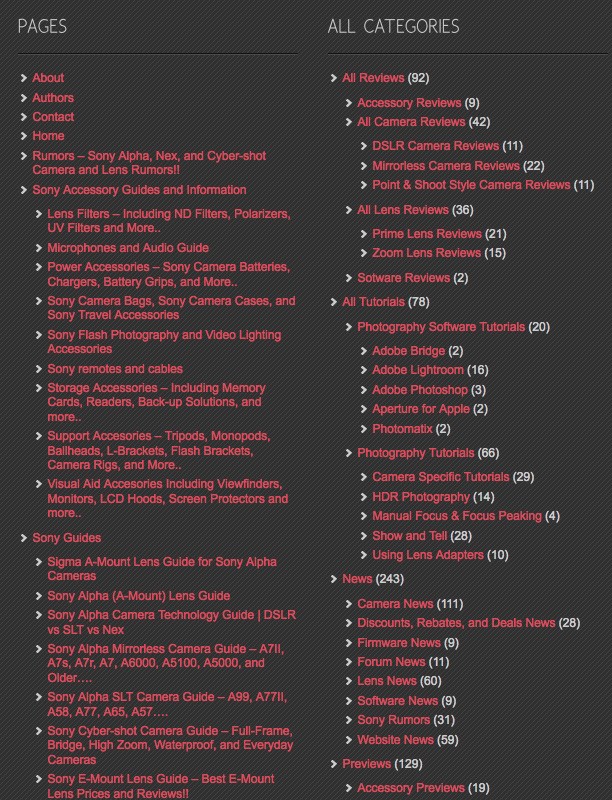 The SonyAlphaLab – Forum
The SonyAlphaLab Forum is the next phase in the ever expanding evolution that is SonyAlphaLab.com. I wanted a place where I could frequently post with ease, and provide a super friendly platform for others to share and learn. That is how it started and now it's an amazing community of brilliant people funneled from all over the world! It's really amazing and over the past two years has become a huge part of my life and day to day activity.

I update to forums daily with the latest Sony News, Reviews, Rumors, and Deals as best I can with the time I have, and users also add great links to all sorts of good stuff. We also have many other areas on the forums for your entertainment and consciousness expansion.  For example, we have a music section that is killer and gives you something to look forward to when something new is added 😉 I have found out about some amazing music that I would have otherwise never known about and that is just the tip of the iceberg on the forums. Most stuff is Sony related clearly, but I wanted to let you know it's much more than that!
The coolest thing about the forum, I'm finding out, is the concentration of like minded people that are currently members. It's just incredible how much in common we all seam to have in various ways. Almost like a magnet has drawn us together for some reason. I find this awesome and it really gives me fuel for trying to provide the best possible environment. Seriously, it's a blast and if you think like we do, please consider joining!
Forum Registration
If you would like to become a forum member, you must have a regular email account from your Internet service provider or a gmail account. Due to insane spam registration issues, I had to exclude several email severs such as hotmail and yahoo. Sorry about that, but it's just the way it is for now until I can come up with something better.
You can also use the Contact Us form if you would like to become a member and I can create an account for you manually, no problem 😉
To those that have tried registering using the email servers not supported and got denied…
I'm really Sorry! It looks like I'm blocking you personally, but it's just the email servers that have been blocked from registering on the forum as I explained above. Please try again with another email or contact me directly as I suggested above…
Forums –
Whats Hot?

Page:

The Whats Hot?? Page is basically a summary of what is going on with the forum that I felt should be highlighted. Sony Deals, Reviews, Rumors, User Photography, and Song of the day is what I usually share. It's updated daily and a great page to bookmark for your daily viewing pleasure.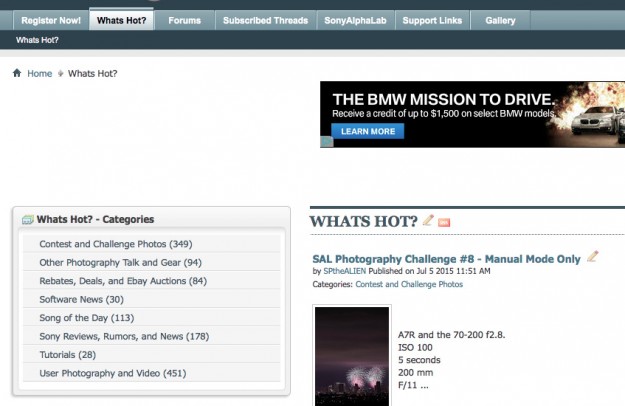 The main SonyAlphaLab website (here), is only for serious articles and detailed reviews at this point, so the Forums – Whats Hot? Page is the best place for all Sony information on the daily! I even have a RSS feed for SonyAlhpaRumors on the lower left hand side, so you can see what is up all from one place!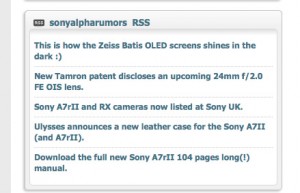 On the top left of the forums "whats hot" page is the main navigation. You can select the category of interest to focus down what you are looking for at any given time. I tend to select the Song of the Day Category as I surf the web 😉 Sony News and Reviews might be of more interest to you, or perhaps you are looking for inspiration? Then the Challenge/ Contest Photos or User Photography and Video Category would be worth checking out.
The Main Forum is what you would expect and contains all the photography genres you might be interested in. Plus all the gear threads that make sense and much more…
Want to learn photography?
The best way is to jump in and practice and the forums is a great place to share and get help if needed or desired. The Photography Challenges in particular will push your skills no matter what level of photography you are at. The Tutorials Area is also a great place to check out from time to time.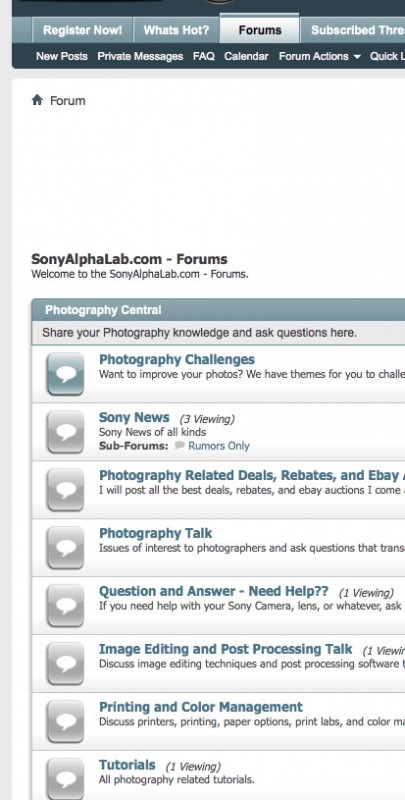 SonyAlphaLab – Youtube Channel
My youtube channel is basically the video version of camera and lens reviews, Sony how-to's, and detailed Adobe Lightroom tutorials. I also have been dabbling in quad-copters lately and may do other things in the future.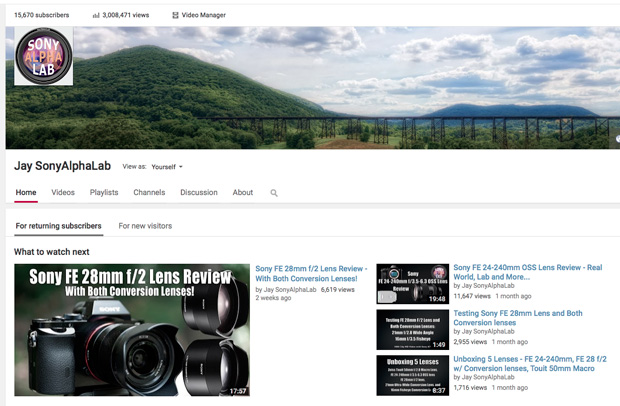 Youtube Channel Playlists:
I'm personally a visual learner and illustrations are one of the best tools for teaching, but with video it's possible to do a even better job I feel. It takes a lot of time, but the resulting productions are jammed packed with all the information you need to know in a timely manner. Plus, I really enjoy the creating process of the video production/ review process. It's fun to plan out what I want to do, get all the footage and photos, then compile it all together at the end… It forces me to learn and I am a curious person by nature so it's a win win! Once I learn, I can then teach or share the information in a digested fashion that feels correct.
Creating the youtube videos has forced me to learn so much about video production, that I'm considering reviewing the e-mount camcorders at some point perhaps? Thoughts…. Anybody…. I did not have the knowledge required years ago, but now I have enough to dive in with confidence, although I may need to upgrade my MacBook Pro to a solid state drive unit for speed sake… Learning something new is also intriguing and the camcorders offer way more power than the cameras in a lot of ways for video.
Newsletter
You may have noticed a pop-up over the last few months trying to get you to sign up for the SonyAlphaLab.com Newsletter. I have published two newsletter so far and will try and get another done asap! They are packed with info and links to everything Sony and Photography!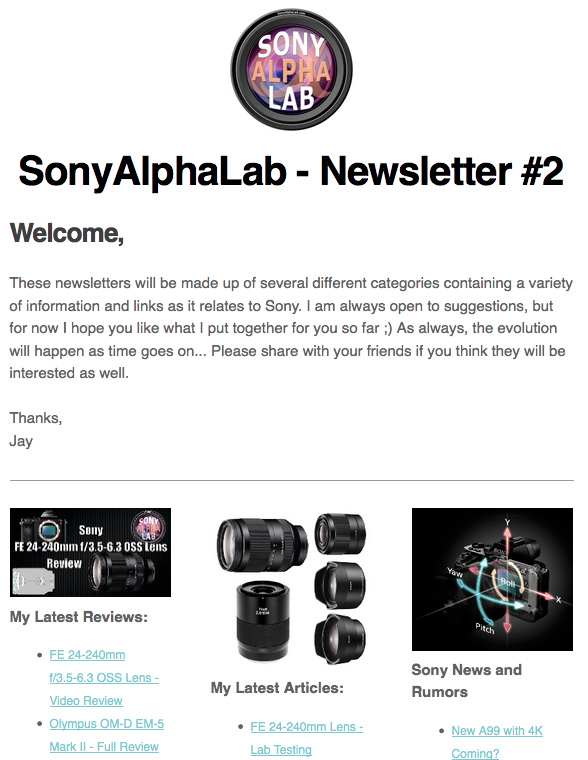 Life Update
The family is doing outstanding!
Jase is 11 months old already and Layla will be 5 years old on July 31st! That is me on the lower right encase you were not aware 😉
Jase (lower left in my brother Chris's arms), in particular has taken up a huge amount of my time over the last year. As you can imagine, or may know if you have kids, it has been very challenging at times over the last year, but all that has payed off. Jase is now crawling around and one of the happiest babies ever! Life is really coming together nicely nowadays and it was time for an update those that have been fallowing for years and those new to the Lab…
More Personal Info:
Proceed with caution, because I wanted to share you with you my most recent life goals list that I thought some might find interesting. It will also require some accountability on my part if I share it 😉
Life Goals for 2015 and Beyond
Let go and enjoy life more…
Be the best Dad I can possible be
Be the best Husband I can possible be
Be the best Human I can possible be – (Mind, Body, Spirit)
Expand my Conciseness as much as possible
Learn as Much as Possible about all topics of Interest; then filter and share…
Learn to manage time better
 Get better at Spelling and Crammer!
Keep tabs on the ALL the Latest Technology
Explore new Hobbies like Guitar, Jujitsu, Yoga, and whatever else comes up?
Continue refining current hobbies and passions like: Photography, Cinematography, Reviewing Gear, Dirt-biking, Quad Riding, Snowboarding, Swimming, Hiking, Mt. Biking, Quadcopter Piloting
Get out the Snowboard this year!! It's been waaay to long and time to carve some tracks again 😉 Snowboarding is what got me into photography originally believe it or not… About Us Page >>
Get a Sony action camera and start recording action! Why not? They are cheap enough… Perhaps Sony will send me a used unit?? Hint hint… I can show off what it is capable in many sceneries…
Extended life goals:
Retire from my regular 9-5pm job which I enjoy btw, and teach/ review gear full time. I could then really focus and create the most amazing content I am capable of. Perhaps expand to reviewing more stuff if time permits, but focusing on what I enjoy learning will ultimately determine this.
Travel with my family to explore the world in more detail while recording everything with the current technology at hand. I wonder what it will be?
Reach internal peace
Watch my children blossom into what they are capable of
become one with the universe (yeah I know, woo woo)
Closing remarks
That is about it for now everybody and thank you very much for checking in 😉 Please feel free to leave some comments below if you like, and suggestions are always welcomed for website improvements or whatever!
If you are interested in advertising or contributing to SonyAlphaLab.com in any way, please contact myself  via the contact form >> I am open to discussion…
Have a great week everyone and thanks for checking in! Catch up with you on the forums,
Jay
Your support is greatly appreciated as we run this site in our spare time and are not paid. We can however, make a small commission if you click a product link that your interested in. That click will then give us credit if you choose to purchase any given item. This has no effect on the cost of the product, and is a simple way to give back to SonyAlphaLab.com for the effort and info we provide.
Tip Jar: https://www.paypal.me/SonyAlphaLab
Support SonyAlphaLab by becoming a | Patreon
Also, be sure to keep following us on Google+ | Twitter | Facebook |
Direct Shopping Links – Thanks for your Support!!
BHPhotoVideo | Amazon – US | CA | UK
Thanks,
Jay