Tons of Rumors have been flying around the internet the past week or so and I wanted to share a few with you about the Sony A99, Nex-5R, Nex-6, and the New Nex lenses. There are also a bunch of little updates about the up in coming Nex-6, Nex-5r, and the New Nex Lenses that are coming down the line. The video specs on the A99 are incredible if true, so ee below for all the details.
I also just read on SAR that a Full Frame Nex camera is on the horizon and will be a revolutionary game changer!! Sony just doesn't stop, and I bet this is the Hybrid camera we've heard about for a year or so now. I actually have a design I'm working on over Here>> if you care to take a look and share some input 😉 It's a work in progress as I have limited time, but a really fun project nonetheless and will probably be similar in some ways to my design.  Time will tell  😉
I also just got an email about an all new Sony Camcorder called the NEX-EA50UH!!
Sony A99 Detailed Specs
So I know several Pro Photographers that are drooling over the rumors on the A99 as it has 102 x-point AF sensors which is clearly all about speed!! It also has a all new Full Frame translucent Mirror design and a bunch of other rumored specs.
Rumored A99 Specs:
102 X-Point AF Sensors
Dual Memory Cards
24mp Full Frame Sensor
AVCHD2.0 format , below 1080p it have the Bit rate of 50Mpbs – 4:2:2 Sampling (other model coming next year has 4:2:0)
1080P with the highest 120fps,at 720P, the highest is 240FPS
MP4 format still 35Mbps
Center focus works with the largest Aperture, other AF Points still need f3.5 to work except for P mode. A and S mode can also auto-focus but M mode is still manual only.
4X zooming in during 1080P can be captured
multi-recording can take a 2.4 Megapixels during recording
HDMI can be Non-destructive Output
new shoe can fit the wireless (bluetooth) mic
except the high speed model,other model Maximum recording time is 29min 59s
Time code support
New Nex Cameras and Lens Gear
Sounds like the Sony announcement on August 28th is going to be mostly Nex gear. The A mount lenses and the A99 should be announced about two weeks later or so.
The biggest news for the New Nex cameras is the all new 16MP sensor that has Phase Detection AF sensors built in!!
NEX-5R: Looks almost exactly like the Nex-5n, but has the  same flip screen found on the Nex-F3. It has a completely New 16MP APS-C sensor with Phase Detection AF pixels. It has WiFi connectivity, Application support, and you can even surf the web!!! The Nex-5r is said to be priced around $700 with kit lens.
NEX-6: It's a mini Nex-7 with integrated viewfinder. Compared to the NEX'7 it has an EVF with less resolution and a newly designed 16 Megapixel APS-C sensor with Phase detection AF Pixels.  It has WiFi connectivity, app support, and web support and should be price between the NEX-5R and Nex-7 @ ~$1000 US
Sony 16-50mm f/3.5-5.6: A quality pancake zoom lens
Sony 11-18 f/4.0: Standard zoom and more likely the size of the 18-55 kit lens.
Sony 35mm f/1.8: Fast affordable prime lens similar to the New Sigma 30mm lens I just reviewed.
New

– Sony NEX-EA50UH Camcorder with 18-200mm Servo Zoom Lens
Product Highlights
Includes 18-200mm Servo Zoom Lens
Records Full HD 1080p up to 60 fps
Exmor APS-C CMOS Sensor
Lossless Digital Zoom Effect
Accepts E-mount Lenses
Two XLR Audio Inputs
SD/MS Memory Card Slot
FMU Slot for Flash Memory Unit
Still Photographs at 16 Megapixels
Hot Shoe for Traditional Flash Units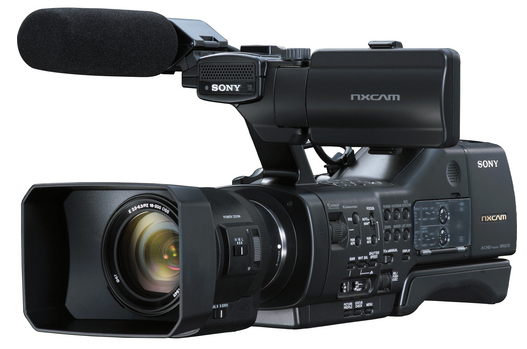 Price: ~$4500 US
Closing Remarks
That is about it for now, but stay tuned for the Sony Nex-F3 Hands on Review that I'm working on and more!!
Jay
Your support is greatly appreciated as we run this site in our spare time and are not paid. We can however, make a small commission if you click a product link that your interested in. That click will then give us credit if you choose to purchase any given item. This has no effect on the cost of the product, and is a simple way to give back to SonyAlphaLab.com for the effort and info we provide.
Tip Jar: https://www.paypal.me/SonyAlphaLab
Support SonyAlphaLab by becoming a | Patreon
Also, be sure to keep following us on Google+ | Twitter | Facebook |
Direct Shopping Links – Thanks for your Support!!
BHPhotoVideo | Amazon – US | CA | UK
Thanks,
Jay