As lots of you Sony Nex Fans know, Electronic Lens Adapters are all the rage these days!! Especially if your coming from the CanoNikon crowd which approximately 75% of you are?? Totally guessing, see poll below so we can find out for sure 😉
Well, for those of you packing some modern Canon EF Glass, your in luck!!! Metabones has been working on the electronic lens adapters for the Sony Nex and other camera systems, for some time. They now have an adapter called the "Speedbooster", and it's pretty awesome from what I can tell!! Basically, it takes all the light from the full frame ef lens and focus's it down to the crop factor sensor giving a Boost in light and therefore speed!!
Check out the Ebay listings for Metabones Adapters Here >>
F/1.0 Madness – Sony NEX With Metabones Speedbooster And Canon 50mm F1.4 Lens
Courtesy of  Sam D'Cruz, we have a killer test done with the New Metabones Speedbooster with tons of sample photos!! Check out the full article and all the high res sample photos on Sam's Blog Here >>
Here's a few of my favorites from the killer series:
The Rest of the Must See Gallery This Way >>
Awesome Photography Sam, and thanks for sharing the link and your work with us all 🙂
Speed Booster Field Test Review
Courtesy of TheCameraStore, we have an excellent hands-on style review from Chris Niccolls. He puts the Metabones adapter through the paces with actual real world photography!!
The Metabones Speed Booster can turn your Sony NEX camera into a full frame mirrorless camera that takes Canon lenses! Chris Niccolls gives the Speed Booster a test drive to see if there are any drawbacks to using this amazing piece of technology.
Shot and Edited by Jordan Drake
Filmed on the Sony FS700
Metabones Alternatives??
Techart is another company that makes an electronic lens adapter for Canon EF lenses, and has Full AF support, aperture control, and Image Stabilization works!! It can be found on Ebay for ~$250 US (Click Here)  
Pretty nice looking in the video below and reasonable priced in my opinion.

MXCamera TechArt Canon EF-EF-s to NEX Adapter
These Techart adapters are available on Ebay Here >>
Lens Turbo??
Perhaps we will have another affordable alternative soon!! Rumor courtesy of SonylphaRumors:
Big news guys! The Chinese company Zhongyi Optical officially announced the "Lens Turbo" adapter. It's the cheap alternative of the famous Speed Booster. The Zhongyi Optical company isn't an unknown company for NEX owners. The company is the maker of the Mitakon 35mm f/0.95 E-mount lens (Here on eBay). On the picture on top you can see the Pentax to NEX adapter.
How did they avoid to get into a legal dispute with Metabones? The optical design differs and the Lens Turbo has a reduction ration of 0.726 (Speed Booster is 0.71).
It's a manual adapter only while some Speed Booster adapters also support full electronic AF and Aperture control. The Lens Turbo price is set at RMB$850, which is roughly US$110.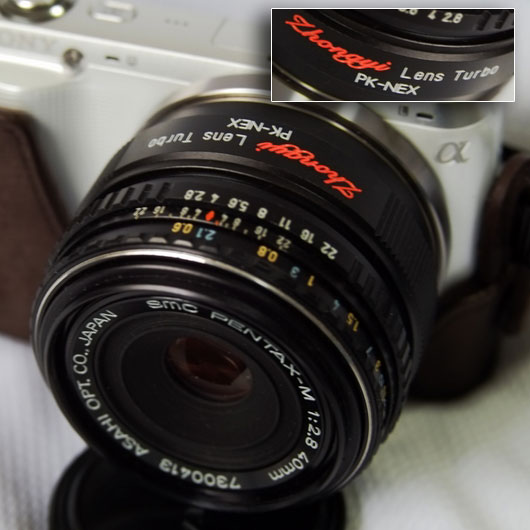 Contax G to Nex Electronic Lens Adapter
Courtesy of DeoTech we have the new Contax G to NEX electronic lens adapter. Not sure when the adapter is actually going to ship as their website appears to be down at the moment 😉
Actual Contax G Lenses Being Tested Live!!
Here are a few more Youtube videos showing off the Contax G lenses on the Sony NEX Camera System Auto focusing Live!!
Here's a few of the most popular Contax G Lenses:
Hologon 16mm f/8 lens
Biogon T* 21 mm f/2.8 lens
Biogon T* 28 mm f/2.8 lens
Planar T* 35 mm f/2.0 lens
Planar T* 45 mm f/2.0 lens
Sonnar T* 90 mm; f/2.8 lens
Vario-Sonnar T* 35 – 70 mm; f/3,5-5.6 lens
What about Nikon Lenses??
As far as I know, no electronic lens adapters with working auto focus are available for the newer Nikon lenses at this time. Please let me know or comment below if you know different!!
What about Full Manual Lenses??
Check out this article and lens adapter guide for the best old school lens combos, and necessary adapters to go along with them.
Tons of Killer Lens Listings on Ebay!!
Check out the latest Killer lens auctions on Ebay and find out just how cheap some of these older, yet awesome lenses are!! So far I've tested the Minolta MC Rokkor – PF 50mm f/1.4 Lens (Click Here for article >>), and the Minolta MD 50mm f/2 Lens (Click Here for Article >>). I also have the Minolta 50mm f/1.4 Lens, but have not had a chance to play with it to much yet.
Reader Poll
[poll id="32″]
Closing Remarks
That is about it for now, but please stay tuned and as some new gear will be on the way soon, the new "Lab" is almost painted, and the Rokinon Lens Reviews will be coming soon!! Thanks again for your support, and feel free to ask questions of comment below.
Jay
Your support is greatly appreciated as we run this site in our spare time and are not paid. We can however, make a small commission if you click a product link that your interested in. That click will then give us credit if you choose to purchase any given item. This has no effect on the cost of the product, and is a simple way to give back to SonyAlphaLab.com for the effort and info we provide.
Tip Jar: https://www.paypal.me/SonyAlphaLab
Support SonyAlphaLab by becoming a | Patreon
Also, be sure to keep following us on Google+ | Twitter | Facebook |
Direct Shopping Links – Thanks for your Support!!
BHPhotoVideo | Amazon – US | CA | UK
Thanks,
Jay
About the Author

Jay
Hello, I'm the owner and operator of SonyAlphaLab.com. Please check out the About page for a full background on myself and the Lab ;)
Google+
|
Twitter
|
RSS-feed
|
Email Updates!!