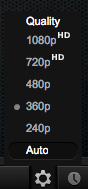 I
got some Sony Nex-7 HD video samples for you guys to check out! I took a bunch of different clips from all over using a variety of subjects using the Tamron 18-200mm Lens and the Rokina 8mm Fisheye lens. I used a tri-pod for all the fisheye footage and the snow blower footage, but the first few water scenes were hand held.
The Nex-7 is still on Back order unfortunately, but BHPhotoVideo.com is now accepting Pre-orders, and the 24mm f/1.8 Carl Zeiss Sonnar lens is still in stock!!
Be sure to select the best quality on the lower right of the player. It looks like a little gear icon 😉
Your support is greatly appreciated as we run this site in our spare time and are not paid. We can however, make a small commission if you click a product link that your interested in. That click will then give us credit if you choose to purchase any given item. This has no effect on the cost of the product, and is a simple way to give back to SonyAlphaLab.com for the effort and info we provide.
Tip Jar: https://www.paypal.me/SonyAlphaLab
Support SonyAlphaLab by becoming a | Patreon
Also, be sure to keep following us on Google+ | Twitter | Facebook |
Direct Shopping Links – Thanks for your Support!!
BHPhotoVideo | Amazon – US | CA | UK
Thanks,
Jay