The New Sony Nex-5T and killer Zeiss 16-70mm f/4 OSS Lens are now in stock and shipping at your favorite retailers and two new affordable 4k camcorders!
Sony also just announced the FDR-AX1 and the PXW-Z1000 4k Camcorders that looks pretty amazing considering the cost and insanely high resolution. The FDR-AX1 is going for ~$4500 US, and the PXW-Z1000 is said to be going for ~$6500 US.
I also wrapped up the RX100 II Review (Click Here), and I'm now working on the Zeiss Touit 32mm f/1.8 E-mount lens review photos that I took with my Nex-6. So far the new Zeiss Touit 32mm lens really nice and the images appear tack sharp! The bokeh is also very pleasing to the eye as you will see shortly, or if you fallow us on Google+(Click Here), you may have seen one I posted yesterday with a bee and flower.
Sony Nex-5T and A3000 Purchase Links:
New Sony Nex E-Mount Lens Pre-Order Links:
Sony Nex-5T – Early Reviews
Sony ILC-A3000 Early Reviews
New

Sony FDR-AX1 – 4K Camcorder

Sony announced an affordable 4k camcorder and pre-orders are now being excepted:

Sony FDR-AX1 is going for ~$4500 US @ BHPhoto (Click Here) | Amazon (Click Here)
Must Watch First Look – FDR-AX1 Video
First look at the FDR-AX1 courtesy of SGNL:
Impressive FDR-AX1 Sample Video:
Official
FDR-AX1

Press Release:
SONY ADDS MUCH-ANTICIPATED 4K CONSUMER CAMCORDER TO ITS HANDYCAM® PORTFOLIO
by Communications 09/04/2013
New 4K Video Camera Allows Creative Expression in Four Times the Resolution of Full HD
AN DIEGO, Sept. 4, 2013 – Today Sony Electronics unveiled its first 4K consumer camcorder – the new FDR-AX1 4K Handycam. Now video enthusiasts can capture 4K content for expressive, powerful imaging with incomparable levels of clarity and exquisite color in every scene.
"Introducing a consumer level 4K camcorder offers budding filmmakers cutting-edge technology and imaging quality from Sony they haven't been able to experience until now," said Hidenori Toyoda, director of the camcorder business at Sony Electronics. "The FDR-AX1 camcorder is an exciting addition to our 4K ecosystem as we're bringing personal content creation to the masses, dramatically expanding Ultra HD viewing."
BRILLIANCE, TIMES FOUR
The FDR-AX1 camcorder records 4K and HD movies in the XAVC S format, which uses MPEG-4 AVC/H.264 Long GOP for video and Linear PCM for audio compression, while saving files in an MP4 wrapper. The XAVC S format allows longer recording times, storing almost two hours of 4K video on a 64GB XQD memory card, making 4K recording easier and more convenient. Switching to Full HD recording can store almost 3 hours of 1920×1080 60p footage on a single card.
Sony's FDR-AX1 camcorder features a 4K image sensor that is essential to the stunning image quality it can achieve. The 1/2.3-type Exmor R®CMOS sensor captures true 4K resolution (3840×2160) images, containing four times the picture detail of Full HD, and has the output speed required by the massive 4K 60 fps data stream. An extraordinary image processor, identical to those found in professional 4K camcorders, rapidly processes signals transmitted from the CMOS sensor and finalizes images in real time at 60p.
Pristine imagery is also assured by Sony's quality G Lens™ which redefines what an aspheric lens and special low-dispersion glass combination can reproduce. The G Lens is specially tuned to capture qualities of definition and color that put this ground-breaking Handycam® camcorder in a class of its own. In addition, the lens offers a broad zooming range from wide-angle to 20x optical (31.5-630mm 35mm equivalent) while Optical SteadyShot keeps footage crisp and stable, even at telephoto mode.
CREATIVE CONTROL & ERGONOMICS
The FDR-AX1 camcorder can achieve beautiful, film-like results with three ND filters for adjusting the amount of light entering the image sensor from the lens. Four filter settings – Off (Clear), ¼ filter, 1/16 filter and 1/64 filter – give users the ability to modify light conditions, while maintaining desired shutter angle and aperture even on bright sunny days. Five paint functions (white balance, gamma, detail, skin detail and matrix) can be combined and altered to create expressive movie styling and cinematic looks.
Matching its impressive 4K picture quality, the camcorder features two external pro-style XLR connectors to complement its high-performance internal microphone for premium sound. These XLR jacks allow the addition of stereo microphones to capture balanced audio synchronized to the video for clearer ambient sounds and dialogue, which can be mixed with recordings made using the internal mic.
For ease of use during filming, the FDR-AX1 camcorder was designed with two strategically placed start/stop buttons and a zoom lever on the handle for convenient access from low angles. While dedicated controls are also provided for auto/manual focus, seven custom buttons can be reassigned to a user's preferred function. Assigned functions for adjustments on the fly include Marker, Zebra, Peaking, Focus Magnifier, Auto Exposure Level, Steadyshot, Color Bars, and Rec Lamp.
AMPLE STORAGE
The FDR-AX1camcorder uses an XQD memory card for smooth, high-speed reading and writing of 4K video and features two XQD media slots. As seen on Sony professional camcorders, relay shooting seamlessly switches recording between two media cards so there's no need to worry about running out of storage mid-scene. Videomakers can even 'hot swap' cards, removing a full card from one of the camcorder's two slots and slipping in fresh storage while shooting continues uninterrupted.
ULTIMATE VIEWING EXPERIENCE
Playing back 4K content captured on the FDR-AX1 camcorder is simple – just connect the camcorder to a compatible 4K TV with the single HDMI cable. Sony BRAVIA® TVs especially bring out the full quality of 4K/60p recordings, with TRILUMINOS Display™ to deliver an even more vibrant palette of rich colors that are closer than ever to real life. For those without a 4K TV, the FDR-AX1 camcorder can output 1920×1080 images to a Full HD TV, by simply changing the output settings on the camcorder.
And a growing choice of 4K-capable editing software packages makes it easy to "trim" HD images from original footage with huge amounts of picture detail.
HDMI 2.0 INDUSTRY STANDARD
Sony is prepared to support the HDMI 2.0 specification on its 4K Handycam camcorder with an easy firmware update to be available over the Internet. Just released by the HDMI Forum, the HDMI 2.0 industry standard offers an option to transmit 4K/60p signal using a single HDMI cable.
With this HDMI 2.0 update, FDR-AX1 will be able to output 4K 60p images not only to 4K BRAVIA TVs, but to other HDMI 2.0 compatible TVs and devices.
AVAILABILITY
The Handycam FDR-AX1 will be available in October for a suggested retail price of $4,499.99. In order to ensure the 4K experience, VEGAS™ PRO 12 EDIT software and a 32GB XQD memory card will be included in the box as a free offer. The camcorder and its accessories will be sold at Sony retail stores (www.store.sony.com) as well as other authorized retailers throughout the Sony dealer network. For images and information, please visit www.sony.com/news. Find out more through http://blog.sony.com and make sure to catch what people are saying about #Sony4K online.
New

PXW-Z100 4K XDCAM Camcorder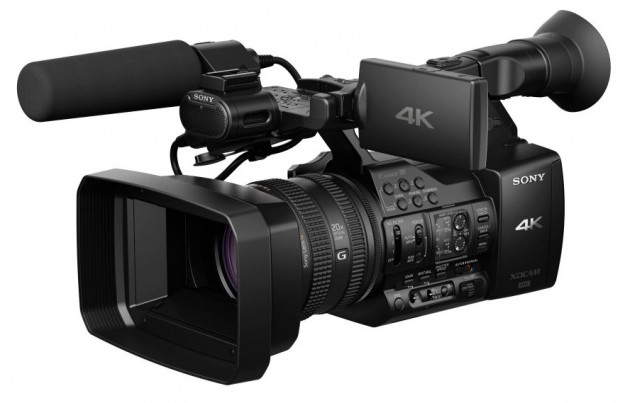 Official
PXW-Z100

Press Release:

Info Courtesy of Sony:
SONY'S NEWEST PROFESSIONAL CAMCORDER DELIVERS 4K CAPABILITIES FOR ANY USER, ANY APPLICATION
by Communications 09/04/2013
New PXW-Z100 4K Handheld XDCAM Camcorder Uses XAVC
Workflow to Give Professionals More Production Flexibility and Creative Options
PARK RIDGE, N.J., Sept. 4, 2013 – Sony is expanding its line of professional 4K technologies with the new PXW-Z100 4K handheld XDCAM camcorder. The new model broadens professional 4K capabilities to new markets and applications beyond motion picture or high-end TV production – including houses of worship, education, corporate, and live events. The new camcorder's affordable price of less than $6,500 gives professionals even greater flexibility and more creative options for acquisition and production in HD, QFHD and 4K (4096×2160).
With a 1/2.3-inch Exmor® R CMOS sensor, the camcorder can create stunning 4K content (4096×2160) at 50p or 60p. The PXW-Z100 camcorder is based on the same shooting ergonomics as a conventional handheld professional camcorder, allowing users to record 4K content cost effectively.
"This new camcorder brings high-performance 4K capabilities to the entry-level of our 4K line," said Takahiro Kagawa, Product Manager at Sony Electronics. "It's perfect as a standalone content creation tool or as a complement to our large sensor, higher-end 4K cameras. Corporate and event producers can now deliver 4K images for a growing number of applications including large venue 4K projection and 4K monitors. Professionals now have access to the widest palette of 4K tools to tell their stories more effectively and creatively."
The PXW-Z100 camcorder, together with the fixed 4K-compatible high-performance G Lens, weighs less than 7lbs. The PXW-Z100 uses Sony's XAVC™* recording format first employed in Sony's PMW-F55 CineAlta® 4K camera. MPEG-4 AVC/H.264 compression is used for HD (1920×1080), QFHD (3840×2016) and 4K (4096×2160) content. Image sampling is 4:2:2 10-bit, with an intra-frame system that compresses each frame individually at a maximum bit rate of 500 Mbps or 600 Mbps during 4K 50fps or 60fps recording, respectively, and 223 Mbps during HD 50fps or 60fps recording. The XAVC format is ideal for those looking to implement a high-quality, secure and worry-free workflow.
Users can select QFHD (3840×2160) and HD (1920×1080) resolutions, both of which are compatible with most 4K TV's.
The camcorder provides extremely high sensitivity due to its back-illuminated Exmor® R CMOS sensor — even during 4K shooting. With more than 8.8 million effective pixels, the 1/2.3-inch sensor captures 4K images at 50p or 60p. The built-in high-performance G Lens offers maximum shooting flexibility, including a wide angle of 30 mm in 4096×2160 mode or 31.5mm in 3840×2160 and 1920×1080 modes and 20x powerful optical zoom (equivalent to 35mm).
The new camcorder uses state-of-the-art XQD solid-state memory cards, a format recently defined by several industry leading companies. XQD uses the ultra-fast PCI Express interface and Sony's unique camera processor to enable stable video recording at 500Mbps or 600Mbps**. The PXW-Z100 camcorder features two XQD Memory card slots. Multiple cards can be used in various ways, such as for relay recording. When the first card becomes full, recording continues on the second card without a break.
The HDMI® interface on the PXW-Z100 camcorder can output 4K as a 50fps/60fps signal. When the PXW-Z100 is connected to a Sony PVM-X300 4K professional monitor or a 4K-compatible BRAVIA® TV, the recorded 4K image can be displayed in 4K 50fps/60fps quality. A future firmware upgrade is planned to provide compatibility with the new HDMI standard (referred to as HDMI 2.0) and enable 4K 50fps/60fps output to a wider range of devices. Other features include a 3G HD-SDI interface that supports output to an SDI of up to HD 60p. It also supports HD output during 4K recording***.
The camcorder's paint function enables multiple image parameters to be adjusted including gamma curve, black level, skin tone detail and color. Together with other setting options, parameter settings can be recorded as a camera profile onto a memory card. The recorded camera profile can then be used to set the same parameters in another PXW-Z100 camcorder to match quality and image tones when using a multi-camera setup.
Users can remotely control focus, zoom, aperture settings and "record start/stop" using the browser function of a smartphone or tablet. Users just need to simply plug the supplied WiFi adaptor into the camcorder to enable the wireless feature.
The PXW-Z100 4K camcorder is planned to be available by the end of 2013 at a suggested price less than $6,500. For more information, visit www.sony.com/professional.
*A firmware update is planned for the middle of 2014 to support the Long GOP mode for extended 4K recording time and to add support for AVCHD recording, a format that until now has been compatible with the playback environment of Blu-ray Discs.
** The use of new S Series XQD cards QD-S32E and QD-S64E which supports 180MB/s transfer speed are recommended.
***The PXW-Z100 is not capable of simultaneous 4K (HDMI) and HD (3G HD-SDI) output.
Closing Remarks:
As you can see by the new 4k camcorders, Sony is pushing ahead big time with the super high res 4k gear and technology. 4k tv's, players, camcorders, and who knows what else is coming down the pipe?
Exciting times as the new Nex full frame cameras should be announced at the end of the month hopefully, and the QX10 and QX100 lens cameras are being pre-order like crazy. Sony has really made some smart moves in the past year under the new management in my opinion. Some seriously hard decisions needed to be made on a global company bases, and it seem to me Sony is pulling out with a huge grip on the image sensor market, 4k technology and products, the best larger sensor compact mirrorless cameras for the money, and new A-mount mirrorless cameras that will supposedly blow away the competition! I can't wait to see the next generation Sony cameras; in particular the full frame E-Mount models and Pro grade full frame A-Mount mirrorless model.
Please fell free to share any thoughts, questions, and/or speculation on the future of Sony in the comments area below 😉
Jay
Your support is greatly appreciated as we run this site in our spare time and are not paid. We can however, make a small commission if you click a product link that your interested in. That click will then give us credit if you choose to purchase any given item. This has no effect on the cost of the product, and is a simple way to give back to SonyAlphaLab.com for the effort and info we provide.
Tip Jar: https://www.paypal.me/SonyAlphaLab
Support SonyAlphaLab by becoming a | Patreon
Also, be sure to keep following us on Google+ | Twitter | Facebook |
Direct Shopping Links – Thanks for your Support!!
BHPhotoVideo | Amazon – US | CA | UK
Thanks,
Jay