Sony just announced two new E-Mount lenses for the Sony Nex Camera system!! A E-mount 20mm F2.8 'pancake' wide angle lens and the E-mount PZ 18-200mm F3.5-6.3 OSS Power Zoom lens!!
The new wide angle 20mm f/2.8 lens (SEL20F28) is a true "Pancake" measuring a very slim ~20mm thickness!! That is about the same as the other 16mm pancake lens thickness (SEL16F28) for reference. The planned release price for the 20mm e-mount lens will be in the $350 dollar range which means it should be better than the Sigma primes in my opinion. It features a pretty fast f/2.8 aperture which on par with the Sigma 19mm lens, for direct competition. Is it really competition though?
The Sigma e-mount lenses (Click Here for Full Review) are only ~$199 each normally, but are Currently Only $199 for Both at BHPhoto (Click Here)!! Killer Deal!!
Price differences aside, the Sony 20mm pancake has significantly better outer build quality, than the Sigma 19mmm with it's aluminum alloy skin. Specs wise it's hard to say how good the lens will be without knowing what the specific lens elements are. Glass quality, coatings ect… It has 6 lens elements in 6 groups, whereas the 16mm e-mount lens only has 5 and 5. More glass doesn't not necessary mean worse optics or better optics, but it's important to note, especially as it relates to the 16mm pancake.
My guess is the extra element on the new 20mm pancake lens  is used to fight the lens distortion in particular, but I could be totally wrong. I really don't know that much about lens engineering and the optical ratios ect.. It's quite complicated if you ever really look into it, trust me!!
The New 18-200mm OSS Power Zoom lens looks like a Nex cinematographers dream!! Silent focus and power zoom functionality alone with the killer ease in/ ease out transitioning makes this a must have in my opinion for any serious Nex camera video work where zoom is required. Not having consistent zooming speed on video looks really aperture in comparison. The price will be in the $1200 ball park, but honestly that is not to bad considering the Optical Steadshot technology, ED lens elements, and virtually silent zoom and focus. If I were going to make a movie with my Nex-6, 18-200mm Power Zoom and the 16-50mm PZ lenses would be on my wish list for sure.
Sigma 19mm E-Mount Lens VS New 20mm lens – Side by Side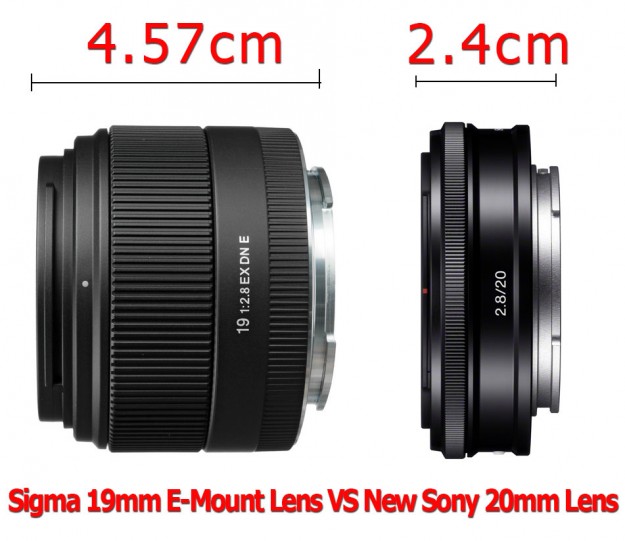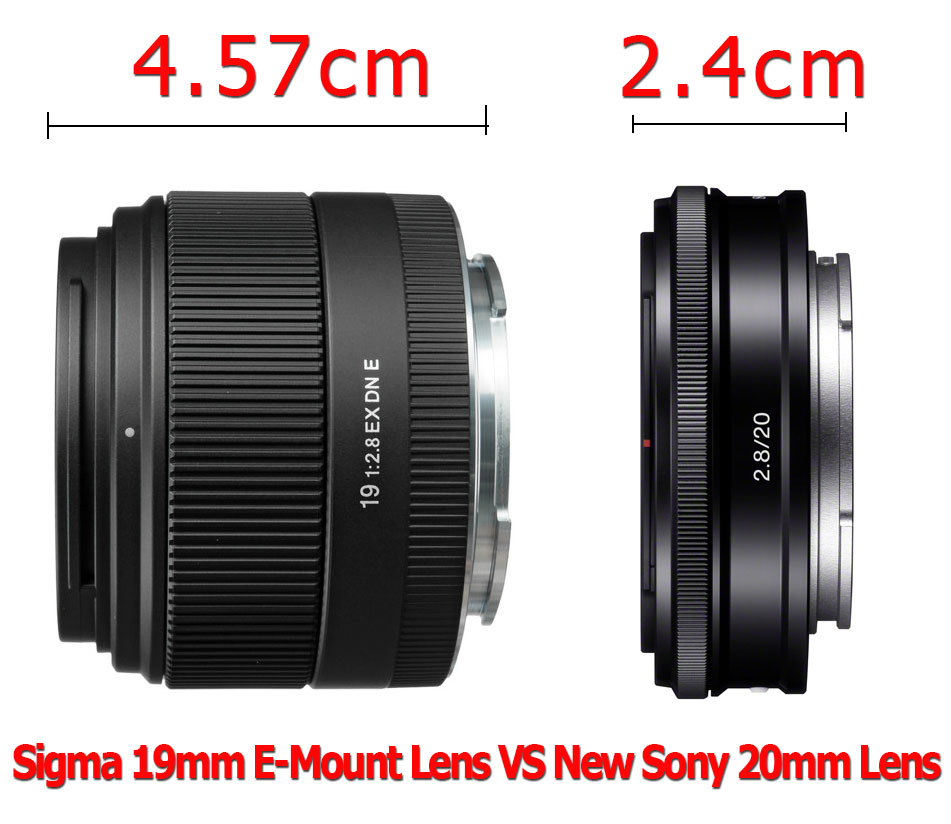 New Sony E-Mount Lens Photos
Full Press Release from Sony
More ways to see the world as Sony extends choice of E-mount lenses
23 January 2013
New 20mm pancake lens and video-friendly 18-200mm power zoom for ? E-mount cameras and camcorders
Photographers and video makers are spoiled for choice with two additions to the range of E-mount interchangeable lenses for Sony E-mount cameras and semi-professional camcorders.
E 20mm F2.8 'pancake' wide angle lens
Measuring approximately 20mm from lens front to back, this short focal length 'pancake' lens makes an ultra-slim yet tough 'walkaround' partner for your E-mount camera.
With the 35mm equivalent of its 30mm wide angle of view and bright F2.8 aperture, it's perfect for a broad range of everyday shooting opportunities – from interiors to landscapes, street scenes and casual snaps. Excellent contrast and resolution are augmented by enhanced clarity in corner areas to satisfy the most discerning photographer.
E PZ18-200mm F3.5-6.3 OSS powered telephoto zoom lens
Offering a generous 11x magnification range, this high-quality telephoto zoom makes an ideal partner for shooting video with the E-mount interchangeable lens Full HD camcorders. The NEX-VG30EH is already supplied as a kit with this E PZ 18-200mm F3.5-6.3 OSS Power Zoom lens.
A comfortably positioned zoom lever is partnered with a switch on the lens barrel, allowing zoom speed to be selected in six steps – from slow, beautiful shifts in perspective to dramatic crash-zoom effects. Thanks to a newly-developed internal linear motor, power zoom is complemented by exceptionally smooth, whisper-quiet focusing and aperture operation. Zoom can also be controlled directly from NEX-VG900, NEX-VG30 and NEX-FS700*.
*Firmware update is required for NEX-FS700.
Built-in Optical SteadyShot cuts the effects of camera shake, allowing handheld use of slower shutter speeds without image blur. Active Mode further enhances stabilisation at the wide end of the 11x zoom range – even when you're walking along. This makes the lens a compelling choice for capturing smooth, stable video footage.
While optimised for video, it's also a flexible choice for shooting stills with Sony's ? E-mount interchangeable lens still cameras – from expansive landscapes to high impact close-ups of wildlife and athletes
E-mount lens family keeps growing
There's now a family of thirteen E-mount lenses plus two converters, covering virtually any shooting situation with your Sony E-mount camera or camcorder. Spanning ultra-wide angle, powerful telezoom, macro and fast, bright primes, the range includes premium optics by Sony and Carl Zeiss. Beautifully styled to complement your E-mount camera, every E-mount lens offers refined performance and easy handling.
The availability of the new E-mount interchangeable lenses for Sony E-mount cameras and camcorders is E 20mm F2.8 from February and E PZ18-200mm F3.5-6.3 OSS from April 2013.
Specifications
| | | |
| --- | --- | --- |
| | E PZ18-200mm F3.5-6.3 OSS | E 20mm F2.8 |
| Lens configuration | 12 groups, 17 elements (5 aspheric surfaces, 1 ED glass element) | 6 groups, 6 elements |
| Focal length (35mm equivalent) | 27-300mm | 30mm |
| Aperture blade | 7 | 7 |
| Minimum aperture | F22-F40 | F16 |
| Maximum magnification | 0.35x (with APS-C sensor) | 0.12x |
| Min. focusing distance | 0.3-0.5m | 0.2m |
| Filter diameter | 67mm | 49mm |
| Dimensions Diameter x Length (max.) | 93.2 x 99mm | 62.6 x 20.4mm |
| Weight | 649g | 69g |
| Image stabilisation | Yes (Optical SteadyShot) | – |
| Internal motor | Yes | Yes |
| AF for movie record | Yes | Yes |
| Direct Manual Focus | Yes | Yes |
| Exterior finish | Aluminium alloy | Aluminium alloy |
Closing Remarks
This is great news for Sony and I really look forward to trying out the 20mm pancake lens for sure!! The 18-200mm power zoom looks cool and all, but I'm not that into video so it's not the biggest deal to me personally.  Let me know if you want it reviewed though please!!
Sony now has a total of 13 E-Mount Lenses and 2 conversion lens adapters which can all be check out in my E-Mount Lens Guide (Click Here) 
That is a pretty solid line-up that we really just did not have a short time ago do to it's newness. Is it complete?? Of course not!! We need more fast primes and a Mega zoom lens if you ask me!! I also would like to see a better quality ultra wide angle prime lens. The size of it doesn't really matter so much to me, but the distortion, corner sharpness, and other issues do. Priced at about $500 US which is double the current 16mm lens price should allow for much better optics and distortion control. OSS would be nice, but then the optics will have to suffer unless the price goes up another ~$250 or so. Besides the E-Mount 10-18mm lens fills that gap pretty well although slower at f/4.
I can't wait to get the Nex-5r and new 35mm f/1.8 OSS lens to try out and put some of this new e-mount lens quality speculation to rest!!
Catch up with you guys later, and thanks again for checking out SonyAlphaLab.com!!
Your support is greatly appreciated as we run this site in our spare time and are not paid. We can however, make a small commission if you click a product link that your interested in. That click will then give us credit if you choose to purchase any given item. This has no effect on the cost of the product, and is a simple way to give back to SonyAlphaLab.com for the effort and info we provide.
Tip Jar: https://www.paypal.me/SonyAlphaLab
Support SonyAlphaLab by becoming a | Patreon
Also, be sure to keep following us on Google+ | Twitter | Facebook |
Direct Shopping Links – Thanks for your Support!!
BHPhotoVideo | Amazon – US | CA | UK
Thanks,
Jay