In this article we have some New Sony Romors, RX1R and RX100II Reviews, Nex-9 Full Frame Rumor Updates, and "Lab" Updates! I'll also give you a bunch of links to the goods around the web 😉
I'm currently reviewing the Zeiss Touit 12mm f/2.8 lens (Click Here), and so far I'm very impressed with the build quality and sharpness. I set-up a scene in the "Lab" for testing the lens out and it does work, although I am not very happy with the results to be honest. The measuring of the camera/ lens, and focus targets is really hard with such a wide angle lens. I have to have the lens super close to the scene which creates an extremely shallow depth of field.
The set-up does work in illustrating what the lens can do in that particular scene though which is useful in some ways. I'm going to set-up another scene again today and spread things out a bit more, so I can get the camera and lens further back. I will then re-shoot and update the Zeiss Touit lens Rolling Review with the latest results later today!


This is clearly a work in progress and and will continue to refine and learn from my "lab" tests. Please feel free to suggest ideas, critiques, or whatever, in the comments area below, or on the actual reviews. I'm always open for suggestions and ideas when it comes to testing things. I do want to offer something different and col though if possible.
New Sony Rumors?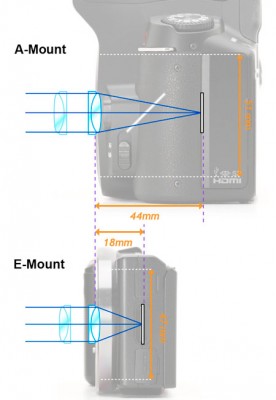 One the latest Sony Rumors I heard was about a new "DSLR Style" E-Mount camera. This is excellent news and makes sense to those in the market for an affordable DSLR. I don't know exactly what the body will look like, but the lens to mount flange distance on the Nex is 18mm. That will remain the same, so is the camera going to have a thinker back? Or maintain that super slim-line Nex design? It's going to need to be more like the Nex-6 I guess, but cheaper. Not really sure but Andrea @ SonyAlphaRumors gave it a SR5 rating which means it's very likely to be true!
The Sony Alpha DSLR design in comparison to Nex can be seen more clearly in the image to the right. Notice how thick the camera body is do to the 44mm sensor to lens flange distance. The Nex is only 18mm which allows for the super slim body, and completely new line of native E-Mount lenses. I'm really curious to see how Sony designed this new camera! I wish I was faster with the 3D modeling programs so I could quickly render a guess, but it would take me all day to come up with something presentable and I have to go to work 😉 I'm on-call for work again!
Sony Nex Full Frame Rumors/ Speculation
| | |
| --- | --- |
| | I got to some thinking about the new Sony Nex Full Frame Camera that is coming soon! Possible even before 2014 I heard 😉 Anyway, the full frame sensor is what i was pondering specifically. How is Sony going to get the Full Frame native lenses to have sharp corners with such a short sensor to flange distance?Well, they figured it out with the DSC-RX1 I just reviewed (Click Here), so have no fear! The downside to the full frame native lenses is that they will need to be new and specifically designed for the Nex Camera system. This is costly and time consuming. The lenses will also need to be relatively large in order to cover the full frame sensor at a decent speed. |
My Guess is the Sony will come out with a 35mm f/2 Zeiss full frame lens for the new E-mount Full Frame Nex-9. It will be a slightly modified RX1 Lens. I wonder if we will get full frame coverage with the LA-EA3 lens adapter and A-Mount Lenses? It should work I would think, but you never know. I also wonder if the sensor will only work in crop factor mode with non native e-mount full frame lenses. In other words, no full frame coverage when using lens adapters? I hope not, but the thought did cross my mind as it will have a crop facotr mode for the normal E-Mount lenses we all already have. They are specifically designed for the APS-C sized sensor, not full frame.
Latest from SAR:
two new Zeiss FulL Frame and E-mount lenses. One will be a zoom and the other one a prime lens. And important…everything will be expensive

The NEX-FF definitely has on sensor PDAF. I am now working to get full reliable specs but the chance is high we are talking about a very compact camera with 30+ Megapixel sensor.
Nex-7 Successor?
It is coming, but was delayed and re-designed to be significantly better! One huge upgrade is the much larger grip and NP-FM500 battery! That is the same battery the full frame SLT-A99 has, and should drastically increase battery life to 4-500+ shots I would hope. Standard Hot Shoe is also expected and welcomed as is the more advanced on camera flash.
Here are the latest rumored specs courtesy of SAR:
The body will be similar as nex7 but the lens Mount will be moved 3mm on the left
3mm taller
lens Mount 3mm deeper so lens will come out 3mm less
bigger grip. taller,deeper and wider, due to new battery and better grip feeling.increased volume by 2.9cubiccm
slimmer rear screen design.8.2cm diagonal 1,080dots.same movement as nex 7
magnesium alloy construction dust sealed. weight 23grams more
NP-FM500 battery
standard hotshoe
new popup flash unit with tilting capability"
Nex-7 Price: ~$1098 (body Only)

Compare Nex-7 Prices @ BHPhoto | Amazon >> | Ebay >>
New Sony Sensor Patent
Check out this insanely cool concept sensor design. Combine this with some organic synthetic film like materials for huge dynamic range, and I think we have the next generation sensor technology on the horizon possible??
new sensor design with hexagonal and triangle pixel design. The aim of the design is to increase the color fidelity by using a RGBCMY instead of the classic RGB pixel design. I doubt this kind of sensor design will ever make it into a real camera…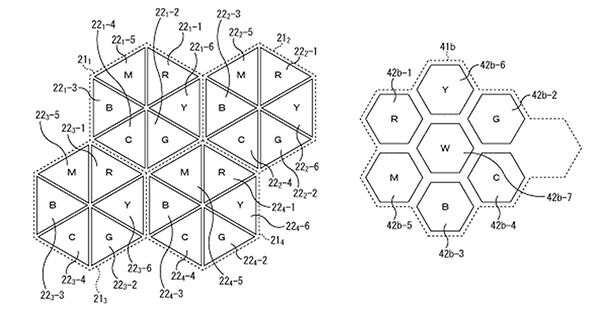 Sony RX1R and RX100II Reviews
It's been a while since the announcement of the new Cyber-shot RX1R and RX100II, and the results are in at a few reliable sources. One of them being Steve Huff. Check out this hands on review where he goes over the RX1R and RX100II in detail up close.
Cyber-shot RX1R, RX100 II Q&A with Sony product experts
Published on Jul 2, 2013
If you missed the 7/1 livestream Q&A on the newly-announced Cyber-shot RX1R and RX100 II, no worries! You can catch it right here.
Sony product experts Mark Weir and Amy Koppmann as well as professional photographer Jeff Berlin answered community questions about these exciting new cameras.
If this video doesn't answer yours, tweet it to @SonyElectronics using #RX100 or #RX1 and we'll find out for you.
For more info on RX100 II: http://bit.ly/1aPsJwQ
For more info on RX1R: http://bit.ly/16AW9LX
More RX1
R

and RX100II Related Links
July – Rebates and Deals Links
Closing Remarks
Stay tuned for more on the Zeiss Touit 12mm Rolling Review later today, and the New Sigma E-Mount lenses soon… Please let me know what you think of the "Lab" set-up and if it's worth the time and effort, or if you have some ideas etc..I only habve limited time, so if you think it would be better spent with real world photography only, please let me know! Have a great weekend everybody 🙂
Catch up you later and thanks again for checking in and your continued loyalty/ support with the affiliate links! 😉
Jay
Your support is greatly appreciated as we run this site in our spare time and are not paid. We can however, make a small commission if you click a product link that your interested in. That click will then give us credit if you choose to purchase any given item. This has no effect on the cost of the product, and is a simple way to give back to SonyAlphaLab.com for the effort and info we provide.
Tip Jar: https://www.paypal.me/SonyAlphaLab
Support SonyAlphaLab by becoming a | Patreon
Also, be sure to keep following us on Google+ | Twitter | Facebook |
Direct Shopping Links – Thanks for your Support!!
BHPhotoVideo | Amazon – US | CA | UK
Thanks,
Jay