It's been a busy past few weeks for Sony, as they made some significant news announcements, and a few rumors have leaked. Sony is finally making money again as a company whole, and the focus seems to be streamlined in a much more realistic fashion. Basically what Sony is trying to do, which is smart in my opinion, is consolidate their camera lines, and focus on what sells. Compact sales continue to fall as smart phone cameras get better and closer to the same results. For the Cyber-shot cameras, Sony wants to focus on the killer mega-zooms, like the DSC-HX300 I recently reviewed Click Here >>, and the large sensor, high image quality, point and shoots like the DSC-RX100, I reviewed Click Here >>
The Nex Mirrorless Market is doing great and I'm not surprised at all considering how awesome my Nex-6 is, and all the other Nex cameras for that matter. High quality yet affordable. E-Mount lenses continue to come out, and super high quality lenses are aslo being released, like the New Zeiss Tuit series of lenses I did a full preview on Click Here >>
Sony will continue to expand and grow their Nex line, but only with better image quality and significant upgrades. No more cookie cutter models with minor changes ect..


So what does that mean exactly??
The Nex-9 Full Frame Mirrorless camera is coming in 2014 with full frame lenses, and more. I can't wait for the Nex-9 and I really think I might purchase it to accompany my Nex-6 or just replace it all together. A new Nex-7 will also come out, but with a much better sensor and other significant improvements. Possible a Nex-8 instead of a Nex-7n etc..  Mind you, this is speculation and rumors mostly.
For the professionals?? This will remain to be seen in my opinion, but I am very hopeful. The SLT-A99 is a beast of a camera, and all future Pro Grade cameras will be even better. The APS-C sized cameras are going to all be mirrorless from now on, but will the new Full Frame cameras also be mirrorless?? I think so, because the A99 is still being sold and is great option for Pros who need the incredible auto focus capabilities it offers. The price also keeps dropping on the slt-a99 and Sony is offering a killer bundle deal as well. I think there going to keep the a99 in production for some time in the future, especially if the new full frame cameras are also mirrorless.
Sony Press Release

Highlights:
For the professional market, Sony will continue to reinforce its professional camera lineup centering on 4K-compatible cameras, as well as cameras for cinematography.
In the consumer market, Sony aims to expand sales of value-added compact digital still cameras by introducing models that leverage Sony's image sensor technologies to further enhance image quality, and also incorporate feature enhancements such as reduced size and weight, and higher-powered zoom
Full Sony Press Release on Imaging Business
Imaging Businesses
Placing image sensors, a particularly strong category for Sony, at its core, Sony is concentrating the focus of its imaging businesses on creating value-added products, while aggressively exploring new applications for its imaging technologies in both the consumer and professional markets. In terms of image sensors, the Company will continue to commercialize new sensor technologies capable of differentiating finished products, for use in a range of consumer and professional applications. The Company also plans to engage in aggressive capital investment in order to meet the robust demand for these components. At the same time, Sony is also developing technologies that further expand the range of sensor applications, including sensors capable of sensing beyond the visible light spectrum, and sensors capable of detecting and categorizing different types of information. For the professional market, Sony will continue to reinforce its professional camera lineup centering on 4K-compatible cameras, as well as cameras for cinematography. The Company will also target further business growth by extending the scope of its digital imaging technologies to new business areas such as security, sports and medical, and will reallocate resources accordingly. In the consumer market, where business conditions continue to shift rapidly, Sony aims to expand sales of value-added compact digital still cameras by introducing models that leverage Sony's image sensor technologies to further enhance image quality, and also incorporate feature enhancements such as reduced size and weight, and higher-powered zoom. Sony will also seek to firmly maintain its number one global market share in the growing mirrorless lens camera category. Through these measures, Sony will target sales of 1.3 trillion yen and an operating profit margin of more than 10% across the image sensor, professional, and consumer categories by FY14.
Sigma 35mm f/1.4 Lens – Now Available for Sony
Considering the cost of the Sony 35mm f/1.4 Lens is $1498 US, the Sigma 35mm f/1.4 Lens is an absolute steal at $899 US @ BHPhotoVideo >>
The Sigma 35mm f/1.4 Lens is super fast and extremely well made from what I've read so far. It is a full frame lens, so I'll wait till I have a full frame camera to review it properly, or Perhaps I'll get the A99 to review it with?? I should probably review it anyway at some point 🙂
Don't forget the E-Mount 60mm f/2.8 DN Lens is also available for pre-order @ BHPhoto >>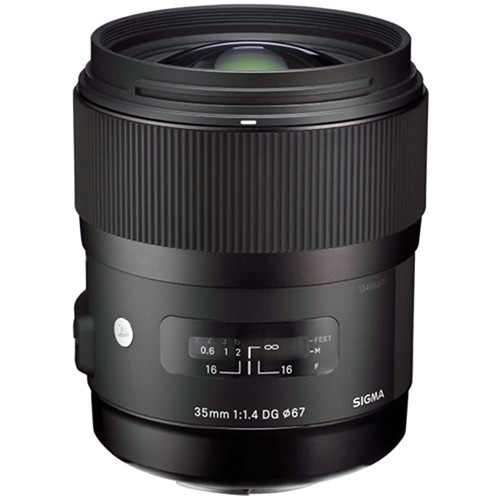 Sigma 35mm f/1.4 Lens – Overview
Sigma Art line delivers high-level artistic quality
Sigma is organizing all its interchangeable lenses into three product lines; Contemporary, Art and Sports. Designed with a focus on sophisticated optical performance and abundant expressive power, our Art line delivers high-level artistic expression. Developed with the maximum emphasis on artistic touch, our Art line lenses are designed to meet the expectations of users who value a creative, dramatic outcome above compactness and multifunction. Along with landscapes, portraits, still-life, close-up and casual snaps, they're perfect for the kind of photography that unleashes the inner artist. Ideal for studio photography, they offer just as much expressive scope when capturing architecture, starry skies, underwater shots and many other scenes. The SIGMA 35mm F1.4 DG HSM is the first lens from the Art line.
Compensate for color aberration to ensure unsurpassed expressive performance
Aberration is an important factor for the lens performance. To actualize a high-performance lens, one of the essential elements is aberration correction. When it comes to aberration, there are chromatic aberration of magnification and axial chromatic aberration. It is possible to correct the chromatic aberration of magnification in photo-editing software whereas axial chromatic aberration cannot be corrected afterwards. This lens incorporates FLD ("F" Low Dispersion) glass elements, which have performance equal to fluorite, and SLD (Special Low Dispersion) glass elements, and by optimizing the power alignment of the lens, both types of aberration have been corrected. The lens achieves ultra-high image quality through the entire focusing range. Also, by appropriate alignment of aspheric lenses, astigmatism and field curvature are corrected. The result is superior optimum resolution even in peripheral areas.
Large maximum aperture of F1.4
In 2005, Sigma released a lens that has aperture value F1.4 designed for digital SLRs, "SIGMA 30mm F1.4 EX DC HSM". Since then, we have produced high-performance lenses by incorporating the latest optical technique, such as the standard lens designed for a full size image sensor, the SIGMA 50mm F1.4 EX DG HSM and the medium telephoto lens with large aperture, SIGMA 85mm F1.4 EX DG HSM. This lens, SIGMA 35mm F1.4 DG HSM, is our fourth lens that achieves extraordinary expressive power at the aperture value at F1.4. For wide angle photography, it ensures excellent brightness with the large F1.4 aperture and a beautiful bokeh effect.
Attractive blur effect
Correction of coma aberration enabled less blur on a point light source in peripheral areas, and the function is best used for astrophotography and illuminations. It is also possible to create an attractive blur to the out of focus areas. The aspheric lens elements used as the first lens have secured peripheral brightness while correcting distortion. The rounded diaphragm creates an attractive blur to the out-of-focus areas of the image.
Floating inner focusing system
This system compensates for astigmatic aberration and spherical aberration and provides extremely high optical performance for close-up photos.
Flare and ghosting conscious design
In order to achieve high rendering on this flagship lens, flare and ghosting were thoroughly measured from an early stage to establish an optical design which is resistant to strong incident light such as backlight. The Super Multi-Layer Coating reduces flare and ghosting and provides sharp and high contrast images even in backlit conditions.
Hyper Sonic Motor
The HSM (Hyper Sonic Motor) ensures high speed and quiet AF as well as full-time manual focus override by rotation of the focus ring. With the enhanced AF algorithm, smoother AF is achieved.
Brass made bayonet mount
This lens incorporates a brass made bayonet mount which has both high accuracy and durability. A special treatment to reinforce its strength is applied to the surface giving it greater strength and making it highly resistant to long-term use
Ease of use
The new product lines incorporate rubber for the attachment part of the provided lens hood. For better usability, the design of the lens cap and AF / MF changeover switch have been improved. In order to ensure high accuracy of the product, all metallic parts and the new compound material, TSC (Thermally Stable Composite), which has high affinity to metal parts, are housed internally.
Newly developed "USB DOCK" exclusively for new product lines
Based on these new lines, we have developed special software (SIGMA Optimization Pro) that can update the lens firmware and adjust parameters such as focus.
Evaluation with Sigma's own MTF measuring system "A1"
We used to measure lens performance with MTF measuring system using conventional sensors. However, we've now developed our own proprietary MTF (modulation transfer function) measuring system (A1) using 46-megapixel Foveon direct image sensors. Even previously undetectable high-frequency details are now within the scope of our quality control inspections. The SIGMA 35mm F1.4 DG HSM will all be checked using this "A1" before they are shipped.
"Made" in Japan
All Sigma's manufacturing right down to molds and parts is carried out under an integrated production system, entirely in Japan. We are now one of the very few manufacturers whose products are solely "made in Japan". We like to think our products are somehow imbued with the essence of our homeland, blessed as it is with clean air and water, and focused, hard-working people. We pride ourselves on the authentic quality of Sigma products, born of a marriage between highly attuned expertise and intelligent, advanced technology. Our sophisticated products have satisfied professionals and lovers of photography all over the world, because our manufacturing is based on genuin e craftsmanship, underpinned by the passion and pride of our experts.
Sigma 35mm f/1.4 Lens Specs
| | |
| --- | --- |
| Construction | 13 Elements in 11 Groups |
| Angle of view (35mm equivalent) | 63.4° |
| F stop range | 1.4-16 |
| Closest Focusing Distance | 30cm / 11.8″ |
| Maximum Magnification | 1:1.2 |
| Number of Diaphragm Blades | 9 (Rounded diaphragm) |
| Filter Size | 67mm |
| Dimensions (Length x Diameter) | 94mm (3.7″) X 76.2mm (3.0″) |
| Weight | 23.5 oz./ 665g |
A Few Sony Deals and Rebates
Cameras
Sony SLT-A99 Bundle Deal @ BH

Sony Nex Rebates and Bundles and Best Prices

Sony DSLR Deals
Portable Lighting Rebates
Portable Lighting Rebates @ BH are expiring at the end of the month! – Click Here>>
Adobe Ligtroom 4 Deal
Lens Deals
Other Recommend Items and Miscellaneous Deals
Closing Remarks
That is about it for now, but stayed tuned for the Sony Nex-3n first look with some product photography and first impressions! I also have the 14mm Rokinon lens review I need to finish up 😉 Also, please feel free to ask questions or speculate on what you think Sony might do in the future?? I would love to here your thoughts on the matter and what you think Sony should do!
Catch up with you all later and thanks again for checking out SonyAlphaLab,
Jay
Your support is greatly appreciated as we run this site in our spare time and are not paid. We can however, make a small commission if you click a product link that your interested in. That click will then give us credit if you choose to purchase any given item. This has no effect on the cost of the product, and is a simple way to give back to SonyAlphaLab.com for the effort and info we provide.
Tip Jar: https://www.paypal.me/SonyAlphaLab
Support SonyAlphaLab by becoming a | Patreon
Also, be sure to keep following us on Google+ | Twitter | Facebook |
Direct Shopping Links – Thanks for your Support!!
BHPhotoVideo | Amazon – US | CA | UK
Thanks,
Jay