I just got an email from BHPhoto about some special deals for Sony cameras that include various valued BHPhoto Gift Cards for FREE! Depending on the camera model you can get up to a $500 BHPhoto Gift Card, which can be used towards anything @ BHPhoto.
Sony cameras included in this BHPhoto gift card extravaganza are the: A6000, A6300, A7r II, A7s II, RX1R II, RX10 III, RX100, and RX100 V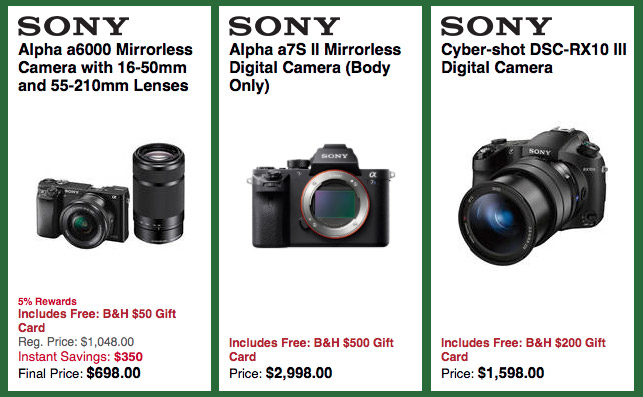 Free Gift Card with Sony Cameras @ BHPhoto
More Deals:
Sigma Art Lens Deals – Save $100 @ BHPhoto (Click Here)

Green Monday Deals @ BHPhoto (Click Here)

Closing Remarks:
That is it for this super short post, but I wanted to make sure you guys were aware of these gift cards if in the market for a new Sony camera. The Free gift cards are perfect for getting an extra battery, memory card, or whatever else you might need… It also makes it an easier sell to your significant other, if you know what I mean 😉
If you guys are shopping at Amazon, you can really help me out by first clicking the Amazon Banner at the top of  SonyAlphaLab.com!! This will give me the referral credit for your visit to amazon at no cost to you whatsoever!! If you were to make a purchase, we would get a small commission from amazon, as a referral credit. Here is what the amazon banner looks like, and all you have to do is click it and amazon will open for you.

Take care guys and please be sure to check out the SonyAlphaLab Forum when you get a chance for the latest news, reviews, and killer user photography/ commentary…
Jay
Your support is greatly appreciated as we run this site in our spare time and are not paid. We can however, make a small commission if you click a product link that your interested in. That click will then give us credit if you choose to purchase any given item. This has no effect on the cost of the product, and is a simple way to give back to SonyAlphaLab.com for the effort and info we provide.
Tip Jar: https://www.paypal.me/SonyAlphaLab
Support SonyAlphaLab by becoming a | Patreon
Also, be sure to keep following us on Google+ | Twitter | Facebook |
Direct Shopping Links – Thanks for your Support!!
BHPhotoVideo | Amazon – US | CA | UK
Thanks,
Jay