Sony announced the Alpha A77 II DSLR yesterday and it looks liked a refined A77 with all new internals for the most part. New 24mp gapless sensor design, insane 79 point AF system w/ translucent mirror technology, New Bionz X processor, Huge 60 frame buffer (26 Raw), 12 fps, ISO 25600, and a fully articulating high res lcd screen.
The Sony a77II DSLR Camera is really packing some pro like numbers in the af department and buffer size, so this camera should be appealing to many photographers including, hard core enthusiasts, Semiprofessional, and even professional! If you are a motocross track shooter, this camera might be perfect for the extra crop factor zoom 1.5x x the focal length. I know the full frame is great, but 2oomm is often not enough and a 100-400mm style lens is required. With the 1.5x sensor crop factor, 200mm becomes ~300mm effectively, and this is very helpful in the larger field sports, the zoo, or anything that requires more reach. The longer lenses are very expensive for the full frame sensor coverage, so the crop factor cameras can save some serious cash in the huge lens department. Clearly full frame has better IQ and if you can afford it, by all means, but the crop factor does have some advantages in reach if you were not aware 😉


Key Features:

24.3MP APS-C Exmor CMOS Sensor
BIONZ X Image Processor
Gapless On-Chip Lens Design
Translucent Mirror Technology
3.0″ 1,228k-Dot 3-Way Tilting LCD Screen
0.5″ 2,359k-Dot XGA OLED Tru-Finder
Full HD 1080p Video Recording at 60 fps
79-Point Phase-Detection AF System
ISO 25600 and Shooting Up to 12 fps
Built-In Wi-Fi Connectivity with NFC
A77 II Photos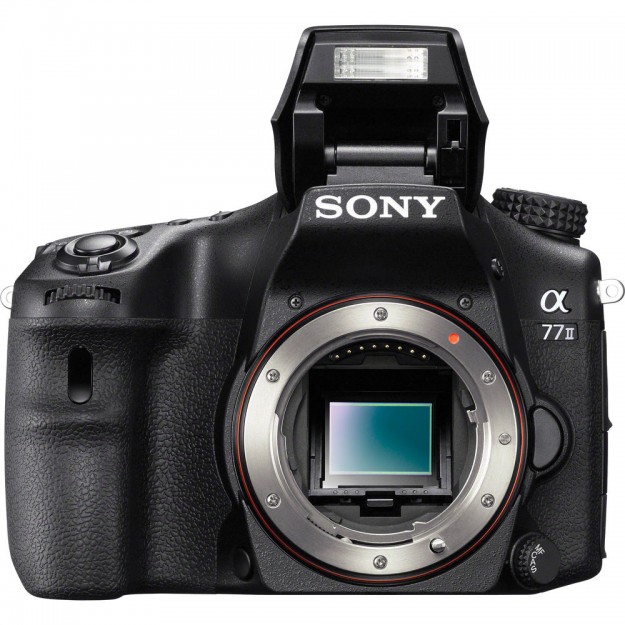 A77 II – Features and Specs
Sony A77 II Features
24.3MP APS-C Exmor Sensor and BIONZ X Image Processor

The 24.3MP APS-C-sized Exmor APS HD CMOS sensor and BIONZ X image processor work together to produce high resolution, well-detailed imagery with minimal noise and notable low-light quality and sensitivity to ISO 25600. The sensor utilizes a gapless on-chip lens design, which fills the gaps between neighboring pixels with optimized lenses that match the angle of incidence to increase light gathering ability and produce edge-to-edge sharpness and quality. Detail reproduction technology works to increase the fine detail rendering capabilities for a more three-dimensional, realistic image quality while diffraction-reducing technology helps to enhance the optical qualities of any lens by suppressing diffraction that is common when working at smaller apertures.The BIONZ X processor also contributes to providing a wealth of speed throughout the camera system, including a top continuous shooting rate of 12 fps for up to 26 RAW frames and full HD 1080i/p video recording in multiple frame rates.
Translucent Mirror Technology

Translucent Mirror Technology is a unique design that enables the mirror to continuously direct light to both image and autofocus sensors to provide continuous phase- and contrast-detection focusing for quick and precise performance. The additional speed afforded to the camera by eliminating the need for a swinging mirror benefits many shooting features including the fast continuous shooting rate, continuous focusing when shooting movies and working in continuous shooting modes, and also allows for the use of a high resolution electronic viewfinder for eye-level live view monitoring.
79-Point Wide-Coverage AF System

Complementing the imaging abilities, an equally apt phase-detection autofocus system, coupled with the Translucent Mirror Technology, provides fast and full-time continuous focusing performance to suit working in nearly any environment, even in lighting conditions as dim as -2 EV. Subject tracking is benefitted by the expansive 79 AF point array, which incorporates 15 centrally-located cross-type points for added precision in the most frequently used portion of the image frame. A centrally-located horizontal f/2.8 AF point is also incorporated within this array, and overlaps another AF point, to better support the use of large-aperture lenses. Also benefitting subject tracking, an enhanced flexible spot function utilizes eight focus points surrounding a chosen point to maintain focus on moving subjects if the main, selected point loses focus.For further refinement, a series of distinct AF modes can be selected from depending on the subject. Eye AF is a detail-oriented focusing function that can prioritize a subject's pupil and dedicate focusing performance on that for sharply-rendered portraits; Lock-on AF is a dedicated focusing method for use with moving subjects and adjusts the target frame size as the subject moves throughout the image frame; and AF Range Control permits the selection of a dedicated focusing distance range for faster performance and greater accuracy. Additionally, five-step AF Tracking Duration allows the setting of focus speed and performance based on the specific scene type and subject matter.
Full HD Video Recording

Full HD 1080i/p video recording is supported at both 60 and 24 fps frame rates to produce high resolution movies with a smooth, cinematic look. Full HD videos are recorded using the high-quality AVCHD codec, while 1440 x 1080, 1280 x 720, and 640 x 480 formats are also supported in the Internet-friendly MP4 format. When recording in AVCHD, audio is recorded in the AC-3 Dolby Digital format and, instead of the built-in stereo microphone, an optional external microphone can be utilized for higher quality sound recording. Additionally, audio levels can be monitored and adjusted during recording for more exacting control.Benefitting advanced video applications, clean HDMI output is available for recording uncompressed video via an optional external recorder. Complementing full P/A/S/M exposure control, a Zebra function can be used for easier detection of exposure clipping to prevent overexposure and focus peaking is also supported for more refined manual focus accuracy. Additionally, both Quick AF and three distinct AF Tracking Duration steps can be used for acquiring and maintaining critical focus on subjects during recording.
Built-In Wi-Fi Connectivity

Built-in Wi-Fi connectivity enables instant transferring of imagery to mobile devices for direct sharing online to social networking, via email, and to cloud storage sites. NFC (Near Field Communication) is also supported, which allows for one-touch connection between the camera and compatible mobile devices, with no complex set-up required. Once connected, the linked mobile device can also display a live view image on its screen and, using Smart Remote Control, remotely control the camera's shutter and zoom functions.
XGA OLED Tru-Finder and Tilting WhiteMagic LCD Screen

For image monitoring and review, both a high-resolution electronic viewfinder and a rear tilting LCD monitor are incorporated into the camera's design. The XGA OLED Tru-Finder is a 0.5″ 2,359k-dot EVF, which provides 100% frame coverage with a high eye point, wide viewing angle, and accurate color representation. Due to the Translucent Mirror Technology, this viewfinder can be used at all times and offers real-time monitoring of changes to exposure, Picture Effects, and focus settings.For larger-scale monitoring, a 3.0″ 1,228k-dot LCD is also available and features a three-way tilting design to benefit working from high and low angles. WhiteMagic technology is utilized within the screen's design, which produces greater effective brightness for easier use in sunlit conditions.
Body Design

Surrounding the imaging components is a dust- and moisture-sealed magnesium alloy body, which incorporates a large, ergonomic grip and well-placed buttons and dials about its design to offer seamless, intuitive control over camera settings. 11 different customizable buttons can be configured to control 53 assignable functions while a Memory Recall function on the mode dial can be used to recall up to three sets of distinct exposure settings. Additionally, a customizable user interface design with Quick Navi Pro is aided by the conveniently placed Fn button for quick, one-handed adjustment over frequently used camera settings. Ensuring the camera's durability, the shutter mechanism has been tested to approximately 150,000 actuations.A Multi-Interface accessory shoe has also been incorporated into the camera's design, which, aside from permitting the use of optional external flashes, also provides support for a range of accessories, including video lights and external microphones.
Other Camera Features

SteadyShot INSIDE sensor-shift type image stabilization helps to minimize the appearance of camera shake with any mounted lens when recording still images, with the results visible in both the EVF and on the rear LCD monitor. When recording video, electronic image stabilization is available to reduce camera shake.
An advanced 1200-zone evaluative exposure metering sensor delivers consistent and accurate results using multi-segment, center-weighted, or spot metering modes.
Auto Object Framing is an intelligent shooting mode that can automatically analyze the scene and subjects within it and determine an aesthetically-pleasing composition. The subsequent imagery will be cropped according to subject matter, resulting in a well-balanced composition that utilizes Face Detection and Tracking Focus to ensure high image quality and sharpness.
Clear Image Zoom can be used to magnify the center of scenes by 2x to effectively extend the reach of any focal length lens. This digital zoom technology uses an intelligent interpolation process to minimize the amount of image degradation in order to produce realistic, high-quality images.
Picture Effect modes allow you to apply creative settings and emphasize certain facets of individual images for a richer, more aesthetic picture quality. Posterization (Color/B&W), Pop Color, Retro Photo, Partial Color (R/G/B/Y), High Contrast Monochrome, Toy Camera, Soft High-Key, Soft Focus, HDR Painting, Rich-Tone Monochrome, Miniature, Watercolor, and Illustration modes are available.
Multi Frame NR records consecutive images at a reduced ISO sensitivity and then composites them into a single image to realize higher effective sensitivity with minimal image noise. Standard image compositing is comprised of four exposures and High image compositing utilizes 12 distinct exposures.
Creative Style settings provide control over how the camera processes images based on six different predetermined styles: Standard, Vivid, Portrait, Landscape, Sunset, and B&W. Within these settings, contrast, saturation, and sharpness can also be adjusted depending on personal preference.
Auto HDR automatically records three sequential frames of an image and composites them into a single frame to realize greater shadow and highlight detail with an extended range of mid-tones.
Dynamic Range Optimizer (DRO) works to improve images featuring backlit subjects or scenes with high contrast where details can be lost in the shadows or highlights. This mode can be controlled automatically or fine-tuned using five settings.
In-camera creation of 4K slide shows is possible for rich playback to ultra high definition televisions. An HDMI port is incorporated into the camera's design, too, to enable direct connection to HDTVs.
TRILUMINOS Color support is supported to produce rich, natural colors when imagery is viewed on a TRILUMINOS Display.
Specifications
Camera type
Interchangeable lens digital camera with built-in flash
Lens compability
Sony A-mount lenses, operation with Minolta/Konica Minolta lenses confirmed
Type
APS-C type (23.5 x 15.6mm), "Exmor" CMOS sensor with primary color filters
Number of pixels (effective)
approx.24.3Megapixels
Number of pixels (total)
approx.24.7Megapixels
Image sensor aspect ratio
3:02
Color filter
R, G, B primary color
Anti-Dust function
Yes
Anti-Dust system
Charge protection coating on image sensor and image sensor shift mechanism
Anti-Dust operation (auto)
Power off
Recording format
JPEG (DCF Ver. 2.0, Exif Ver. 2.3, MPF Baseline compliant), RAW (Sony ARW 2.3 format)
Image size (pixels) [3:2]
L: 6000 x 4000 (24M), M: 4240 x 2832 (12M), S: 3008 x 2000 (6.0M)
Image size (pixels) [16:9]
L: 6000 x 3376 (20M), M: 4240 x 2400 (10M), S:3008 x 1688 (5.1M)
Image size (pixels) [Sweep Panorama]
Wide: horizontal 12,416 x 1,856 (23M), vertical 5,536 x 2,160 (12M), Standard: horizontal 8,192 x 1,856 (15M), vertical 3,872 x 2,160 (8.4M)
Image quality modes
RAW RAW & JPEG JPEG Extra fine JPEG Fine JPEG Standard
Picture Effect
13 types: Posterization (Color), Posterization (B/W), Pop Color, Retro Photo, Partial Color (R/G/B/Y), High Contrast Monochrome, Toy Camera(Normal/Cool/Warm/Green/Magenta), Soft High-key , Soft Focus(High/Mid/Low), HDR Painting(High/Mid/Low), Rich-tone Monochrome, Miniature(Auto/Top/Middle(H)/Bottom/Right/Middle(V)/Left), Watercolor, Illustration(High/Mid/ Low)
Creative Style
Standard, Vivid, Neutral, Clear, Deep, Light, Portrait, Landscape, Sunset, Night Scene, Autumn leaves, Black & White, Sepia, Style Box(1-6), (Contrast (-3 to +3 steps), Saturation (-3 to +3 steps), Sharpness (-3 to +3 steps))
Dynamic Range functions
Off, Dynamic Range Optimizer (Auto/Level(1-5)), Auto High Dynamic Range(Auto Exposure Difference, Exposure difference Level (1-6EV, 1.0EV step))
Color space
sRGB standard (with sYCC gamut) and Adobe RGB standard compatible with TRILUMINOS Color
Delete
Yes
Recording format
AVCHD format Ver. 2.0 compliant
MP4
Video compression
AVCHD:MPEG-4 AVC/H.264
MP4:MPEG-4 AVC/H.264
Audio recording format
AVCHD:Dolby Digital (AC-3) 2ch,Dolby Digital Stereo Creator
MP4:MPEG-4 AAC-LC 2ch
Color space
xvYCC standard (x.v.Color when connected via HDMI cable) compatible with TRILUMINOS Color
1920 x 1080(60p, 28M, PS)
Approx.28Mbps(Maximum bit-rate)
1920 x 1080(50p, 28M, PS)
No
1920 x 1080(60i, 24M, FX)
Approx.24Mbps(Maximum bit-rate)
1920 x 1080(50i, 24M, FX)
No
1920 x 1080(60i, 17M, FH)
Approx.17Mbps (Average bit-rate)
1920 x 1080(50i, 17M, FH)
No
1920 x 1080(24p, 24M, FX)
Approx.24Mbps(Maximum bit-rate)
1920 x 1080(25p, 24M, FX)
No
1920 x 1080(24p, 17M, FH)
Approx.17Mbps (Average bit-rate)
1920 x 1080(25p, 17M, FH)
No
1440 x 1080(30fps)
Approx.12Mbps (Average bit-rate)
1440 x 1080(25fps)
No
VGA(640 x 480, 30fps)
Approx.3Mbps (Average bit-rate)
VGA(640 x 480, 25fps)
No
Audio Level Display
Yes
Audio Rec Level
Yes
AF Tracking Duration
Yes
AF Drive Speed
Yes
Auto Slow Shutter
Yes
HDMI Info. Display
Yes(On/Off)
Media
"Memory Stick PRO Duo"
"Memory Stick PRO-HG Duo"
"Memory Stick XC-HG Duo"
SD memory card
SDHC memory card (UHS-I compliant)
SDXC memory card (UHS-I compliant)
Noise reduction
Long exposure NR: On/Off , available of shutter speeds longer than 1 sec.
High ISO NR: Normal/Low/Off selectable
Multi Frame NR
Auto/ISO100 to 51200
Modes
Auto / Daylight/ Shade/ Cloudy/ Incandescent/ Fluorescent<
Warm White / Cool White / Day White / Daylight>/ Flash / Color temperature<2500 to 9900K> , color filter/ Custom<1/2/3>/Custom Set
AWB micro adjustment
Yes
Bracketing
3 frames, H/L selectable
Type
TTL Phase-detection AF
Focus sensor
CCD line sensors
Focus point
79 points (15 points cross type)
79 points (15 points cross type)
Sensitivity range
EV -2 to 18 (at ISO100 equivalent)
Focus mode
Autofocus, Manual focus selectable
AF mode *2
Single-shot AF (AF-S), Continuous AF (AF-C), Automatic AF (AF-A), Direct Manual Focus selectable
Focus area
Wide/Zone/Center/Flexible Spot/Expanded Flexible Spot/Lock-On AF(Wide/Zone/Center/Flexible Spot/Expanded Flexible Spot)
Eye-start AF
Yes
Lock-on AF
Yes
Eye Focus
Yes
Other features
Predictive control (AF-A, AF-C)
Focus lock
AF On
Eye-start AF
AF illuminator
built -in Flash
AF illuminator range
approx.1m – 5m
approx. 3.3 to 16.4 feet
AF Range Control
Yes
AF micro adjustment
Yes
Metering type
1200-zone evaluative metering
Metering sensor
"Exmor"CMOS sensor
Metering sensitivity
EV-2 to EV17 (at ISO100 equivalent with F1.4 lens attached)
Modes
Multi-segment
Center-weighted
Spot
Exposure modes
Multi-segment
Center-weighted
Spot
AUTO(Intelligent Auto/Superior Auto)
Scene Selection
Sweep Panorama
Continuous Advance Priority AE
Movie(P/A/S/M)
Programmed AE (P)
Aperture priority (A)
Shutter-speed priority (S)
Manual (M)
Memory recall(MR1/2/3)
Scene Selection
Portrait
Landscape
Macro
Sports Action
Sunset
Night Portrait
Night Scene
Hand-held Twilight
Exposure compensation
+/-5.0 EV (1/3EV, 1/2EV steps selectable)
Bracketing
Bracket: Cont./Bracket: Single, With 1/3EV, 1/2EV, 2/3EV, 1.0EV, 2.0EV, 3.0EV increments, 3 /5frames
AE Lock
Available with AE lock button.
AE is also locked when focus is locked in multi-segment metering mode. ("AEL w/ shutter"(Auto/On/Off) is supported)
ISO sensitivty,Recommnded Exposure Index
Still Image:ISO100 – 25600 (1/3 EV step), (ISO numbers up from ISO50 can be set as expanded ISO range.)
AUTO ( ISO 100-25600, selectable the lower limit and the upper limit ) Movie:ISO100 – 12800 equivalent(1/3 EV step)
AUTO ( ISO 100-12800 equivalent, selectable the lower limit and the upper limit)
Movie:ISO100 – 12800 equivalent(1/3 EV step)
AUTO ( ISO 100-12800 equivalent, selectable the lower limit and the upper limit )
Type
1.3cm (0.5″type) Electronic viewfinder
Number of dots
2 359 296 dots
Brightness control
Auto/Manual (5 steps between -2 and +2)
Color temperature control
Manual (5 steps)
Field coverage
100%
Magnification
Approx.1.09x (35mm camera equivalent: Approx.0.71x) with 50mm lens at infinity, -1m- -1
Diopter adjustment
-4.0 to +3.0m-1
Eye point
Approx. 27mm from the eyepiece lens, 22mm from the eyepiece frame at -1m-1 (CIPA standard)
Display Contents
Graphic Display / Display All Info./ No Disp. Info. / Digital level gauge / Histogram
Type
7.5 cm (3.0 type) TFT drive
Number of dots (total)
1 228 800dots
Brightness control
Auto
Manual (5 steps between -2 and +2)
Sunny Weather
Adjustable angle
Tilt angle:150 degreesupward and 180 degrees downward.
Rotation angle:180 degrees clockwise and 90 degrees counterclockwise.
WhiteMagic
Yes
Display Contents
Graphic Display / Display All Info./ No Disp. Info. / Digital level gauge/ Histogram / Shooting information for viewfinder mode
Real-time image-adjustment display
ON/OFF
Quick Navi
Yes
Focus Check
Focus Magnifier (5.9x,11.7x)
Zebra
Yes
Peaking MF
Yes (Level setting: High/Mid/Low/Off, Color: White/Red/Yellow)
Top panel
Yes
Face detection Modes
On/On (Regist. Faces)/Off
Face registeration
Yes
Face selection
Yes
Max. number of detectable faces
8
Auto Object Framing Still images
Yes
Smile Shutter
Yes (selectable from 3 steps)
Help guide
Yes
Clock Function,Setting
Yes
Area Setting
Yes
Shop Front Mode
Yes
Eye-Fi ready *3
Yes
Clear Image Zoom Still images
Yes (approx.2x)
Movies
Yes (approx.2x)
Smart zoom (Still images)
Yes M:Approx. 1.4x
S:Approx. 2x
Digital zoom (Still images)
Yes L:Approx. 4x
M:Approx. 5.7x
S:Approx. 8x
Smart Teleconverter
Yes (approx.1.4 x / 2x)
Shutter Type
Electronically-controlled, vertical-traverse, focal-plane type
Shutter speed
Still images: 1/8000 to 30 sec/Bulb
Movies: 1/8000 to 1/4 (1/3 step), up to 1/60 in AUTO mode (up to 1/30 in Auto slow shutter mode)
Flash sync.Speed *4
1/250 sec.
Electronic Front Shutter Curtain
Yes (ON/OFF)
image stabilization type
For still images:Image Sensor-Shift mechanism, For movies:Electronic
Flash Type
Built-in, auto pop-up
Guide No.
12 (in meters at ISO100)
Flash coverage
16mm (focal-length printed on the lens body)
Control
ADI
Pre-flash TTL
Manual flash
Flash compensation
+/- 3.0 EV (switchable between 1/3 and 1/2 EV steps)
Flash bracketing
1/3, 1/2, 2/3, 1.0, 2.0, 3.0 EV steps, 3/5 frames selectable
Flash modes
Flash off
Autoflash
Fill-flash
Slow Sync.
Red-eye reduction (on/off selectable)
Rear Sync.
Wireless *5
Hi-speed sync. *5
Recycling time
Approx. 3 sec
External flash
Sony a System Flash compatible with Multi Interface Shoe, attach the shoe adaptor(ADP-MAA, sold separately) for flash compatible with Auto-lock accessory shoe
FE level lock
Yes
Drive modes
Single Shooting
Continuous shooting (Hi/Lo selectable)
Self-timer (10/2 sec delay selectable)
Self-timer (Cont.) (with 10 sec delay 3/5 exposures selectable)
Bracket: Cont.
Bracket: Single
White Balance bracket
DRO bracket
Speed appx maximum*6
Continuous Advance Priority AE: Maximum 12 frames per second
Continuous shooting Hi: Maximum 8 frames per second
Continuous shooting Lo: Maximum 3 frames per second
No. of frame recordable* (approx.) *6 *7
[Continuous Advance Priority AE mode] Extra fine: 53 images/Fine: 60 images/Standard: 64 images/RAW & JPEG: 25 images/RAW: 26 images
[Continuous shooting] Extra fine: 56 images/Fine: 75 images/Standard: 93
images/RAW & JPEG: 26 images/RAW: 28 images
Playback Modes
Single (with or without shooting information Y RGB histogram & highlight/shadow warning)
9/25 Images index view
Enlarged display mode (L: 18.8x, M: 13.3x, S: 9.4x, Panorama (Standard): 25.6x, Panorama (Wide): 38.8x)
Display Rotation (Auto/Manual/Off selectable)
Slideshow
Panorama scrolling
Auto Review (10/5/2 sec,Off)
Folder selection (Still)
Forward/Rewind (movie)
Delete
Protect
Wi-Fi
View on Smartphone
Send to Computer
View on TV
NFC One-touch remote
Yes
One-touch sharing
Yes
PC interface
Mass-storage, MTP, PC remote
Multi / Micro USB Terminal
Yes
NFC
Yes (NFC forum Type 3 Tag compatible)
Sync. Terminal
Yes
Wireless LAN(built-in)
Yes(Wi-Fi Compatible, IEEE 802.11b/g/n(2.4GHz band) ) *8
HD output
HDMI Micro connector (Type-D)
BRAVIA Sync(Control for HDMI)
PhotoTV HD
4K Still Image PB
Multi Interface Shoe *9
Yes
Mic Terminal
Yes (3.5 mm Stereo minijack)
DC IN Terminal
Yes
Wired
Yes
Remote Control(Wired)
Yes
Remote Control (Wireless)
Yes (RMT-DSLR2 (sold separately)
PC Remote
Yes
Microphone
Built-in stereo microphone or ECM-XYST1M/ECM-CG50 (sold separately)
Speaker
Built-in, monaural, Volume settings in 16 steps between 0 and 15
Print Compatible standards
Exif Print, Print Image Matching III, DPOF setting
Lens compensation
Peripheral Shading, Chromatic Aberration, Distortion
Battery
One rechargeable battery pack NP-FM500H
Still images *10
approx.410 shots (Viewfinder) / approx.480 shots (LCD monitor) (CIPA standard)
Movies (actual recording) *11 *12
Approx. 110 min with viewfinder, approx. 120 min with LCD monitor (CIPA standard)
((For [MP4 12M] size movies continuous shooting is possible for approximately 20 minutes (limited by 2GB file size))
Movies (continuous recording) *11 *13
Approx. 175 min with viewfinder, approx. 175 min with LCD monitor (CIPA standard)
((For [MP4 12M] size movies continuous shooting is possible for approximately 20 minutes (limited by 2GB file size))
External power
AC Adaptor AC-PW10AM (sold separately)
Power consumption With Viewfinder
Still images: approx .3.5W(with DT 16-50mm F2.8 SSM lens attached), Movies: approx. 4.1 W(with DT 16-50mm F2.8 SSM lens attached)
With LCD screen
Still images: approx 3.0W(with DT 16-50mm F2.8 SSM lens attached), Movies: approx. 4.1 W(with DT 16-50mm F2.8 SSM lens attached)
Weight With battery and Memory Stick
Approx. 726g (PRO Duo included)
Oz. With battery and Memory Stick
Approx. 1 lb 9.6 oz
Weight – Body only
Approx. 647 g
Weight Oz, Body only
Approx. 1 lb 6.8 oz
Dimensions in mm (WxHxD)
excluding protrusions Approx. 142.6 mm × 104.2 mm × 80.9 mm
Dimensions in inches (WxHxD)
excluding protrusions Approx. 5 5/8 inches × 4 1/8 inches × 3 1/4 inches
Supplied Rechargeable Battery NP-FM500H
Yes
Supplied Battery Charger BC-VM10A
Yes
Supplied Shoulder strap
Yes
Body cap
Yes
Accessory shoe cap
Yes
Eyepiece cup
Yes
Micro USB cable
Yes
Sony A77 II Previews, First Hands-on Reports:
Sony A77 II Pre-Orders
Sony Alpha A77 II Pre-orders now available from $1198 US @ BHPhoto | Amazon | Adorama
Mothers Day Ideas:
Mothers Day Deals and Ideas @ BHPhoto >> | Amazon >>
Closing Remarks
To me the A77 II looks like a really nice upgrade and a great option for a crop factor DSLR with killer video capabilities and focus tracking. I was hoping for a full mirrorless solution, but apparently the A6000 technology is just not as good. If it was, Sony would have dropped the translucent mirror for sure I believe. So, know we have the best of both worlds! Crazy fast AF and with the updated sensor, high ISO and low light quality should be a huge improvement over the original A77. That and the small buffer were the weakest links and Sony addressed both of those issues. So what else matters? Well, the uncompressed HDMI out is a nice feature and Wi-fi will make a lot of folks happy. No gps unfortunately, but what are ya going to do.
I'm looking forward to testing this camera out, what are your thoughts?
Jay




Your support is greatly appreciated as we run this site in our spare time and are not paid. We can however, make a small commission if you click a product link that your interested in. That click will then give us credit if you choose to purchase any given item. This has no effect on the cost of the product, and is a simple way to give back to SonyAlphaLab.com for the effort and info we provide.
Tip Jar: https://www.paypal.me/SonyAlphaLab
Support SonyAlphaLab by becoming a | Patreon
Also, be sure to keep following us on Google+ | Twitter | Facebook |
Direct Shopping Links – Thanks for your Support!!
BHPhotoVideo | Amazon – US | CA | UK
Thanks,
Jay