Sony announces the A5000, the latest Nex series camera without the Nex series name? Looks like Sony officially dropped the Nex tag and they are going with the Alpha A for all their new mirrorless camera gear. I think this is good because it shows a commitment to a higher quality, more streamlined camera line. Sony consolidated several of their camera models over the last year or two, and the latest A5000 seems to combine the best of the Sony Nex-3n, with the design and ergonomics of the Nex-5t.
They also upgraded the sensor to the 20mp version and put in the latest BionzX processor to help handle the increased resolution, but more importantly the Contrast AF performance! The new full frame A7r has contrast AF only and I've heard countless people saying how fast the AF speeds are. Apparently we have the Bionz X process to thank for that according to Sony. Faster processor equals faster AF? Makes sense I guess, but I never thought the processor was the bottleneck in af speeds. I always thought it was the contrast AF technology itself, hence the hybrid sensor innovation. I'll be interested in finding out more on this.
Sony also decided to keep the price point insanely competitive @ $598 US w/ 16-50mm PZ OSS kit lens included!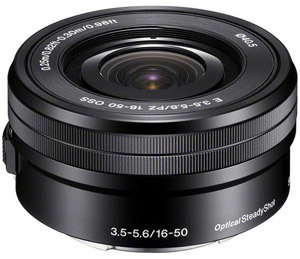 I'm not the biggest fan of that kit lens personally, but it's great for video thanks to the smooth power zoom and it also collapses to a pancake when off making it about half the size of the other 18-55mm kit lens. As far a flaws go, the 16-50mm kit suffers from pretty bad distortion and corner softness on the wide end. Center is very sharp! When shooting raw quality like I do, these lens flaws are very apparent, and the 18-55mm kit lens is much better in this regard. It's larger though and has no power zoom as a consequence.
All in all, the sel1650PZ as a kit lens is a great value considering the price point of this camera. The smaller form factor and power zoom for video is hard to beat for the average new to mirrorless user. I understand why Sony went with this lens over the sel1855, I just wanted to make sure you knew where I stood on that kit lens and why personally did not prefer it.
Sony is also pushing this marketing line, which I found pretty funny:
The world's lightest interchangeable lens camera to feature the convenience of Wi-Fi connectivity
Sony A5000 Key Features:
20.1MP Exmor® APS-C sensor
Wi-Fi® connectivity to smartphones via NFC
BIONZ® X processing engine
Up to ISO 16000 sensitivity
180° tilting LCD Touchscreen
Full HD 1080/60i/24p video
Built-in pop-up flash
PlayMemories™ Camera Apps
Up to 4 FPS shooting
| | |
| --- | --- |
| | Also featuring the 180 degree flip touchscreen for self portraits or self recordings, the A5000 should appeal to the self-portrait lovers.This would make my life a bit easier recording the review videos, because as is, I have to guess the frame composition without me in it, and take a test clip. Then walk around and play the video back, make adjustments, and try again. Not the most efficient, but you work with what you have 😉 It's really not that hard, but having a 180 degree flip screen would be nice for those specific tasks. |
Sony A5000 Sensor
The A5000 is fitted with the higher resolution 20.1mp APS-C sensor, found in the A58, or A3000.  It looks like a very high quality sensor with a respectable score via DXOMark.com
The A58 scored much less in the low-light category due to the translucent mirror in front of the sensor. You can expect the A5000 sensor to score around 78, if I had to guess.
Sony A5000 Pros and Cons
First thoughts…
Pros

Cons

20mp APS-C Sensor
Bionz X processor
180 degree touchscreen
Built-in flash
1080/60p
Wi-fi, NFC
ergonomics
features
price to value

No Hybrid PDAF Sensor
lower resolution screen
No EVF
No Hot Shoe
limited physical buttons
A5000 High Res Images:

Click for High Res Versions!

Sony A5000 Overview and Complete Features List:
The Sony Alpha A5000 Mirrorless Digital Camera is a versatile and compact mirrorless camera that features a 20.1 megapixel APS-C-sized Exmor APS HD CMOS sensor and BIONZ X image processor to produce high-resolution still images and full HD movies with marked low-light quality and sensitivity to ISO 16000. The image processor contributes greatly to minimizing overall noise levels and also affords a wealth of speed throughout the camera for recording up to 3.5 fps in Speed Priority Continuous mode.
To support live view monitoring, image playback, and menu navigation, a 3.0″ 460.8k-dot LCD monitor is integrated into the A5000 and utilizes a 180° tilting design to better serve working from low viewing angles as well as in front of the camera. The large screen and intuitive menu interface helps to easily access a host of camera features, including Picture Effects, Auto HDR mode, Auto Object Framing, and for connecting to mobile devices using built-in wireless and NFC connectivity.
Included with the camera body is a Sony E-mount 16-50mm f/3.5-5.6 OSS Retractable Zoom Lens, which provides a 35mm-equivalent focal length range of 24-75mm. This range of perspectives is well-suited to everyday shooting and is further enhanced through the inclusion of Optical SteadyShot image stabilization for minimizing the appearance of camera shake. Power Zoom technology allows for electronic control over the zoom position and the inclusion of one extra-low dispersion element and four aspherical elements helps to reduce chromatic aberrations throughout the zoom range as well as contribute to high overall sharpness.
20.1 Mp Exmor APS HD CMOS Sensor and BIONZ X Image Processor
The 20.1 Mp APS-C-sized Exmor APS HD CMOS sensor and BIONZ X image processor work together to produce high resolution, well-detailed imagery with minimal noise and notable low-light quality and sensitivity to ISO 16000. The processor also contributes to providing a wealth of speed throughout the camera system, including a fast 25-point contrast-detection AF system, top continuous shooting rate of 3.5 fps, and full HD 1080i/p video recording in multiple frame rates.
Full HD Video Recording
Full HD 1080i/p video recording is supported at both 60 and 24 fps frame rates to produce high resolution movies with a smooth, cinematic look. Videos are recorded using the high-quality AVCHD codec and a built-in stereo microphone records sound in the Dolby Digital AC-3 format. Additionally, 1440 x 1080p, 1280 x 720p, and 640 x 480p formats are also supported in the Internet-friendly MP4 format.
Built-In Wi-Fi Connectivity
Built-in Wi-Fi connectivity enables the A5000 to instantly share imagery to mobile devices for direct sharing online to social networking, via email, and to cloud storage sites. NFC (Near Field Communication) is also supported, which allows for one-touch connection between the camera and compatible mobile devices; no complex set-up is required.
Tilting LCD Monitor
For live view monitoring, image playback and review, and menu navigation, a 3.0″ 460.8k-dot touchscreen LCD monitor is integrated into the camera body and features a 180° tilting design to promote easier use from low angles as well as in front of the camera.
Sony 16-50mm f/3.5-5.6 OSS Retractable Zoom Lens
The included 16-50mm f/3.5-5.6 OSS Retractable Zoom Lens provides a 35mm-equivalent focal length range of 24-75mm, covering wide-angle to portrait-length perspectives to suit working in a wide variety of situations. It features Optical SteadyShot image stabilization to help minimize the appearance of camera shake by up to four shutter speed steps to greatly benefit working in low-light conditions and with greater zoom magnifications. One extra-low dispersion element and four aspherical elements are integrated into the optical construction to help reduce chromatic aberrations as well as increase clarity, sharpness, and contrast and the Power Zoom electronically-driven zoom mechanism brings greater efficiency to controlling the zoom position of the lens.
Other Camera Features
A built-in pop-up flash is available to provide additional illumination when working in dim lighting.
Auto Object Framing is an intelligent shooting mode that can automatically analyze the scene and subjects within it and determine an aesthetically-pleasing composition. The subsequent imagery will be cropped according to subject matter, resulting in a well-balanced composition that utilizes Face Detection and Tracking Focus to ensure high image quality and sharpness.
Picture Effect modes allow you to apply creative settings and emphasize certain facets of individual images for a richer, more aesthetic picture quality. Posterization (Color/B&W), Pop Color, Retro Photo, Partial Color (R/G/B/Y), High Contrast Monochrome, Toy Camera, Soft High-Key, Soft Focus, HDR Painting, Rich-Tone Monochrome, Miniature, Watercolor, and Illustration modes are available.
The Photo Creativity feature provides quick access to Picture Effects as well as dedicated controls for adjusting Background Defocus, Brightness, Color, and Vividness. Additionally, these effects can be combined for nearly limitless adjustment options
Superior Auto mode is an intelligent automated setting that can quickly identify the current shooting environment and adjust crucial camera settings to deliver optimized results. This mode also utilizes Auto HDR and Hand-held Twilight modes, which employ image compositing techniques to better handle difficult lighting conditions.
Anti-Motion Blur automatically corrects for subject movement in order to deliver clean, sharp imagery in low-light conditions. This is accomplished by recording six sequential frames and compositing portions of each image to ensure overall sharpness.
Hand-held Twilight Mode automatically composites details from six sequentially-recorded images in order to attain higher overall image sharpness when working in low-light conditions.
Face Detection/Smile Shutter can detect and base focus, white balance, and exposure settings on recognized faces. This technology also enables the shutter to be released, based on three sensitivity levels, when a smile is detected in the frame.
Creative Style settings provide control over how the camera processes images based on six different predetermined styles: Standard, Vivid, Portrait, Landscape, Sunset, and B&W. Within these settings, contrast, saturation, and sharpness can also be adjusted depending on personal preference.
The Sony E-mount affords compatibility with an extensive number of lenses and lens adapters.
Convenient USB charging allows you to charge the included lithium-ion battery in-camera via USB connection from either an AC outlet or PC source.
The Stamina battery power allows up to approximately 420 shots to be taken on a single charge. The InfoLITHIUM batteries also enable you to see the remaining percentage of battery power left.
PlayMemories Home software is pre-installed on the camera for automatic downloading to a PC when connected to offer support for viewing, organizing, editing, retouching, printing, and sharing imagery.
Official Press re-lease from Sony:
Sony Press Re-lease
by Communications 01/06/2014
New A5000 Model offers DSLR Power in Compact Body
LAS VEGAS (CES Booth #14200), Jan. 6, 2014 – The versatile new Sony A5000 camera (model ILCE-5000) is the world's lightest interchangeable lens camera to feature the convenience of Wi-Fi connectivity.1 Weighing in at less than 8oz., the new camera boasts a formidable amount of imaging power for its size.
"Packing DSLR imaging power into an incredibly small and light package, our new A5000 is the ultimate 'everyday shooter' that will appeal to a wide range of customers," said Neal Manowitz, director of the alpha interchangeable lens camera division at Sony.   "Its sleek, user-friendly design will attract point-and-shoot users looking to upgrade, while its impressive imaging credentials will appeal to photo enthusiasts looking for a compact camera that can deliver the performance, flexibility and results they crave."
The new camera features a large 20.1 MP APS-C sized sensor that is paired with a new-generation BIONZ® X processor – the same processor in the award winning Sony A7 and A7R full-frame cameras.  These key devices work together to deliver crisp, high-quality still images and full HD videos in all types of shooting conditions.
The BIONZ X processor uses detail reproduction, area-specific noise reduction and diffraction reducing technologies to ensure extremely fine color textures and low noise in images.  Additionally, it allows for shooting at extremely high sensitivity – up to ISO 16000 – for impressive pictures in fading light.
On-board Wi-Fi capabilities give consumers one-touch connection with Xperia® or NFC-compatible Android™ smartphones or tablets for instant image transfer and sharing2.  A single touch also activates Smart Remote Control, linking the camera with a smartphone or tablet to view shots, and fire the shutter from a distance.
For devices without NFC one-touch capabilities, users can wirelessly transfer images and videos and activate Smart Remote Control with the ?5000 camera through Sony's PlayMemories Mobile™ application, available for the iOS and Android platforms.
The new ?5000 model has a comfortable new grip and intuitive tiltable LCD screen that can flip upwards up to 180 degrees for easy self-portraits.  There's also a conveniently placed lever on the camera body for fingertip adjustment of the camera's optical zoom3, which is especially useful for shooting HD video with the supplied 16-50mm power zoom kit lens (model SELP1650).
The camera's "Photo Creativity" mode will help less experienced photographers learn and experiment with creative settings.  Unique to Sony, this mode replaces complex photographic settings with more easily understood phrases like "Background Defocus" and "Brightness," giving users direct access to many common manual settings.  It also offers quick and easy access to Picture Effects, which includes popular modes like Pop Color, Selective Color, Toy Camera and Miniature Mode.
Sony PlayMemories Camera Apps™
The growing assortment of downloadable PlayMemories Camera Apps adds a range of exciting and powerful features to the ?5000 camera.  Shooters can pick from a variety of free to nominal cost apps to broaden creative options, experiment with new effects, learn new photography techniques and more.
There are 11 apps currently available, including an upgraded version of "Time Lapse Ver. 2.0," which intelligently and automatically adjusts exposure for changing lighting conditions over of the course of a time lapse sequence. A new free "Sync to Smartphone" app automatically transfers shots to a pre-registered smartphone or tablet each time the camera is switched off.
More information on Sony PlayMemories Camera Apps can be found at www.sony.net/pmca/.
New Sony A Lenses and Accessories
The new camera is compatible with Sony's ever-growing assortment of E-mount interchangeable lenses, which now includes a new version of the popular SEL55210 lens (E55-210mm, F4.5-6.3 OSS).  Identical in optics to the existing silver 55-210mm E-mount zoom lens, this new version has a black finish to match many of Sony's latest E-mount cameras.
In total, 22 different lenses (including converters) are now available for Sony's E-mount system with several premium models from Carl Zeiss® and G Series Lenses.
Additionally, there is a new sleek designed body case – the LCS-EBB model – that serves as a perfect travel companion for the ?5000 camera.
Pricing and Availability
The Sony ?5000 compact interchangeable lens camera will be available in March 2014 in silver, black and white for about $600 in a kit with a compact, versatile 16-50mm motorized zoom lens (model SELP1650).
The new, black-finish E 55-210mm (SEL55210) zoom lens will be available in March for about $350.
The new camera and all compatible lenses and accessories will be available at Sony retail stores (www.store.sony.com) and other authorized dealers nationwide.
Please follow #SonyAlpha on twitter for the latest ? camera news.
Closing Remarks:
When new Sony cameras come out, older units get marked down! The Sony Nex-6 is only $648 US, and has a built in EVF, standard hot shoe, and a few more physical buttons. Unless the 180 degree flip screen is a must have, the Nex-6 is a much better value for the dollar. The EVF is really important outside in bright conditions, and the hot shoe allows for a ton of accessories.
That is about it for the new Sony A5000, but stay tuned for some links to initial reviews and more…
Sony also announced a new range of Handycam camcorders that I will write about briefly when I get the time. It looks like they have the killer RX10 sensor and a high quality 12x Zeiss lens mounted to them! Look pretty nice….
Thanks again for checking in and sorry about the comments system still not working. Please feel free to use google+ to ask questions or comment in the meantime 😉
Jay
Your support is greatly appreciated as we run this site in our spare time and are not paid. We can however, make a small commission if you click a product link that your interested in. That click will then give us credit if you choose to purchase any given item. This has no effect on the cost of the product, and is a simple way to give back to SonyAlphaLab.com for the effort and info we provide.
Tip Jar: https://www.paypal.me/SonyAlphaLab
Support SonyAlphaLab by becoming a | Patreon
Also, be sure to keep following us on Google+ | Twitter | Facebook |
Direct Shopping Links – Thanks for your Support!!
BHPhotoVideo | Amazon – US | CA | UK
Thanks,
Jay