Sony Alpha Cameras are some of the most advanced and powerful cameras on the market. Sony offers several different models that offer drastically different technologies and features. This Camera Guide will help you figure it all out and get the best info possible on all of Sony Alpha Cameras available.
To start things off, Sony has three different Alpha Camera Styles!!
Traditional SLR Cameras – A550, A580, A700, A850, A900

Currently discontinued

Translucent Mirror SLT Cameras – slt-A33, A35, A37, A55, A57, A58, A65, A77, A99 – Sony Alpha Camera Guide >>
Nex Cameras (Mirrorless) – Nex-3, Nex-5, Nex-C3, Nex-F3, Nex-3n, Nex-5N, Nex-5R, Nex-6, Nex-7 – Sony Nex Camera Guide >>
Sony's Older Traditional DSLR's Explained:

The term traditional sounds old, and not as "good" to my ear, but the fact is it's just different. Traditional SLR as it relates to Sony means that the Mirror Inside Moves and their is an Optical Viewfinder that allows you to see through the lens via the mirror. Pretty much the same as how Canon and Nikon slr's work.
Sony seems to be phasing out the Traditional SLR style cameras, but they still currently offer two killer cameras. The Alpha 580 which goes for about ~$750 and the Alpha 900, which goes for ~$2700.  The Alpha 580 is an excellent SLR and offers a ton of features that make it stand out in its price range of competitors.
Sony's latest version of the Traditional SLR is the Alpha 580, and the light path that it uses, although technically traditional, is still way more advanced than the competition. Unlike competing cameras, the A580 uses a second imager, eliminating the focus delay of normal live view.
Check out how the light travels in the A580 and notice how it has the extra sensor inside below the mirror. That speeds things up drastically when using Live View mode on the A580!! I love that feature as I like using Live View and faster focus makes life easier 😉
For more info on the Traditional SLR style cameras be sure to check out my Hands on Review below:
Sony's Translucent Mirror SLT's Explained:
Sony's Translucent Mirror Technology Cameras utilize a special mirror that makes it much different than the traditional SLR's. While traditional SLRs depend on a single reflex mirror(SLR) to flip up and down with every shot, Sony's award-winning technology changes all that with its fixed-position, translucent mirror design. What this means is the camera has minimal hesitation between shots for faster continuous shooting, and killer phase detection auto focus while recording video, or in live view mode.
In addition to those key differences, we also have the EVF (Electronic Viewfinder), or OLED which is the newest generation viewfinder found in the A77, A65 and Nex-7.  On these SLT cameras you don't actually look through the lens like on a traditional SLR. You actually look into a little screen which is a re-creation of the scene in front of your camera. This EVF on the older A55 works pretty good, but the dynamic range was not the best and it had a slight delay that was noticeable. The new 2nd gen OLED's however, are incredible!!! Super fast and it looks better than real, almost like HDR or something. A nice advantage to the EVF is the camera can put the white balance info, exposure comp, and more so you will see that in your live preview. It actually shows you adjustments live on the scene your currently working on so when you take the picture you know what your getting. On a traditional SLR you have to take the picture first to see the effects of WB ect…
The A57 that just came out has an updated version of the A55's EVF and uses a lot more pixels. This creates a much higher resolution and screen and makes the EVF much more usable and totally usable for sports and stuff. The a55 was a bit tuff with sports due to the viewfinder holding the photos for a period of time making it hard to track objects while shooting continuously.
For more info on the SLT style cameras be sure to check out my Hands on Reviews below:
Sony's Nex (Mirrorless ILC) Cameras Explained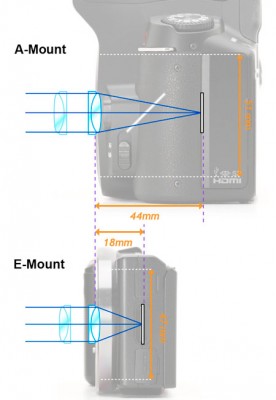 The Sony Nex style camera has basically the image quality of an SLR in a much smaller camera body. The incredible image quality is achieved by the huge APS-C sized sensors inside. The camera body itself is much smaller and thinner than the SLR or the SLT style camera so engineers had to create a new lens mount system to accommodate this. Hence the E-Mount system was born. What makes the E-Mount so drastically different than the A-mount, used on the other Alpha Cameras, is the distance between the sensor itself and the Mount Flange. The E-Mount stands for 18mm as shown in the illustration vs the A-mount which is 44mm and i have no clue what it stands for 😉
Now, the advantage in having such a small distance between the sensor and the lens flange is mufti-fold. First it allows for an incredible depth of field similar to what you get on a full frame camera that has a much larger sensor.  Secondly, the 18mm E-Mount distance allows for adapters to be mounted on which intern make up the necessary distance needed for the sensor to lens flange. This then allows the Nex cameras to use Canon lenses, Nikon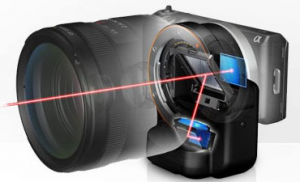 lenses, Sony A-Mount lenses, etc… as long as you have the correct Lens adapter. A huge bonus to those out there that want to use there very expensive SLR lenses like me 🙂
Now, In addition to all this amazing technology, we have the LA-Ea2 adapter for the Nex Cameras. This adapter effectively gives the Nex cameras Phase detection Auto focus and converts the E-mount to an A-mount by increasing the distance between the sensor and the lens flange to 44mm.  So, you can effectively shoot sports once you put this adapter and a fast lens on. The Phase Detection AF is more than capable where as the Native contrast AF in the Nex, although accurate, is a bit slower.
My Sony Nex Camera Reviews

Your support is greatly appreciated as we run this site in our spare time and are not paid. We can however, make a small commission if you click a product link that your interested in. That click will then give us credit if you choose to purchase any given item. This has no effect on the cost of the product, and is a simple way to give back to SonyAlphaLab.com for the effort and info we provide.
Support SonyAlphaLab by becoming a | Patreon
Also, be sure to keep following us on Google+ | Twitter | Facebook | RSS-feed, or Sign up for Email Updates!!
Direct Shopping Links – Thanks for your Support!!
BHPhotoVideo | Amazon – US | CA | UK
Thanks,
Jay