I can across a few new Sony Alpha A99 Reviews, and a Sony SEL1018 Lens Review that is definitely worth checking out! We also have a New Camera Sensor Database Website that is really great for comparing sensor specs on different cameras!
I'm also pleased to report that Sony Alpha Forum is getting more user activity by the day, and I thank you for your continued participation! The more active posters we have, the better the conversations are getting if you know what I mean.
Sony Alpha A99 Reviews
A SonyAlphaLab reader, named Danny put together a really nice Sony Alpha A99 Review that I highly recommend checking out!! It's in German, but you can easily translate it to any language using Google Translate!! Here is the Link for English >>
Hi Jay, I bought and tested the Sony Alpha A99 in the field as a wedding photographer in Germany. My test on a99 is not about technical details, but more on creativity and usability in the wedding business.
Here's another teaser photo courtesy of Danny!
Danny's Sony Alpha A99 Review is from a Wedding Photographers Prospective and has some killer photography and first hand feed back!! In German >> | English Translation >>
TechRadar also posted a Sony Alpha A99 Review comparing the D600 vs 5D Mark III vs Sony Alpha A99. Interesting Raw Dynamic Range tests and results are really good for the A99 in my opinion considering the translucent mirror!!
Courtesy of TechRadar:  Sony Alpha A99 vs Nikon D600 vs Nikon D800 vs Canon 5D Mark III >>
More Testing of the Sony A99 with the 24-70mm f/2.8 Zeiss Lens by PhotoYodobashi – (translated English) >>
More Sony Alpha A99 Reviews >>
Compare Sony Alpha A99 – Slt-A99 Prices @ BHPhoto | Amazon | Adorama | Ebay Auctions
Sony SEL1018 lens Reviews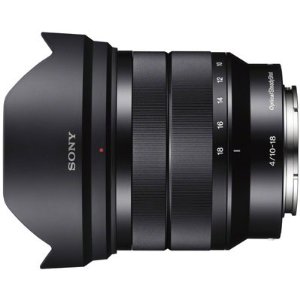 The New Sony 10-18mm Ultra Wide angle E-Mount lens was tested by luminous Landscape, and it looks to me like a winner!!
It is the best of the four super wide-angle zooms I've tried, and I consider it a keeper.
Compare Sony SEL1018 Lens Prices @ BHPhotoVideo | Amazon | Adorama | Ebay Auctions
New Camera Sensor Database Website
I got an email a few days ago from a guy named Gregor who gave me a link to his incredible image sensor database website!! It's called Digital Camera Database, and it's awesome for finding out pixel density and other specs, as it relates to sensor size, and then compare between cameras and manufactures. Really powerful Database that is very easy to use and loaded with comprehensive info and graphs.
Easily find sensor size, pixel pitch and other important sensor characteristics for
3284 digital cameras.
Check out the Sony Nex-6 Sensor vs Sony Nex-7 Sensor Comparison:

Gregor told me he did all this work by himself!! It's an incredible amount of data entry, and doing a similar thing over here on SonyAlphaLab I can relate to the amount of work involved. Give Gregor some props and check out his efforts over on http://www.digicamdb.com/
Closing Remarks:
That is about it for now, but be sure to stay tuned for more Nex-6 testing and video samples!!  The Sony Alpha Forum is also getting more and more active so be sure to stop by and check out the latest topics and comments!!
Also, Big Thanks for supporting SonyAlphaLab by clicking the Affiliate links and banners throughout the website! These add up over time and help pay for the server juice and other costs involved!! I greatly appreciate the support, and if your interested in helping out, see how Easy and Free it is below!! Thanks again,
Jay
Your support is greatly appreciated as we run this site in our spare time and are not paid. We can however, make a small commission if you click a product link that your interested in. That click will then give us credit if you choose to purchase any given item. This has no effect on the cost of the product, and is a simple way to give back to SonyAlphaLab.com for the effort and info we provide.
Tip Jar: https://www.paypal.me/SonyAlphaLab
Support SonyAlphaLab by becoming a | Patreon
Also, be sure to keep following us on Google+ | Twitter | Facebook |
Direct Shopping Links – Thanks for your Support!!
BHPhotoVideo | Amazon – US | CA | UK
Thanks,
Jay