In this guide I will cover all the different Remotes, and Cables that are available for the Sony Alpha Cameras!!
Remotes
Sony RMT-VP1K Wireless Receiver and Remote Commander Kit
Remote Shutter Release
Video Start and Stop
3-Channel Position
360° IR Receiver
Time Code Reset, Multi Camera Shooting
For All Sony Cameras w/ Multi Terminal
Sony RMT-VP1K for ~$68.00 US @ BHPhoto | Amazon
Remote Shutter Release
Delayed Shutter Release
Video Start and Stop
Playback and Delete Control
HDTV Control
Compatible with Sony Alpha NEX and DSLRs
RMTDSLR2 for 

~$23.99 US 

@ BHPhoto |  Amazon
Vello's Wireless ShutterBoss Timer Remote (Sony Alpha Connection) doesn't just trip your shutter wirelessly. It's also equipped to handle a long list of timer functions: self-timer, interval timer, long exposure timer, as well as controlling the number of continuous shutter releases. It works with a vast array of different cameras–just swap out the camera release cable for the correct camera. The transmitter works at distances up to 250′ (80 m) on any one of 99 channels over a reliable 2.4GHz frequency.
Timer delays, exposure times, and intervals can be set for up to 99 hours, 59 minutes, 59 seconds, in one-second increments. You can also choose anywhere from 1 to 99 continuous shots or you can set the timer to take an unlimited number of photos. The receiver uses a CR2 lithium battery, and the transmitter uses 2x AAA batteries, which can last up to 4 years on standby.
Specs and Compatability
Compatible Cameras

Sony: Alpha A100, A200, A300, A350, A500, A550, A560, A580, A700, A850, A900, SLT A33, SLT A35, SLT A37, SLT A55, SLT A57, SLT A77
Minolta: 7D, 5D, 7i, 7, A1, A2
Versatile

Receiver can be adapted to work with most other cameras by swapping out the camera release cable.
Channel Selector

99 possible radio channels, plus one universal channel, over the reliable FSK 2.4 GHz frequency. No dip switches to set. One transmitter can trigger multiple receivers.
Extended Range

Up to 250′ (80 m)
Multi-Function

Trigger your camera wirelessly or wired.
Dual-Function Release

Press halfway to focus; press full to trigger shutter.
Delayed Release

Delay function gives you extra time to get into position.
Multi-Exposure

Take multiple shots with one press of the trigger.
Interval Control

Control the amount of time between multiple shots.
Long Exposure

Control the length of the exposure remotely.
LED Indicators

Confirm pre-focus and exposure.
Ultra-Low Power

AAA transmitter batteries can last up to four years on standby.
Price: ~$99.50 US
Direct Links & Compare Prices @ BHPhoto, Amazon,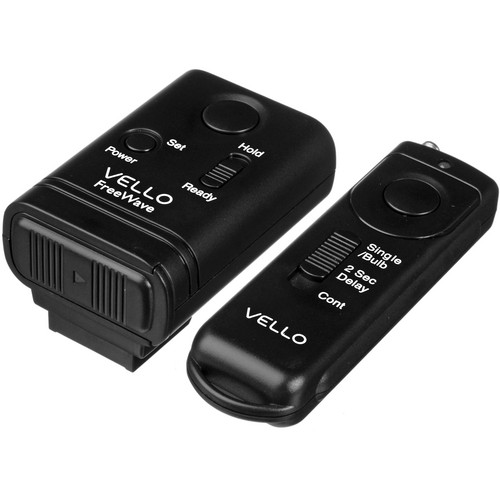 Whether capturing images in the studio or on location, the Vello FreeWave Wireless Remote Shutter Release adds flexibility and versatility to your shooting style. Photography unplugged – shooters can interact with a model, view the scene or set from alternate angles, or set a camera by a stream to capture an image of a bear hunting while you remain at a safe distance away – all this and more without missing a beat, a shot, or a moment. This particular FreeWave unit is directly compatible with the Sony Alpha series of DSLRs. It can also be adapted to other camera systems by simply switching the connection cable.
This versatile shutter release features Smart Code technology which allows it to be configured to operate on up to 16 million possible radio channels. You can easily switch channels to "zero in" on a frequency that provides optimal range and functionality.
The FreeWave operates with radio frequency (RF) technology, therefore a direct line of sight is not necessary; radio waves pass through objects such as windows and walls. It is unlike other wireless remotes on the market that operate on an infrared (IR) system and require a direct line of sight between transmitter and receiver to make things work.
Since touching the camera even lightly while capturing an image can create a blurred image, the FreeWave eliminates this by tripping the shutter without any disturbances. This is critical when photographing subjects close up, and for long-exposures and macros. It is also extremely valuable when photographing nature, wildlife and other subjects that are difficult for you to get close to.
Price: ~$39.50 US
Cable Style Remotes
Sony RM-VPR1 Remote Control
Wired Remote Control
Shutter and Zoom Control
Bulb Function
Multi-Terminal Cable and Remote Cable
For Select Sony Cameras and Camcorders
Sony RM-VPR1 Remote Control for ~$52.95 @ BHPhoto | Amazon
Perfect for landscapes and portrait photography, the Sony RM-L1AM Remote for Alpha Digital SLR cameras offers greater control and enhanced stability while shooting. The Remote Commander eliminates blur by controlling the shutter release apart from the camera. Capture images from up to a distance of 196.8″/5.0 m for greater flexibility with the RM-L1AM Remote Commander Control from Sony.
The Alpha Remote includes a 196.8″ (5.0 m) cord, and features a remote release button and shutter lock button.
It enables remote control of shutter release apart from camera and prevents image blurring caused by depressing the shutter release button on the camera.
Ideal for use with tripod or shooting at a distance from the camera.
Price: ~$57.00 US
Direct Links & Compare Prices @ BHPhoto, Amazon, Adorama
The Vello Wired Remote Switch is designed for use with cameras that have the Sony Alpha style connection. Instead of hitting your camera's shutter release button for long exposures, use the Remote Switch. The switch locks for long exposures and ensures that you won't accidentally blur your images with camera shake. To operate simply press halfway to autofocus, and press the rest of the way to trigger the shutter. Press and slide forward to lock the remote for long exposures.
Compatible Cameras:

Sony: Alpha A100, A200, A300, A350, A500, A550, A560, A580, A700, A850, A900, SLT A33, SLT A35, SLT A37, SLT A55, SLT A57, SLT A77
Minolta: 7D, 5D, 7i, 7, A1, A2
Vello's Wired Remote Switch is a better choice than your camera's shutter release button for long exposures, continuous shots, or macro photography. It's the easy way to limit vibrations that can blur your photos
Press halfway to autofocus
Press full to trigger shutter
Press and slide forward to lock for long exposure
Price: ~$9.00 US
All Other Cables