Nex-7 and Sony E-Mount 24mm f/1.8 Carl Zeiss lens is in Stock!! Finally some good news from Sony!! Also, be sure to check my full Hands on Review of the Sony Nex-7 (Click Here), and some sample pics using the 24mm Carl Zeiss on the Nex-7 (Click Here)
Compare Prices:
Sony Nex-7 @ BHPhoto (Click Here) Amazon (Click Here) Adorama (Click Here)
Sony 24mm f/1.8 Carl Zeiss Lens @ BHPhoto (Click Here) Amazon (Click Here) Adorama (Click Here)
Sony A57 Now Available
I'll be getting this any day now 😉
Being the successor to the A55, the A57 shares few similarities other than the 16mp sensor resolution. Sony really stepped up the quality of the 5 series big time with this beast!! To summarize, basically what Sony did here is take a stripped down A65 body and put the 16mp sensor from the A55 inside.
In other words compared to the A55, the A57 has a much larger and better built camera body including the large NP-FM500H battery found in the A65. The A57 has a 3×4 inch better engineered tilt/swivel LCD screen on the back, and higher resolution Electronic Viewfinder. Not the same OLED found in the A65, but an upgraded version of the A55 EVF. Apparently it looks pretty good though. In addition to the large physical upgrades, the A57 also has the much faster and powerful A65 processor inside making it capable of 12fps shooting, 1080/60p HD video, and ISO 16,000.
The A57 is being bundled with an 18-55mm f/3.5-5.6 kit lens for $799, or you can get just the camera body by itself for $699.
Price: ~$699 (Body Only), ~799 w/ Kit Lens

Compare Prices @ BHPhoto (Click Here) Amazon (Click Here) Adorama (Click Here)
Full Official Overview
Sony Alpha SLT-A57 SLR Digital Camera features a 16.1MP APS-C Exmor HD CMOS sensor, and is able to capture high quality stills and video with excellent low-light sensitivity. Being an SLT the A57 has the Translucent Mirror Technology which means it can Continuously Auto Focus while recording video! This technology is what sets the Sony apart from most of the competition out there.
This quickened performance carries over into a number of features that are designed specifically for capturing the best images possible without you having to be concerned over specific camera settings. Auto Portrait Framing is a unique mode that automatically recognizes portrait situations and creates balanced portraits based around the characteristics of your subject. It utilizes a number of other modes, including Face Detection, Smile Shutter, and Face Registration, and creates an appealing composition based on where your subject is located within the frame, where they are looking, and how they are being lit. Clear Image Zoom is also employed in Auto Portrait Framing, and is able to zoom the center of your image up to 2x with almost no noticeable image degradation.
Reviewing and monitoring your imagery is also simplified due to an enhanced Tru-Finder EVF and a high resolution tiltable LCD monitor. The Tru-Finder viewfinder provides a range of helpful information within the display as well as the ability to preview the effects of exposure control, white balance modifications, and other creative modes. The LCD monitor measures 3.0″ and features 921,600-dots for crisp imagery during playback or in Live View. It can also be tilted up to 180° and rotated up to 270° for use in a variety of directions.
Translucent Mirror Technology

Translucent Mirror Technology is the backbone of this camera and provides a stable platform for many of the high speed features to function from. This technology automatically directs light to both the image sensor and AF sensor on a full-time basis for quick, responsive actions.
15-Point Continuous Autofocus

Utilizing the Translucent Mirror Technology, the autofocus system is able to continuously monitor the image frame and alter the autofocus quickly and responsively. This continuous focusing is especially useful when critical focus is required during video recording or when shooting in continuous modes. It uses 15 points, including 3 cross sensors for a great deal of accuracy and speed when determining focus points. This focusing efficiency is even highly capable under low-light situations and when used in conjunction with tracking moving subjects.
12 Frames per Second Continuous Shooting

When using the Tele-zoom Continuous Advance Priority AE mode, up to 12fps can be recorded while magnifying the center of your image by 1.46x. This cropping limits your image resolution to 8MP and brings your subjects closer for tighter compositions. When photographing in full resolution, up to 10fps can be recorded.
16.1MP Exmor APS HD CMOS Sensor

The 16.1MP APS-C-sized Exmor HD CMOS sensor provides a high level of image quality and additional low-light sensitivity benefits. This sensor allows for an extended ISO range from 100 to 16000 while effectively reducing noise at higher sensitivities. This combination of sensitivity and reduced noise make this camera ideal for use for action photography indoors or at night.
BIONZ Image Processor

The enhanced BIONZ image processor utilizes complex algorithms to deliver fast speeds and performance, significantly reducing write times and generally quickening the entire process of using your camera. The increased power afforded by this processor also gives room to increased noise reduction and richly detailed gradations throughout the entire dynamic range.
Full HD Video Recording

Full HD 1080p recording is supported with this camera and also makes use of the high-speed Translucent Mirror Technology for continuous autofocus, even while using Live View to monitor your shooting. The AVCHD version 2.0 (Progressive) format is used and allows recording of 60 frames per second for outstanding clarity and motion detail. Additionally, the 24p frame rate is supported allowing you to create movies with a more cinematic feel. This slower rate is the same that is used in movie theater playback and gives an inherently cinematic look and feel to your movies. For even greater control over video recording, fully manual shooting modes allow you control over your aperture and shutter speed.
Auto Portrait Framing

Auto Portrait Framing automatically creates compositions revolving around your portrait subjects and artfully crops your image based on the rule of thirds, where your portrait is located within the frame, exposure on your subject, and the direction he or she is looking. Face Detection, Smile Shutter, and Face Recognition modes are used in conjunction with Auto Portrait Framing for creating the best portraiture possible in a highly efficient manner. This mode utilizes the Clear Image Zoom function and automatically creates a second image file based on these considerations.
Clear Image Zoom

Using By Pixel Super Resolution Technology, this camera is able to zoom the center of your image up to 2.0x with little to no perceivable image degradation. This complex system of algorithms virtually doubles your zooming range and provides a realistic opportunity to create compelling images from great distances.
Tru-Finder Electronic Viewfinder

The Tru-Finder EVF is a high resolution finder featuring a 1,440K-dot resolution, a 100% field of view, and a wide 31.9° viewing angle. This finder displays pertinent image information regarding exposure settings and modes. Additionally, this finder has Shot Result Preview, giving you the ability to preview the effects of exposure control, white balance modifications, and other creative modes before making an exposure. It also features adjustable finder magnification giving you the choice between 1.04x and 0.97x, permitting you to see the entire frame while wearing glasses.
Xtra Fine LCD

The rear 3.0″ / 7.6cm LCD features Sony's TruBlack technology for increased clarity and resistance to reflections. It has a 921,600-dot resolution for sharp, vivid imagery when reviewing images or monitoring your recording while using Live View. The monitor also features Shot Result Preview, for previewing the effects of your camera's settings before the exposure is made. For even greater viewing possibilities while shooting, the screen is able to tilt up to 180° vertically and rotate up to 270° horizontally. The range of movements and reflection protection give you a wide variety of possibilities for viewing from difficult angles and lighting conditions.
SteadyShot INSIDE Image Stabilization

This camera feature's Sony's SteadyShot technology for image stabilization within the camera. By reducing camera shake at the camera level you can achieve shake compensation up to 2.5-4.5 stops in shutter speed. This technology is compatible with any Sony Alpha lens.
Customizable Buttons

You can manually assign up to 24 different functions to 2 buttons for enhanced control over your own shooting needs. The AEL and ISO buttons can be modified to provide one-touch accessibility to modes such as Drive Mode and Flash Mode.
Sweep Panorama

Panoramic images are simple to create with this mode; simply pan your camera across the scene and the camera will automatically stitch together several images into one seamless panoramic file. 3D Sweep Panorama is also supported and functions with the same convenience, but automatically creates a stereoscopic image for 3D viewing on an HDMI-compliant 3D television.
Auto HDR

When this mode is selected, three separate bracketed exposures are made at a time and then automatically composited into a single file. This resulting file represents the longest range of tones in highlights, mid-tones, and shadows. Unlike traditional high dynamic range capture, this mode does not require the use of a tripod and simplifies the entire process into a simple, in-camera function.
Multi Frame NR and Hand-Held Twilight

Similar in theory to an HDR image, Multi Frame NR and Hand-held Twilight feature a noise reduction technology that automatically composites 6 different images into one file for a reduction in noise up to 2 ISO stops. Once you have selected your desired settings, you can create extremely low light images with confidence. The camera combines these 6 exposures to provide a gain in brightness without the increased noise that is associated with higher sensitivity levels. Since the initial exposure length is also shorter, you can easily handhold for shots that are sharp regardless of the ambient lighting.
Built-In Flash

The built-in pop-up flash features a guide number of 32.8′ / 10m at ISO 100 and covers the range of an 18mm wide angle lens.
Superior Auto Mode, Scene Selection, and Exposure Mode

These modes all help to simplify the process of creating the best exposure possible, allowing you focus on what you are taking a picture of more than the camera settings. Superior Auto mode automatically detects the scene you are photographing and adjusts the camera settings accordingly to give ideal results. It also is capable of activating continuous shooting modes for moving subjects and Auto HDR mode if the dynamic range is beyond that of a single frame. Scene Selection affords you a bit more control and allows you to determine the type of scene you are photographing; the camera settings are then adjusted based on your decision. Exposure mode also allows you to select the type of image you are trying to create and then applies settings in-camera to compensate for the difficulties of that given situation.
Picture Effects

A variety of picture effects are supported for in-camera image-processing and creative applications. These effects include HDR Painting, Soft Focus, Miniature, Soft High-key, Pop Color, Partial Color (Red, Green, Blue, Yellow), Rich-tone Monochrome, Toy Camera, High Contrast Monochrome, Posterization (Color), Posterization (Black & White), and Retro Photo.
Full Specs
Sensor
Max resolution
4912 x 3264
Other resolutions
4912 x 2760, 3568 x 2368, 3568 x 2000, 2448 x 1624, 2448 x 1376
Image ratio w:h
3:2, 16:9
Effective pixels
16.1 megapixels
Sensor photo detectors
16.7 megapixels
Sensor size
APS-C (23.5 x 15.6 mm)
Sensor type
CMOS
Color space
sRGB, Adobe RGB
Color filter array
Primary color filters
Image
ISO
Auto, 100, 200, 400, 800, 1600, 3200, 6400, 12800, 16000 (25600 with boost)
White balance presets
9
Custom white balance
Yes (1)
Image stabilization
Sensor-shift
Image stabilization notes
SteadyShot Inside
Uncompressed format
RAW
JPEG quality levels
Fine, Normal
File format

RAW
RAW + JPEG
JPEG Fine
JPEG Standard

Optics & Focus
Autofocus

Phase Detect
Multi-area
Selective single-point
Tracking
Single
Continuous
Face Detection
Live View

Autofocus assist lamp
Built-in Flash type
Digital zoom
Yes (2x Clear Image Zoom)
Manual focus
Yes
Number of focus points
15
Lens mount
Sony/Minolta Alpha mount
Focal length multiplier
1.5×
Screen / viewfinder
Articulated LCD
Fully articulated
Screen size
3″
Screen dots
921,000
Touch screen
No
Screen type
Xtra Fine TFT drive with TruBlack technology
Live view
Yes
Viewfinder type
Electronic
Viewfinder coverage
100 %
Viewfinder magnification
1.04×
Photography features
Minimum shutter speed
30 sec
Maximum shutter speed
1/4000 sec
Exposure modes

iAUTO
Flash Off
Superior Auto
Scene Selection
Sweep Panorama
3D Sweep Panorama
Continuous Advance Priority AE
Movie, Programmed AE (P)
Aperture priority (A)
Shutter-speed priority (S)
Manual (M)

Scene modes

Portrait
Landscape
Macro
Sports Action
Sunset
Night Portrait
Night View
Hand-held Twilight

Built-in flash
Yes (Pop-up)
Flash range
10 m (@ ISO 100)
External flash
Yes (Hot-shoe, Wireless)
Flash modes
Auto, On, Off, Red-Eye, Slow Sync, High Speed Sync, Rear Curtain, Fill-in, Wireless
Flash X sync speed
1/160 sec
Drive modes

Single Shot
Continuous (Hi/Lo)
Self-timer (10/2 sec. delay)
Bracketing (Cont., Single, White Balance), Remote Control (with optional RM-DSLR1)

Continuous drive
Yes (12 fps)
Self-timer
Yes (2 or 10 sec)
Metering modes

Multi
Center-weighted
Spot

Exposure compensation
±3 EV (at 1/3 EV steps)
AE Bracketing
(3 frames at 1/3 EV, 2/3 EV steps)
WB Bracketing
Yes (3 frames, H/L selectable)
Videography features
Format
Microphone
Stereo
Speaker
Mono
Resolutions
1920 x 1080 (60p, 24p), 1440 x 1080 (30p), 640 x 480 (30 fps)
Videography notes
1080p60 or 24 on NTSC models, 50p or 25p in PAL countries
Storage
Storage types
SD/SDHC/SDXC/Memory Stick Pro Duo/ Pro-HG Duo
Connectivity
USB
USB 2.0 (480 Mbit/sec)
HDMI
Yes (Mini Type C)
Wireless
EyeFi
Remote control
Yes (Optional)
Physical
Environmentally sealed
No
Battery
Battery Pack
Battery description
Rechargeable NP-FM500H battery & charger
Battery Life (CIPA)
550
Weight (inc. batteries)
618 g (1.36 lb / 21.80 oz)
Dimensions
132 x 98 x 81 mm (5.2 x 3.86 x 3.19″)
Other features
Orientation sensor
Yes
GPS
None
A57 Product Shots: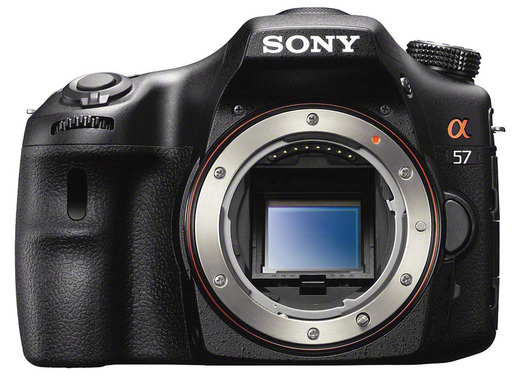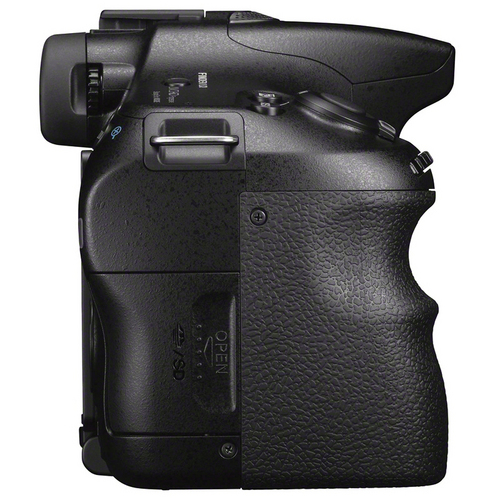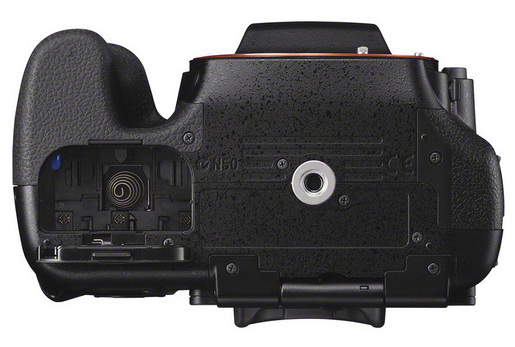 Your support is greatly appreciated as we run this site in our spare time and are not paid. We can however, make a small commission if you click a product link that your interested in. That click will then give us credit if you choose to purchase any given item. This has no effect on the cost of the product, and is a simple way to give back to SonyAlphaLab.com for the effort and info we provide.
Tip Jar: https://www.paypal.me/SonyAlphaLab
Support SonyAlphaLab by becoming a | Patreon
Also, be sure to keep following us on Google+ | Twitter | Facebook |
Direct Shopping Links – Thanks for your Support!!
BHPhotoVideo | Amazon – US | CA | UK
Thanks,
Jay