So what is all they hype with Fuji x100, and the New Fuji XL??
The Fuji X100 is an incredible high quality point and shoot style camera with a "Retro look", and a Fixed 35mm Equiv Focal Length f/2.0 Lens.
The Fuji XL is a "New" camera that has yet to be released and apparently has an organic sensor in it that will out perform current full frame sensors!!
You might be thinking, yeah right whatever, but apparently Canon is afraid of Fuji, not Nikon or Sony, but Fuji? Why is that you might wonder? It's because of their sensor technology according to TheOnlinePhotographer.
He writes: "Komori-san says that the sensor quality of Fujifilm X mirrorless will exceed that of current full-frame sensors, although its sensor size will likely be smaller than 24x36mm. The claim reminded me of something…I have a hazy memory of someone with knowledge of the industry telling me long ago that an official of Canon said that Fuji is the only company Canon is scared of—not Panasonic, not Sony, not Nikon—because of Fuji's expertise with sensors. (I might not have that right, so please don't quote me.)".
Courtesy of mirrorlessrumors , It is exciting enough to know that Fuji will implement the new hybrid optical and electronic viewfinder technology on a camera that takes interchangeable lenses. But the even more amazing news is that the Fuji LX camera coming in February will be the first camera featuring an organic sensor! (Source: Zemes Gaoson).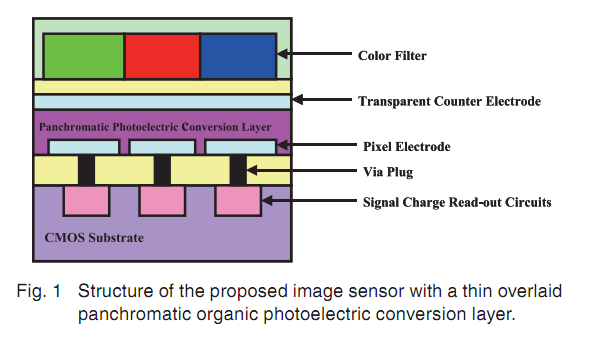 So what does this mean for the mirrorless market?? More competition and therefore better stuff for you and me to play with in the future 🙂 I cannot wait to see how these new organic sensors work with the dynamic range in particular. Rumor has it that the organic material will react to light much more like film and will yield highlight detail similar to film. Time will tell, but that is clearly where the Cmos sensors weakest link is in addition to noise I guess.
More Rumored info on the Fuji XL courtesy of MirrorlessRumors:
Noisycamera found that research paper from Fuji (Click to download the pdf). In short this is the advantage of using the new organic sensors: "As the organic photoelectric conversion layer has a large absorption coefficient in principle, it can absorb enough light in spite of its extreme thinness. Therefore, it is free from spectral cross-talk between tiny pixels when capturing slanting rays of light and does not need any micro-lenses conventionally used for gathering incident light. The spectral sensitivity of the organic photoelectric conversion layer can be freely controlled by designing organic materials and it is possible to achieve a panchromatic property which does not have sensitivity to infrared light but only to blue, green and red light as shown in Fig. 2. Therefore, it is not necessary to use a conventional infrared light cut filter and we can eliminate its problem, a change of infrared cut wavelength and color hue caused by a change of the angle of light incidence."
And here is the specs summary of the new Fuji LX camera coming in February:
– APS-C sensor size
– Organic sensor
– New proprietary mount
– All metal body
– Hybrid viewfinder
– 1/4000 top shutter
– universal hot shoe
– 18mm/2.0 pancake, 35mm/1.4,. Probably a zoom and a 60mm prime lens coming too.
Fujifilm FinePix X100 Digital Camera:
Eye catching Features:
Large 12.3MP APS-C Size CMOS Sensor
Sharp, Fixed 35mm (Equivalent) F/2 Lens
Switchable Optical/Electronic Viewfinder
2.8″ LCD Monitor W/460K-Dot Resolution
JPEG + RAW (Process In-Camera)
100-12800 ISO Capabilities
HD 720p Video W/Stereo Sound
Classic Design Magnesium Alloy Body
Provia, Velvia, Astia, Etc. Film Effects
High Speed Contrast Autofocus
A Few Pics:
Overview
Fall in love with photography all over again.
Inspired by the beauty and form of classic cameras from the past, the FinePix X100 combines all the latest technical digital innovations in a beautiful, traditional chassis which oozes class and prestige.
Echoing the functional aesthetics of analogue film cameras, the 'manual' dials have been carefully positioned to give the photographer easy control over creative shooting. Aperture, shutter speed and exposure compensation can be checked even before the camera is turned on.
The ergonomics of the design offers the perfect balance between compact convenience and user-friendly operation. Every control has been carefully considered to give the photographer fast access to aperture, shutter speed and exposure compensation, to allow maximum creative expression with minimum hassle.
The upper control deck and bottom surface of the camera has been cast from magnesium alloy, (semi-solid metal casting), to create a high-precision body with high rigidity. All dials on the upper control deck are also fabricated from metal.
Premium quality is evident in every detail. The chassis has been finished with high-quality leather accents, allowing you to indulge in pure photographic satisfaction.
You won't want to put it down.
Specs
Body
Magnesium alloy
Sensor
• 23.6 x 15.8mm APS-C CMOS sensor
• 12.3 million effective pixels
• Primary colour filter (RGB color filter array)
Image sizes
3:2
• 4288 x 2848
• 3072 x 2048
• 2176 x 1448
16:9
• 4288 x 2416
• 3072 x 1728
• 1920 x 1080
Motion Panorama
• 180° Vertical – 7680 x 2160
• 180° Horizontal – 7680 x 1440
• 120° Vertical – 5120 x 2160
• 120° Horizontal – 5120 x 1440
Still image formats
 • RAW (.RAF)
• JPEG (EXIF 2.3)
• RAW + JPEG
Image processor
Fujifilm EXR processor
Movie recording
• 1280 x 720 HD, 24fps
• H.264 MOV format
• Stereo sound
• Maximum length 10 minutes
Lens
 • High-performance FUJINON lens with Super EBC Coating
• 23mm (equivalent to 35mm)
• F2 – F16, 1/3 EV steps
• 8 elements / 6 groups
• 1 dual-sided glass-molded aspherical element
• 4 high-refractive index glass elements
• 3 stop neutral density filter built in
Focus distance
(from lens surface)
 • Normal: Approx. 80cm / 2.6 ft. to infinity
• Macro: Approx.10cm – 2.0m / 3.9 in.- 6.6 ft
Image stabilization

None

Auto focus
 • High speed TTL Contrast Detection AF system
• Area AF / Multi AF
• 49 selectable AF points
Focus modes
 • Single shot AF (S- AF)
• Continuous AF (C-AF)
• Manual focus (MF) with distance indicator
AF assist lamp
 • Yes
Exposure modes
 • Program AE
• Aperture priority AE
• Shutter priority AE
• Manual
Sensitivity
 • ISO 200 – 6400 (Standard Output Sensitivity)
• 100 (L) and

12800

(H)extended
• Auto ISO control available
Metering modes
 • TTL 256-zones metering
• Multi-pattern
• Center-Weighted Average
• Spot
AE Lock
 • AE lock available
Exposure comp.
 • Up to ± 2.0 EV
• 1/3 EV steps
Shutter speeds
 • 1/4 – 1/4000 sec (P mode)
• 30-1/4000 sec (all other modes)
• Bulb (max 60 min)
• 1/4000 sec limited to F8 or smaller aperture
Drive modes
 • Single
• Continuous (5 or 3 fps), up to 10 JPEG or 8 RAW/RAW + JPEG)
• Self-timer (2 or 12 sec)
Auto bracketing
 •

AE Bracketing

(±1/3EV, ±2/3EV, ±1EV)
• Film Simulation Bracketing (PROVIA/Standard, Velvia/Vivid, ASTIA/Soft)
• Dynamic Range Bracketing (100%, 200%, 400%)
• ISO sensitivity Bracketing (±1/3EV, ±2/3EV, ±1EV)
White balance
 • Automatic scene recognition
• Fine
• Shade
• Fluorescent light (Daylight),
• Fluorescent light (Warm White)
• Fluorescent light (Cool White)
• Incandescent light
• Underwater
• Custom
• Color temperature selection
Internal Flash
 • Auto flash (super intelligent flash)
• Effective range: (ISO 1600) approx. 50 cm – 9 m / 1.6 ft. – 29.5. ft.
• Guide no. 4.5 (m, ISO 100)
Flash modes
 • Auto
• Forced Flash
• Suppressed Flash
• Slow Synchro
• Red-eye Reduction Auto
• Red-eye Reduction & Forced Flash
• Red-eye Reduction & Slow Synchro
External Flash
 • Hot-Shoe (dedicated

TTL flash compatible

)
Viewfinder
 • Hybrid Optical / Electronic viewfinder
• Eye sensor installed
• Eye point approx 15mm
• Diopter adjustment -2 to +1 m-1 (dpt)
Optical viewfinder
 • Reverse Galilean viewfinder with electronic bright frame display
• 0.5x magnification
• Projected framelines with approx. 90% frame coverage
Electronic Viewfinder
 • Ultrafine 1,440,000 dot LCD
• Approx 100% frame coverage
LCD monitor
 • 2.8″ TFT colour LCD
• 460,000 dots
• 100% frame coverage
Storage
 • Approx 20MB internal memory
• SD/SDHC/SDXC
Connectivity
 • USB 2.0 (Hi Speed)
• Mini HDMI
Power
 • NP-95 Lithium-Ion rechargeable battery
•

Battery life approx 300 frames

Dimensions
(including lens)
125.5mm (W) x 74.4mm (H) x 53.9mm (D)
5.0in. (W) x 2.9in. (H) x 2.1 in. (D)
Weight
 • Approx. 405g /14.3 oz. (excl. accessories, battery and memory card)
• Approx. 445g / 15.7 oz. (inc. battery and memory card)
Price
$1000 US
Hybrid Viewfinder
A perfect fusion of optical and electronic viewfinders.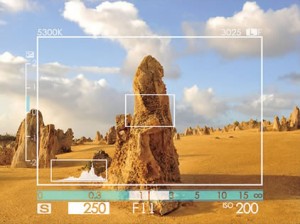 FUJIFILM's unique Hybrid Viewfinder is unparalleled and the FinePix X100 is the first camera to feature this innovation.
The Hybrid Viewfinder combines the window-type "bright frame" optical viewfinder found in high-end film cameras, such as 35mm or medium-format cameras, and the electronic viewfinder system incorporated in fixed single lens or mirrorless digital cameras.
While traditionalists prefer the clear, sharp view of an 'optical' viewfinder, modern electronic displays, giving data like shutter speed, aperture, white balance, exposure correction and ISO can aid photographers tremendously. The new Hybrid Viewfinder on the FinePix X100 aims to give the 'best of both worlds.'
The reverse Galilean optical finder with a 0.5x magnification features all-glass elements made from high-refractive index glass and offers low chromatic aberration and distortion.
By using an integrated prism for the 1,440,000 dot LCD panel image on the viewing screen in the reverse-Galilean optical viewfinder, the Hybrid Viewfinder can show both the shooting frame and a variety of shooting data. Of course, it can also be used as a high-quality electronic viewfinder to compose or playback shots.
With the ability to instantly switch between optical and electronic viewfinder images with a simple "one touch" control; the new Hybrid Viewfinder offers users expanded freedom in the composition and enjoyment of photography, in a range of challenging shooting conditions.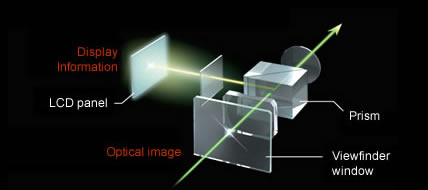 Hybrid Viewfinder System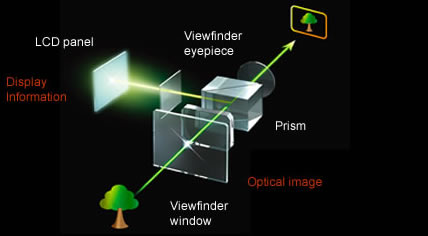 Hybrid Viewfinder System – OVF Mode
Within the generous viewfinder coverage, the displayed "bright frame" overlay clearly indicates the shooting frame. Depending on the shooting distance, the parallax is automatically corrected. Shooting data and other information are automatically displayed for optimal brightness and easy viewing.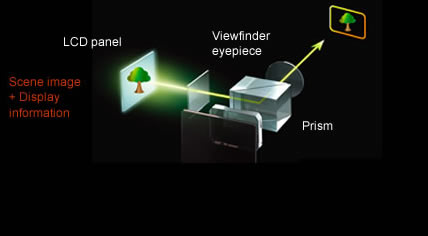 Hybrid Viewfinder System – EVF Mode
The high-resolution LCD viewfinder with 100% coverage lets you preview exposure, depth-of-field and white balance as you shoot. When shooting macro shots from as close as 10cm, it provides a parallax-corrected view for easy, accurate framing. After the shot, you also can immediately see the results.
Sensor
Bringing you the ultimate in image quality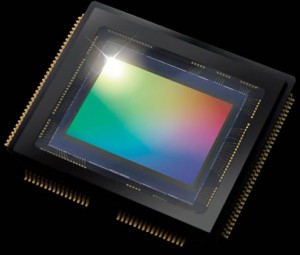 FUJIFILM has customised an APS-C size 12.3 megapixel CMOS sensor for the FinePix X100; resulting in an ideal match for the performance characteristics of the 23mm F2 lens, which also works in tandem with the newly developed EXR Processor.
The combination of a fixed focal length lens, a high-sensitivity sensor (approx. 10 times the sensitivity of a conventional compact*) and a high-performance image processor will capture exceptionally high-quality images over the entire sensitivity range, from low to high ISO settings.
*Comparison with other FinePix compact camera models.
Sensor size comparison:

 When shooting HD movies, the combination of the large sensor and the large aperture F2 lens, lets users shoot a soft out-of-focus touch (bokeh) — a capability not available in conventional compact cameras.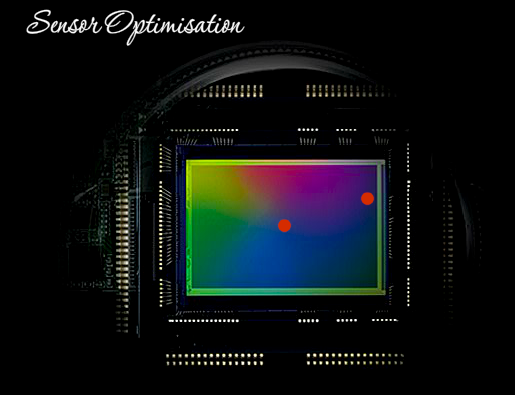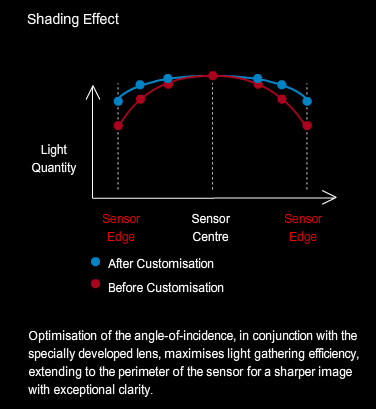 The high-speed CMOS sensor read-out and the EXR Processor's enhanced focusing system, both contribute to the high-speed Auto Focus performance, while the combination of the optical viewfinder and extremely low shutter time lag enhance the pleasure of every shot.
Processor
Pioneers of image processing technology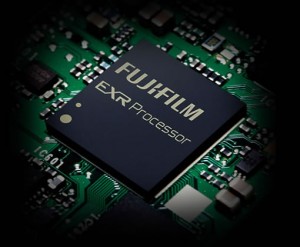 Fully exploiting the superior imaging performance of the FUJINON lens and high-sensitivity sensor, the newly developed EXR Processor achieves the highest image quality of any FinePix camera produced to date.
Featuring improved high resolution, high sensitivity, low noise and wide dynamic range technologies, the enhanced EXR processor also features a more rapid signal processing response.
By re-examining every aspect from response to the circuit structure throughout the entire development of the EXR processor, FUJIFILM have achieved a significant leap in performance, that has resulted in the ability to deliver a more responsive and faithful reproduction of the image.
In addition, the graphical interface, (style and rendering of the LCD information), has been upgraded in the newly developed LSI to enhance the user experience and to improve the clarity of the information presented.
Lens
Built from the ground up: introducing the ultimate FUJINON Lens.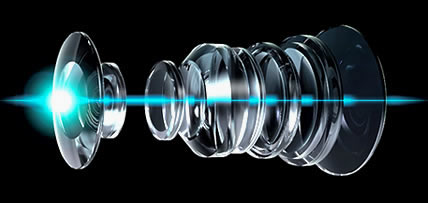 Conceived and created by people who accept nothing less than excellence, FUJINON presents a masterpiece in optical technology.
This newly developed lens offers a focal length of 23mm (135 equivalent: 35mm) that lets you capture a wide range of subjects while maintaining high resolution and optical clarity. It also features a large F2 aperture which not only delivers both ample brightness and high contrast sensitivity, but also achieves a high level of resolution when the aperture is closed by 1 or 2 stops.
In addition to this strong specification, the system design includes an aspherical lens, a 9-blade aperture diaphragm and a built-in ND filter. The adoption of a non-collapsible lens structure with minimised lens length not only contributes to the compact size of this model, but it also eliminates telescoping of the lens when the power is on.
FUJIFILM has selected this fixed focal length lens for the FinePix X100 because this configuration consistently delivers premier image quality in every way; from exceptional resolution and minimal aberration, to excellent light volume in image corners.
The FinePix X100 FUJINON lens really is in a class of its own.
Sample pics:
My digested initial thoughts:
I think the New Fuji XL looks incredible intriguing and I may very well want one of these!! That organic sensor technology has Canon shacking in there boots so that is definitely enough to peak my interest big time 🙂
I think the Fuji X100 looks like a ton of fun, and the very shallow depth of field and focal length is very attractive for my style of shooting!! The only real issue for me is the the fixed lens, poor battery life, and price tag.  Although they did choose a nice focal length of 35mm equivalent, and the build quality is exceptional. That does count for a lot these days considering how cheaply cameras can be made.  Image quality is outstanding and that really is what it's all about isn't it 😉
I would certainly enjoy giving the X100 a go if there is a decent amount of interest out there. Please let me know!!
A few reviews if you want even more info:
Your support is greatly appreciated as we run this site in our spare time and are not paid. We can however, make a small commission if you click a product link that your interested in. That click will then give us credit if you choose to purchase any given item. This has no effect on the cost of the product, and is a simple way to give back to SonyAlphaLab.com for the effort and info we provide.
Tip Jar: https://www.paypal.me/SonyAlphaLab
Support SonyAlphaLab by becoming a | Patreon
Also, be sure to keep following us on Google+ | Twitter | Facebook |
Direct Shopping Links – Thanks for your Support!!
BHPhotoVideo | Amazon – US | CA | UK
Thanks,
Jay