The Sigma E-Mount 30mm f/2.8 EX DN Lens  is a prime lens designed specifically for mirrorless interchangeable lens cameras. This 30mm lens is equivalent to a 45mm lens in 35mm format and provides a 50.7° angle of view. A very nice fixed focal length to work with on a crop factor sensor I might add 😉
Featuring a newly developed linear AF motor, the Sigma 30mm is ideal for use with video and still photography. The linear motor helps to guide the lens elements directly without the need for gears or other noisy mechanical parts, providing quiet and accurate focusing. It's not as quite as the Sony lenses I've heard though.
An aspherical lens design across 2 glass elements provides correction for distortion, field curvature, and color aberration while Sigma's super multi-layer coating helps to reduce ghosting and flare. With a minimum focusing distance of 11.81″ (30cm), there is room for selective focus and creative depth of field applications, featuring an attractive bokeh due to the rounded 7 blade diaphragm. Sharp and high contrast results are available throughout the aperture range, even with the wide f/2.8 opening.
Weighing in at a mild 4.76 oz (135 g) it's pretty light and the filter thread is a bit smaller than most other Nex E-Mount lenses at 46mm as apposed to 49mm.
Features Worth Noting:

Standard focal length lens, designed specifically for mirrorless cameras.
Aspherical lens design provides correction for image distortion, field curvature, and color aberration.
Multi-layer coating reduces ghosting and flare and provides greater contrast and color fidelity.
Rounded 7-blade diaphragm produces an attractive quality to out-of-focus areas in your photos.
Equally sharp results are available from minimum to maximum aperture.
Linear AF motor directly guides lens elements for quick, quiet auto focusing
Very Affordable at ~$200 US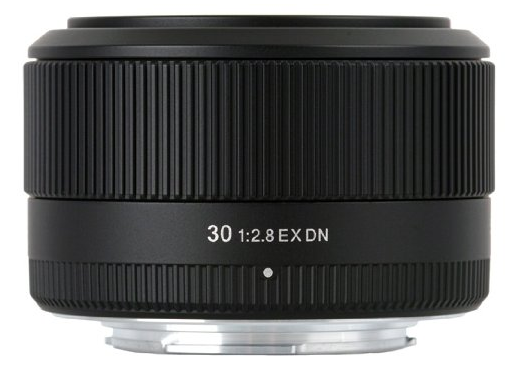 Sample Photos:
Courtesy of SonyAphaRumors.com, I found a link to some excellent sample photos by German Photographer Marco Schwinning. Here is the link to the Google Translate page (Click Here), and here is the link to the original page if you can read German or just want to look quick. (Click Here)
The sample pics look very sharp to me and although taken in jpeg mode it's very good news to see sharp primes being re-leased at only ~$200 US. In fact you can Pre-order this lens already at BHPhotovideo (Click Here) or at Amazon (Click Here)
Upcoming Articles and News:
I'll get this Sigma 30mm lens and review it myself very shortly, so look out for that article! I Also have the LA-EA2 A-Mount Lens adapter coming along with the A-Mount 70-400mm lens Today, and I can't wait to try it out on the Nex-5n!!
I'm also planning on reviewing the Fuji X-Pro 1 which comes out tomorrow, and then the Olympus OM-D E-M5 which comes out in about 2 weeks. Let me know what you think as I don't have to review those cameras, but they look awesome and compete directly with the Nex-7 and Nex-5n so it makes sense to me?
[poll id="15″]
Your support is greatly appreciated as we run this site in our spare time and are not paid. We can however, make a small commission if you click a product link that your interested in. That click will then give us credit if you choose to purchase any given item. This has no effect on the cost of the product, and is a simple way to give back to SonyAlphaLab.com for the effort and info we provide.
Tip Jar: https://www.paypal.me/SonyAlphaLab
Support SonyAlphaLab by becoming a | Patreon
Also, be sure to keep following us on Google+ | Twitter | Facebook |
Direct Shopping Links – Thanks for your Support!!
BHPhotoVideo | Amazon – US | CA | UK
Thanks,
Jay