The newly announced Sigma 18-35mm f/1.8 DC HSM Lens has a constant aperture and will be available for the Sony Alpha A-Mount. This lens is the first of it's kind and it really is an impressive engineering feet in my opinion. Fit with a Hyper Sonic focus motor for fast and silent focusing, the Sigma lens should be great for low light wide-angle photography of any kind. Designed specifically for APS-C sized sensor cameras, the actual focal works out to 27-52.5mm as it relates to the standard 35mm format. Not the most range to be honest, but a nice alternative to having a few fast primes. Super fast wide angles lenses are really hard to find as well, so for that value it's excellent.
The planned price for the Sigma 18-35mm f/1.8 DC HSM Lens is $799 US. Currently only showing the Canon, Nikon, and Sigma versions @ bhphoto, but the Sony version will be in stock soon.
Courtesy of Sigma:
Truly a revolutionary product, the Sigma 18-35mm 1.8 DC HSM is the first wide-angle to standard zoom lens to achieve a large aperture of 1.8. Designed specifically for APS-C sized sensors, the Sigma 18-35mm 1.8 translates to 27mm-52.5mm on 35mm camera. Tapping into Sigma's long history of lens innovations, the 18-35mm 1.8 DC HSM incorporates a wide glass molded aspherical lens with Special Low Dispersion (SLD) glass to compensate for aberrations and curvature at the widest angle. Internal focusing and zooming allows for more usability and functionality. The 18-35mm is ideal for landscapes, portraits, still life, snap shots, casual, and close-ups and the Hyper Sonic Motor (HSM) ensures smooth, fast and accurate autofocusing. The use of Thermally Composite Material (TSC) reduces size and weight but increases the lens durability. Its new Global Vision design works with its compatibility with the Sigma USB dock for further customization. A 9 blade rounded diaphragm also creates beautiful background blur. The Sigma 18-35mm 1.8 DC HSM is a new benchmark in photographic history and a must have for every camera bag.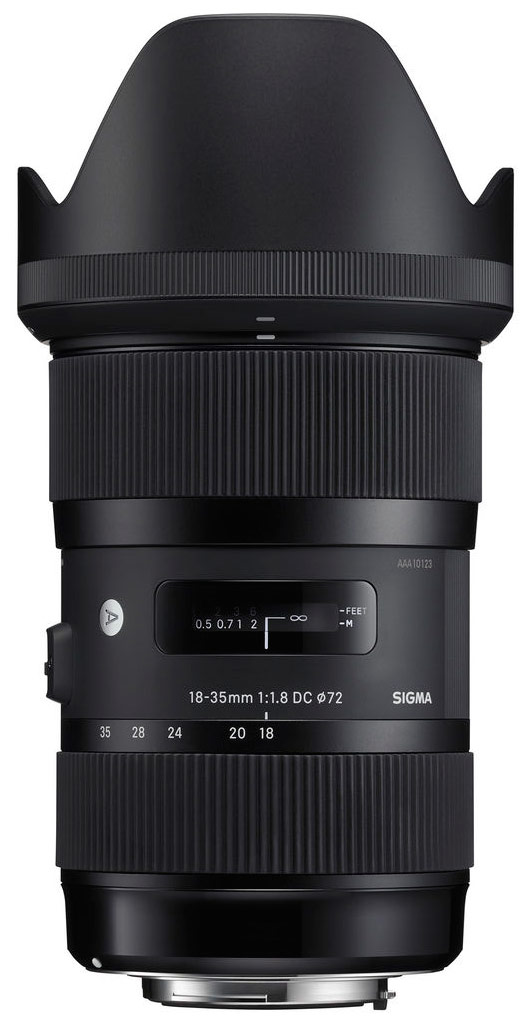 Sigma 18-35mm f/1.8 DC HSM Lens Specifications


Lens Construction
17 Elements in 12 Groups
Angle of View (SD1)
76.5º-44.2º
Number of Diaphragm Blades
9
Mininum Aperture
f16
Maximum Aperture
f/1.8
Minimum Focusing Distance
8 cm/ 11.0 in
Filter Size (mm)
72mm
Maximum Magnifications
1:4.3
Dimensions
(Diameter x Length)
78mm x 121.0mm/3.1in. x 4.8in.
Weight
28.6oz
Sample Photos
Over on DPReview (Click Here) they have a bunch of Sigma 18-35mm f/1.8 lens sample photos up from a pre-production model. They look really good in my opinion and are worth checking out.


Closing Remarks
You can check out all the available Sigma A-Mount Lenses (Click Here) in my Lens Guide >>
Based on other Sigma lenses I've used, I'm pretty excited about this lens and am looking forward to trying out on the next crop factor A-Mount camera I review. Super fast wide-angle lenses are just not available, so you combine that with a constant f/1.8 and zoom and you have a enticing package for anybody with a crop factor camera.
Catch up with you later and have a great weekend everybody!
Jay
Your support is greatly appreciated as we run this site in our spare time and are not paid. We can however, make a small commission if you click a product link that your interested in. That click will then give us credit if you choose to purchase any given item. This has no effect on the cost of the product, and is a simple way to give back to SonyAlphaLab.com for the effort and info we provide.
Tip Jar: https://www.paypal.me/SonyAlphaLab
Support SonyAlphaLab by becoming a | Patreon
Also, be sure to keep following us on Google+ | Twitter | Facebook |
Direct Shopping Links – Thanks for your Support!!
BHPhotoVideo | Amazon – US | CA | UK
Thanks,
Jay