In this Samyang 85mm f/1.4 Aspherical IF lens Review I used my Sony A77 and Full Frame A99 for sample photos and real world testing!!
A few months ago I was hunting around for a nice, fast studio-prime in the range of 85-135mm to be used mostly on my Sony A77. I couldn't afford the obvious choices at the time – meaning the Sony Zeiss Planar T* 85mm f/1.4 ZA (SAL85F14Z) or the Sony Zeiss Sonnar T* 135mm f/1.8 ZA (SAL135F18Z) – so I started hunting around on the Interwebz for alternatives. I managed to snag a mint-condition old-school Elicar-branded 135mm f/2.8 (M42) pretty quickly for next to nothing which adapted perfectly with a simple chipless adapter, but on the crop-sensor A77 it was just waaaay too long for my workspace.
No, I needed a fast 85mm prime lens!
It was about this time that the Samyang 85mm f/1.4 Aspherical IF lens became a prime contender, lame pun intended. It's also sold under the names Bower, Vivitar, Rokinon, Walimex, Falcon and Opteka – but they're all made by Samyang in South Korea and sold to third-party resellers for branding and resale. There are some older models out there that aren't Aspherical, and a few updated ones for other brands with focus-confirm chips (or even an AF version for Nikon), but the one I was hot for is the standard ASPH and IF lens.
I read a number of reviews which all said it was a great manual lens. Even the highly-respected but ever-so-grumpy Ken Rockwell gave it's Rokinon variant a big thumbs up. The manual focus issue didn't phase me,  I shoot Sony so I've got focus peaking, therefore it was a no-brainer. The Samyang 85mm f/1.4 Aspherical IF lens was for me!
Excellent Image Quality, Very Affordable!
Take a look at what DXOMark has to say: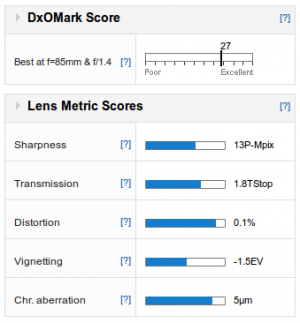 Purchasing the Samyang?
Now, because I was on a budget I couldn't afford to buy it from a local seller or regular online seller, such as B&H or Adorama, so I did the rounds of the Hong Kong sellers. For those of you who have dealt with the myriad of HK sellers (herein referred to as The Ferenghi) you'll understand the importance of caveat emptor 😉 For those of you who are yet to experience the joy of multi-lingual, tri-currency trading for consumer commodities, know this – it's a rite of passage to get burned by a Ferenghi so start small.
In this instance, the lens arrived within a week…but in Canon mount. Yep, absolutely no use to me whatsoever. So I called them and emailed them and called them again all the while explaining that I'd ordered a Sony-mount 85/1.4 and received a Canon-mount 85/1.4, to receive a number of replies thanking me for my praise of their swift service and I am welcome for my ordering from their company. Finally, the English speaker of the company came back to work and she sorted it out in one email, so I sent the wrong lens back, got credit for the return freight and took delivery of the second and correctly mounted lens in record time.
Samyang 85mm f/1.4 lens – Sample Photos
Anyhoo, back on track…so with my new Samyang 85mm f/1.4 lens mounted firmly on the front of my Sony A77, I proceeded to start taking photographs.
This was one of the first photographs I took with the new Samyang, featuring my two favorite guinea pigs in my studio under close-to-ideal lighting conditions. Two strobes in front and a slave flash behind them for the backlight. Full disclosure: I made this B&W in post, and the vignette is artificial. After processing these first images, it's safe to say I was suffering absolutely zero buyer's remorse.
I wondered, however, how would it perform out in the field?
BAM! Look at that for low-light, high-ISO imaging on the much maligned Sony A77. I took this at one of the live-performance art gigs I photograph and haven't altered that photograph one iota, it's a JPEG straight off the memory card. I shot it wide open at f/1.4 and ISO1000, shutter at 1/60-sec and handheld.
Using the Samyang 85mm f/1.4 on the A99 Full Frame??
Then, last month, I got myself a Sony A99. How was it going to perform on the full-frame sensor?
Why perfectly, of course. I shot this as a RAW and converted it to B&W in post-processing. I haven't had to do too much else to it, either, aside from cropped it to 8×10 ratio for printing and hanging in our family's hallway-of-shame.
Conclusion
So, to sum up, I think the Samyang 85mm f/1.4 Aspherical IF lens is one of the greatest bargains out there in camera-land. Because I'm using it on the A77 and A99 models, I can leave them set to Aperture Priority and they will meter for the manual lens as if it's chipped (EDIT: we've just discovered via a discussion about this article on Google+ that the A580 will do this as well). Of course, one day, it is inevitable that I'll upgrade to one or the other of the aforementioned Sony/Zeiss lenses but, until then, my 85mm fast prime needs are well served by this excellent little optic.
I'm not one for assigning arbitrary scores to things, but if I was going to start with this lens, it would rate high!!
PRO's:

affordable; excellent build quality; gives your APS-C sensor camera an almost FF depth-of-field; fine tolerances/no slack; fantastic IQ; excellent bang-for-buck

CON's: supplied bayonet-mount lens hood is atrocious – throw it out and get a screw-in type from eBay or a Ferenghi; manual focus (even with focus peaking) takes some practice; cheaper camera bodies won't meter for the full-manual aperture
Samyang 85mm f/1.4 Manual Focus Aspherical Lens @ Amazon >>