Samsung just announced the Galaxy S4 Zoom with 16MP camera, and 10x optical zoom. Sony is also working on one of these smart phones with a real camera and sensor inside, but they have not ironed it all out yet. My guess is Samsung just announced theirs early, when it's really not 100% complete to beat Sony, but I could be wrong about that. I recently wrote and article about Samsung's NX Camera System (click Here),  and I explained that they have a huge budget for re-search and development. Way bigger than Sony and Apple, which leads me to believe that they will become a force to be reckoned with very soon.
| | |
| --- | --- |
| | Sony currently has the edge on the mirrorless camera's, but Samsung is aggressively going after that market as well. The point and shoot camera market has been on a slow decline for some time, but recently that has speed up do to the smart phone cameras. The market has been building for this type of camera phone for some time and it will be interesting to see what happens. |
A revolutionary new device that converges the best of a high performance smartphone and camera, the GALAXY S4 zoom delivers the best of both worlds
Full Press Release
LONDON, UK – June 12, 2013 – Samsung Electronics Co., Ltd. today announced the launch of the Samsung GALAXY S4 zoom, a powerful new device which combines the stylish heritage of the latest GALAXY S4 smartphone with advanced photographic capabilities.
Part of the GALAXY S4 family, the GALAXY S4 zoom is the realization of Samsung's mission to create a single device that can fulfill the role of both an industry leading smartphone and a high-end compact camera. Combining 10x Optical Zoom, 16 Mega Pixel CMOS Sensor, OIS and Xenon Flash with the very latest Samsung GALAXY S4 technology, the GALAXY S4 zoom sets new standards for perfect mobile photography. It is the ultimate smartphone and camera experience in one, and the only device you'll ever need.
"The Samsung GALAXY S4 zoom represents yet another step forward in the way Samsung is working to enhance the lives of our customers around the world," said JK Shin, President and CEO, Head of IT & Mobile Communications Division, Samsung Electronics. "As communication continues to become increasingly visual in nature, people wish to capture and share their moments in the highest quality possible, but often do not have the space or inclination to carry a dedicated camera for this purpose. The GALAXY S4 zoom changes this forever, combining the industry leading functionality and connectivity of the GALAXY S4 with the high quality photographic experience you'd expect from a compact camera. The result is truly the best of both worlds, without compromise."
Revolutionary new interface
Do it all and miss nothing thanks to the revolutionary new Zoom Ring, a simple and intuitive way to access the GALAXY S4 zoom's key features.  When you're in the middle of a phone call and you see something you absolutely have to share, a quick twist of the Zoom Ring will activate the In-Call Photo Share feature, letting you capture and send an image directly via MMS to whoever you are talking to simply.
For easy camera navigation, the Zoom Ring can be used to activate the Quick Launch and Shortcut features, giving you instant access to multiple camera modes including Auto, Gallery and Smart Mode with a simple twist.
The Zoom Ring also revolutionizes conventional camera zoom controls. Optical zoom control replaces traditional dials and buttons with smooth, easy-to-operate digital controls. Professional-quality accuracy and unprecedented ease of use are just a twist away, making it easy to compose a scene and capture wide-angle shots or tight close-ups.
Capture the best images
When it comes to high quality photography, bigger isn't always better. The compact GALAXY S4 zoom's best-in-class 10x Optical Zoom and 16MP BSI CMOS Sensor lets you capture beautiful images from far away or up close and personal, in all light conditions, without having to carry heavy camera gear around with you.  Furthermore, the built-in Optical Image Stabilizer (OIS) helps keep the camera perfectly still even when you're not, reducing blur and stabilizing the image while zoomed in for high-quality photos and video.
Photo Suggest instantly connects you to huge libraries of images taken by fellow photographers, to help you find and compose your best shots anywhere in the world. Photo Suggest can even direct you to the ideal nearby location which will give you the vantage point you need for that perfect photo.
The GALAXY S4 zoom also features Samsung's popular Smart Mode, so you can stop worrying about settings and start taking professional-quality artistic shots. Simply choose from a series of pre-set modes and the camera will automatically adjust to ensure you capture the best photo possible. Use Drama Shot to merge continuous shots of moving objects into a single composed image, or Action Freeze to instantly capture high-speed action. If you aren't sure which Smart Mode to select, the Smart Mode Suggest feature can assess the scene for you and provide a short list of the best options for your consideration based on surrounding factors such as light levels, focal length, or face detection, ensuring you always get the best shot you want.
Unlimited entertainment in the palm of your hand
The GALAXY S4 zoom's heritage is evident throughout, from its sleek and stylish design to the powerful, yet intuitive user interface. Running on Android Jelly Bean 4.2, the GALAXY S4 zoom boasts many of the same features as the recently launched GALAXY S4, including Touchwiz, which lets you fully customize various aspects of your device including the lock screen and notification bar, for a truly personal mobile experience.
When you return from your travel adventures, Story Album lets you arrange all of your treasured images and videos into one timeline to share with friends and loved ones. You can also edit images and even order prints directly from the device through a partnership with blurb?. If you'd rather transfer your images to your laptop or tablet for safe keeping, Samsung Link lets you do so quickly and easily with just the touch of a button. Alternatively, you can sync all of your data in your own personal cloud through HomeSync, providing the ultimate peace of mind and ensuring your images and videos are waiting for you whenever you need them.
The GALAXY S4 zoom features the new Samsung Hub, a one-stop destination for all of the latest music, videos, books and games. Search, download and enjoy all of your favorite entertainment at the touch of a button, all directly from your device. When you find that amazing new track or game that you can't wait to share with your friends, Group Play lets you connect directly with their Samsung devices so you can all listen and play together, without the need for a Wi-Fi AP or cellular signal.
Check Out what the Galaxy S4 Zoom offering???
4.3 inch qHD sAMOLED (960×540) screen
Android 4.2 (Jelly Bean)
125.5 x 63.5 x 15.4 mm
208g (with standard battery)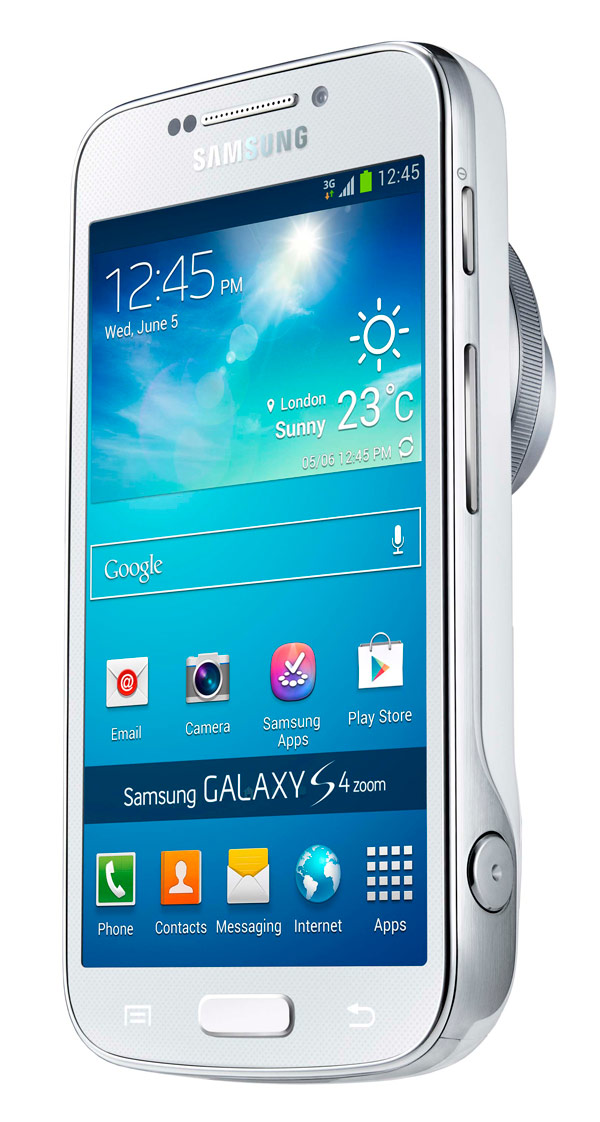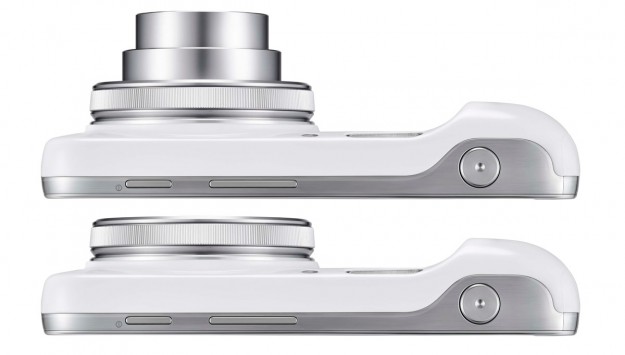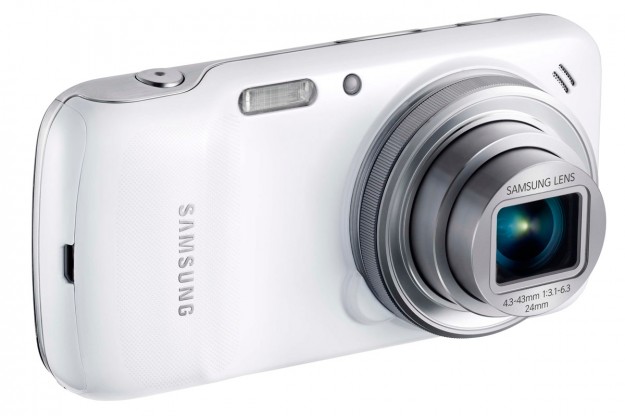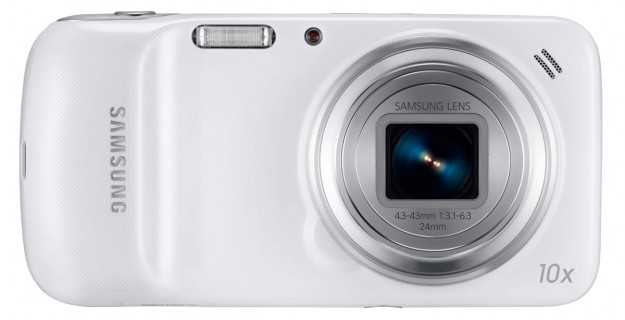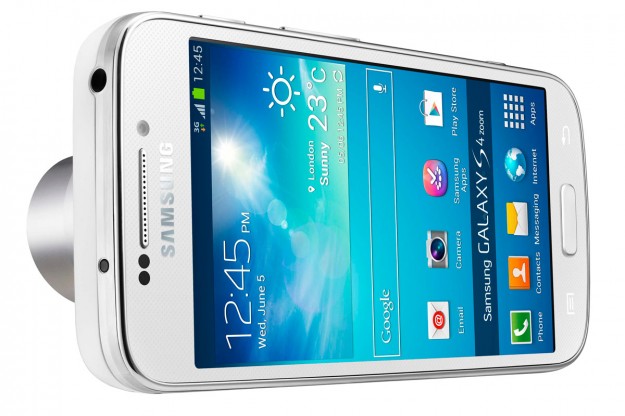 Galaxy S4 Zoom Specs
Network

LTE

2.5G (GSM/ GPRS/ EDGE): 850 / 900 / 1800 / 1900 MHz

3G (HSPA? 21Mbps): 850 / 900 / 1900 / 2100 MHz

4G (LTE Cat 3 100/50Mbps) : up to 6 different band sets(Dependent on market)

3G

2.5G (GSM/ GPRS/ EDGE): 850 / 900 / 1800 / 1900 MHz

3G (HSPA? 21Mbps): 850 / 900 / 1900 / 2100 MHz

Display

4.3 inch qHD sAMOLED (960×540) screen

AP

1.5GHz Dual-Core Processor

?The selection of AP will be differed by markets

OS

Android 4.2 (Jelly Bean)

Camera

Main (Rear): 16 Mega pixel with x10 Optical Zoom and enhanced SMART Modes, OIS

                        24-240mm, F3.1-F6.3

Sub (Front): 1.9 Mega pixel camera

ISO: Auto, 100, 200, 400, 800, 1600, 3200

Continuous Shot: 4fps MAX with AF

Format: JPEG, PNG, GIF, WBMP, BMP, AGIF

Xenon Flash, 

SMART Mode, Expert Mode(P/S/M/C), My Mode

Video

Codec: MPEG4, H.264, H.263, VC-1, VP8, WMV7/8, Sorenson Spark

Recording & Playback: Full HD (1920×1080 30p)

Audio

Codec: MP3, AMR-NB/WB, AAC/AAC?/eAAC?, WMA, Vorbis(OGG), FLAC, apt-X

Camera 

Features

SMART Mode(25): Smart mode suggest, Beauty face, Best photo, Continuous shot, 

Best face, Kids shot, Landscape, Dawn, Snow, Macro, Food, Party/Indoor, Action freeze, 

Rich tone (HDR), Panorama, Waterfall, Animated photo, Drama, Eraser, Sound & Shot, Silhouette, Sunset, Night, Fireworks, Light trace

Additional 

Features

Samsung Link, Samsung ChatON

S Voice, S Translator 

Group Play: Share Music(MP3), Share Picture(JPEG, GIF), Share Document(PDF, PPT), Play Games 

Story Album, Trip Advisor, Paper Artist 

Google Mobile Services

Chrome, Downloads, Google Maps, Gmail, Google Search, Google Settings, Google Plus, 

Google Local, Google Play Store, Google Messenger, Google Navigation, Youtube, 

Google Talk, Voice Search, Google Play Movie & TV, Google Play books, Google Play Music, 

Google Play Magazine

Connectivity

WiFi a/b/g/n 5GHz

NFC,  Bluetooth® 4.0 (LE)

A-GPS ? GLONASS

Sensor

Accelerometer, Geomagnetic, Proximity, Gyro, RGB Light

Memory

8GB Internal memory (User memory approximately 5GB) ? microSD slot (up to 64GB)

1.5GB RAM

?User memory space may be less than the total memory space due to system files. User memory may differ by region, carrier, and supporting language, and may change after software upgrade.

Dimension

125.5 x 63.5 x 15.4 mm, 208g (with standard battery)

Battery

2,330mAh
Closing Remarks
This camera phone looks pretty bad-a$$, but I would not be carrying one of those around instead of a real camera any time soon. I use my phone to surf the web when I'm mobile, make calls, and text. I do use the camera occasionally, but only for things at work I can't write down, or a price at home depot on a product, things like that. I have the Nex-6 for any real photography, and if I wanted a smaller more pocket-able camera, I would go with the RX100.
Convenience wise this technology is awesome, and if people really want a good point and shoot inside there camera, this may be the way to go in the very near future. How much is this going to cost? I would say about $7-900 US, but I have no idea honestly. Samsung's NX Camera system looks very impressive to me as well, Check it out Here >>
Sony is going to announce their version of this new camera phone soon, so be sure to check back for that news if your interested in this type of technology 😉
As alwayas, feel free to ask questions or comment below! Thanks,
Jay
Your support is greatly appreciated as we run this site in our spare time and are not paid. We can however, make a small commission if you click a product link that your interested in. That click will then give us credit if you choose to purchase any given item. This has no effect on the cost of the product, and is a simple way to give back to SonyAlphaLab.com for the effort and info we provide.
Tip Jar: https://www.paypal.me/SonyAlphaLab
Support SonyAlphaLab by becoming a | Patreon
Also, be sure to keep following us on Google+ | Twitter | Facebook |
Direct Shopping Links – Thanks for your Support!!
BHPhotoVideo | Amazon – US | CA | UK
Thanks,
Jay