Review
Hi everybody and welcome to SonyAlphaLab 😉 In this Carl Zeiss Loxia 35mm f/2 Biogon T* Lens review I will go over everything you need know using my full frame Sony Alpha A7r in both the lab and real world of course…
I also put together a high quality video review which you can see just below, or on my youtube channel here >>
The Carl Zeiss Loxia 35mm f/2 Biogon T* Lens is fully manual and offers top quality optical performance for the full frame E-mount cameras like the Sony A7 II, A7r, A7, or the A7s if video and/or low light is your specialty… The Loxia lens is built like a 1940's battleship as far as quality, and also has the modern convenience of some basic electronics to transfer lens data to the camera.
Tipping the scales at almost 3/4 of a pound, or 12oz/ 340grams, the lens build quality does come at the cost of some weight. Metal is much heavier than plastic which is used a lot in most modern day lenses. The more plastic, the lighter the lens, but cheaper the feel often times.
The Zeiss Loxia 35mm lens also features the latest Zeiss T* Anti-reflective lens coatings for optimal clarity, contrast, and color renderings. Also note the blue weather sealing gasket on the back side of the lens where it mounts to the actual camera.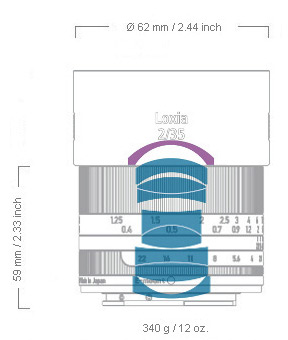 The lens optics are a Biogon design which is comprised of nine elements in six groups as you can see to the right.
The Zeiss Loxia lenses are designed for the old school range finder style shooters who love pure photography at it's simplest. Manual focus really gives you that control and takes things down to the art much more in my opinion. Having this style of lens natively mount is better than using lens adapters, because having the lens info in post processing for the digital age is awesome.
When using old school lenses and adapters like the Minolta 50mm f/1.4 Rokkor-X lens for example, you get no lens info in lightroom other than shutter speed and ISO of course. It just looks blank as you can see demonstrated in the video review below.
The lens focus and aperture rings both feel like butter as far as rotation dampening feedback goes. The perfect amount of resistance and control in my opinion. The focus has a lot of rotation of adjustment, so fine tuning is a breeze, but going from close to far focus can take a lot of turning. This can be hard in some cases with video if doing a large focus transition. You may have to adjust your hand in order to complete the rotation.
Speaking of aperture, the Loxia lenses have a de-click feature which is killer for video in particular. I prefer using this mode for video and like the smoother feel most of the time.
If I was not shooting video, the aperture clicks On would still be preferred by me, because otherwise accidental changes could be common.
On back side, or E-mount side of the lens, there is a flat head screw along the rim. Inside the lens box is a little bag with a special tool that fits just like a flat head screw driver pretty much. The turning of the screw is fairly dampened and has a little circle to let you know when you have it set correctly.
The lens hood is also metal and can be mounted on both ways. One for protection which stick out about 3/4 of an inch, and the other for a more compact form factor.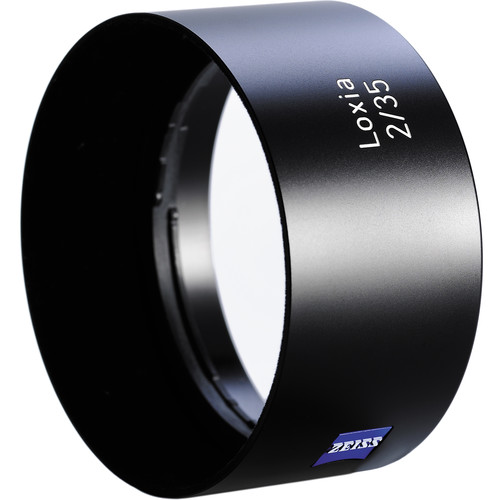 You can just feel the build quality oozing off this lens from almost everywhere!
However, the lens cap is all plastic for some reason and I found that a bit strange considering the amazing quality in all other areas.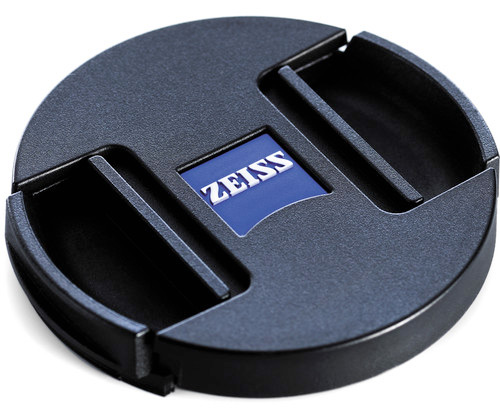 Zeiss Loxia 35mm f/2 Biogon T* Lens

Key Features:

Killer build quality and design
Included metal lens hood
Aperture Range: f/2 to f/22
Compact Biogon Optical Design
9 elements in 6 groups
Zeiss T* Anti-Reflective Coating
All-Metal Barrel with Engraved Scales
Weather-Resistant Lens Mount Gasket
Weight – 11.99 oz (340 g) 3/4 of a pound
52mm filter thread
Plastic lens caps front and rear
11.81″ (30 cm) minimum focus distance
Manual Aperture Ring Can Be De-Clicked
Electronic Interface Transmits Lens Data (Exif)
~$1300 US
 Carl Zeiss Loxia 35mm f/2 Biogon

T*

Lens –
Video Review
In this
video review
I'm going to cover the top of the line fully manual
Carl Zeiss Loxia 35mm f/2 Biogon T* Lens
. She's designed for the
full frame E-mount Camera Systems
and I'll be using my
Sony Alpha A7r
in both the lab and real world to test this beast out!
Zeiss Loxia 35mm f/2 Biogon T* Lens for ~$1299 US @ BHPhoto (Click Here)
Sample Photos
Lab Testing
First the full lab scene @ f/2.
f/2 vs f/22
These were taken at the minimum focus distance for effect and illustration purposes.
Real World
I have a lot of real world photos as seen in the video review if you watched that, so I will show a bunch large, but also many more in thumbnail versions to save load times. Please just click the images to see a large ~1200px version.
My wife Michele and daughter Layla made these incredible banana muffins that were to die for!
Some icicles…
Papa's Birthday
I edited these next few photos 😉
Layla
Bones Jones
Metal Man
Real World Testing
Same scene @ multiple apertures raw quality.
f/2
f/4
f/8
Distortion
As you can see by this brick wall photo, there is virtually no visible lens distortion at all.
More Sample Photos
Closing Remarks
Thanks for checking out my Zeiss Loxia 35mm f/2 Biogon T* Lens Review and I really hope you got some insight on this killer unit! Clearly not for everybody at the ~$1300 price tag and having no auto focus or optical steadyshot. However, those enthusiasts in the market for a 35mm that just love manual focus and demand the best possible optics and smallest form factor should consider this lens in my opinion.
Regular photography users who don't care for old manual focus technology should wait for the new 35mm f/1.4 lens or go with the 35mm f/2.8 Zeiss lens which both have AF technology.
Bottom line for the Loxia 35mm f/2 Biogon Lens is I highly recommend it although I could never justify it myself these days…..
Have a great day and please feel free to ask questions or comment as always,
Jay
Zeiss Loxia 35mm f/2 Biogon T* Lens for ~$1299 US @ BHPhoto (Click Here)
Your support is greatly appreciated as we run this site in our spare time and are not paid. We can however, make a small commission if you click a product link that your interested in. That click will then give us credit if you choose to purchase any given item. This has no effect on the cost of the product, and is a simple way to give back to SonyAlphaLab.com for the effort and info we provide.
Tip Jar: https://www.paypal.me/SonyAlphaLab
Support SonyAlphaLab by becoming a | Patreon
Also, be sure to keep following us on Google+ | Twitter | Facebook |
Direct Shopping Links – Thanks for your Support!!
BHPhotoVideo | Amazon – US | CA | UK
Thanks,
Jay