Review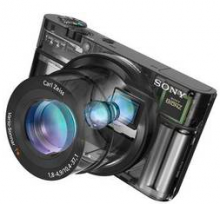 Sony Cyber-Shot DSC-RX100 Review
In this Hands on Review of the Sony Cyber-Shot DSC-Rx100, I will go over everything you need to know! I really tested the DSC-RX100 thoroughly and it really is a pocket sized camera with Mega-Power in the Specs department. For starters, besides the camera actually being pocket sized, it has a very large 20MP Sony Sensor, Fast AF and Processor, and a Killer f/1.8 Carl Zeiss pancake zoom lens that delivers 3.6x Optical Zoom!!
In addition to the major hardware highlights, the Sony DSC-RX100 also has 1080/60P HD Video Capabilities with full time AF. You also have full manual control over the video exposure for when you want to use real lights, or for visual effect. Other software features are pretty much the same as the high end Nex and Alpha
cameras, except for a new feature called Illustrative Mode.
Sony Cyber-Shot DSC-RX100 Highlights
20.2MP 1″ Exmor CMOS Low-Light Sensor
Carl Zeiss Vario-Sonnar T Lens
Xtra Fine 3″ LCD Display with WhiteMagic
Optical 3.6x Zoom & Digital 7.2x Zoom
Optical & Electronic Image Stabilization
Full HD 1080/60p Video Capture
Ultra-Fast 0.13 Sec High-Speed AF
Face Detection & 10 fps Burst Mode
Record Stills Using JPEG, RAW, or Both
Aluminum Body with Built-In Pop Up Flash
Sony DSC-Rx100 – Build Quality and Ergonomics
Lets start off this review with the build quality and ergonomics using these product shots for visual pleasure and reference

Be sure to Click on these High Res Photos for the Full 1200px Version!!
Check out the durable metal skin up close as it has a slight satin finish to it.  Also note the blue Zeiss badge and just how big in circumference the f/1.8 zoom lens actually is!!
Looking from the photographer point of view you will see a very nice assortment of buttons and a 4-way nav wheel on the right hand side. Taking up the remainder of the back is the Xtra Fine 3″ LCD Display with WhiteMagic!! The screen does not move, but is definitely better looking and easier to see in the daylight than the standard high res LCD screen like on the Nex-5n for example.
The video record button is on the top right and has a very nice carved out thumb grip that protects against accidental presses. It's a nice balance as I can still press the button pretty easily with very few accidental video recordings. The Mode dial is also a nice feature for the experienced user as the Menus can often be more time consuming. Sony decided to keep this camera set-up more like the A57 and or Nex-7 which has the experienced user in mind when it comes to menus and buttons. The Fn button for example is a shortcut to almost every feature at the push of a button, just like the Sony A57.
It's important to be aware just how far the Ziess lens comes out when the camera turns on as it almost triples the overall depth!! Also notice the grooves on the integrated control ring you can spin with your finger. It works as a zoom in some modes, or aperture, shutterspeed, if in those modes. The control ring can also be custom programed to a bunch of settings as well. I found it very nice to use when zooming or manual focusing specifically. It's much easier to fine tune a large wheel than the standard left /right toggle switch located by the shutter button. Although for quick zooming to maximum or minimum, the left/right zoom toggle is the way to go!!
RX100 -  A Closer Look, AF Testing, and a Clear Image Zoom Demo
Check out this 1080 HD Video I made showing off the RX100 up close in my hands for a closer more detailed look. Next I'll do some AF speed tests to show just how fast the RX100 actually is at focusing. Lastly, I do a full demo of the incredible powerful clear image zoom feature that can effectively double the zoom range to 7.2x.
AF Performance Analysis
As you can see from the HD video the Sony RX1oo really does focus fast!! Sony claims .013 seconds, and it totally seems possible. The AF is also extremely accurate as I barley had any missed shots due to poor focus.
In very low contrast areas and poor lighting conditions the RX100 struggles to focus occasionally and you may need to re-frame the scene temporarily to help the camera find something to focus on, or go to manual mode. This is normal for most any camera in poor low contrast lighting conditions, but Sony gives you extra tools to make it better and easier.
The Facial Recognition feature is On by default and significantly helps with focus accuracy and exposure priority if people are in your scene. Occasionally the camera may see an object in the scene and think it's a face, which intern becomes the priority focus etc.. It only happened to me once or twice, but can simple be tuned off in the Functions Menu (Fn Button).
Some Real World Clear Image Zoom Samples
Clear image zoom is a feature that allows the Sony RX100 to effectively doubles the zoom range with almost no loss in detail. The camera uses Photoshop like technology to create a much more accurate highly detailed enlargement by adding pixels intelligently. This feature works awesome, just as it was advertised!
Check out this examples so you can see for yourself how good it works.
Zoomed all the way out at 10.4mm
Be sure to Click on these High Res Photos for the Full 1200px Version!!
Zoomed all the way with Optical Zoom – 37.1mm or 3.6x
Clear Image Zoom at 7.2x which is the Max!
Zoomed all the way out at 10.4mm
Clear Image Zoom at 7.2x which is the Max!
Be sure to Click on the Next Page Buttons Below!!