Review
I received the Sony Nex-C3 about 2 weeks ago and in this Hands on Review we will cover everything you need to know.
Check out the Nex-C3 Ebay Auctions Starting at less than $100 US!! >> (Click Here)
The Sony Alpha NEX-C3 camera is a very capable camera. Adjust the tiltable 3.0 LCD screen to review your pics or use it to frame-up your next shot with the camera really low to the ground or high above your head at a concert. Tons of modes including Sweep Panorama in 2D and 3D, Auto HDR, Handheld Twilight and Anti Motion Blur. Killer  720/30p HD to playback and share later. Get incredible detail and gorgeous enlargements thanks to 16.2MP resolution and Sony Exmor APS HD CMOS technology. The kit for this camera comes with the 18-55mm lens or the 16mm f/2.8 pancake lens. I got the the 18-55mm kit with the 16mm pancake lens, and the optical viewfinder separate.
I also want to note that I shot exclusively in jpeg mode with the Sony Nex-C3 as apposed to shooting Raw+jpeg. The NEX-C3 saves your pictures as compact JPEG files or ultra-high quality RAW files. RAW files save images prior to DE-mosaicing, white balance, sharpness and color enhancement. This retains maximum latitude for enhancing the image in post processing.
| | |
| --- | --- |
| | My reasoning for this is pretty simple. This camera is designed for the armature photographer looking for a better quality picture, but not wanting to take the leap to a full DSLR due to size, or whatever. The average Nex-C3 user will most likely not be using raw very often if at all in my opinion. Basically, I wanted to see what the results would be coming from the "Real World" perspective that this camera is marketed towards, and obviously you can get a killer result from a raw file if the jpeg file looks good!! The raw files are also very large in comparison to jpeg which I really don't need for this review. |
High Res Nex-C3 Photos
Lets check get a closer look at the Sony Nex-C3 and accessories I used for this Hands on Review. Be sure to Click the images for a nice large version!
Nex-C3 Build Quality and Ergonomics:
I must be honest and say that the Sony Nex-C3 has better build quality than I was expecting. The E-Mount is solid as a rock and the lens becomes one with the camera once it's attached. It's a better/ tighter fit than any of my other cameras including the Canon 5D Mark II. The screen is also mounted very well to the back of the camera. When it articulates outward it is guided by a metal bracket that has three separate hinged mount points. This makes the screen feel very strong, and not like a flimsy cheap feature. The articulating screen on on the Sony a55 felt much cheesier in comparison and more likely to break.  The camera body although extremely lite at 10.0 oz / 283g – with battery and memory card, feels like a little brick. The Nex-C3 is very solid and rigid for it's size and I feel confident it will hold up and be able to except pretty much any size lens that Sony or others decide to come out with in the future.
Menu and Navigation:
The menus on the Nex-C3 like many other of Sony's cameras has a nice user friendly interface. It's divided up into categories so the Non-Pro can brighten an image without knowing you need to use exposure compensation for example. Sony has dumb down the menus so you really don't need to know anything about photography to get a good picture. At least that is what it appears to me there trying to do with the menu's. Bottom line, the menus are easy to navigate and all the settings are well labeled. There is an optional (On by default) help "pop-up menu" that gives extra info about any given menu item your currently on. I turned this feature off immediately though as it was incredible annoying having a pop -up block the menu with info I did not need. Pretty useful and a great feature for a beginner though. Playback of photos and movies is also strait forward and easy. It's also fast with very little load time between images and movies.
Battery Life:
One of the negatives about the Sony Nex-3 and Nex-5 was the limited battery life. Sony did a pretty good job addressing this issue in my opinion as I got ~ 350 pictures and over 10 minutes of HD video on the 1st charge. I also set the camera up, customized the menus and buttons for my liking, and reviewed the photos and videos on the camera extensively. All that set-up and review time used the large lcd screen and drained a significant chunk of the batter life. The official specs say ~400 shots so…..
That being said, I really think the battery life is going to be highly dependent on the user when it comes to the Nex- style cameras in general.  The large lcd screen is the main battery killer, so if you take a ton of shots in speed priority mode for example, your going to get more shots than the average user on any single charge. However, if your taking nothing but HD Video, expect to get about 45 minutes to 1 hour of footage per charge.
I highly recommend getting an extra battery or two for this style camera as it takes a Sony NP-FW50 Lithium-Ion Rechargeable Battery and you cannot just grab them anywhere.
One other note about the battery is it takes a long time to charge! I didn't actually time it, but it was well over 2 hours every time. Another reason to carry a spare.
High ISO and Low Light Performance:
The ISO and low light performance of the Nex-C3 is excellent all around. I have 2 issues with the ISO however. One being the ISO is limited to 1600 in auto modes, and the other being the ISO starts at 200. My guess is that has to do with the Dynamic Range Optimizer feature.
Not the biggest deal in the world though as you can simple switch to one of the creative modes like Aperture Priority, Shutter Priority, or Manual, and then manually set the ISO to whatever you need. I had to do just that in order to record the extremely low light just below.
As you would expect the focus does struggle a bit in the low light environment, but still works very good and almost always finds something to lock onto.  I did find it helpful to change the the focus point
Here's a few sample pics and a movie of the ISO performance:
ISO 12800 Movie sample:
As you can see the ISO performance is excellent! Even at ISO 12800 it looks pretty darn good and is usable for home movies and stuff. The fact that you can record in such low light is incredible in my opinion and exceeds my expectations.
Sony NEx-C3 Image Quality:
The image quality that the Sony Nex-C3 produces is excellent in my opinion. The dynamic range, color, clarity, depth of field, and noise are all very good, and I have a ton of full resolution sample photos for your viewing pleasure. I put them all up on my smugmug site in there own gallery located Here >>  Once in the gallery you can hover over the images to get all the Exif and camera information for every photo. You can also select the Origional size option to see the Full Res version. I'll post a few of my favorites below, but be sure to check out the Gallery!!
These sample pics are all un-edited images exported out of Lightroom 3 as jpegs at 70% quality and 1000px width. Any other pertinent info I will put in the exif Data just below the image. Be sure to Click on these photos a nice 1000px wide version.
These next two images I edited a bit:
This image is an HDR Photograph comprised of 3 exposures. You can see more on how I did it in this over here. HDR and the Nex-C3 Article >>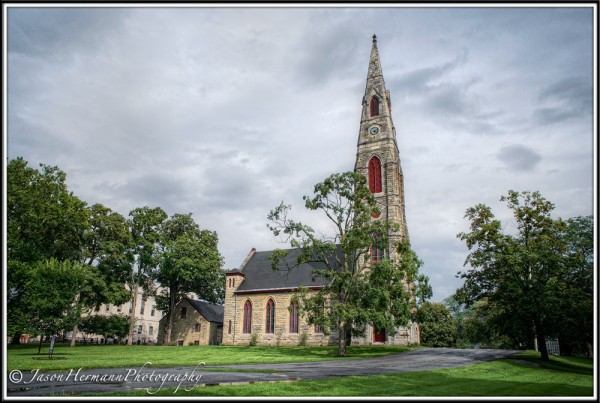 This next image is of the Goshen 1st Presbyterian Church and all I did to this photo was crop, add a little contrast, and a vignette.
Video Performance:
One of the most hyped features of the Sony Nex-C3 is the HD Video performance and it performs as advertised! The only week link when recording in HD is the focus. You can set the camera to continuously focus by using the AF-C mode, or you can have it focus when you press the shutter button half way while recording by using the AF-S mode. The continuous mode works pretty good but often doesn't now what your subject is and can focus on the wrong thing from time to time. I had the best luck was using the Center Weighted AF in AF-C (continuous focus mode) when recording up close. For all other video recording I used the AF-S (single-shot) focus mode on center weight average and just re-focused as need while recording.
Here's a few sample clips showing off what the Nex-C3 can do:
These 1st two clips I put together using iMovie and it's actually made of many videos in different lighting situations etc.. sorta like a trailer video.
This next clip is just sample footage strait off the camera and uploaded to YouTube UN-touched.
Flash Performance
The flash comes as a separate module for the Nex-C3 and you have to actually put it on when you want to use it. It clips into the top and has a thumb screw for tightening, an once it's tight it is solid. Performance wise it works well for it's size, and you can adjust mode as well as the flash exposure compensation.  I left it on Fill Flash mode for the few shots I took with it. I'm not the biggest fan of on camera flash in general, but this one does do the job you would expect. Here's two pics I took the other night at Sonya's B-day party. Be sure to Click the images for a nice large version.
Other Features worth mentioning:
Pano sweep works pretty good, but photoshop can definitely do a better job as you might expect. That being said the Nex-C3 did do a very good job in the Pano department and here are 2 examples below. The full res versions are also in the Full Res Sample Gallery if you want to see the stitching up close.
Notice how the cars get cut off in this image. Photoshop has magic powers that can address things like this. However, it still did a great job considering, and just simple wait for the cars to stop before shooting a Pano Sweep!
AutoHDR also does a pretty job opening up the shadows and sparing the highlights from blowing out. I personally prefer doing HDR the manual way, but the is a nice feature to have! Here's a sample photo with and without auto HDR enabled.
The Skin Smoothing feature is also pretty impressive!  Actually it's very impressive if you ask me.  Check these samples out:
The Picture Effect Modes are also very cool and powerful. I didn't experiment with them to much, but I did try the Retro Photo effect and it's pretty cool I must say!
Conclusion:
The Sony Nex-C3 is a solid camera all around and certainly lives up to it's expectations. Image quality is excellent and the 16.2 Megapixel Exmor HD Sensor does a great job capturing all the detail in the highlights and the shadow areas. Sony's BIONZ image processor also does it's job as advertised provided 5.5 frames per second and extremely low noise at even ISO 12800! Very impressive! The Build quality of the Nex-C3 as I said above is better than I expected and solid all around. This camera also has more features than you know what to do with, so you can experiment and play till your heart is content with the picture effects etc…  The size of the camera is also a nice perk being so small. I can fit the camera in my pocket when the 16mm pancake lens is on it and I really like that. I'm not a fan of holding the camera in my hand when not using it. I was a little concerned that the Nex-C3 might be to small for my hands and fingers, but that was not the case at all. I could easily reach and adjust the necessary buttons without any issue. The Menus area  bit dumbed down and geared for the beginner which I personally didn't need, but I must say would have been awesome years ago when I did need the help.
The bottom line for the Sony Nex-C3: I would be happy to own one of these, and the bang for the buck is totally justified. The room for growth is also there as the Sony E-mount lens line-up continues to grow day by day along with the accessories.
Check out the Nex-C3 Ebay Auctions Starting at less than $100 US!! Click Here>>
Your support is greatly appreciated as we run this site in our spare time and are not paid. We can however, make a small commission if you click a product link that your interested in. That click will then give us credit if you choose to purchase any given item. This has no effect on the cost of the product, and is a simple way to give back to SonyAlphaLab.com for the effort and info we provide.
Tip Jar: https://www.paypal.me/SonyAlphaLab
Support SonyAlphaLab by becoming a | Patreon
Also, be sure to keep following us on Google+ | Twitter | Facebook |
Direct Shopping Links – Thanks for your Support!!
BHPhotoVideo | Amazon – US | CA | UK
Thanks,
Jay