Review
In this Sony Nex-5r rolling style review, I will be using the Sony E-Mount 35mm f/1.8 OSS Lens (SEL35f18), 10-18mm f/4 OSS Lens 9SEL1018), as well as some other lenses that I personally own! I have about a month total to play with the Nex-5r and  lenses, so stay tuned for daily updates as I add sample photos, sample video, and more detailed analysis of the Sony Nex-5r!!
Sony Nex-5r Review
The Sony Nex-5R is very similar to the Sony Nex-5n, except it has the same updated 16mp sensor that the Sony Nex-6 has. The Nex-5R also features a special 180 Degree flip-up Touch Screen which is perfect for doing self portraits or video recordings where seeing the screen is critical. Reviewers like myself will find this incredible useful!! The Sony Nex-F3 also features this 180 degree flip screen and I used it a lot while I had the camera in the lab. The Nex-5R does not have a built in viewfinder like the Nex-6, but does except the OLED Viewfinder Accessory which is great if you need it.
Click Photo for 1200px High Res Full Size Version!!
Sony Nex-5R Features Breakdown
16.1 MP APS-C size HD image sensor: The same sensor format that Sony builds into the full-sized DSLRs. With 13 times the area of the typical point-and-shoot sensor, APS-C sensor size makes the difference between "snapshots" and "photographs," delivering an exceptional combination of high res, high sensitivity and gorgeous, blurred backgrounds.
Fast Hybrid AF: Sony's advanced Fast Hybrid AF combines two technologies for outstanding performance: Phase detection auto focus for quick response that is ideal when tracking fast-moving subjects and contrast-detection auto focus for added precision. A perfect match that delivers optimal Auto Focus for fast, precise focusing in any scene.
Full HD Movies at 60p/60i/24p: Capture HD Movies in your choice of super-smooth 60p, standard 60i or cinematic 24p, all at Full HD 1920×1080 resolution.1 AVCHD codec delivers stunning picture quality. MP4 codec offers smaller files for easier upload to the web.
Wi-Fi Sharing: Wi-Fi capability, a first for Alpha-series, allows transfering photos directly to smartphones and tablets with the PlayMemories Mobile app. Wi-Fi enables sharing, viewing and saving photos for expanded photo-shooting enjoyment. Photos can be easily transferred to smartphones and tablets, viewed on large screen TVs or saved to a PC.
PlayMemories Camera Apps: Supports PlayMemories Camera Apps, the world's first application download service that lets users install new camera functions as needed.
180-degree tilt-able 3.0″ Touch LCD: The NEX-5R is equipped with a tilt-able LCD screen that flips up 180-degrees without sacrificing compactness. This makes taking great self-portraits incredibly easy since users can precisely compose shots, choosing to include people or objects in the frame for more satisfying results.
Control Dial: Control dial, Fn (function) button and touch screen (including touch shutter function) greatly facilitate operation and getting the shot that much easier.
Picture Effect mode: There are 7 types (11 variations) of picture effects to choose from: Posterization (Color), Posterization (B/W), Pop Color, Retro Photo, Partial Color(R), Partial Color(G), Partial Color(B), Partial Color(Y), High-key, High Contrast Monochrome, Toy Camera.
6-image layering: The camera captures six images in a fraction of a second. The camera then combines the data from the 6 different images up to ISO 25600 to create a single image. This helps to control blur in Anti-Motion Blur mode as well as enables cleaner, sharper nighttime pictures in Hand-held Twilight mode.
Photo Creativity Touch interface: The Photo Creativity touch interface enables creative settings that can be easily made using the control dial with results seen in real time on the LCD. Settings include; Background Defocus, Brightness, Color, Vividness and most Picture Effects.
Auto Portrait Framing: Simply photograph a person and Auto Portrait Framing will save an additional, optimally framed image in portrait or landscape orientation. Combining Face Detection and By Pixel Super Resolution technologies with rule of thirds, Auto Portrait Framing provides appealingly balanced full resolution portraits.
Clear Image Zoom: Utilizing Sony's exclusive By Pixel Super Resolution Technology, Clear Image Zoom increases the effective focal length of your lens up to 2x by digitally magnifying the center of your image with nearly imperceptible degradation. It virtually doubles the effective focal length of whatever lens you're using.
Convenient USB charging: Easily recharge the camera via USB charging. Simply connect the bundled USB cable and recharge the battery without removing it from the camera, either via AC outlet or PC connection.
Multi-interface terminal: Multi-interface Smart Accessory 2 shoe greatly expands the connectivity options such as external flash units.
Auto HDR built into camera: High Dynamic Range (HDR) photography captures more scene contrast than a single exposure can handle by combining the best highlight detail from one shot and the best shadow detail from another for one incredible shot. Handles severe backlighting and other high-contrast scenes. Captures in a split second.
Sweep Panorama Technology: Capture expansive landscapes automatically. Press the shutter, sweep vertically or horizontally. The camera does the rest, continuously shooting images and stitching them together. Up to 23 MP image size. Up to 202 degrees maximum sweep angle (18mm focal length).
Fast Auto Focus: Some cameras in this class are slow to focus. That can make you miss the shot on fast-moving subjects like sports and unpredictable subjects like pets and babies. Sony's fast Contrast Auto Focus system typically takes as little as 0.3 seconds and also offers continuous Auto Focus when shooting movies.
Sony Nex-5R Specifications
Lens Compatibility
Sony E-mount lenses
Camera Type
Sony E-mount interchangeable lens digital camera
Imaging Sensor
Exmor APS HD CMOS sensor (23.5 X 15.6mm)
Anti Dust
Charge protection coating on Optical Filter and ultrasonic vibration mechanism
Pixel Gross
Approx. 16.7 megapixels
Effective Picture Resolution
Approx. 16.1 megapixels
Focal Length Conversion Factor
1.5x
Color Filter System
RGB primary color filters
Media Type
Memory Stick PRO Duo
Memory Stick PRO-HG Duo
SD memory card
SDHC memory card
SDXC memory card
Color Space
sRGB, AdobeRGB
Still Image Mode
JPEG (Standard, Fine), RAW, RAW+JPEG
Still Image Size 16:9
L: 4912 x 2760 (14M)
M: 3568 x 2000 (7.1M)
S: 2448 x 1376 (3.4M)
Still Image Size 3:2
L: 4912 x 3264 (16M)
M: 3568 x 2368 (8.4M)
S: 2448 x 1624 (4M)
Panorama Horizontal Wide
12,416 x 1,856 (23M)
Panorama Vertical
5,536 x 2,160 (12M)
Panorama Horizontal Standard
8,192 x 1,856 (15M)
Panorama Vertical Standard
3,872 x 2,160 (8.4M)
Video Format
AVCHD Ver. 2.0 (Progressive), AVCHD, MP4
Video Mode AVCHD
PS – 1920 x 1080/60p@28Mbps
FX – 1920 x 1080/60i@24Mbps
FH – 1920 x 1080/60i@17Mbps
FX – 1920 x 1080/24p@24Mbps
FH – 1920 x 1080/24p@17Mbps
Video Mode MP4
HD – 1440 x 1080/ 30fps@12Mbps
VGA – 640 x 480/ 30fps@3Mbps
Audio Format
Dolby Digital (AC-3) / MPEG-4 AAC-LC, 2ch
Microphone/Speaker
Built-in stereo microphones or ECM-SST1 (sold separately) / Built-in, monaural speaker (volume settings in 8 steps between 0 and 7)
Still Image File Format
JPEG (DCF Ver. 2.0, Exif Ver.2.3, MPF Baseline compliant)
RAW (Sony ARW 2.3 format)
Lens Mount Type
Sony E-mount lenses
Digital Zoom
Approx. 4x (still images and movie)
Smart Zoom Technology
M: approx. 1.4x
S: approx. 2x
LCD Type
7.5cm (3.0-type) wide type TFT (921,600 dots)
Angle Adjustment
Up: Approx. 180 degrees
Down: Approx. 50 degrees
Brightness Control
Manual (5 steps between -2 and +2), Sunny Weather mode
Real-time Image Adjustment Display
On/Off
Peaking
Yes (Level setting: High/Mid/Low/Off, Color: White/Red/ Yellow)
Customization
Graphic display/ Display all info/Big font size display/No display info/Levels/Histogram/Viewfinder
Touch Panel
Yes
Focus System
Fast Hybrid AF (phase-detection AF/contrastdetection AF) with "Exmor" APS HD CMOS sensor
Focus Points
99 points (phasedetection AF), 25 points (contrastdetection AF)
AF Modes
AF-S: Single-shot AF
AF-C: Continuous AF
Focus Area
Multi Point (99 points(phasedetection AF), 25 points(contrast-AF)), Center-weighted, Flexible Spot
Focus Sensitivity
0 EV to +20 EV (at ISO100 conversion with F2.8 lens attached)
Manual Focus Assist
Yes MF assist (4.8x, 9.6x)
Focus Features
Predictive control, Focus lock, Eye-Start AF (with FDA-EV1S and LA-EA2 (Sold separately))
AF Illuminator
Built-in, LED type (with a range of approx. 0.3-3.0m (with E PZ16-50mm F3.5-5.6 OSS attached))
Picture Effect(s)
11 types (15 variations):
Posterization (Color, B/W)
Pop Color
Retro Photo
Partial Color (R,G,B,Y)
High Contrast Mono
Toy Camera
Soft Highkey
Soft Focus
HDR Painting
Rich-tone Mono
Miniature
Auto Exposure Lock
AE is locked when the shutter button is half pressed (ON/ OFF is available in MENU)
Creative Style
Standard
Vivid
Portrait,
Landscape,
Sunset
B/W (Contrast, -3 to +3steps)
Saturation (-3 to +3steps)
Sharpness(-3 to +3steps)
Exposure Bracketing
With 1/3, 2/3, 1, 2, 3EV increments, 3 frames
Exposure Compensation
Still images: +/- 3.0EV (1/3EV steps), Movies: +/- 2.0EV (1/3EV steps)
Exposure Settings
iAUTO
Superior Auto,
Programmed AE (P)
Aperture priority (A)
Shutterspeed priority (S)
Manual (M)
Sweep Panorama
Scene Selection
ISO Still Images
Auto (ISO 100-3200), Selectable (ISO 100- 25600)
ISO Movies
Auto (ISO 100-3200), Selectable (ISO 100-6400)
Metering
1200-zone evaluative metering
Metering Modes
Multi-segment, Center-weighted, Spot
Metering Sensitivity
0EV-20EV, (at ISO 100 equivalent with F2.8 lens)
Noise Reduction
Long Exposure NR: (On/Off, available at shutter speeds longer than 1 second) High ISO NR: (High/Normal/ Low)
Scene Mode(s)
Portrait, Landscape, Macro, Sports Action, Sunset, Night Portrait, Night View, Handheld Twilight, Anti Motion Blur
White Balance Mode
Auto WB, Daylight, Shade, Cloudy, Incandescent, Fluorescent, Flash, C.Tem (2500 to 9900K), C.Filter (G7 to M7,A7 to B7), Custom
Drive Mode
Single-shot, Continuous shooting, Speed Priority continuous shooting, Self-timer, Bracketing, Remote Cdr
Self-timer
2s or 10s delay (single, continuous 3 or 5 frames)
Shutter Speeds
Still images: 1/4000 to 30s.
Movies: 1/4000 to 1/4 (1/3 steps) up to 1/60 in AUTO mode (up to 1/30 in Auto slow shutter)
Shutter Type
Electronically controlled, verticaltraverse, focalplane type
Flash Compensation
+/- 2.0EV (1/3EV steps)
Flash Coverage
FOV coverage up to 16 mm (in the focal length)
Flash Metering System
Pre-flash TTL
Flash Modes
Autoflash, Fill-flash, Rear sync., Slow sync., Rear Sync., Flash Off
Flash Type
External flash (supplied) attachable to Smart Accessory Terminal (sold separately)
Guide Number
7 (in meters at ISO 100 equivalent)
Recycling Time
Approx. 4 sec.
Self Timer
Yes (3 sec delay/Off selectable)
Still Image Playback Options
Single, 6/12-frame index view, Enlarged display mode, Panorama (Standard), Panorama (Wide): 34x), Auto Review, Image orientation, Slideshow, Panorama scrolling, Folder selection, Delete, Protect
Video Playback Options
Forward/Rewind
Easy Handycam/Help Function
Yes
Self Timer
Yes (3 sec delay/Off selectable)
Face Detection
On/On (Regist. Faces)/Off, Face Selection (maximum 8 detectables)
Smile Shutter Technology
Smile shutter (selectable from 3 steps)
Tracking Focus
Yes (object tracking)
Auto High Dynamic Range
Yes, (Auto Exposure Difference, Exposure difference Level (1.0-6.0 EV at 1.0 EV step), off)
Shooting Tips
Yes
Sweep Panorama
Horizontal (Wide/ Standard), Vertical (Wide/Standard)
HD Output
HDMI (TypeC mini), BRAVIA Sync, Photo TV HD
PhotoTV HD
Yes
Battery Type
InfoLITHIUM NPFW50 (7.2V)
Number of Still Images
Approx. 330 images (CIPA standard)
Power Consumption (in Operation)
Still images:approx. 2.7W(w/ E PZ16- 50mm F3.5-5.6 OSS lens attached)
Operating System Compatibility
Windows XP SP3
Windows Vista SP2
Windows 7 SP1
Mac OS X (v10.3- 10.8)
Dimensions WxHxD
4.36 x 2.3 x 1.53″ / 110.8 x 58.8 x 38.9mm
Weight
Approx. 7.7 oz / 218g (excl battery & media)
Approx. 9.7 oz / 276g (w/ battery & media)
Sony Nex-5r and 35mm f/1.8 OSS Lens – SEL35F18
Sony Nex-5r and 10-18mm f/4 OSS Lens – SEL1018
Nex-5r Open Box and First Impressions!!
Courtesy of BHPhotoVideo.com, the new Sony gear arrived in a timely fashion and was all packed nice as you will see in the HD video below!! I recorded the video using my Nex-6 and 18-55mm kit lens in using the 24p 24M (FX) AVCHD quality and format. I then used iMovie to produce the video and uploaded it using the 720P HD export option. The Nex-6 really did a nice job with the video tracking the focus as the camera spins ect..
Be sure to select the HD video quality option once the video starts!!
Nex-5n vs Nex-5r vs Nex-6
Owning the Sony Nex-6 and a completely dis-assembled Nex-7 (click here for pics and video), as well as reviewing the Nex-C3, Nex-F3, and Nex-5n (click for my reviews), I have a pretty handle on the evolution of the Nex camera line and the differences between the various models. The Nex-6 for example is significantly more expensive than the Nex-5R and is the additional expense justified?? Lets take a closer look shall we 😉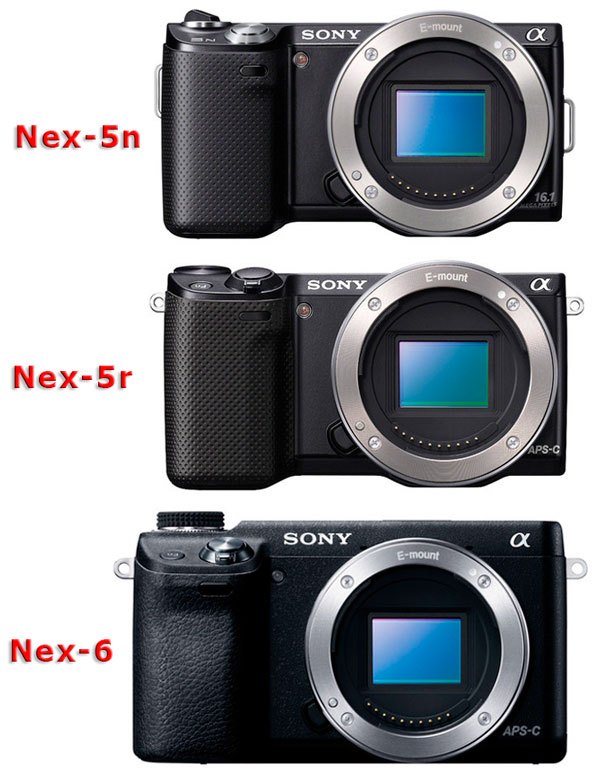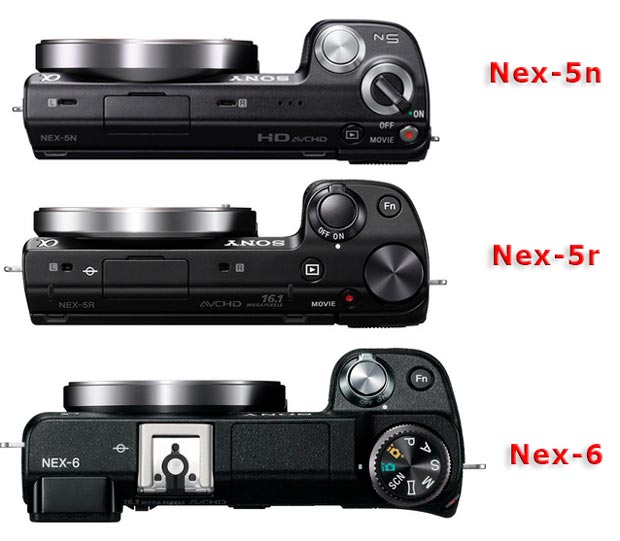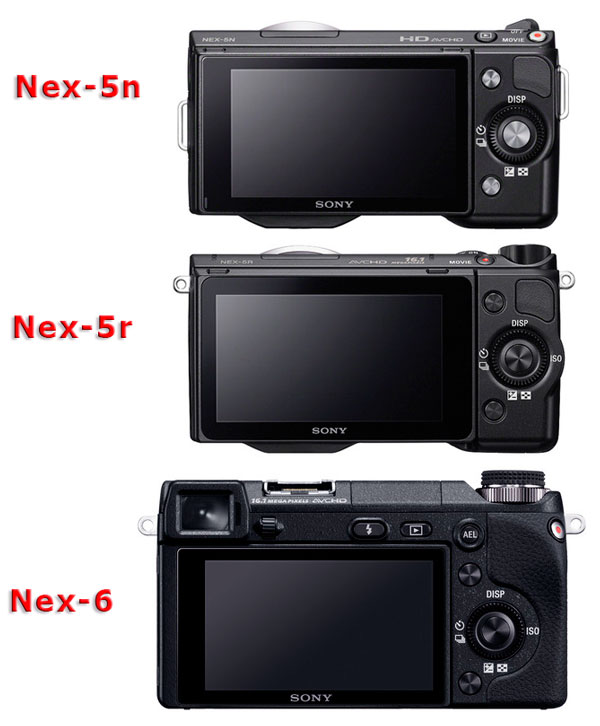 When you look at all three cameras like this side by side it's a bit easier to see the differences. First off, note how much larger the Nex-6 is compared to the 5 series cameras!! It's bigger and heavier with a more rugged build quality, the all important EVF, and lastly the powerful flash options. If those features matter to you, then the difference is price is justified 🙂 It was for me I can tell you for sure.
The 180 degree swivel/touch screen, smaller size, weight, and lower cost is all in the Nex-5r's favor though.
Current Prices as of 02/11/13
Nex-5n ~$459 @ Amazon | Nex-5r $548 @ B&H | Nex-6 $748 @ B&H
Nex-5r Build Quality and Design
The Sony Nex-5r has a very nice build quality to it just like the previous 5-series model. It's not the smooth metal skin that the Pro grade Nex-7 has, nor is it the rugged plastic the Nex-6 is wearing. Rather a very smooth and high quality plastic with much tighter tolerances than the Nex-F3. The screen is excellent and seems to have some very similar Nex-7 linkage on the back of the screen to allow for the downward tilt.
The quality of the 180 degree swivel screen hinge design is greatly improved over the relatively cheesy Nex-F3 design as I reviewed it Here >>. That was my biggest grip with the Nex-F3 by the way 😉  The Nex-5r hinges are almost totally self contained in comparison, and have a very rigid feel when swiveling. The Nex-F3 screen hinge design felt like it flexed a little bit, but I do not have that feeling at all on the Nex-5r, or the Nex-6 for that matter. My Nex-6 Review (Click Here) >>
The New Navi Set-up is awesome!! Just as god as the Nex-6 if you factor in the touch screen as buttons also. Manual mode is now cake with the dual wheels, and well planned button placement. The Movie record button is totally out of the way and is almost impossible to press by accident, but not so hard that you have to force your finger into the button cup. The record button can be a little hard to find when filming yourself from the front like I did in the Q&A with Jay – Episode #1, but that is totally expected and not the fault of the design in my opinion, just worth noting. The Nex-5r performed awesome in that Q&A video by the way and the focus tracking on my face was great in my opinion.
Some Nex-5r Sample Photos
I took a lot of sample photos for this Sony Nex-5r review so far, using the 35mm f/1.8 OSS Lens in RAW Quality mode. I then exported jpegs at 65% quality at 1200px from Lightroom 4 with very minimal adjustments.
Very low light with a fast moving target shooting at f/1.8 Auto ISO.  Did a pretty good job although slightly soft which is excepted for such low light, contrast AF only for these photos as the new firmware was not out yet. Get the new Nex-5r firmware here>>
Click on the Photos for the larger 1200px version!!
A nice murual down the road from where we live. Starting to fade these days, but I always enjoy looking at is as I drive by. This is actually the first time I took a photo of it believe it or not 😉 The 35mm f/1.8 OSS Lens is very sharp!!
Click on the Photos for the larger 1200px version!!
I used the flexible spot auto focus mode for this photo and set it to the far right of the LCD screen.
Chubs is getting lazier by the day 😉
Street scene as I was getting back into the car.
Lastly for now, my favorite Blue Angles plane resting in it's spot at the local park.
Street Scene with very little detail and lots of bokeh;)  Loving the 35mm f/1.8 OSS Lens!!
Optical SteadyShot using SEL35f18
Low Light, Slow shutter speed, Handheld @ 1/20th Second:
Nex-5r High ISO Sample Photos
I did some Nex-5r High ISO testing today using the SEL1018 lens and I'm pretty pleased with the results. I was shooting RAW and did no adjustments to these photos at all other than exporting from Lightroom  4 at 60 percent quality jpeg images and re-sized to 800px.  I have the full version and the 100% cropped version of each High ISO photo ranging from ISO 1600 to ISO 25600!!
ISO 25600 is really not that bad when viewing small or from a distance, but it has a nasty purple color cast to it, and the noise is really degrading to the detail. Still could be used if you really like grain in BW I suppose in a pinch. I would rather have the option than not have it though personally. Up to ISO 6400 is really good though with ISO 12800 being the deciding noise tolerance in my opinion.
See and judge for yourself below!!
Be sure to Click on these smaller images for the true 100% Crop which is ~800px for each of these test shots.
Nex-5r – Dynamic Range Testing
If your fairly new to photography, or been around the block a while, your most likely aware of the RAW vs JPEG debate?? Well, let me sum it up for you if not: Raw files are much better quality than jpeg files for a number of reasons, but mostly because the jpeg file is compressed. Raw files are totally uncompressed, take up more memory card and hard drive space, and require more work on the computer usually. The theory is you should get the "correct" exposure on the camera every time, and therefore jpeg should be fine if you know what your doing. Well, fair enough to that argument I suppose, but in the real world S*%# happens and the Brides dress totally blows out in the direct sun, because your were exposing for the face ect.. It often pays to have the security and editing latitude of a raw file when re-shoots are not an option. You will see what I mean below!
Take a look at this photo I took outside with my newly repaired Minolta 58mm f/1.4 Rokkor Lens mounted on the Nex-5r @ f/1.4 in the bright snow. Needless to say the exposure blew out at such a fast aperture in the bright sun even at ISO 100.
Now take a look at the same file with some Lightroom 4 adjustments to bring back the detail that is hidden inside the file!! Note: If this was a jpeg file, adjustments like this would not be possible!!
Here is what the histogram and exposure adjustments I made in Lightroom 4 look like for the two images above:
Ultimate Dynamic Range Scene
Here is another scene ranging from all the way bright to all the way dark. First lets take a look at the original raw file and the histogram from lightroom. Then I will show you what the camera actually captured!!
Center Crops
Here is another sample photo showing off some serious dynamic range!! The Nex-5r handles it very well though as expected.  I'll show you the histogram from Lightroom 4 first:
Nex-5r Sample HD Video
In this Nex-5r Review I wanted to make sure I got some decent sample video and I think I did with the E-Mount 35mm f/1.8 OSS Lens and the Ultra Wide angle 10-18mm f/4 OSS Lens. I took some real world sample footage in the house of Layla with low light @ f/1.8, and the SEL35f18 lens performed excellent in my opinion, as did the Nex-5r.  More comments on the video to fallow 😉
The New Hybrid AF sensor does work during video with supported lenses!!
Also, be sure to select the HD Video Quality in the player preferences once the video starts playing!! It looks like a little gear on the bottom right, and will insure maximum quality playback.
Video Analysis continued..
It's also important to note that the Nex-5r video gets compressed when it's uploaded to YouTube and the artifacts in the shadow areas are noticeable worse than that on the original video. I recorded using 24p FX quality which is the best option for real world footage.
The Manfrotto Magic Arm with Super Clamp was used in a variety of mount configurations to get the video footage on the bridge and in the car. It really works awesome and Be sure to Check out Monico's article on the Articulating Magic Arm (click Here) which is where I learned about it 😉
Here's what the Manfrotto Magic Arm with Super Clamp looks like in action:
Nex-5r and Real HDR Photography Sample Photos
If your a fan of my reviews, then you probably know I love HDR photography!! As such, I got some killer HDR examples with the Sony Nex-5r  using multiple exposures via the bracket feature in the menu!! Unfortunately you have to touch the camera to fire off the bracket shots, but the new remote might fix this over-sight.
I used Photomatix Pro 4 for these HDR Photographs as it's my preferred software for this type of photography by far.
For the camera set-up I was using the multi-shot bracket feature in the menu, which can be accessed by pressing the left directional button on the rear thumb wheel. Once in that menu you will see a options button associated with the lower soft key. Selecting that will allow you to chose your EV spread!! I chose a 2 EV spread which means the camera will take three photos at -2,0,+2 exposure values. I was also using ISO 100, f/7.1, average metering mode, and Auto WB encase you were wondering!!
I then took those three exposures and processed them in Photomatix pro 4. I then used Lightroom 4 and Photoshop CS6 to fine tune the editing and polish the hdr photo. I have detailed tutorials on how to do this step by step if your interested, but that was the basic workflow I used. All HDR Photography Tutorials Here >>
In this first photo I was using the ultra wide angle 10-18mm f/4 OSS lens and Manfrotto tri-pod with trusty Gitzo Ball Head 😉
Enter at your own risk!!
100% Crops:
This next scene you will recognize from the sample HD video above as Fallsburgh Falls. I took this Nex-5r HDR photo from the railing where I had the camera mounted earlier for the video. I used 3 exposure's for this image just like the HDR sample photo above!
This next Nex-5r HDR scene was a pretty deep alley that looked pretty interesting to me and a great test for the depth of field and color/detail of the buildings.
An HDR street scene I took while crossing the road from the alley above 😉
As you can see by these Sony Nex-5r HDR sample photos, the mirrorless camera is more than capable of doing a great  job with it's very high quality 16mp sensor.  The Nex-5r also has an Auto HDR feature, but I did not get a chance to use it yet. Basically, the camera takes three shots for you at your chosen EV range, and then pumps out a HDR Jpeg image of the scene!! It works really well actually, but not as good as using Photomatix 4 and Photoshop to polish up the image. Here are some AutoHDR's taken with the Nex-6 which is basically identical for this feature >>
Auto HDR vs Normal Exposure Sample Photos
First the Nex-5r default exposure so you can see what the camera would normally do, then the Auto HDR @ 4ev sample photo.
Note the highlight and shadows detail on the 100% Crops in particular of this creepy abandoned house!! To learn more about Auto HDR and how to use it, check out my detailed tutorial using the Nex-7 (Click Here)
Nex-5r Auto HDR @ 4EV
you can see here how the shadows are filled in with more detail, and the highlights are backed off on brightness, and also have more detail retention. The Auto HDR feature works excellent in the right situations. This type of scene being a perfect example of where Auto HDR shines.
Sony Nex-5r – Portraits and Family Sample Photos
Had some fun with the Family on Sunday celebrating my Dad's 65th B-day 🙂 We had a great time and some killer steak and desert. All these photos are shot with the Nex-5r in Raw quality developed in Lightroom with very minor adjustments. Exif info is in the caption just below the image. I also included a few 100% crops so you can see the incredible sharpness of the SEL35F18 lens and Nex-5r Combo!!
Be sure to
click on the Photos

for the sharp full size version!!

Yummy dinner 🙂
Apps
Sony also offers Apps for the newer cameras with wi-fi, and they basically add features to your camera like Time-Lapse Photography, or Illustration Mode for example. Both features I love by the way 😉 Check out all the available Apps at the PlayMemmoriesCameraAppsPortal (Click Here)
All Currently Available Sony Camera Apps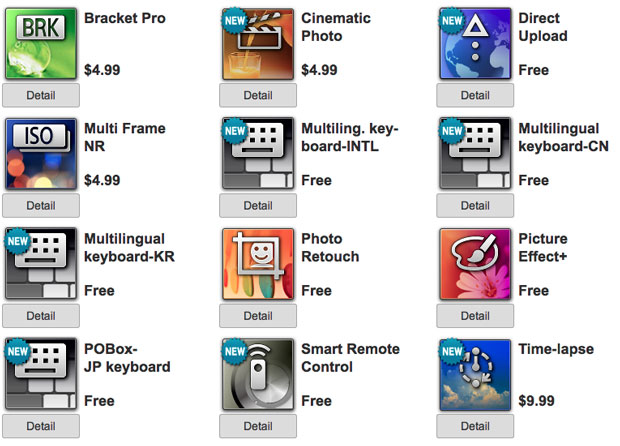 Sony Nex-5r Video Review
Be sure to Select the 720 HD Option for the best viewing experience and quality!!
Popular Accessories for the Sony Nex-5r
With the Multi-interface Smart Accessory shoe, the Nex-5r can be upgraded with some serious power for a variety of purposes. Flash, Microphones, Viewfinders, ect.. In addition to the shoe accessories, we have other must have accessories are batteries, cases, memory cards, ect..
Nex-5r Review – Conclusion
In this detailed Nex-5r review I learned that I wish my Nex-6 had the 180 degree flip screen!! That feature is awesome for recording yourself as you can see the frame easily if you move around while filming and verify the focus accurate ect.. Without this, you can record a whole segment and then review it over realizing you moved a foot to the left in the frame and it's garbage. Re-takes are nipped in the bud when you can see the screen while recording and when you want to hold something really close to the camera, you can insure focus accuracy live. I can use the hdmi output on my nex-6 and a monitor, but it's not as convenient as it being built in like the Nex-5r has.
The build quality is a perfect blend of rugged, yet classy in my opinion with the sharp smooth black finish and design. The grip is great, although a bit smaller than the Nex-6 when you actually hand hold them. It's not quite as deep for your finder tips, although deep enough to to the job very well. The bumped up tri-pod mount is not the best design for overall strength, but when you attach a quick release plate for your tri-pod, it overlaps the metal E-Mount ring making a bridge. If a heavy lens was attached the weight would be distributed across the E-Mount and the tri-pod mount as a connected unit. Pretty rock solid when my Gitzo plate was tightened down snug, The screen is also able to open and tilt up and down fully with the plate attached thanks to it's crafty double hinge design.
Sony has refined and ironed out almost every wrinkle with the latest Nex-5 series ILC mirroless camera, and other than limited battery life, I can't really think of any major issue or short coming. Especially for the price point of $598 US. One could argue no EVF, but you can get one if you need it, and the price is way less than the Nex-6 that has the EVF, so it's a mute point really in the end.
In the end, the Nex-5r and it's killer 180 degree self recording flip screen is awesome and makes it a really valuable tool for folks who like to tell a story via song writing, filmed poetry or screenplay type stuff, or flat out armature movie making!! If you using the camera mostly indoors you won't need the OLED EVF that the Nex-6 has, but if your a bright mid-day outdoor shooter, your going to want the viewfinder for sure. It's worth considering the Nex-6, or Nex-7 for your convenience and more rugged build quality being in the outdoors anyway 😉
I hope you all enjoyed my Nex-5r Review and please feel free to ask questions and comment below before I send the gear back!!! Both E-Mount lenses I used will have full individual reviews, so stay tuned for those!!
Thanks again for your support, and I'll catch up with you guys on the forum, and Google+ ect. Have a great weekend!!
Jay
Nex-5r B&H Direct Links:
Your support is greatly appreciated as we run this site in our spare time and are not paid. We can however, make a small commission if you click a product link that your interested in. That click will then give us credit if you choose to purchase any given item. This has no effect on the cost of the product, and is a simple way to give back to SonyAlphaLab.com for the effort and info we provide.
Tip Jar: https://www.paypal.me/SonyAlphaLab
Support SonyAlphaLab by becoming a | Patreon
Also, be sure to keep following us on Google+ | Twitter | Facebook |
Direct Shopping Links – Thanks for your Support!!
BHPhotoVideo | Amazon – US | CA | UK
Thanks,
Jay