Review
In this Sony FE 90mm f/2.8 Macro G OSS Lens Review I will go over everything you need to know including: Hands-on Lab testing w/ New HO Model Train, Real World Macro scenarios including: Ants, Spiders, Flowers, and some Portrait testing with Layla and Bones Jones…
Sony fans like myself, have been eagerly waiting for a Native Full Frame E-mount Macro Lens for some time. The FE 90mm f/2.8 Macro G OSS Lens offers everything I was looking for in a macro lens and delivers on it's promise of G quality optics.
So the lens has a fast f/2.8 aperture and has built in optical steadyshot which makes for much easier hand holding at those slower shutter speeds. It also helps when using high magnification which can also make the camera shake harder to deal with and force a higher shutter speed and intern higher ISO level than desired.
I really went into great detail in my video review of this lens below, so I will try to keep this written review article from being completely redundant.
Basic specs that matter with this lens are the fact that it offers a Direct Drive Super Sonic Wave AF Motor on top of the Optical Steadyshot built in. The lens also offers two manual switches. One to easily shut off OSS and the other to limit the focus distance range if desired. The front larger focus ring also ricks forwards and backwards to quickly and easily enable/ disable manual focus. The price tag for this  90mm f/2.8 macro beast is $1098 US, and in my opinion it's worth every penny.
Also, the focus is completely internal so the lens does not grow as you turn the focus ring.
Key Features:
E-Mount Lens/Full-Frame Format
Aperture Range: f/2.8 to 22
1:1 Magnification Ratio; Internal Focus
Aspherical, ED and Super ED Elements
Nano AR Coating
Direct Drive Super Sonic Wave AF Motor
Optical SteadyShot Image Stabilization
Focus Hold Button & Range Limiter Switch
Sliding Focus Ring for AF/MF Selection
Minimum Focus Distance: 11″
effective 135mm on APS-C Mount cameras (A6000)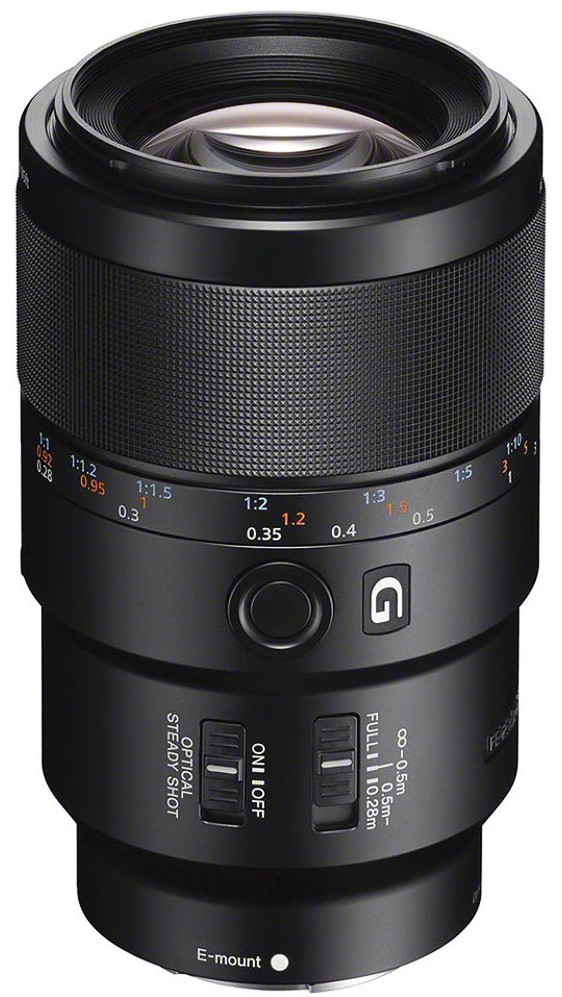 Sony FE 90mm f/2.8 Macro G OSS Lens Review
Everything you need to know about the FE 90mm f/2.8 Macro G OSS Lens is in my youtube video review below.
Sample Photos
I took a lot, so strap in!
First some Lab Testing:
All these sample photos were shot in Raw Quality with my slightly older full frame Sony Alpha A7r.
Click on Images for ~1200px Versions! 
Here is another angle which illustrates just how much separation you can get in my Lab scene. Good for comparing against smaller sensor cameras depth of fields in particular 😉 Trains trains and more trains…
and another angle this time much closer to the train itself…
And this version is the same exact frame as above, but completely out of focus so you can see the bokeh render with the train light and all.
Some Coin Testing in the Lab
I enhanced this file slightly so you see a non raw version…
Real World Sample Photos
I took a nice variety of real world sample photos with the FE 90mm f/2.8 OSS Macro G Lens via my Sony A7r.
A few bugs first.
Same image s above but zoomed in to 100%
Some flowers 
Same photo as above, but cropped in a lot to show 100% crop detail:
Some sun back-lit action.
Sample portraits
Same image as above zoomed in to 100%
Some randoms…
I recently reviewed the Sony 4k FDR-AX33 Camcorder and I took a snapshot while it was on the turn table and focused on the USB plug. Note the depth of field and how fast it falls off to out of focus!
Conclusions
5 Star Rating from SonyAlphalab! 
I really enjoyed using the FE 90mm f/2.8 Macro G OSS Lens and highly recommend it for those wanting top quality telephoto full frame e-mount macro abilities with fast, silent auto focus, plus optical steadyshot built in.
I had a blast using this lens and would love to own one if I could only afford it. Unfortunately I can't afford such things these days and had to send my review unit back to BHphoto. I honestly can say I was very impressed by this lens overall and highly recommend it is the bottom line 😉
For $1098 US you get everything promised by the marketing materials and I'm really glad Sony decided to create this gem for the Full frame E-mount camera line. They could have came out with a cheaper unit a long time ago, but they waited and waited until it was fully baked.
Bravo Sony and the FE 90mm f/2.8 Macro G OSS Lens gets a 5 Star Rating from SonyAlphalab! 
As always, please feel free to ask questions or comment below. I will try my best to answer all new questions in a timely manner and greatly appreciate your feedback on the reviews as well. I'm always looking to improve, so please don't hold back. I do already know my spelling/ grammar are terrible, but I am trying to get better at that I promise!
FE 90mm f/2.8 Macro G OSS Lens for $1098 US @ BHphoto
Support Links:
Please consider using our links thins holiday season when making your purchases! It gives us a small referral credit and helps pay for the ever growing website costs and maintenance issues. Hacking security is the lasted thing I had to invest in…  If  you really want to help out, please consider using All the Vender Links This Way >>
FE 90mm f/2.8 Macro G OSS Lens for $1098 US @ BHphoto
Your support is greatly appreciated as we run this site in our spare time and are not paid. We can however, make a small commission if you click a product link that your interested in. That click will then give us credit if you choose to purchase any given item. This has no effect on the cost of the product, and is a simple way to give back to SonyAlphaLab.com for the effort and info we provide.
Tip Jar: https://www.paypal.me/SonyAlphaLab
Support SonyAlphaLab by becoming a | Patreon
Also, be sure to keep following us on Google+ | Twitter | Facebook |
Direct Shopping Links – Thanks for your Support!!
BHPhotoVideo | Amazon – US | CA | UK
Thanks,
Jay