Review
In this Sony FE 70-200mm f/4 G OSS lens review I will go over image quality and usability in the real world using both the A7r and A6000 for camera bodies. The SEL70200g lens has been a long awaited addition to the e-mount lens line-up, and is really essential for any active working photographer looking for the best quality optics and a versatile zoom range for portraits, weddings, photojournalism and much more… The FE 70-200mm lens is not exactly cheap at ~$1498 US, but you do get a very high quality product that does deliver as promised in my opinion. Killer image quality comes off this lens as you will see tons of samples below.
SEL70200G – Key Features



Full-Frame E-Mount Lens
Aperture Range: f/4.0-22
ED & Aspherical Elements
Nano AR Coating
Dual Linear Motor Autofocus System
Optical SteadyShot Image Stabilization
Dust and Moisture-Resistant Construction
Minimum Focus Distance: 39.3″
Focus Hold and Range Limiter Controls
Panning Mode
Rounded 9-blade aperture
Removable Tripod Collar
screw-on filters 72mm
Parfocal Lens – maintains focus when zoom
Build Quality, Design, and Features
The SEL70200G lens is well made and feels really good in the hands, although really large compared to almost all other E-mount lenses I've used in the past. Basically your left hand supports the lens while your right hand holds the camera. I like to swivel the tri-pod mount to to the left side a bit so it rests in the palm of my hand during hand held shooting. This creates the perfect amount of space for my fingers to control the zoom or focus easily without having to let go of the lens weight. Zooming otherwise tends to twist the camera a little more until you get some practice. Again, it's just my preferred method and really helps support the weight in a more efficient manner for me.
Sony gave the 70-200mm e-mount lens some basic weather sealing which is awesome, because the full frame A7-series cameras also have this basic weather sealing to match. This lens is significantly lighter weight than the A-Mount version, because it's f/4 and designed for the smaller lighter E-mount cameras. Sony really did a pretty good job saving weight while also adding OSS.
Focal length equivalent to 105-300mm on the APS-C crop factor cameras like the A6000 or Nex-6 for example.
A-Mount 70-200mm f/2.8 G Lens and E-Mount 70-200mm f/4 OSS G Lens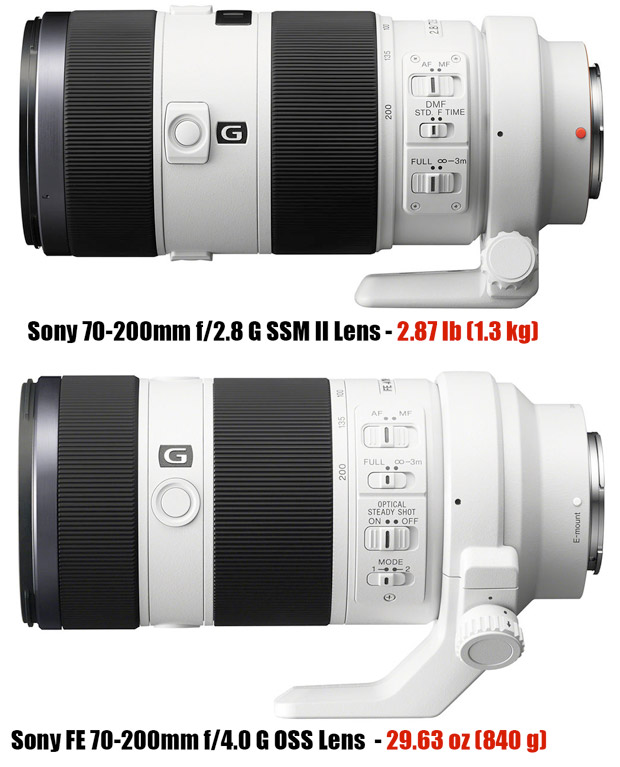 The SEL70200G lens features the latest Nano AR coating technology which helps combat lens flare issues and internal reflections that will often cause a noticeable loss in contrast. Aspheric Elements  inside this lens consist of: 2 advanced aspheric, 1 aspheric, 1 super ED, and 2 ED elements. That is really high quality optical glass and helps justify the price of this lens in case you are wondering why it is so expensive compared to some other e-mount lenses.
Also featuring four toggles on the side. A Mode switch for better panning results and 3x focus lock buttons to also help in various situations. Built in Optical steady shot is the latest and greatest and it can also be turned off with ease by using the toggle switch on the side of the lens. AF and MF also has a dedicated toggle switch, and last but not least is the range limiter toggle switch. This is a great feature if you are working near a fence for example. The lens will not focus on anything closer than 3 meters when this option is set. I have used this feature a lot over the years and it's awesome to have on a lens like this. You may think you will never use it, but then at some point your camera will keep focusing on something in the foreground that you don't want and you will say, "Oh yeah, that focus limiter toggle will help me with this issue" 😉 People in front of you at a ballgame or concert is another example where this comes in handy. I usually have it set to full though in most situations.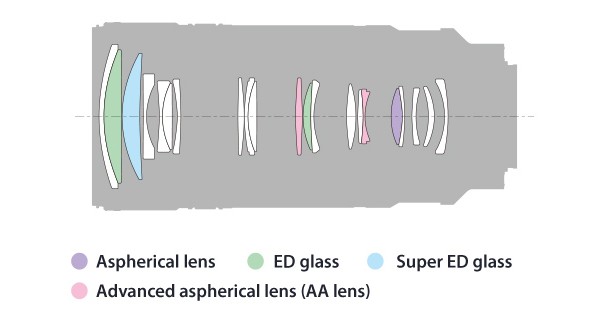 Above is a lens elements view illustration of the selp70200g lens courtesy of Sony.
Lab Sample Photos
I have a lot of Lab Sample Photos due to the multiple focal lengths of the zoom lens being tested. All of these files are were shot raw quality using a tri-pod and were then imported into Lightroom 5 where the Lens Correction Profile was applied. The distortion on the 70-200mm is really well controlled, so I don't need to show as many samples of that in my opinion, but did include a few. I also used the 36mp full frame A7r for the lab test photos, so the sel70200g resolution really gets pushed to the max.
Please click on the photos for the full 100% Crops that are ~1000px.
I took a few random lab photos at 200mm first.
200mm @ F/4
First with No lens correction so you can see the mild barrel distortion.
More 200mm Lab Photos
~100mm Lab Photos
First with No lens correction so you can see the mild barrel distortion @ ~100mm.
70mm Lab Photos
Real World Sample Photos – Raw Quality
I have so many sample photos it is crazy, so I will just show you the most relevant to what the lens is capable of doing on the Sony A7r and the newer A6000 for those interested. I am also posting on the Forum (Click Here) a lot lately, so be sure to check over there for edited raw files, hdr's, and all sorts of user photography.
I always love to take photos of Layla because she grows so fast and she's my girl 😉 So, here are a bunch of Layla photos in a gallery style format with all the exif data attached so when you click the file it will display alone the bottom. You can then just click on the right or left side of the image and go to the next photo in the gallery. Michele also took a few of these photos below.
Here are a few more family shots that Michele helped with as you will see me in a few 😉
Random Shots that I kinda liked and show off what the lens can do. Note the slow shutter speed on the outlet box of only 1/20sec hand-hold with the A7r! I took several shots at slow shutter speeds with success, but 1/20sec was the slowest I was able to achieve with the full frame clunky shutter packing A7r.
If you are wondering what that bracelet looking thing is, check out this article on the forum: Camera Wrist Straps >>
Car Show Photos
even more dog photos taken with the Sony A6000 which can be viewed in that detailed review here >>
Sony FE 70-200mm f/4 OSS G lens Video Review
Be sure to click the HD Quality once the video starts playing by selecting the little gear in the lower right of the player window 😉

Notable SEL70200G Lens Accessories:
From Sony:
More Quality Lens Filters:
SEL70200g Lens Review Conclusions
The Sony FE 70-200mm f/4 G OSS Lens is an awesome lens bottom line. I highly recommend it and would love to own it myself honestly. It works great on my full frame A7r or crop factor Nex-6 for that matter. On the A6000 the lens performed excellent and was able to maintain focus with moving subjects no problem. The f/4 does force the camera to use a higher ISO then ideal in some low light situations, but if you have the A7s that is no longer an issue! Only if you have the A7 or A7r and hit above ISO 6400 does it really get noticeable. F/2.8 would certainly help with this, but the size and weight is just not practical for the lightweight camera body and smaller design.
User Experience
Other than the bulkiness of the lens that may take a while to get used to depending on your experience, the SEL70200G is a pleasure to use. The Vertical Battery Grip which I recently reviewed Here,  did help leverage the lens a lot and I recommend it for extended hand holding. Buttons are well placed, focus and zoom rings feel excellent, The OSS works as promised and the results are what you pay for and expect from a Sony G lens at this price point.
Optical Quality
The optics are very good on the SEL70200g and only a little softness in the very corners on lab testing at f/4 and f/5.6.  f/4 is noticeably softer than f/5.6 in all scenarios and gets even sharper at f/8. Contrast and flare are very well controlled when using the huge provided lens hood. The lens does have a little barrel distortion, but nothing compared to the recently reviewed PZ 18-105mm f/4 OSS G Lens (Click Here). The Lightroom 5 lens profile does a great job fixing the mild distortion. It's barely noticeable in the A&B samples images above w/and w/out lens correction so you can see for yourself.
Image Quality
Images come out awesome using this lens on either the APS-C cameras or the full frame A-Series cameras in the real world. Using Raw quality the contrast and color is excellent in my opinion, Sharpness is totally acceptable at f/4 and when stepped down to f/5.6 is really sharp. f/8 is razor sharp from the real world testing I did and in the Lab. 200mm is a little softer in the corners than the other focal lengths tested in the Lab, but real world the images at 200mm all looked great in my opinion.
That is about it for this e-mount lens review, but I will be adding the HD Video review version asap, so be sure to bookmark this page and check back in a few days if it's not up by the time you read this 😉
Thanks as always for checking out my Sony FE 70-200mm f/4 G OSS Lens review, and I really hope you got what you were looking for. Please feel free to ask questions and/or comment below as always. You support is also greatly appreciated!
Support Links:
Sony FE 70-200mm f/4 G OSS Lens for ~1498 US @ BHPhoto