Review
In this Sony full frame E-Mount lens review I will cover the FE 24-240mm f/3.5-6.3 OSS Lens in detail using lots real world photography and the lab for testing. I have a highly detailed must watch HD video review below plus a ton of high res sample photos to illustrate exactly what this lens can do. The lens has a huge range which makes it an all-in-one for the full frame e-mount camera system. This lens is ideal for those looking for the maximum versatility possible in one lens.
I used my Sony A7r for this review and my Nex-6 for some crop factor camera testing 😉 Take a look at the SEL24240 mounted on my A7r at the green bridge. The camera and lens photos were taken with my Nex-6 and the 18-55mm kit lens encase you were wondering…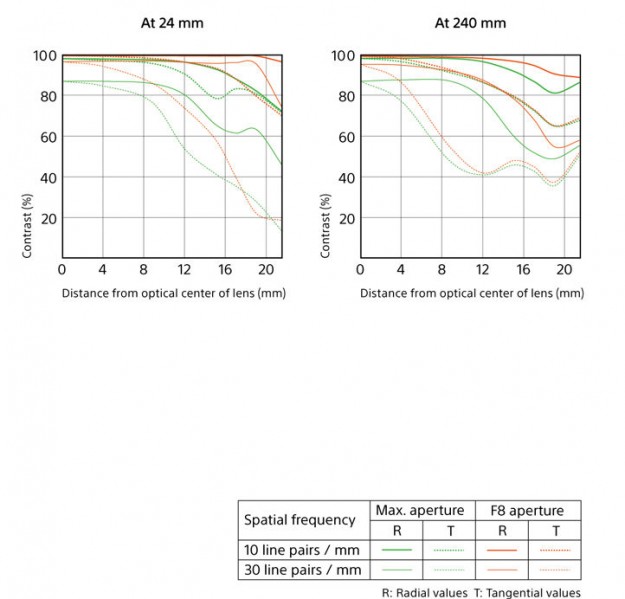 E-Mount Lens/ – Full-Frame Format
Aperture Range: f/3.5-6.3 to 22-40
36-360mm Effective on A6000
One ED and Five Aspherical Elements
Linear Motor AF System
Optical SteadyShot Image Stabilization
Internal Focus; Physical MF & Zoom Rings
Minimum Focus Distance: 19.7″
Dust and Moisture Resistant
Filter Diameter: 72mm
Circular 7-Blade Aperture
1.72 lb (780 g)
Video Review – SEL24240
Hi everybody, In this Sony FE 24-240mm f/3.5-6.3 OSS Lens Review I will cover everything you need to know with detailed real world photography, lab testing, and sample video. I also took a little sample video and tested the lens on my crop factor Nex-6 camera for an effective 36-360mm focal length range. I really hope you get what you are looking for in this review and please feel free to ask questions or comment below as always 😉
Real World Sample Photos
Please click the photos for the ~1200px versions which are sharper and more crisp!
All lenses have flaws and this lens suffers from some corner softness and distortion. In the real world it's often hard to tell however unless the lines are horizontal or vertical. When shooting in Jpeg mode the camera fixes all the lens flaws depending on your settings, and it does a really good job. The camera basically takes the raw file and completely processes it for you delivering the final product jpeg image. Advantages to this are way less work on the computer and therefore huge time savings. Downside is the Jpeg files are processed already and can't be edited near as much as a raw file.
240mm offers some great separation from the backgrounds and in this snapshot below you can see what I mean.
24mm on a full frame camera is pretty wide-angle and you can notice the distortion as well. This container is now gone btw, which made me sad, because I used to check it out on the way home from work everyday to see how the light danced around it… I wonder what was in it? Oh well.
A quick focal length test, raw quality:
24mm
100mm
240mm
The abandoned pool just down the road from my house, in jpeg quality Click Photos!
My boy Jase inside, low light, jpeg quality.
Bones Jones:
Same spot different focal lengths, jpegs
24mm:
240mm
152mm
49mm
240mm
100% Crop:
A few more random shots I liked:
Street Scene Testing @ 24mm, F8, Jpeg Quality – Click Photos!
Street Scene Testing @ 100mm, F8, Jpeg Quality – Click Photos!
Street Scene Testing @ 240mm, F8, Jpeg Quality – Click Photos!
36-360mm Effective Focal Length on Nex-6 Testing
24mm = Effective 36mm
240mm = effective 360mm
Some people pictures 😉
My family came up to NY from Texas for a visit this week and my Newphew David took a few great photos with the lens of the family in particular. A few snapshots from a totally new user's hands…
My brother Chris:
My boy Jase:
My Dad calculating something:
Sarah coloring away.
The family that was at my parents house got together for a quick snapshot and I was nominated to take the photo 😉  The 24-240mm lens was a great option for the job and I knew I could adjust the zoom as needed. The 10 second self timer on my A7r and step stool was used to hold the camera. Clearly should have had a tri-pod, but anything will work in a pinch…
Lab Testing
I dedicated an article to lab testing and you see that this way: FE 24-240mm f/4 OSS Lens – Lab Testing Photos
Conclusions
As I said in the video review, I think the FE 24-240mm f/3.5-6.3 OSS Lens is good value for the dollar considering the range and overall good image quality of the unit. It's no as sharp as the Zeiss lenses or even the Sony G lenses, but it costs $998 US and covers a huge range of 24mm-240mm, plus is fairly compact. No other options exist for the full frame e-mount yet, and if you require better optics, the FE Zeiss 16-35mm f/4 OSS Lens, FE 24-70mm f/4 OSS Lens, and the FE 70-200mm f/4 G Lens are available. Perhaps Tamron will offer a solution soon? We shall see…
The build quality is pretty good on this lens although it's fairly heavy at nearly 2 pounds. It's dust and moisture resistant and the zoom ring is rubber while the focus ring is much thinner and plastic feeling. Lens caps and hod fit nicely as expected.
Considering the range, the lens is quite compact at only 4.75 inches when in the 24mm position. 72mm filter thread, Optical Stabilization, Silent and pretty fast auto focus,  a 19 inch minimum focus distance @ 240mm, and a 36-360mm effective focal length on the crop factor cameras are also key features of this lens.
Considering the cost and limited range of the current Sony Zeiss and G lens zooms, the SEL24240 is a good option in my opinion for those looking for an all-in-one solution. Perfect for a photo walk or hike without the gear bag, or for vacation where bringing more than one lens is not always practical.
I really enjoyed using the lens and something like this would be perfect for my current personal life as far as family photos and capturing the moments that matter. Soccer games, birthday party's, and other family gatherings are mostly what goes on, and this lens is a great option for almost all activities.
Low light, this lens is not ideal with the slower apertures when zoomed in, but at 24mm it's f/3.5 and that is not to shabby when combined with OSS.
I really hope you got what you were looking for in this review and please feel free to ask questions or comment below as always,
Jay
FE 24-240mm f/3.5-6.3 OSS Lens for $998 US @ BHPhoto (Click Here)