Review
In this Sony Vario-Tessar T* FE 16-35mm f/4 ZA OSS Lens review I will cover as much real world photography as possible using both the 24mp Sony A7 II and my 36mp A7r full frame mirrorless cameras. I used both raw and jpeg modes so you can get a good feel of what the camera can do on it's own, and so you can see the raw output, plus potential when edited.
Now, 16mm on a full frame camera is in the "ultra wide" category and this caused the lab scene to not work very good as I will show you. So, real world will have to work for the ultra wide angle corner testing shots. I do have some lab shots I will show you though, don't worry.
The SEL1635Z is full frame coverage E-mount lens and it has built in OSS which works awesome on the A7 II in particular, but also very good on my A7r.
Sony Vario-Tessar T* FE 16-35mm f/4 ZA OSS Lens
This first thing I noticed is the relatively light weight considering the size and range, but it is only f/4. f/2.8 would be much larger and heavier. Next thing that I noticed was the zoom rotation was opposite from what I'm used to. Below is the lens mounted to my A7r at both 16mm and 35mm for visual reference and some scale.
Here she is mounted to the A7 II with the lens attached as well.


SEL1635z – Key Features


Full-Frame FE-Mount Lens
Aperture Range: f/4.0-22
ED & Aspherical Elements
Zeiss T* Coating
Silent Autofocus and Aperture System
Optical SteadyShot Image Stabilization
Dust and Moisture-Resistant Construction
Circular Aperture, 7 Blades
72mm Filter Thread
Real World Sample Photos
Here are a few sample photos that will show off what this lens is capable of in various situations. Please click on the photos for a higher resolution versions and note the caption data just below each image for the aperture and focal length info. I used my A7r and raw quality for most of the sample photos, but the new Sony A7 II was also used for a few images in Jpeg quality. The Sony A7 II Review is Here if you missed it >>
Same scenes using different focal lengths
16mm
34mm
Here is another building this time standing in the same spot for reference.
16mm
24mm
35mm
Drastically different scenes from almost the same spot, just a different focal length 😉
16mm
Please click on the photos for a higher resolution versions ~1200px
35mm
Some noticeable chromatic aberration in the high contrast areas when shooting Raw quality. This can easily be corrected in Lightroom or equivalent program though of course.
Here is another building I drive past all the time and made for a nice real world sample photo I thought 😉
Please click on the photos for a higher resolution versions ~1200px
16mm on the full frame camera allowed me to get this really stretched out perspective view of the bridge including some horizontal span above.
I edited this next photo a bit using the Nik filters and Lightroom 5. I was able to get much more drama out of the clouds and metal with the edit.
Separation Examples @ F/4
At 35mm you can get some solid separation even with the arguable slower f/4 aperture.
Bones outside using 35mm at f/4 to get the most separation possible from the background. Note the rich colors and punchy contrast, even when shooting raw quality.
Please click on the photos for a higher resolution versions ~1200px
A familier scene that really shows off the killer separation and Zeiss rendering quality.
Even at 16mm f/4 you can some killer separation when using the minimum focus distance!
Optical SteadyShot on the A7r
This next photo was taken at 1/30sec using my A7r hand-held.
Taken at 1/15sec using my A7r hand-held.
F/8 and some steel
Shot these with the New A7 II in Jpeg quality @ f/8.
Long Exposure Fun
A few longer exposure night scenes.
Please click on the photos for a higher resolution versions ~1200px
Lab Testing
35mm, f/4, minimum focus distance, bokeh testing
16mm just doesn't work for the corners and being this close also means the lens has to be perfectly aligned which is very difficult. So, take a look at the full scene and a center crop for reference.
16mm, f/4
24mm, f/4
35mm @ f/4
35mm @ f/16
Conclusions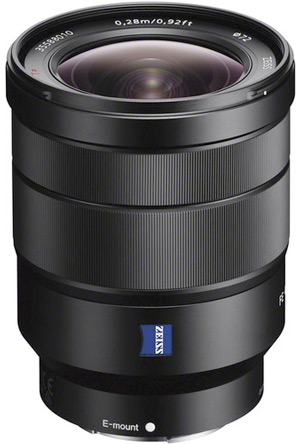 So as you can see by this Sony Vario-Tessar T* FE 16-35mm f/4 ZA OSS Lens Review, The lens is quite capable! I really enjoyed using the lens so the user experience factor is high, no question. Image quality is excellent overall although not perfect in the corners and with some stretching distortion.
The colors are rich and the contrast punchy thanks to the Zeiss T* coatings. This is noticeable when shooting raw in particular I notice as the images don't seem as flat or dull compared to when using the kit lenses for example. Editing the raw files really brings out the quality to another level, but the jpegs also look great as you can see from steel photos images.
The Auto focus is very smooth, fast, and silent. This makes it great smooth quiet focus transitions while recording video.
The Optical SteadyShot works excellent on my A7r, but noticeable better on the newer A7 II. I was able to get about 1/15sec sharp shots with the A7r and about 1/4 second on the A7 II depending on the situation. Even slower shutter speeds are possible if anchored down or leaning on something.
Build quality is very good although the zoom is a bit awkward and backwards from what I am normally used to. The lens zoom was reasonable tight when I first got it, but loosened up a bit after some use. The zoom dampening felt good as did the focus ring when using manual focus.
Considering the A-Mount Vario-Sonnar T* 16-35mm f/2.8 ZA SSM Lens goes for $1999 US, the $1349 US price tag on the Vario-Tessar T* FE 16-35mm f/4 ZA OSS Lens is somewhat reasonable, but still in the expensive lens category for sure.
After putting the lens to the test for over a month in all sorts of situations, I can honestly say I would love to keep it for my A7r and it's worth the cash if you are an ultra wide angle lens fan. The f/4 aperture offers enough separation for creativity depth of field play. The high
I really hope you got what you were looking for in this review, and please consider using the links below when making your purchases! Also, please consider joining the awesome forum community if you want to learn and share: SonyAlphaLab – Forums >>
Jay
Support Links:
Sony Vario-Tessar T* FE 16-35mm f/4 OSS ZA Lens for $1348 US @ BHPhoto
Sony A7 II for $1698 US @ BHPhoto
Sony A7r for $2098 US @ BHPhoto
72mm Lens Filters @ BHPhoto
Don't forget to check out the E-Mount lens Guide Over Here for all the lenses currently available!