Review
In this hands on review of the Sony E-Mount 20mm f/2.8 Pancake Lens (sel20f28), I will show you everything you need to see, using real world photography and my Sony Nex-6.

The Sony SEL20F28 lens is a very thin giving it the well deserved "Pancake" badge. It's only 13/16 inches (20.4mm) thick which is actually 2mm shorter than the SEL16F28. It weighs in at a very slim 2.4 oz (69g), and is housed in a quality metal exterior with a smooth black finish. The interior is made up of a molded plastic that is extremely light weight yet durable and ridged. For smooth and quite autofocus, the lens utilizes a stepping motor. That same type of stepping motor is also used for controlling the 7-blade circular aperture mechanism, so you can change the aperture while recording movies with no noise. The 35mm focal length equivalent when you account for the crop factor is ~ 30mm.

| | |
| --- | --- |
| | The E-mount 20mm F2.8 lens is packing three aspherical lens elements which correct distortions and aberrations. Image quality in corners has been dramatically improved compared to the 16mm f/2.8 lens, as it only has one aspherical lens surface.With a 20mm focal length (35mm equivalent 30mm) and a bright maximum aperture of f/2.8, the SEL20F28 is ideal for a variety of photography such as landscapes, street and urban scenes, and low light indoor family fun.The Sony E-Mount 20mm f/2.8 Pancake Lens (sel20f28) goes for ~$348 US. |
I used my Nex-6 95% of the time for all the photography you will see here, but I did used the Sony Nex-3n for the photo of Howells Cafe, and for a model in the product photography section of this review. For all the test shots I used raw quality so you can see exactly how this lens performs with no additional processing applied. The real world photography photos were taken using a variety of camera modes and settings as you will see below. The detailed photo exif data will be located in the caption area for each full size image.
Lets take a closer look at the Sony E-Mount 20mm f/2.8 Pancake lens first, then some sample photos, fallowed up by some test shots and the conclusion 😉
Sony E-Mount 20mm f/2.8 Pancake Lens – SEL20F28
I took these product photos in the "Lab" with my Nex-6 and 55-210mm lens (sel55210) using two studio lights and a white backdrop 😉
Click on the Photos for the ~1200px High Res Version!
Check out the SEL20F28 mounted to the ultra compact Nex-3n I recently reviewed Here >>
Here she is with no lens hood exposing the 49mm filter threads.
Original Sigma E-Mount 19mm Lens vs Sony 20mm E-Mount Lens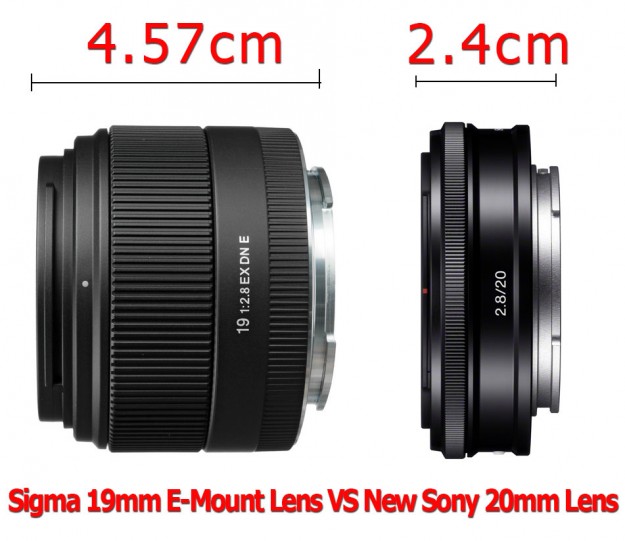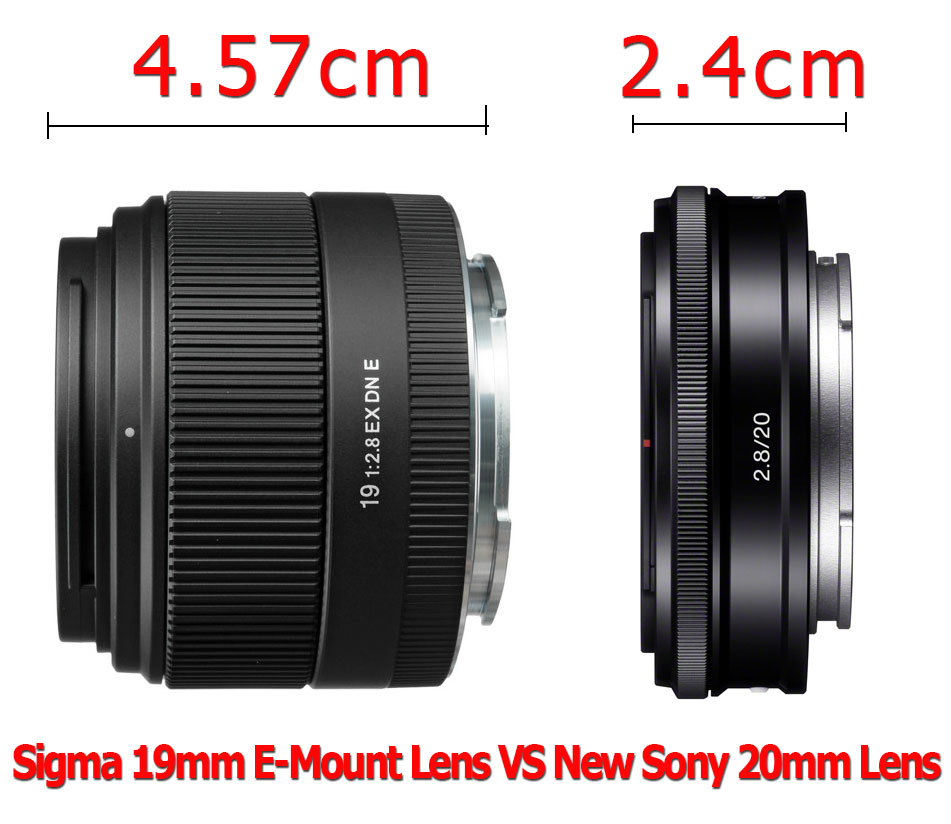 Sony E-Mount 20mm f/2.8 Lens Specifications
Focal Length
20mm
Aperture
Max: f/2.8
Min: f/22
Focal Length (35mm equivalent)
30mm
Filter Diameter
49mm
Lens Groups-Elements
6 groups, 6 elements
AF for Movie Capture
Yes
Minimum Focus Distance
7.8″ (0.2m)
Aperture Blade
7 blades (Circular aperture)
Aspheric Elements
3 aspheric surface
Direct Manual Focus
Yes
Exterior Finish
Metal
Focus Ring in AF Mode
No rotation
Internal Motor
Yes (Stepping motor)
Low Noise During Movie Capture
Excellent
Maximum Magnification
0.12x (APS-C)
Mount Material
Metal
Non-rotating Focusing Ring
No rotation
Dimensions (Diameter x Length)
2.5 x 0.8″ (62.6 x 20.4mm)
Weight
2.4 oz (69g)
Real World Sample Photos
I took a bunch of sample photos over the past few weeks with the Sony E-Mount 20mm f/2.8 Pancake Lens (SEL20F28), and I must say it performs really well. See for yourself below, and be sure to click on the 100% crops as well as the full size images for the much larger and crisp high res versions. Photo Exif details just below each image.


Some brick up close.
Click on the Photos for the ~1200px High Res Version!
Danger Spillway
The rain has really been coming down lately which means the spillways are flowing nicely. I used the Auto HDR feature for this next photo and was hand-holding.
A few more angles from the spillway scene.
Street Scene's
Lastly I took this landscape snapshot of a impressive beaver dam operation in progress. The dam can't keep up with the current rain, but it's really cool to see nature engineering at work.
Sony SEL20F28 Lens – Test Shots
First the whole scene so you can see where the 100% Crops are coming from. I used a tri-pod and 2 second timer for all these test photos. I also shot Raw quality, aperture priority mode, ISO 100, average metering, and added no sharpening beyond the default settings. I also took a few jpeg test shots and they were noticeable sharper all around which is expected. With some sharpness added the raw files would crisp up significantly.
Looking at the entire test scene, you can see the barrel distortion pretty clearly on the horizontal top row of windows, but the perspective distortion is very well controlled as it relates to the vertical lines.
Please click on the images and judge for yourself.
100% Crop Test Shots
| | | | |
| --- | --- | --- | --- |
| 100% Crops | Top Left | Middle Area | Middle Bottom |
| f/2.8 | | | |
| f/4 | | | |
| f/5.6 | | | |
| f/8 | | | |
| f/11 | | | |
| f/16 | | | |
Conclusion
The E-Mount 20mm f/2.8 pancake lens has much better corner sharpness than the 16mm f/2.8 lens. It does suffer from some noticeable vignetting at f/2.8, but that is easily fixable in post, and I personally don't mind it normally. Sharpness is pretty consistent across the apertures, although f/5.6 seems to be the sharpest overall.
The bottom line is this: You're getting a better quality lens than the 16mm E-Mount if you want to compare one to the other. It's significantly better in fact, and the higher price of $348 is pretty well justified in my opinion. I was hoping the lack of OSS would make the price a little lower, but Sony went for several quality optical elements which really makes a difference in the real world, and costs money. It seems a bit expensive though when you consider the Sigma 19mm f/2.8 is only $199, and has about the same, if not better, sharpness, but the Sigma focus is not as smooth or quiet as the Sony 20mm lens. The SEL20F28 is also really slim compared to the Sigma and has better IQ. That is where the extra cash factors in. Sony could have made the lens cheaper, but at the cost of corner sharpness, distortion, and aberrations.
The bokeh is nothing really special, but pleasant enough, and does offer nice separation from the background if your very close to your subject. The green tuft of grass in the spillway scene comes to mind 😉
I recommend the Sony E-Mount 20mm F/2.8 Pancake Lens for those in the market for a quality ultra slim wide angle lens. It's performance and build quality back up the price in my opinion, and in the real world the lens was a pleasure to use. I also like the included lens hood and how the lens cap snaps into that. A smart design by keeping the lens cap further away from the lens glass. Plus, when you want to use a lens filter you can take off the lens hood for a clean 49mm thread connection.
I hope you got what you looking for out of my Sony E-Mount 20mm f/2.8 Lens (SEL20F28) Review. Please feel free to ask questions or comment below as I enjoy the Q&A!
Thanks again for your support, and please consider using the links SonyAlphaLab if you plan on shopping 😉
Jay
Sony E-Mount 20mm f/2.8 Lens (SEL20F28) @ BHPhotoVideo for $348 US (Click Here)
Your support is greatly appreciated as we run this site in our spare time and are not paid. We can however, make a small commission if you click a product link that your interested in. That click will then give us credit if you choose to purchase any given item. This has no effect on the cost of the product, and is a simple way to give back to SonyAlphaLab.com for the effort and info we provide.
Tip Jar: https://www.paypal.me/SonyAlphaLab
Support SonyAlphaLab by becoming a | Patreon
Also, be sure to keep following us on Google+ | Twitter | Facebook |
Direct Shopping Links – Thanks for your Support!!
BHPhotoVideo | Amazon – US | CA | UK
Thanks,
Jay