Review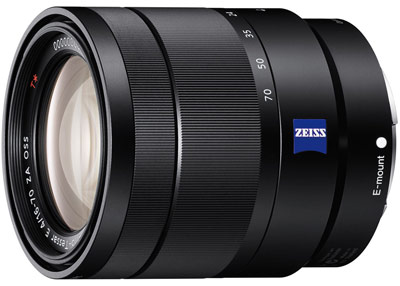 In this real world based Sony Vario-Tessar T* 16-70mm f/4 ZA OSS Lens Review I will go over everything you need to know using lab photos, real world photography, HD video, and much more. For the camera body I used my crop factor E-mount Sony Alpha Nex-6 Mirrorless Camera, which is currently on sale for $479 (body only) due to the new Alpha A6000 being announced.
The 16-70mm range is very nice for an all-in-one lens and allows for a huge variety of photography options including landscapes, portraits, street, and  much more. Effective zoom range works out to 24-105mm in the 35mm format, thanks to the smaller APS-C sized sensor in the Sony Nex-6.
Unlike the 24-70mm full frame Zeiss lens I recently reviewed (Click here), the 16-70mm Zeiss lens deserves to have the Zeiss badge on the side 😉 It's sharp all the way around and totally worth the investment, in my opinion.
The Sony Vario-Tessar T* 16-70mm f/4 ZA OSS Lens goes for $998 US @ BHPhotoVideo (Click Here)
Sel1670z – Build quality
The Sony Vario-Tessar T* 16-70mm f/4 ZA OSS Lens has very good all around build quality and a nice weight that balances perfect with my Nex-6. The zoom is smooth through the entire range and does not creep at all when held vertical.  Versatility and quality wise the SEL1670z is the best option currently available. The 18-200mm lenses are more versatile overall, but the optical quality falls short in comparison to this lens.
The Lens correction profile in Lightroom 5 works great and I used it for all the photos in this review. I have a 16mm f/4 raw file with and without lens correction in the video review, so you can see exactly what the lens produces straight off the camera.
OSS works really well and I was able to hand hold down to 1/30sec with no problem at 70mm and even slower at 16mm. This was not possible with the 24-70mm full frame e-mount lens on the Sony Alpha A7r even with the OSS. I was only able to get 1/40 – 1/60sec sharp shots hand held. Any slower and it would get soft. Not the case with the Nex-6 and 16-70mm e-mount Zeiss lens though 😉 It works as it should and I highly recommend it!
Let's move on to the Lab and real world photography so you can see for yourself exactly how the lens performs 😉
Sony E-Mount 16-70mm f/4 OSS Zeiss Lens Video Review
Be sure to select the HD Quality once the video starts playing so you can go full screen with a nice sharp video!
Lab Test Photos
Tons of lab photos for your viewing and comparing pleasure. The results are very good in my opinion!
 Sony Nex-6 w/ 16-70mm f/4 OSS Zeiss Lens – Lab Testing @ f/4 – Click Photos
 Sony Nex-6 w/ 16-70mm f/4 OSS Zeiss Lens – Lab Testing @ f/5.6 – Click Photos
Sony Nex-6 w/ 16-70mm f/4 OSS Zeiss Lens – Lab Testing @ f/8 – Click Photos
Sony Nex-6 w/ 16-70mm f/4 OSS Zeiss Lens – Lab Testing @ f/11 – Click Photos
Sony Nex-6 w/ 16-70mm f/4 OSS Zeiss Lens – Lab Testing @ f/16 – Click Photos
Real World Photography
Moving on to some real world photography.  I want to show what this lens can do mounted to the Sony Nex-6 and a few shots from the A5000 😉
I mentioned a preset that I was using in Lightroom 5 for some of the raw photos and you can download that by right clicking and then selecting the save link as option. Then it will download the file. I'm not sure why it doesn't work normally, but am looking into it. Nex-6 Raw Enhance #1.zip (Click Here) If you need any help installing it just let me know. Basically you just un-zip it and place it in the user presets folder which you can find by right clicking on a preset and then selecting show in finder (mac) show in explorer I think (windows).
First, check out some portrait style photos first this time starting with my girl Layla.
Same shot pretty much, but out of focus so you can see how the familiar scene renders
My best buddy Chubs.
Some Random Photos
Be sure to click on the photos for the full size versions and the exif data is in the caption just below each image.
16mm vs 70mm – Lens Range
Low Light Sample Photos
Per a request in the comments section below I'm adding some lower light photos which required a higher ISO due to the f/4 aperture of this lens, but thanks the built in OSS, it's still possible to get great images in my opinion.
Sel1670z Review Conclusions
The bottom line for the Sony E-mount 16-70mm f/4 OSS Zeiss Lens review is I highly recommend it! It totally holds up to the Zeiss badge and you get what you pay for in build quality, design, and most importantly, performance. For ~$998 US you get an all-in-one lens that is sharp and quite versatile and has OSS built in for easy hand holding at the slower shutter speeds. I would love to have this lens for my Nex-6 and it would probably never come off unless I needed a lot more zoom or something really fast for super low light or depth of field purposes.
This lens is designed for the crop factor cameras, but will mount to the full frame e-mount cameras in case you were wondering. It clearly won't work that good, but a lot of people ask so yes it will technically work.
That is about it for this Sony lens review everybody, so I hope you got what you were looking for and please feel free to ask questions or comment below. Your support is also greatly appreciated 😉
The Sony Vario-Tessar T* 16-70mm f/4 ZA OSS Lens goes for $998 US @ BHPhotoVideo (Click Here)