Review
In this Sony Cyber-shot RX100 II review, I will cover everything you need to know using real world photography and experience.
The Sony RX100 II goes for $748 US @ BHphotoVideo (Click Here)


Key Features:

20.2MP 1″ Exmor R BSI CMOS Sensor
BIONZ Image Processor
Carl Zeiss Vario-Sonnar T* f/1.8 Lens
35mm Equivalent Focal Length: 28-100mm
3.0″ 1,229k-Dot Tilting Xtra Fine LCD
Full HD 1080i/p Video at 60 and 24 fps
Built-In Wireless and NFC Connectivity
Low-Light Sensitivity to ISO 12800
Multi Interface Shoe and Control Ring
High Speed AF & Manual Exposure Control
Sony Cyber-shot DSC-RX100 II Review
Camera Body and Design
Sony announced a new updated version of the RX100 called the RX100 II only a few short months ago. Featuring an updated 20.2mp Exmor R sensor for better low light performance, an articulating rear lcd screen, and standard hot-shoe, the RX100 II certainly has upgrades worth noting.
The RX100 II looks pretty much identical to the original RX100 from the front, except for the hot shoe on top which is clearly visible. Check out the original RX100 I Reviewed Here >>
From the side you can see the very tight joints and attention to detail that makes the build quality RX-series worthy.
Swinging around to the back you can see how the screen creates a vertical crease between the thumb controls. It looks like Sony made the camera almost the same exact size which is remarkable considering the engineering challenges required. The cost is a slightly fragile screen do to the overall thinness and large size.
When articulating the rear display screen, you need to be careful. On my Nex-6 for example, I can just pull on the bottom of my screen and it smoothly slides into the upward facing position. You cannot do that with the RX100 II screen.
My suggestion for articulating the screen is to grab it from the top and the bottom at the same time, and then pull it outward. Then articulate the screen as desired. This will make sure nothing catches and gets stressed. A little more ruggedness on the rear display screen hardware would be a suggestion for the next generation version in my opinion.
Color and image quality wise the screen is excellent and it's relatively easy to see in the daylight believe it or not.
The zoom lens extends pretty far out when the camera is turned on, so be ready for this. Make sure nothing is in front of the camera that the lens can smash into. The lens only moves in and out slightly when zooming the full range.
Features
20.2MP 1″ Exmor R BSI CMOS Sensor and BIONZ Image Processor
The large 20.2 megapixel 1″ Exmor R CMOS sensor features backside-illuminated technology to enhance its low-light capabilities to an expanded ISO 12800 while still retaining vivid clarity. Using Sony's Column A/D Conversion, images are rendered with impressive image quality and smooth gradations between tones and colors due to the marked reduction in apparent noise.
Also benefitting the image quality, as well as overall camera performance, is the BIONZ image processor, which provides full-resolution continuous shooting up to 10 fps, high-speed auto focusing as quickly as 0.13 sec., and full HD 1080i/p video recording. Still images can be recorded in JPEG or RAW file formats, or both simultaneously.
Carl Zeiss Vario-Sonnar T* 3.6x Optical Zoom Lens
The built-in Carl Zeiss Vario-Sonnar T* 10.4-37.1mm f/1.8-4.9 lens provides a 35mm-equivalent focal length range of 28-100mm, covering wide-angle to portrait-length perspectives to suit working in a wide variety of situations. The bright f/1.8 maximum aperture on the wide end enables enhanced low-light capabilities as well as greater control over focus placement for selective focus imagery. The lens also features a Carl Zeiss T* anti-reflective coating to help minimize lens flare and ghosting in order to produce imagery with rich contrast and clarity.
Built-In Wireless and NFC Connectivity
Built-in wireless connectivity enables the RX100 II to instantly share imagery to mobile devices for direct sharing online to social networking, via email, and to cloud storage sites. NFC (Near Field Communication) is also supported, which allows for one-touch connection between the camera and compatible mobile devices; no complex set-up is required. This technology also provides the ability to use Smart Remote Control, which provides for remote shutter release that is controlled by a smart device.
High Speed Autofocus
Aided by the rapid throughput of the BIONZ image processor, high speed auto focusing is possible that is equally as precise as it is quick. Utilizing intelligent response data and a refined high speed actuator motor, the RX100 II can acquire focus in a similar manner and speed to top-performing DSLR focus systems in a variety of lighting conditions.
Camera Design
An efficiently designed control ring around the lens lends itself to intuitive adjusting of some of the most crucial camera controls. This ring can be assigned to control an array of features, including zooming and aperture settings as well as more creative functions like Picture Effect modes. Its click-less design permits quick and quiet changing of settings, too, to benefit its use while recording HD movies. Additionally, for expedited changing of camera settings, a customizable function button allows you to assign one of seven different functions for quick modification when working in any shooting mode.
Also promoting greater efficiency while shooting is the inclusion of a multi interface shoe that allows for the use of external flashes, auxiliary viewfinders, and external microphones. Remote camera controls can also be connected via this accessory shoe.
A built-in pop-up flash is incorporated into the design as well, and features a unique design that allows for tilting of the flash head for bouncing off of walls, ceilings, or reflectors.
High-Resolution LCD Monitor
For live view monitoring, image playback and review, and menu navigation, a 3.0″ 1,229k-dot Xtra Fine LCD monitor is integrated into the camera body and features a tilting design to promote easier use from high and low angles. The screen can tilt approximately 84° up and 45° down, giving a wide range of viewing angles. The LCD also employs WhiteMagic technology, which enhances the brightness of the display for easier use in bright conditions.
Full HD 1080p Video Recording
Full HD 1920 x 1080 video recording is supported in multiple frames rates, including 60p, 60i, and 24p. When recording in full HD, the AVCHD Ver. 2.0 codec is used for highly detailed image quality that translates well to editing and sharing on HDTVs. Recording in the Internet-friendly MP4 format is also supported in 1440 x 1080 and 640 x 480 sizes at 30 fps. Sound is recorded during filming using the built-in stereo microphone or, additionally, an external microphone can be used in conjunction with the multi interface shoe.
Optical SteadyShot Image Stabilization
Optical SteadyShot image stabilization works to minimize the appearance of camera shake when working in low-light conditions or with greater zoom magnifications. The system can counter the effects of both vertical and horizontal movements, and, furthermore, Active 3-Way stabilization adds digital rolling control that balances both clockwise and counter-clockwise movements while recording videos.
Other Camera Features
Auto Object Framing is an intelligent shooting mode that can automatically analyze the scene and subjects within it and determine an aesthetically-pleasing composition. The subsequent imagery will be cropped according to subject matter, resulting in a well-balanced composition that utilizes Face Detection and Tracking Focus to ensure high image quality and sharpness.
Auto HDR mode will automatically record a bracketed range of exposures of the same scene in order to capture greater highlight and shadow detail than a single exposure can record. These multiple exposures will then be composited into a single file that exhibits an extended dynamic range.
Face Detection/Registration technology can detect and register up to eight individual faces and adjust the focus, exposure, white balance, and flash settings in order to deliver optimal image settings for pictures of people. Children or adults can be prioritized within this mode.
1:1, 3:2, 4:3, and 16:9 aspect ratios are available and can be chosen depending on specific shooting purposes.
To extend the effective reach of the 3.6x optical zoom lens, 2x Clear Image digital zoom can be used to intelligently magnify scenes up to 7.2x. This digital zoom technology uses an intelligent interpolation process to minimize the amount of image degradation in order to produce realistic, high-quality images.
Picture Effect modes allow you to apply creative settings and emphasize certain facets of individual images for a richer, more aesthetic picture quality. Soft Focus, Posterization, Retro Photo, High Contrast Monochrome, Rich-Tone Monochrome, Miniature, Soft High-Key, Toy Camera, Pop Color, Partial Color, Watercolor Painting, HDR Painting, and Illustration modes are available.
Creative Style settings provide control over how the camera processes images based on six different predetermined styles: Standard, Vivid, B&W, Sunset, Portrait, and Landscape. Within these settings, contrast, saturation, and sharpness can also be adjusted depending on personal preference.
Specs
Lens Type
Carl Zeiss Vario-Sonnar T*
Aperture
F1.8-4.9
Optical Zoom
3.6x
Digital Zoom
20M approx. 14x / 10M approx. 20x / 5M approx. 28x / VGA approx. 54x
Focal Length (35mm equivalent)
Still 16:9 29-105mm / Still 4:3 30-108mm / Still 3:2 28-100mm / Still 1:1 36-127mm / Movie 16:9 29-105mm (Std), 33-120mm (Active) / Movie 4:3 36-128 mm (Std), 41-146mm (Active)
Lens Construction
7 elements in 6 groups ( including AA lens)
Aperture Blade
Iris diaphragm (7 blades)
Clear Image Zoom
7.2x
Focal Distance
AF approx. 5cm to infinity (W), approx. 55cm to infinity (1)
Steady Shot Mode: Active
[Still image] Optical [Movie] Active Mode, Optical type with electronic compensation (Anti-rolling)
Metering Modes
Multi segment / Center weighted / Spot
Exposure Compensation
+/- 3.0EV, 1/3EV step
Imaging Sensor
Imaging Sensor : 1.0″ (13.2 x 8.8mm) Exmor CMOS sensor, aspect ratio 3:2
Pixel Gross: 20.9MP (approx.)
Effective Picture Resolution: 20.2MP (approx.)
Drive System
Shutter Type: iAuto (4-1/2000) / Program Auto (1-1/2000) / Manual (Bulb, 30-1/2000) / Aperture Priority (8-1/2000) / Shutter Priority (30-1/2000)Continuous Shooting Speed: 10 fps at 20.2MPSelf-timer: 10sec. / 2sec. / Self portrait / Self timer Cont.
Scene Modes
Portrait, Anti Motion Blur, Sports Action, Pet, Gourmet, Macro, Landscape, Sunset, Night Scene, Hand-held Twilight, Night Portrait, Fireworks, High Sensitivity
D-Range Optimizer
Off, Dynamic Range Optimizer (Auto/Level), Auto High Dynamic Range: Auto exposure difference, Exposure difference level (1.0-6.0EV, 1.0-EV step)
ISO
Auto ISO 125-6400 select w/upper/lower limit, 125/200/400/800/1600/3200/6400 expand to 80/100, Multi Frame NR:Auto ISO125-25600 equiv. 200/400/800/1600/3200/6400/12800 4/25600
Creative Style
Standard, Vivid, Portrait, Landscape, Sunset, Black & White
White Balance Mode
Auto/Daylight/Shade/Cloudy/Incandescent/Fluor (Warm White)/Fluor (Cool White)/Fluor (Day White)/Fluor (Daylight)/Flash/C. Temp., Filter/Custom
Picture Effects
Toy Camera, Pop Color, Posterization, Retro Photo, Soft High-key, Partial Color, High Contrast Monochrome, Soft Focus, HDR Painting, Rich-tone Monochrome, Miniature, Watercolor, Illustration
Convenience Features
Still Image Playback Options: Control for HDMI, Slideshow
LCD Display
LCD Type: 3.0″ (7.5cm) (4:3) / 1,229k dots / Xtra Fine / TruBlack / TFT LCDBrightness Control: Auto / Manual (5 steps) / Sunny Weather mode
Advanced Features
Sweep Panorama: Sweep Panorama
Face Detection: 8 Faces (Auto / Off / Child Priority / Adult Priority / Face Registration)
Image Stabilization: Optical SteadyShot with Active Mode Image Stabilization
Intelligent Auto: Yes
Background Defocus: Yes
Superior Auto: Yes
Photo Creativity: Yes
Still Image Mode
JPEG, RAW (Sony ARW 2.3 format)
Still Image Size
Still Image Size 16:9 : L: 17M (5472×3080); M: 7.5M (3648 x 2056); S:4.2M (2720 x 1528)Still Image Size 3:2 : L: 20M (5472 x 3648; M: 10M (3888 x 2592); S: 5.0M (2736 x 1824)Still Image Size 4:3 : L: 18M (4864 x 3648); M: 10M (3648 x 2736); S: 5.0M (2592 x 1944); VGAPanorama Still Image Size : [3:2] L: 20M (5472×3648)/M: 10M (3888×2592)/S: 5.0M (2736×1824)
Video Format
AVCHD Ver2.0, MP4
Video Mode
AVCHD: 28M PS (1920×1080, 60p/50p) / 24M FX (1920×1080, 60i/50i ) / 17M FH (1920×1080, 60i/50i) MP4: 12M (1440×1080, 30/25 fps) / 3M VGA (640×480 30/25 fps)
Photo Capture from Movie
Yes
Focus Control
Focus System: Single-shot AF (AF-S) / Continuous AF (AF-C) / Direct Manual Focus (DMF) / Manual FocusAF Modes: Multi point AF (25 points) / Center weighted AF / Flexible spot / Flexible spot (tracking focus) / Flexible sport (face tracking)
Flash
Flash Modes: Auto/Fill-flash/Slow Sync/Rear Sync/OffFlash Coverage: ISO Auto 0.30m to 17.1m (W)/0.55m to 6.3m (T) (Approx.1′ 3/4″ to Approx.56′ 1 3/4″) (W) ISO 6400 up to 24.2m (W)/8.9m (T)
Memory Card Slot
Dual compatibility slot: Memory Stick PRO Duo/Pro-HG Duo/PRO-HG HX Duo media – SD, SDHC and SDXC memory card
NFC
Yes (NFC Forum Type 3 Tag compatible, One-touch remote, One-touch sharing)
Wi-Fi
Yes
HD Output
HDMI (Type D micro)
USB Port(s)
USB 2.0 Hi-speed (mass-storage, MTP)
BRAVIA Sync
Yes, via HDMI® with compatible BRAVIA HDTV (link menu)
PhotoTV HD
Yes, with BRAVIA Sync enabled HDTV and HDMI® cable
Microphone Input
Via MI Shoe + Optional ECM-XYST1M
Remote Commander
Yes, via RM-VPR1
Accessory Shoe
Multi Interface Shoe
DC IN
Yes, via AC-UB10 AC charger and USB cable
Tripod Mount
Yes (1/4″ diameter, 20 threads per inch)
Power
Battery Type : LITHIUM ION NP-BX1 (supplied)
Power Consumption (in Operation) : Approx. 1.5W
Dimensions WxHxD
4″ × 2-9/32″ × 1-1/2″ (101.6 x 58.1 x 38.3 mm) excluding protrusions
Weight
With battery and Memory Stick PRO Duo Approx. 9.9 oz. (281 g)
Weight(Approx) (Main unit only)
7.8 oz. (222 g)
Sony DSC-RX100 II Video Review
In this Sony DSC-RX100 II video review, I will go over the camera body in my hands so you get a sense of scale. I will also go over the screen articulation and give suggestions on how to use it. I will also go over the manual zoom ring and how it works in the various camera modes, The function (Fn) button, using the Memory Recall (MR) Mode, overview of the menu system and what settings I'm using, Flash, how to find your images and movies on the camera, Sample Video, and much more….
Sorry it's not the greatest video quality as I was watching Layla when I recorded the video and had to sneak out on the deck between rain drops. The blacks are darker than they should be do to my poor lighting of the scene and I apologize. You will see what I mean in the shadow areas during the video, but the content itself is still totally fine.
Sony RX100 II Sample Photos
Here are a few Sony RX100 II Real World sample photos using the best Jpeg quality and various modes. I also used Lightroom 5 to manage the photos and exported them as jpegs, 65% quality, 1000px max width, sharpening for screen low. These settings look very accurate sharpness and color wise to the original photos. I need to conserve the size of these files more than ever with the new server, so I want to make sure you know the specifics.

Check out the very first image I took at an outdoor restaurant type place. The dynamic range was super intense in the scene, so it made for a great test photo in my opinion. The colors and contrast are a little flat, but the camera over exposed a bit do to being under the roof and overall average metering. A really hard scene for any camera is the bottom line.
Be sure to click on all the photos for the high res ~1200px versions!
100% Crops –

Click Photos!!

| | | |
| --- | --- | --- |
| | | |
The color and contrast on this next vertical is excellent in my opinion. The distortion control of the lens, and software correction is also very impressive!
Next is a familiar street scene that has perfect light in the early morning which creates and excellent and consist review test photo. It offers highlight detail, shadow detail, textures, colors, you name it. The RX100 II does a really good job and when you click on the 100% Crops you will see what I mean. This first frame was @ 10.4mm which is as wide as the camera goes.
100% Crops –

Click Photos!!

| | | |
| --- | --- | --- |
| | | |
Same scene, but at full optical zoom this time which is 37.1mm or 3.6x.
100% Crops –

Click Photos!!

| | | |
| --- | --- | --- |
| | | |
An old shipyard next to the Hudson river in the mid-morning sun.
100% Crops – Click Photos

| | |
| --- | --- |
| | |
An old smoke stack near the shipyard that is very tall.
100% Crops –

Click Photos

| | |
| --- | --- |
| | |
100% Crops –

Click Photos

| | |
| --- | --- |
| | |
With the new articulating screen, getting shots like this next image is much easier. I had the RX100 II about six inches off the ground with the screen facing upward in my hands. The glare was pretty bad considering where it was located, but I was still able to see well enough to compose the shot with ease. These types of shots are with out an articulating screen really require a knee in the dirt and your face to be almost on the ground. A tri-pod makes it easier, but you still have to see the screen which can be really difficult. Once you have a screen that articulates, it's hard to go back I must admit 😉
Moodna Viaduct:
Be sure to click on all the photos for the high res ~1000px versions!
Note the lens distortion control on the horizontal track towards the top of the frame. There is no distortion at all from what I can see, and this is at full wide-angle ~10.4mm.
100% Crops –

Click Photos

| | |
| --- | --- |
| | |
When you get close to your subject it's much easier to get the background out of focus as seen below in the base of the huge beam.
100% Crops –

Click Photos

| | |
| --- | --- |
| | |
Another angle:
100% Crops –

Click Photos

| | | |
| --- | --- | --- |
| | | |
Taking a few steps back from the bridge and you really get a sense of the massive structure. I glanced to the left and a really nice composition presented itself to me and I was still using full auto jpeg mode. The camera chose f/5.6, but for maximum sharpness front to back, a higher aperture would have been better. f/11 for example in aperture propriety mode would be a good place to start in my opinion.
Be sure to click on all the photos for the high res ~1000px versions!
The perspective view.
as I was walking to the car a commuter train was passing by, so I grabbed a quick zoomed in snapshot.
100% Crops –

Click Photos

| | |
| --- | --- |
| | |
A quick snapshot from the other day when some family came over for a visit.
Illustration Mode
I love using the Illustration Mode feature. Here is a snapshot of a photo on the kitchen table which offers some interesting details on the artistic effect.
Layla and I built a pretty awesome Lego tower and what better way to show it off than with the fun camera creative modes like illustration mode, selective/ Partial color, and Toy Camera.
Real World High ISO Sample
Layla posing proudly with one of our Lego towers @ ISO 3200. Looks noticeable better than the original RX100 in my opinion @ ISO 3200.
Be sure to click on all the photos for the high res ~1000px versions!
Lab Test Photos
The Sony RX1oo II performed pretty well in the current Lab set-up, and the smaller 1″ sensor has impressive capabilities considering the pixel density. The depth of field is not the same as the larger APS-C sized Nex camera sensors which is easy to see in the lab. The smaller the sensor, the less depth of filed separation and control you have. The fast f/1.8 lens does provide some significant depth of field when close to your focus point and/or at the minim focus distance. Check out the bokeh test shots for a closer look at what I mean.
Lab Scene @ 10.4mm ~28mm equivalent
Full Scene @ f/1.8
I had the RX100 II set to Aperture Priority mode, ISO 100, Auto WB corrected in lightroom 5 using center test chart, Average Metering, Auto focus, tri-pod mounted, and 2-second self timer.
Be sure to click on all the photos for the high res ~1000px versions!
100% Crops –

Click Photos!!

| | | | |
| --- | --- | --- | --- |
| | Lower Left | Middle area | Lower Right |
| f/1.8 | | | |
| f/2.8 | | | |
| f/4 | | | |
| f/5.6 | | | |
| f/8 | | | |
| F/11 |   |   |   |
Lab Scene @ 37.1mm (3.6x) ~100mm equivalent
Full Scene @ f/4.9

I had the RX100 II set to Aperture Priority mode, ISO 100, Auto WB – corrected in lightroom 5 using center test chart, Average Metering, Auto focus, tri-pod, and 2-second self timer.
100% Crops –

Click Photos!!

| | | | |
| --- | --- | --- | --- |
| | Lower Left | Middle Left | Middle Area |
| f/4.9 |   |   |   |
| f/5.6 |   |   |   |
| f/8 |   |   |   |
| F/11 | | | |
ISO Testing – Raw Vs Jpeg
The RX100 II is noticeable improved over the previous generation in the low light/ high ISO department. Check out the results from the lab below and I think you will agree.
100% Crops –

Click Photos

| | | |
| --- | --- | --- |
| ISO | Raw Quality | Jpeg Fine |
| 100 | | |
| 200 | | |
| 400 | | |
| 800 | | |
| 1600 | | |
| 3200 | | |
| 6400 | | |
| 12800 | | |
Bokeh Test @ Minimum Focus Distance
The Sony Rx100 II is capable of some pretty amazing separation and bokeh, considering the ultra compact form factor design. I had the camera pretty much as close as I could get to the center test chart and have the focus. I was about 1 foot or so @ f/1.8 and 10.4mm. As soon as you start to zoom the aperture stops down towards f/4.9 as you get to 37.1mm which is max zoom. In other words, the camera is only f/1.8 at 10.4mm or zero zoom. The bokeh is most exaggerated at the minimum focus distance, 10.4mm, and  f/1.8 in the Lab.
RX100 II Real World Performance
The Sony RX100 II performed very well overall, but I want to break down a few areas for you to clear up any concerns you might have.
AF Performance:
The Sony RX100 II AF is just as fast as my Nex-6 Hybrid AF sensor equipped camera, when basic point and shoot photography is going on. The AF is also very accurate and seems to know what you want to focus on most of the time. The facial recognition helps with people and the camera decides on the settings when in full auto to make the photos look their best. It works really well in the real world and the speed/ accuracy is top quality.
Image Quality:
The RX100 II image quality is incredible and a step up from the origional RX100. Dynamic range seems a little better than the predecessor, and the color and contrast has killer punch in Jpeg quality. The fact that Sony can get such killer image quality out of a 1″ sensor with 20mp density is amazing to me, honestly. I remember feeling the same way when I had my hands on the original Sony RX100.
Most of the time the RX100 II does and excellent job. Occasionally when in Superior Auto mode, one of the muti-shot features like Auto HDR will enable and catch you off guard. That can be turned on and off in the menu, but I would leave it on and re-take the shot if it seems to make sense. Often Auto HDR will do a much better job if there is nothing moving in the scene and the dynamic range is really high.
In camera lens correction is also excellent. You can see examples of this best on the images with vertical and horizontal lines near the edge of the frame. Note how strait they are.
High ISO:
Significantly improved over previous generation, but not as good a the larger APS-C sized sensor cameras as you might expect. Very impressive performance overall in my opinion considering the 20mp pixel density on a 1″ image sensor. The lab tests show how well the jpeg files handle the noise in comparison to the raw quality images.
Articulating Screen:
Functionally the new articulating screen is awesome for getting those really low angles and over head photos. Build quality wise, the screen is a little fragile in my opinion when articulating. When fully closed the screen is pretty solid. It's a small sacrifice to pay for having basically the same form factor as the original with much more real world user versatility. Making it a touch screen would have been the snakes hips though. I think Sony was trying to keep the costs down and had to scratch the touch screen even though many in the design team wanted it.
Manual Zoom Ring
The manual zoom ring has a nice amount of dampening to it when turning, and a zoom guide pops up on the screen with the most common equivalent focal lengths highlighted.  You can see it change as you zoom like the speedometer in your car. If you use the regular zoom toggle with your pointer finger the camera on;t tells you the zoom X factor, not the actual focal length equivalent. It's a great feature and I'm enjoying the ability to get the camera at the equivalent focal lengths, as it's otherwise very difficult do to the crop factor and actual lens size etc..
Sony RX100 II Accessories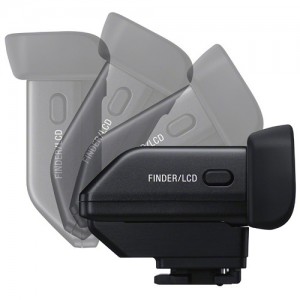 The Sony RX100 II has several accessories worth mention, but the one I would want most is the electronic viewfinder. It's not exactly cheap at $448 US, but it turns the camera into a mid day sun shooter with ease, and is also compatible with the full frame DSC-RX1 if you happen to own that camera as well.
Accessories worth mention:
RX100 II Review Conclusions
In full auto jpeg quality modes the Sony RX100 II is an absolute blast to use and the image quality rivals and beats much larger sensor equipped cameras in my opinion. Raw image quality is also very good and less saturated, sharpened, and noise reduced than the jpeg files, leaving lots of room for development in post if that is your preferred editing work flow. I personally prefer shooting in Jpeg mode on the RX100 II, because all the camera features work, and the on camera image processing is excellent in my opinion.
On my Nex-6, I prefer to shoot raw and develop the photos myself most of the time. This is just my personal preference mind you as the RX100 II is a pocket-able point and shoot, and my Nex-6 is now my "Real Camera", for lack of a better phrase, and much larger. I tend to take my time more, and plan how I want the final photo to look when using it. I then expose for that as best I can using Raw quality. I will then work the image out from there in Lightroom and/or Photoshop. For snap-shot on the go type photos, jpeg mode and taking advantage of all the camera features is the way to go for me. Raw quality shuts off most of the advanced camera features, because on camera processing is being applied to the image. Raw is a non processed file, so it would not make sense to apply an effect to it. It's assumed your going to work the raw files in post an create your own interpretation. With all this in mind, jpeg mode is the way to go for most photos, and depending on your final intentions and/or work flow Raw quality is a powerful option for advanced editors.
It could be argued that the price is a little high on the Sony RX100 II @ $748 US, but when you factor in the actually real world image quality, ease of use, and pro grade features and performance, it's totally justified. I think it's an excellent option if you're looking for a top quality pocket-sized ultra compact camera.
I'm giving the RX100 II a 4.5 for the final review score and you might wonder why not 5 star?? Well, the competition has significantly changed since the original RX100 first came out, and no other comparable top quality ultra compacts were around for a similar price point. Now there are, and the price is a little higher on the new model which considering the features is understandable. The screen being a littler harder to articulate than ideal is also a factor in the review score.
Thanks for your support and please feel free to ask questions and comment below,
Jay
The Sony RX100 II goes for $748 US @ BHphotoVideo (Click Here)
Your support is greatly appreciated as we run this site in our spare time and are not paid. We can however, make a small commission if you click a product link that your interested in. That click will then give us credit if you choose to purchase any given item. This has no effect on the cost of the product, and is a simple way to give back to SonyAlphaLab.com for the effort and info we provide.
Tip Jar: https://www.paypal.me/SonyAlphaLab
Support SonyAlphaLab by becoming a | Patreon
Also, be sure to keep following us on Google+ | Twitter | Facebook |
Direct Shopping Links – Thanks for your Support!!
BHPhotoVideo | Amazon – US | CA | UK
Thanks,
Jay