Review
In this Sony Cyber-shot RX1 Review I will go over everything you need to know with High Res Sample Photos, Video, and lots of Real World Style Testing.
| | |
| --- | --- |
| | The Sony DSC-RX1 is packing a full frame format image sensor and a Zeiss 35mm f/2 lens. Together, the sensor and lens combination is capable of producing some of the best image quality I have ever seen on a a point and shoot style camera! In fact, the image quality is noticeable better than my Canon 5d Mark II. The camera body is extremely well made with pro quality written all over it. From the battery door, to the manual dials, to the LCD screen on the back, to the pop-up flash, the DSC-RX1 is a Pro grade point and shoot style camera. Designed for the hardcore photographer looking for the best image quality possible in a relativity compact package. |
Sony DSC-RX1 Overview
The new Sony DSC-RX1 is the world's first 35mm compact digital camera, with a small camera body that houses 24.3MP full-frame sensor. The RX1 has a built-in 35mm f/2.0 Carl Zeiss Sonnar T lens and the can impressively shoot up to ISO 25,600 fairly clean. The full frame image sensor is physically much larger than an APS-C sized sensor found in the Sony Nex-7.
So, what this means is the surface area of the full frame sensor itself is much larger, which allows for the individual pixel sensors to be larger. Much less pixel density per square inch pretty much. Bottom line, the full frame Sony RX1 sensor should have better high ISO performance, and dynamic range, compared to smaller sensors cameras. In addition to that, the depth of field and perspective that the full frame sensor offers is different and very appealing to the eye. Separating objects is relatively easy on a full frame sensor equipped camera like the RX1. Even a though the 35mm lens is a relative wide-angle, the fast f/2 aperture does the job well for helping creating separation between subjects and backgrounds.
Sony DSC-RX1 Key Features:
Full-frame 24MP Sensor
35mm f/2 Zeiss lens
Full HD 24p video with manual control and audio output
Max. ISO 25,600 Claimed AF speed of 0.13 sec
Full-resolution burst rate 5fps
3 dedicated rings for aperture, focus, and macro
Quick navigation and control shortcuts
MR mode recalls up to 3 preferred setting combinations
9 iris blades for good Bokeh
Multi-interface shoe for flash, light, microphone
3-inch 1,229k dot  LCD monitor
Auto HDR capture
Two aspect ratios
Built-in flash (GN6)
Courtesy of Sony:
World's First
We've made the impossible possible, and there's nothing like it. Behold the revolutionary RX1: The world's first fixed lens 35mm full-frame digital camera.
Top 3 Advantages of A Full Frame Image Sensor
Beautifully defocused backgrounds come courtesy of the large, full-frame sensor and a shallow depth of field.
Preserve the mood of candlelit shots with the sensor's extreme low-light sensitivity—no flash necessary.
Take full advantage of your lens's perspective. A full-frame sensor means no limited-view "crop factor."
Sony DSC-RX1 Features
24.3 MP 35 mm Full Frame Sensor: High-quality images are realized through the 24.3 MP effective 35mm full-frame sensor, a normal sensor range of ISO 100 25600, and a balance of gradation and low noise. The BIONZ image processor enables up to 5 fps high-speed continuous shooting and 14-bit RAW image data recording.
Full HD 24p video: Full HD 24p video with manual control and audio input. For creative flexibility, users can enter Program Auto (P), Aperture Priority (A), Shutter Speed Priority (S) or Manual Exposure (M) mode for manual shooting and exposure control. Enjoy clear sound recording and playback via built-in stereo microphone and and mono speaker.
Bright F2.0 Carl Zeiss Sonnar T* lens: Newly developed large-diameter F2.0 Carl Zeiss Sonnar T* lens delivers refined background defocusing bokeh, and macro capabilities. A premium multi-layered T* coating also dramatically reduces ghost and flare caused by light reflection.
World's first fixed lens 35mm camera: The DSC-RX1 is the world's first fixed lens 35 mm full-frame digital camera which offers an uncompromising design that focuses on an intuitive, user-friendly operation. The camera fits in the palm of a hand and allows users to carry it nearly everywhere to capture any shooting opportunity that arises.
Three control lens rings: Full manual operation is intuitive on the RX1. Users can keep their eyes on the subject and concentrate on the composition while comfortably adjusting the dedicated aperture, focusing, and macro switching rings.
Conveniently placed dials: Quick access to conveniently placed exposure compensation and focus mode dials.
Quick Navi – settings at a glance: Quick Navi enhances direct control of your favorite functions. Pressing the Fn button activates Quick Navi, which allows the user to check camera settings at a glance and promptly change settings without having to search for dedicated menus.
Memory recall: MR (memory recall) mode can memorize up to three groups of the user's preferred settings. Settings include zoom magnification, white balance, exposure compensation, shutter speed, drive mode and metering modes. This enables quick switching of of settings at the right moment.
Nine aperture blades: Nine aperture blades form a nearly perfect circle throughout the normally used aperture range of F2.0 to F22, resulting in background defocusing that is smooth and genuinely beautiful.
Expandable with multi interface shoe: The multi interface shoe allows easy connection with wide-ranging accessories expanding the range of photographic expression. Available accessories include a powerful external flash unit, electronic viewfinder, optical viewfinder, thumb grip, clip-on LCD monitor, etc.
3″ Xtra Fine LCD Display: The 3″ (1,229k dots) Xtra Fine LCD Display makes it easy to scroll through menus and preview live Picture Effects. WhiteMagic technology increases visibility in bright daylight. The large display delivers brilliant-quality still images and movies while enabling easy focusing operation.
Auto HDR mode: Captures more scene dynamic range than a single exposure can handle-and more range than photo film. Combines the best highlight detail from one shot, the best mid-tones from a second and the best shadow detail from a third for one incredible shot (up to 6 EV stops), all in a split second. (Recommended for still subjects.)
Dual-aspect ratio recording for still images: Capture still images in either 3:2 or 16:9 aspect ratio. This provides the freedom to choose a ratio that matches the scene or the specific shooting purpose.
Built in pop up flash: Enjoy the convenience of flash photography everywhere you go. Guide number is approximately 6*. Choose from Auto, Slow Sync, Rear Sync, Fill-flash and Flash Off modes.
Capture JPEG files, RAW files, or both: The DSC-RX1 saves pictures as compact JPEG files and/or ultra-high quality RAW files. RAW files save images prior to de-mosaicing, white balance, sharpness and color enhancement. This retains maximum latitude for enhancing the image on your PC.
Four focusing modes: DSC-RX1 has 2 Autofocus modes: Single-shot AF (AF-S) or Continuous AF (AF-C), which tracks moving objects. It also has Manual Focus for manual focusing freedom, and Direct Manual Focus (DMF), that first uses autofocusing to focus on the subject, and then allows fast switching to manual focusing for precise adjustment.
Digital level gauge: Digital level gauge to allow easier leveling of the camera.
MF assist and peaking: Manual focus becomes much easier because peaking highlights the edges that are in focus in your choice of three colors (white, red, or yellow). This is especially helpful during macro or portrait photography where your focus setting can make or break your shot.
Creative Style: Control how the camera processes your images with 15 finishing styles: Standard, Vivid, Neutral, Clear, Deep, Light, Twilight, Night View, Autumn Leaves, B&W, Sepia, Sunset, Portrait and Landscape. You can even fine-tune contrast, saturation, and sharpness to your personal taste.
Picture Effect mode: Realize your creative potential with Picture Effect. Effects are Soft Focus, Posterization, Retro Photo, High Contrast Monochrome, Rich-tone Monochrome, Miniature, Soft High-key, Toy Camera, Pop Color, Partial Color, Watercolor Painting, HDR Painting, and Illustration.
Sweep Panorama Mode: Capture expansive landscapes automatically. Press the shutter, sweep vertically or horizontally. The camera does the rest, continuously shooting images and stitching them together.
Auto portrait framing: Simply photograph a person and Auto Portrait Framing will save an additional, optimally framed image in portrait or landscape orientation. Combining Face Detection and By Pixel Super Resolution technologies with rule of thirds, Auto Portrait Framing provides appealingly balanced full resolution portraits.
Face Detection/ Registration technology: The camera can automatically detect and register up to eight individual faces and adjust focus, exposure, white balance and flash to help deliver crisp, properly lit images of family and friends. Can prioritize children or adults.
Full frame burst shooting: High speed continuous shooting at up to 5 frames per second (fps) is made possible by the BIONZ processor and 24 megapixel sensor.
Multi-frame NR: Experience incredible low-light shooting without a flash. The camera captures six images in a fraction of a second. Combining the data from all six, it creates a single image with a reduction in noise equivalent to two additional steps of ISO sensitivity. Sensitivity selectable up to ISO 25600. (Recommended for still subjects.)
High speed Auto Focus: Focus as fast as 0.13 seconds with high speed AF. To improve focusing speed and sensitivity, the Exmor CMOS sensor uses its rapid throughput to deliver high-quality image signals to the camera's BIONZ processor, which provides intelligent response data to a new high speed actuator motor in the lens.
Sony DSC-RX1 Specifications
Camera Type
Professional compact digital camera
Imaging Sensor
Imaging Sensor: 35mm full-frame (35.8mm × 23.9mm) ExmorTM CMOS Sensor, aspect ratio 3:2
Pixel Gross: 24.7MP (approx.)
Effective Picture Resolution: 24.3MP (approx.)
Lens
Lens Type: Carl Zeiss Sonnar T*
Aperture: F2-22
Digital Zoom: 24M approx. 4x / 10M approx. 6.1x / 4.6M approx. 9.1x
Focal Length (35mm equiv.): [Still 3:2] f=35mm [Still 16:9] f=37mm [Movie 16:9] f=44mm (SteadyShot On), f=37mm (SteadyShot Off)
Lens Construction: 8 elements in 7 groups (3 aspherical elements including AA lens)
Aperture Blade: Iris diaphragm (9 blades)
Clear Image Zoom: 2x
Focal Distance : AF approx. 24cm (Normal mode), approx. 14cm to 29cm (Macro)
Steady Shot Mode
Active : [Still image] Optical [Movie] Active Mode, Optical type with electronic compensation (Anti-rolling)
Metering Modes
Multi segment / Center weighted / Spot
Exposure Compensation
+/- 3.0EV, 1/3EV step
Scene Modes
Portrait, Sports Action, Landscape, Sunset, Night Scene, Handheld Twilight, Night Portrait
D-Range Optimizer
Off, Dynamic Range Optimizer (Auto/Level), Auto High Dynamic Range: Auto exposure difference, Exposure difference level (1.0-6.0EV, 1.0-EV step)
Creative Style
Standard, Vivid, Neutral, Clear, Deep, Light, Portrait, Landscape, Sunset, Night Scene, Autum Leaves, Black, White, Sepia
White Balance Mode
Auto/Daylight/Shade/Cloudy/Incandescent/Fluor (Warm White)/Fluor (Cool White)/Fluor (Day White)/Fluor (Daylight)/Flash/C. Temp., Filter/Custom
ISO Sensitivity (Movie)
Auto (ISO100-3200 equivalent (1/3 EV stop), selectable with upper/lower limit), 100/6400
Picture Effects
Toy Camera, Pop Color, Posterization, Retro Photo, Soft High-key, Partial Color, High Contrast Monochrome, Soft Focus, HDR Painting, Rich-tone Monochrome, Miniature, Watercolor, Illustration
Convenience Features
Still Image Playback Options : Control for HDMI, Slideshow
LCD Display
LCD Type: 3.0″ (7.5cm) (4:3) / 1,229k dots / Xtra Fine / TFT LCD
Brightness Control: Auto / Manual (5 steps) / Sunny Weather mode
Drive System
Shutter Type: Program Auto (30-1/2000) / Manual (Bulb, 30-1/2000) / Aperture Priority (30-1/2000) / Shutter Priority (30-1/2000)
Continuous Shooting Speed: 5 fps at 24.3MP
Self-timer: 10sec. / 2sec
Advanced Features
Sweep Panorama: Sweep Panorama
Face Detection: 8 Faces (Off / On(Registered Faces) / On)
Image Stabilization: SteadyShot Image Stabilization
Intelligent Auto: Yes
Picture Effects: Yes, 13 effects
Media Type
Memory Stick Duo
Memory Stick PRO Duo
Memory Stick PRO Duo (High Speed)
Memory Stick PRO-HG Duo
SD Memory Card
SDHC Memory Card
SDXC Memory Card
Still Image Mode
JPEG, RAW (Sony ARW 2.3 format)
Still Image Size 16:9
L: 20M (6000 x 3376)
M: 8.7M (3936 x 2216)
S: 3.9M (2640 x 1488)
Still Image Size 3:2
L: 24M (6000 x 4000)
M: 10M (3936 x 2624)
S: 4.6M (2640×1760)
Panorama Still Image Size
Standard (3872 x 2160/8192 x 1856)
Wide (5536 x 2160/12416 x 1856)
Video Format
AVCHD: 28M PS (1920×1080, 60p/50p)
24M FX (1920×1080, 60i/50i),
17M FH (1920×1080, 60i/50i)
24M FX (1920×1080, 24p/25p)
17M FH (1920×1080, 24p/25p)
MP4: 12M (1440×1080, 30fps/25fps)
3M VGA (640×480, 30fps/25fps)
Focus Control
Focus System : Single-shot AF (AF-S) / Continuous AF (AF-C) / Direct Manual Focus (DMF) / Manual Focus (MF)AF Modes : Multi point AF (25 points) / Center weighted AF / Flexible spot / Flexible spot (tracking focus) / Flexible sport (face tracking)
Flash
Flash Modes : Auto/Fill-flash/Slow Sync/Rear Sync/Off/Wireless
Flash Coverage : ISO Auto 0.75m to 21.7m / ISO 25600 up to 43.4
Interface
Memory Card Slot: MS Duo and SD/SDHC/SDXC Compatible
HD Output: Micro HDMI
USB Port(s): Micro USB, Hi-Speed USB (USB2.0)
Microphone Input: Microphone jack
Accessory Shoe: Multi Interface Shoe
Power
Battery Type: LITHIUM ION NP-BX1 (supplied)
Power Consumption (in Operation): Approx. 1.5W
Dimensions
4.5 x 2.6 x 2.7″ (113.3 x 65.4 x 69.6mm)
Weight
Weight: 17 oz (782g)
Weight: 16 oz (453g ) main unit only
RX1 Build Quality and Design
I go over the RX1 in detail in the hands-on HD video below, but here are some high Res photos of the camera itself first from the "Lab".
The Sony DSC-RX1 has Pro Grade build quality as you will see in these high res photos below. The machining is top-notch and the tolerances are extremely tight at the seams. The body is all metal and it feels like a little brick in your hands. The camera weighs in @ 17 oz (782g), which is just over one US pound. Not exactly lite, but not really that heavy either.
Be sure to Click on the Photos for the High Res ~1200px 100% Crop version!
The RX1 comes with a great lens cap that is machined out of metal and locks on very easily and very securely. It actually makes me wonder why Sony can't make a better plastic cap to replicate this cap for their other cameras, but then again, the pro stuff really should be better 😉  The lens cap actually has a bit of weight to it when you hold it in your hand, and the spring tension is just right on the clips. Really well done Sony and a pleasure to use! I very rarely have a good thing to say about lens caps, because most of them  suck, and either fall off or are impossible to get on. Sony got it perfect IMO, and although it may be a minor accessory to the whole package, it shows the attention to detail given.
The lack of a protruding grip in combination with the weight  of the camera, makes the ergonomics on the RX1 a bit lacking in my opinion. Your fingers need to wrap under the camera to support it with one hand effectively. You also have to squeeze really hard with your fingers.  It's not really that big a deal, but a Nex-6 style grip would give much more leverage and make using the camera much easier in my opinion. Granted it would totally change the retro/modern look, but practicality wise it would be much better I think.
On the back side of the RX1 you can see how the thumb area protrudes outward giving you a good spot to hold. This part works well, but again the rest of your fingers will wrap around and under the camera to support the weight. From this view we can also see the fixed 3″ high res LCD screen. I really wish the screen articulated like the new RX100II, or my Nex-6 for that matter.
The manual control knobs on the other hand are awesome on all accounts. Quality feel, confident click for each position, and very easy/ intuitive to use. I really like the exp.comp dial and used that a lot in my limited review time with the camera.
Sony RX1 Hands-On Video Review
In this 18+ minute Hands-On Review of the Sony DSC-RX1, I will go over the camera body design in detail and show you sample HD video. I will then go over the menu system and camera settings in detail so you can see first hand all the features and settings.
Be sure to select the HD option when viewing the video!
Please consider supporting SonyAlphaLab by clicking the links to our affiliates: Sony DSC-RX1 – $2798 US @ BHPhoto
Sony DSC-RX1 Sample Photos
All the sample photos taken with the DSC-RX1 were imported to Adobe Lightroom 4 and then exported @ 65% quality, 1200px Jpegs. Most photos were shot raw, but I did use jpeg for the creative shooting modes and some sample pictures here and there. The image EXIF info is just below each photo in the caption area for your convenience 😉
Here's a few real world sample photos and be sure to click on the images for the full size ~1200px version!
Chopper Smiling and looking for some pets as always. The biggest ham of a dog I ever met 😉  Sadie in the background.
You can see me very clearly in his eye reflection and just how sharp the Zeiss optics are on the RX1.
Taking a cool picture with the RX1 is as easy as grabbing a flower and holding in your hand while looking towards a background that is pretty far away. In my case, I was looking upwards towards some woods with the bright sky poking through.
Be sure to Click on the Photos for the High Res ~1200px 100% Crop version!
A raging spillway scene.
A stack of multiplexers at work.
The back of some dsx panels where the wires from the multiplexers pictured above get physically wired out to. I think I actually did this one myself about 10 years ago.
Had to pick up some Propane for the grill at Lowes's and grabbed a snapshot as I liked the lighting conditions and deep blue sky.
Be sure to Click on the Photos for the High Res ~1200px 100% Crop version!
Layla is getting big so fast!
The Moffat Library
F/8 vs F/2
Sleeping Giant.
F/8 vs F/2.8
Be sure to Click on the Photos for the High Res ~1200px 100% Crop version!
I took a few firework photos on the 4th of July using my tri-pod and various settings on the RX1 using manual mode. I started @ f/8, ISO 100, and 4 seconds or so, and then moved on to longer shutter speeds and higher aperture settings from there.
Creative Mode Sample Photos
I took a few photos using the creative modes such as illustration, watercolor, and selective color. Illustration mode in particular is a lot of fun to use and I can't help but get carried away with it, because the results are so interesting. You need to have the camera set to jpeg quality to use the creative modes/ effects.
Be sure to Click on the Photos for the High Res ~1200px 100% Crop version!
Auto HDR Feature
The Auto HDR feature is very powerful for an in camera option in my opinion. It also works really well for most situations I find. You must be in Jpeg quality for the Auto HDR feature to work.
Be sure to Click on the Photos for the High Res ~1200px 100% Crop version!
High ISO – Real World Testing
ISO 25600 is the best I have ever seen! Incredible real world high ISO performance in my opinion. When compared to there other ISO's in a test format, the blacks tend to shift towards purple at ISO 12800 and up, which is what Sony sensors normally do. It's barely noticeable in this first image of the toy truck though below.
Be sure to Click on the Photos for the High Res ~1200px 100% Crop version!
ISO 25,600
The noise is a bit more apparent in these next test photos.
Full Scene
100% Crop
 100% Crop
ISO 25,000
ISO 20,000
ISO 16,000
ISO 6400
ISO 3200
Effectively noiseless @ ISO 3200 and below
Sony RX1 Accessories
The Sony RX1 does have a nice variety of high quality accessories, although very expensive. The Electronic Viewfinder (EVF) for one is awesome and a great advantage to have for daylight shooting or if you just prefer that style of shooting over the screen. It goes for $448 US @ BHPhoto | Amazon | Ebay >>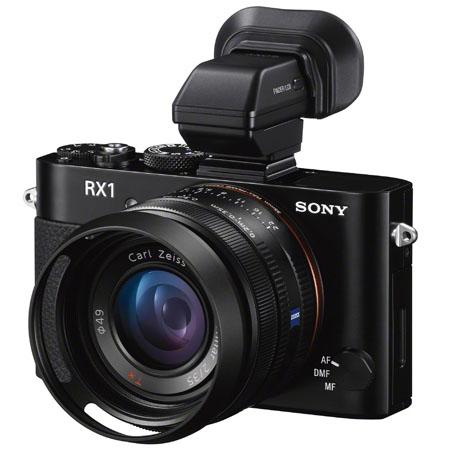 Next we have the Thumb Grip which goes for $248 US @ BHPhoto | Amazon >> and Ebay >> have a bunch of affordable aftermarket versions that are worth checking out.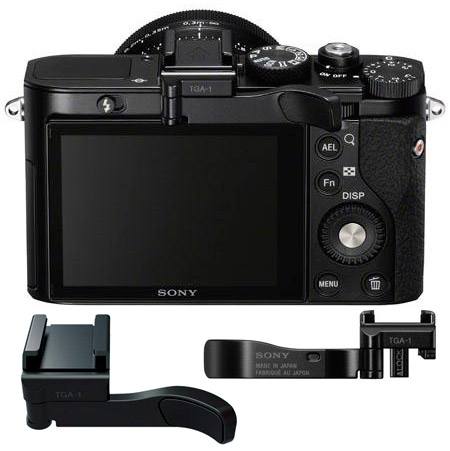 The other main accessory item for the RX1 is the lens hood which goes for $178 US @ BHPhoto | Amazon | Ebay

If you want a better grip and some protection for you Sony RX1, consider the top quality Gariz Case which varies in price and design options @ Amazon >> and Ebay >> It's made from the highest quality leather and the base is all metal with battery door access and a off center tri-pod mount.
In your looking for Lens Filters, the Sony DSC-RX1 accepts 49mm threads.
You can find 49mm Neutral Density Filters @ BHPhoto >> and Amazon >>
You can find 49mm Polarizing Filters @ BHPhoto >> and Amazon >>
I recommend investing in a very high quality filter if you plan on using one. The Zeiss optics on the RX1 are top quality, so putting low quality glass in front of it makes no sense. B+W makes awesome super high quality filters as do many other manufactures, but just know you get what you pay for with lens filters and the multi-coated nano technology are the latest and greatest out there.

Sony DSC-RX1 Review – Conclusion
The Sony DSC-RX1 has the best image quality of any camera I've ever used personally. The full frame 24mp sensor combined with the fast f/2 Zeiss optics, produces some stunning results. The Build Quality and attention to detail is also top quality and very well thought out. In particular the buttons and dials, battery door latch, USB port door, tri-pod mount, and built-in flash. The menu system is the Pro style and has all the options you could ever want or need for this style camera. In the video above I go into more detail about the menu system, so be sure to watch the whole thing!
The Sony DSC-RX1 goes for $2798 US @ BHPhoto, and for that amount of money you get exceptional image quality, build quality, and high ISO performance. What you don't get however, is a practical grip or an articulating screen like the new DSC-RX100 II. The RX1 is more of a Retro Style, and I think Sony went wrong here personally. I would prefer to see the same exact specs and feature set, but with the awesome ergonomics of a beefed up Nex-7 style camera body instead. I really think it needs a grip considering the weight and overall thin body design of the camera.
My proposal for Sony engineers and designers. Please consider adding a grip in the next generation RX full frame camera. The much smaller RX100 is pocket-able and lighter in weight, so it does not make sense for that particular model to have a grip. Perhaps a new series with ergonomics with long-term hand holding consideration in mind? I was also thinking a few different focal length options with lens adapter similar to the 16mm e-mount conversion lens options. Perhaps a few Zeiss lens adapters to expand the cameras possibilities a bit? A telephoto and wide-angle option would be great if somehow plausible without killing the optics too much. Or a zoom lens version with a grip called the RX2-Z? This is just a few thoughts I had on the RX1 future design options.
As good as the image quality and high ISO performance is on the RX1, the lack of an articulating screen and grip makes it a great camera (4 Star) as opposed to a perfect camera (5 Star), like the little brother RX100. If it had either I would give it a 4.5 star encase you were wondering. Just my opinion mind you, so please take it with a grain of salt!
I hope you all got something out of my Sony DSC-RX1 Review, and please feel free to ask questions or comment below.
Buy the Sony DSC-RX1 – $2798 US @ BHPhoto >>
Your support is greatly appreciated as we run this site in our spare time and are not paid. We can however, make a small commission if you click a product link that your interested in. That click will then give us credit if you choose to purchase any given item. This has no effect on the cost of the product, and is a simple way to give back to SonyAlphaLab.com for the effort and info we provide.
Tip Jar: https://www.paypal.me/SonyAlphaLab
Support SonyAlphaLab by becoming a | Patreon
Also, be sure to keep following us on Google+ | Twitter | Facebook |
Direct Shopping Links – Thanks for your Support!!
BHPhotoVideo | Amazon – US | CA | UK
Thanks,
Jay