Review
In this Sony Alpha A7s full frame mirrorless camera review, I will go over all the details that matter like real world image and video quality, high ISO lab testing, focus testing, how the camera works, and much more…. I have tons of sample photos to show you including some newborn studio photography of my new boy Jase, HDR photography, extreme low light photos, and lots of everyday real world situation shots 🙂
The Sony A7s is the latest full frame mirrorless e-mount camera from Sony and what sets it apart from the other full frame models is the new 12.2mp Exmor CMOS sensor. The relatively low pixel count means the individual photo sensors can be physically much larger and therefore better in the low light department specifically. This is great for video in particular, but also any other low light work such as weddings or concert photography for example.


Stand Out Features

12.2MP Full-Frame Exmor CMOS Sensor
BIONZ X Image Processor
Gapless On-Chip Lens Design
3.0″ 921.6k-Dot Tilting LCD Monitor
XGA 2.36M-Dot OLED Electronic Viewfinder
XAVC S @ 50Mbps
4:2:2 UHD 4K Output via HDMI
Full Pixel Read-Out, S-Log2 Gamma
Expandable Sensitivity: ISO 50-409600
Time Code, optional XLR audio inputs
Sony A7s Video Review
So, how much better is the A7
s

in low light and why does it matter?

Well, it all depends on what your needs are. The Sony A7s is much better for low light photography and video. The A7r is better for high detail photography (landscapes for example). The A7 has the Hybrid AF, so it should be better for sports and all around, plus it is cheaper. Image quality wise it's nearly impossible to tell the difference on the computer between the cameras at normal viewing size, but the resolution does make a huge difference in the fine details when zoomed in. Low light wise the A7s has a huge advantage over both the A7 and A7r. Note the comparison chart below courtesy of DXOMark.com
DXOMark A7 vs A7

r

vs A7

s
As you can see from the comparison illustration below, the Sony A7s is not the highest score overall, but check out the sports (low light ISO) numbers. The A7s dominates in this area which is what Sony had in mind when designing this particular model.
Illustration courtesy of DXOMark.com:
Video Dynamic Range Testing
Video Dynamic Range Testing done courtesy of Cinima5D and the Sony A7s destroys the competition!! 14.1 stops of DR which basically means you don't need HDR that much and your video will really be able to capture the highlights and shadows if you use the killer sLog2 gamma profile which I recently wrote about here >>
This is an extremely good dynamic range rating and is fascinating considering that the A7S is available at a fraction of the Amira's price and is also in a completely different weight and size class.
Illustration Courtesy of Cinima5D:
Sony A7s Camera Body Photos
Menus, Camera Settings, and More
I put together a hands-on HD Video specifically to go over the Sony A7s menu system, buttons, and how to use the most common features/modes on the camera. It's pretty long, but goes over a ton of information.
Menu System Special Notes:
Some items in the menu system will be grayed out depending on what shooting mode and quality you are set to. For example, you can't adjust the panorama size options while not in the panorama mode on the camera and they will appear grayed out.
Build Quality and Design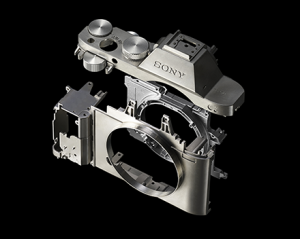 The Sony A7s has the same exact body design as the A7 and A7r on the outside as you can see from the body shots above. On the inside of the A7s the same full magnesium alloy body is used as the A7r. The standard A7 has partial magnesium and partial rigid plastic in case you were wondering.  So, heavier lenses can be mounted without worry of the camera flexing. When using really heavy lenses, a lens collar is highly recommended and usually included.
Overall it's a great body design, but not perfect after several months of use with my A7r.  The menu button for example is always awkward for me to press as is the C2 button. The lip on the top camera body that the tiltable lcd screen tucks under is what makes the buttons harder to press. Perhaps these buttons could be moved or the lip could be eliminated in a more refined body design. The upper rear thumb dial has a good tension and works great, as does the one on the front which my pointer finger turns. The lower rear thumb dial also acts as a four direction navigation pad and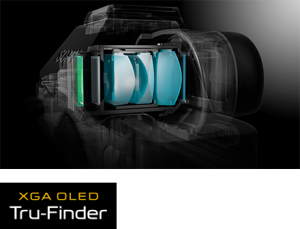 quick access to a few key features like shooting modes, WB, and display modes. You can custom program tons of buttons on the camera, so don't worry if some settings are not in your normal preferred locations, as most likely you can program it to where you want it. Be sure to check out the video on the menu system and buttons for a more detailed breakdown of all that stuff.
The grip I like, but I still feel the fingers could be deeper for easier one hand gripping without the battery grip attached. With the battery grip, which I reviewed recently here, it's really easy to hand-hold at your side with one hand.
The XGA OLED Tru-Finder works really well, even in extremely low light. The noise can make it harder to see at times than an optical viewfinder, but I never had an issue with it at all. I used it in all sorts of low light scenarios as well.
The Sony A7s also has a killer silent shooting mode feature which I go over in the menu video above, but I wanted to make sure to mention it in case you miss the video. To truly be silent, you will also need to shut off the audio signals in the menu as well, just so you know. The silent shooting setting applies to the shutter mechanism only.
The A7s takes one NP-FW50 battery, but comes with two in the box which I thought was pretty awesome, and a nice surprise honestly. Sony decided to change the text on  the batteries to black for some reason also. The battery life is not the greatest, but because I use a usb cable to suck off the photos and video, I just leave the camera plugged in and OFF when I'm done, and it's always fully charged when I pack my bag. I also have an external charger which is great for charging multiple batteries, but one does not come with the camera from the factory unfortunately.
The high res rear LCD screen articulates up and down, but not a full 180 degree like the new A5100 for example. It also does not have a touchscreen. The LCD screen has enough clearance on the bottom that when a tri-pod plate is mounted tightly it still opens and goes down a little bit over the plate. That is using my Gitzo and Manfrotto quick release plates for reference. I usually use the lcd screen facing upward at the sky, because the camera is mostly low the way I shoot, and looking down is much easier than laying on the floor using the viewfinder in most situations.
When using the higher quality XAVC S format, you will need to have a SDXC memory card which I did not have at first. The camera gave me an error when I tried to use the higher quality format saying a SDXC card was required. So, I purchased what I can afford and ended up with the highly reviewed and affordable PNY 64GB SDXC memory card. So far it works great considering I never used one before.
Sony A7
s

Key Features Breakdown

Images and info courtesy of Sony:

The 50Mbps high-bit-rate XAVC S format is provided for serious videographers. Available for the first time in a camera, it enables full HD image recording at 50Mbps for extremely high-quality expression and minimal noise. It also employs the Long GOP (Group of Pictures) data compression method to realize efficient movie recording.

Note: Sony recommends using an SDXC memory card higher than Class 10 when shooting movies in the XAVC S format.

Gapless on-chip lenses enhance light gathering efficiency

The image sensor's high sensitivity was enhanced by eliminating the gaps between every on-chip lens (OCL) covering every pixel. Since there is no wasted space between these lenses, they gather far more light for the image sensor. Sony also optimally positioned them depending on their location to match how light enters the sensor at sharper angles near the periphery. These advances raise sensitivity while maintaining extremely low noise to deliver an impressive S/N ratio whether shooting still images or movies.

Picture Profile

You can fine-tune the look of movies before shooting by adjusting gradation (Black Level, Gamma, Black Gamma, Knee), color adjustment (Color Mode, Color Level, Color Phase, Color Depth) and Detail. Adjusted parameters can be saved along with other settings as a profile, and up to seven profiles can be stored for later recall.
S-Log2 gamma setting

This proprietary Sony gamma setting, featured in professional camcorders, creates a 1,300% wider dynamic range for smooth expression of gradation with reduced whiteout and blackout. Through color grading in post-production, you can make the most of the low-noise image and super-rich detail to achieve various types of image expression.
Time code / User bit

As with commercial video equipment, this function provides a "Record Run" setting that only advances the time code while recording, a "Free Run" setting that advances the time code whether recording or not, a drop frame method and a non-drop frame method. The ?7S can also output an embedded time code when the clean HDMI output setting is in use.

Note: This function is only available when recording in the AVCHD and XAVC S formats.
120fps (100fps)*

120fps recording broadens image expression options since a movie shot at this frame rate can be played back at 24p to create stunning 5x slow-motion effects. When 120fps recording is selected, movies are automatically recorded at HD resolution (1280 x 720 pixels) in the APS-C (Super 35 mm equivalent) crop size.

* PAL: 100fps

REC Control

The A7S is equipped with a Rec Control function that enables synchronized recording of non-compressed images in the camera and a compatible external recorder. With the On setting activated, the compatible external recorder starts recording automatically when the camera's record button is pressed.
Clean HDMI output for 4K*(QFHD: 3840 x 2160 pixels) movies
Non-compressed image output is now possible at 4K (QFHD: 3840 x 2160 pixels) resolution with selectable 30p and 24p frame rates. You can choose 4K or Full HD output from a menu. The 4K output capability allows recording of high-quality 4K images by a 4K-compatible recorder, as well as 4K output directly to a compatible monitor or TV.
* 4K (QFHD: 3840 x 2160) movie recording requires a 4K compatible player.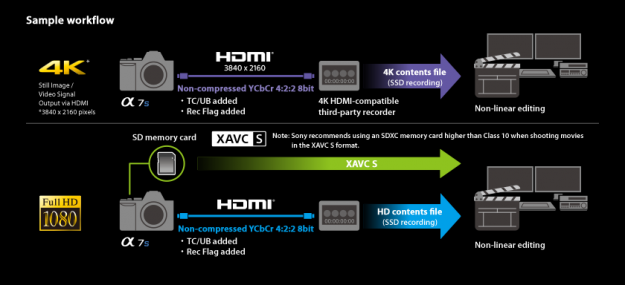 Headphone Jack

Professional sound production versatility and connectivity free you to create soundtracks as professional as your images. During movie recording and playback, you can monitor the sound using headphones connected to the A7S. Stereo sound output is guaranteed to provide the highest possible playback quality via recommended Sony high-end headphones.
Audio level display and Rec level control

You can precisely control the sound level with 32-step precision using a meter displayed on the viewfinder or rear monitor. Moreover, Live (real-time) and Lip-sync settings are provided for output timing that satisfies professional needs.
Optional XLR Adaptor Kit for professional sound production

This adaptor kit features XLR terminals, the professional standard for movie production, to enable sound recording via wide-ranging professional microphones and line-in connection for sound input. The ability to separately control left and right channel input directly from the XLR adaptor helps simplify post-shoot editing. Sony XLR-KLM Adapter and Mic Kit >>
Dust and moisture resistance

Comprehensive dust and moisture resistance measures enhance reliability and let you enjoy more carefree shooting in tough environments. These measures include sealing around the controls and a protective double-layered structure that tightly interlocks panels and components to help prevent water and dust from entering the body.
Sony A7s – Full Specifications
Sony A7s Specifications
Software

Operating System Compatibility : Image Data Converter 4.0: Microsoft Windows® Vista® SP2, Windows® 7 SP1, Windows® 8 (Pentium 4 or faster) Mac OS X (10.6-10.8) (Intel Core Solo/Core Duo/Core 2 Duo or faster) PlayMemories Home: Microsoft Windows® Vista® SP2, Windows® 7 SP1, Windows® 8 (Pentium III 800 MHz or faster; for playing/editing HD movies: Intel Core Duo 1.66 GHz or faster/Intel Core 2 Duo 1.66 GHz or faster, Intel Core 2 Duo 2.26 GHz or faster (AVC HD (FX/FH)) Mac OS X (10.6-10.8) (Intel Core Solo/Core Duo/Core 2 Duo or faster)
Supplied Software : PlayMemories Home, Image Data Converter Version 4

Camera

Camera Type : Full-frame Mirrorless Interchangeable Lens Camera
Lens Compatibility : Sony E-mount Full Frame, operation with Minolta / Konica Minolta Maxxum A-mount lenses confirmed via optional LA-EA3/LA-EA4 adaptor9
Lens Mount Type : Sony E-mount Full Frame
Drive System
Continuous Shooting Speed : Speed Priority Continuous shooting: Max. 5.0fps, Continuous shooting: Max. 2.5fps
Shutter Speeds : 1/8000 to 30 seconds, bulb
Self-timer : 2-sec. or 10-sec. delay,
Shutter Type : Electronically-controlled, vertical-traverse, focal-plane shutter
Drive Mode : Single shooting, Continuous shooting, Speed Priority Continuous shooting, Self-timer (10/2 sec delay selectable), Self-timer (Cont.) (10 sec. delay; 3/5 exposures selectable), Bracketing (Cont., Single, White Balance, DRO)

Exposure System

Auto Exposure Lock : Auto Exposure Lock (AEL) button, Locked when shutter button is pressed halfway (Can be disabled from the Menu)
Exposure Settings : AUTO (iAUTO, Superior Auto), Programmed AE (P), Aperture priority (A), Shutter-speed priority (S), Manual (M), Scene Selection, Sweep Panorama, Movie
Metering Modes : Multi-segment, Center-weighted, Spot
Metering Sensitivity : EV -3 to EV 20 (at ISO100 equivalent, with F2.0 lens attached)
Metering : Advanced 1200-zone evaluative metering
ISO : Still images: ISO 100-409600
Movies: ISO 200-409600 equivalent
Color Temperature : 2500 – 9900K with 15-step each Magenta/Green compensation (G7 to M7), Amber/Blue (A7 to B7), Custom
White Balance Mode : Auto WB / Daylight / Shade / Cloudy / Incandescent / Fluorescent (Warm White / Cool White / Day White / Daylight) / Flash / Color Temperature (2500 to 9900K) & Color Filter (G7 to M7: 15 steps, A7 to B7: 15 steps) / Custom / Underwater

Focus Control

Focus Sensitivity : EV -4 to EV 20 (at ISO100 equivalent, with F2.0 lens attached)
Focus Area : Wide (25 points) / Center-weighted / Flexible Spot (S/M/L) / Zone
Focus Points : 25 points (contrast-detection AF)
AF Modes : Single-shot AF (AF-S), Continuous AF (AF-C), Direct Manual Focus (DMF), Manual Focus (MF)
Focus System : Contrast-detection AF

Imaging Sensor

Processor : BIONZ® X image processor
Pixel Gross : 12.4 Megapixels (approx.)
Color Filter System : RGB primary color filters
Effective Picture Resolution : 12.2 Megapixels (approx.)
Anti Dust : Charge protection coating on optical filter and ultrasonic vibration mechanism
Imaging Sensor : 35mm full frame Exmor CMOS sensor (35.8 x 23.9mm)

Interface

NFC : Yes (NFC Forum Type 3 Tag compatible, One-touch remote, One-touch sharing)
HDMI Terminal : HDMI® Type D micro connector
DC IN : Yes via optional AC-PW20AM (sold separately)
Memory Card Slot : Multi slot for SD / Memory Stick PRO Duo media
HD Output : Uncompressed 4K (3840 x 2160)*1 Uncompressed HD (1920×1080)*1 BRAVIA Sync (link menu) PhotoTV HD 4k Still image playback
PictBridge Compatible : Yes
Tripod Mount : Yes, 1/4″ 20 thread count
Remote Commander : Yes, via optional RM-VPR1
PhotoTV HD : Yes, with BRAVIA Sync enabled HDTV and HDMI® cable
USB Port(s) : USB 2.0 Hi-speed (mass-storage, MTP)
Accessory Shoe : Yes, via Multi Interface Shoe
A/V Remote Terminal : Yes, via Multi Terminal interface
BRAVIA® Sync™ : Yes, via HDMI® with compatible BRAVIA HDTV (link menu)8
Multi Interface Shoe : Yes
Headphone Jack : Yes
Microphone Input : Yes

LCD Display

Peaking : Yes (Level setting: High / Mid / Low / Off, Color: White / Red / Yellow)
Real-time image adjustment display : Yes (On / Off)
LCD Type : 3.0" (7.5cm) TFT LCD (921,600 dots) with tiltable design
Coverage : 100%
Zebra : Yes (On / Off)
Histogram : Yes (On / Off)
Live View : Continuous Live View

Power

Power Requirements : Two rechargeable battery pack (NP-FW50)
Battery Type : InfoLITHIUM® NP-FW50 (7.2V)
Number of Still Images : Approx. 360 images with LCD monitor (CIPA standard)4
Battery Capacity : 1080 mAh
Supplied Battery Charger : BC-TRW

Recording

Video Signal : NTSC color, EIA standards
Microphone/Speaker : Built-in stereo microphone or ECM-XYST1M / XLR-K1M (sold separately), Built-in monaural speaker; volume settings in 8 steps between 0 and 7
Video Resolution : XAVC S Full HD – 1920 x 1080/60p@50Mbps Full HD – 1920 x 1080/30p@50Mbps Full HD – 1920 x 1080/24p@50Mbps HD – 1280 x 720/120p@50Mbps *Class 10+ SDXC memory card is required for recording in XAVC S AVCHD™:
PS – 1920 x 1080/60p@28Mbps
FX – 1920 x 1080/60i@24Mbps
FH – 1920 x 1080/60i@17Mbps
FX – 1920 x 1080/24p@24Mbps
FH – 1920 x 1080/24p@17MbpsMP4:
HD – 1440 x 1080/30p@12Mbps
VGA – 640 x 480/30p@3Mbps
Audio Format : XAVC S: LPCM 2ch. AVCHD: Dolby Digital (AC-3), 2ch., Dolby Digital Stereo Creator MP4: MPEG-4 AAC-LC, 2ch.
Video Format : XAVC S / AVCHD™ format Ver. 2.0 compliant / MP4
Video Mode : XAVC S / AVCHD™ / MP4 / Uncompressed 4K and HD output via HDMI
Still Image Size 16:9 : 35mm full frame:
L: 4240 x 2832 (12M), M: 2768 x 1848 (5.1M), S: 2128 x 1416 (3M)APS-C:
L: 2768 x 1848 (5.1M), M: 2128 x 1416 (3M), S: 1376 x 920 (1.3M)
Still Image Size 3:2 : 35mm full frame:
L: 4240 x 2384 (10M), M: 2768 x 1560 (4.3M), S: 2128 x 1200 (2.6M)APS-C:
L: 2768 x 1560 (4.3M), M: 2128 x 1200 (2.6M), S: 1376 x 776 (1.1M)
Still Image Mode : RAW, RAW & JPEG, JPEG Extra fine, JPEG Fine, JPEG Standard
Still Image File Format : JPEG: DCF Ver. 2.0, Exif Ver.2.3, MPF Baseline compliant, RAW: Sony ARW 2.3 format
Media Type : SD / SDHC (UHS-I compliant) / SDXC memory card (UHS-I compliant), *Class 10+ SDXC memory card is required for recording in XAVC S Memory Stick PRO Duo, Memory Stick PRO-HG Duo, Memory Stick XC-HG Duo
Still Image Max Effective Resolution : 12.2 Megapixels

Service and Warranty Information

Limited Warranty Term : 1 Year Parts & Labor

Viewfinder

Display : Disp. Basic Info, Histogram
Brightness Control : Auto / Manual (3 steps between -1 and +1)
Type : 1/2-inch (1.3 cm) XGA OLED color electronic viewfinder (2,359,296 dots)
Field of View : 100%
Magnification : Approx. 0.71x with 50 mm lens at infinity, -1m-1 (diopter)
Diopter Adjustment : -4.0 m-1 ~ +3.0m-1 (diopter)

Weights and Measurements

Dimensions (Approx.) : Approx. 5 x 3-3/4 x 1-15/16" (approx. 126.9 x 94.4 x 48.2mm)
Weight (Approx.) : With battery and Memory card: Approx. 1 lb 1.2oz (approx. 489g)
Weight(Approx) (Main unit only) : Approx. 15.7 oz (approx. 446g)

Wi-Fi

PlayMemories Camera Apps : Yes
View on TV : Yes
Send to Computer : Yes
View on Smartphone : Yes
Sony A7s Manuals and Help Guides
The Sony on-line manuals and help guides are much better than the provided paper books in my opinion, and the links are below for the Sony Alpha A7s:
Sony Alpha A7
s

– Sample Photos

I took a ton of photos with the Sony A7s, so I decided to divide them up into sections below so you can go to what interests you most etc…
Lab Testing ISO Sample Photos – Raw Quality
I was using the 35mm f/2.8 E-mount lens for these lab test photos and due to the extremely high ISO, I actually had to change the aperture from f/8 to avoid maxing out the shutter speed of 1/8000sec. That is a first and makes sense considering the ISO goes to 409800! Overall I was very impressed with the High ISO performance of the Sony A7s and you can see exactly how the camera performed for yourself below. Note the detail retention at ISO 102400 vs ISO 409800. I actually set the Auto ISO from 100 – 102400 and I think that is a good way to go personally if you want to hand-hold all the time with this camera.
ISO 409600 – Raw Quality – Click Photos!

ISO 409600 – JPG Quality – Click Photos!
All these Lab test photos are Raw Quality saved out as jpegs for web @ 85% quality 1000px via Lightroom 5.5:

Be sure to click on the thumbnails, then navigate to the left or right of the images to go to the next photo automatically!
Real World High ISO Sample Photos
First, here are a few High ISO real world sample photos from around the house:
Raw vs Jpg ISO 20,000
Real World Sample Photos

Un-edited Raw vs Slightly Edited Raw via Lightroom 5.5:
Broken Glass:
More Random Real world Photos:
Be sure to click on the thumbnails, then navigate to the left or right of the images to go to the next photo automatically!
Studio Photography Using Off Camera Flash
We really wanted to try and get some good newborn photos of our new boy Jase, so we set-up the studio and gave it go. It went horrible to say the least, but we did manage to get a few decent photos so far 😉
Using Lens Adapters and Other Lenses
I took the studio photos above with the Canon EF 70-200mm f/2.8 IS L Lens via the Metabones III and the Sony A7s, and I also took a few random shots with the Minolta 50mm f/1.4 Rokkor-X Lens,  the Canon EF 17-40mm f/4 L Lens which I used for the HDR Photos in the next section, and the EF 135mm f/2 L Lens at Layla's B-Day party. Take a look below and be sure to click on the photos!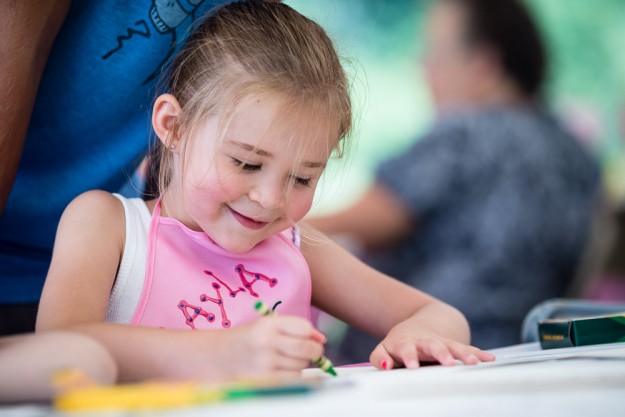 HDR Photography
True multi-exposure HDR Photography is a lot of fun and requires some post processing work on your part if you want to try it. I dedicated an entire article on this over here >> Sony A7s and HDR Photography, but here a few sample shots I liked 😉
Creative Modes and Picture Effects
Most of the Sony cameras have creative modes and picture effects, so I went through and tested pretty much everything, and it will be named in the caption what effect or mode was used. You can get the Picture Effect+ App, and many others, for Free at the Sony PlayMemories Portal >>
Sony A7
s

Review Conclusions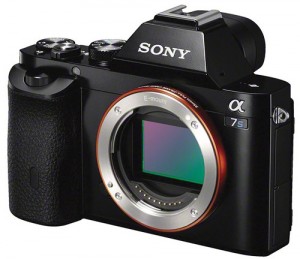 After reviewing both the Sony A7 (Click Here) and the Sony A7r (Click Here), I must say the Sony A7s is in a league of it's own entirely. Sony totally succeeded in creating a killer low light full frame photography and video camera in one. With the low res sensor, huge dynamic range improvements have been made specifically for video. The higher band-width formats allow for much more information and less compression on the video being written to the card. The results are noticeably better, especially when using the S-Log2 Gamma Picture Profile.
Photography wise I really enjoyed the electronic 1st-curtain shutter over the loud and clunky A7r shutter. The A7s was much faster and more responsive than my A7r due to the lower processing load as far as information goes. 36mp vs 12 is a huge difference in information. Otherwise the cameras are very similar in all regards from a user experience.
Auto Focus is pretty good and very similar to the A7r. It's not as fast as the newer Sony A6000 I recently reviewed (Click Here), because it is contrast AF only.
So who is the Sony A7s for?
The Sony A7s in my opinion, is for anybody wanting much better high ISO performance and much better dynamic range for video. So, film makers of course, wedding photographers looking for the best possible full frame low light shooter (second camera for shooting or filming) , street shooters who like shooting and/or filming in the dark, HDR photographers that want to hand-hold, concert photography where a higher shutter speed is required to freeze the action, and even low-light sports!
Yeah, I know it's lower resolution so you can't technically print as large or crop in as much as the A7 or A7r. That is a negative, but also makes you get the image correct on the camera instead of relying on cropping.
So, would I buy the Sony A7s?
Absolutely, but I don't need it and can't afford it.  I love my Sony A7r and even though the shutter is clunky and loud, I prefer to use a tri-pod for the print worthy frames anyway, and high ISO is never required for that. Same with studio photography, high ISO is not required. It is really nice to have sometimes though don't get me wrong, but the amount of time I need the super high ISO abilities is honestly limited. Same with the killer video, although I would love it for my video reviews and stuff 😉 I don't really need it though and would honestly rather have a RX10 style camera these days considering the gear I already have 😉
That is about it for this Sony Alpha A7s review everybody, but please feel free to ask questions and/or comment below! I hope you got what you were looking for and video review coming soon….
Thanks again,
Jay
Forum – Whats Hot?? – Sony Daily News, Rumors, Deals, Killer Photography, Contests, and More >>>
Support Links:
Sony Alpha A7

s

for

$2498 US

@ BHPhoto
Sony Semi-Hard LCD Screen Protector for

~14.95 US

@ BHPhoto
NP-FW50 Batteries and Chargers @ BHPhoto
Vertical Battery Grip for

$298 US

@ BHPhoto
Sony XLR-K1M Adapter and Microphone Kit for

~$788 US

@ BHPhoto

Gariz Half-Cases for the A7s On Ebay from

$95

(Click Here)

SDXC Memory Cards From

$34.95 US

@ BHPhoto

New

– Atomos Shogun 7″ 4K HDMI and 12G-SDI Monitor & Recorder @ BHPhoto

Atomos Ninja 2 HDMI 4.2.2 Video Recorder for ~

$695 US

@ BHPhoto
Current Full Frame E-Mount Lenses Available at time of review:
Sony Sonnar T* FE 35mm f/2.8 ZA Lens for

$798 US

@ BHPhoto
Sony Sonnar T* FE 55mm f/1.8 ZA Lens for

$998 US

@ BHPhoto
Sony FE 28-70mm f/3.5-5,6 OSS Lens (kit lens) for

$498 US

@ BHPhoto
Sony FE 70-200mm f/4 G OSS Lens for

$1498 US

@ BHPhoto
Sony Vario-Tessar T* FE 24-70mm f/4 ZA OSS Lens for

~$1198 US

@ BHPhoto
Rokinon 24mm

f/1.4

ED AS IF UMC Lens for

~$549 US

@ BHPhoto

Rokinon 35mm

f/1.4

AS UMC Lens for

~$499 US

@ BHPhoto
Mitakon 50mm

f/0.95

Lens for

~899.95 US

@ BHPhoto
Your support is greatly appreciated as we run this site in our spare time and are not paid. We can however, make a small commission if you click a product link that your interested in. That click will then give us credit if you choose to purchase any given item. This has no effect on the cost of the product, and is a simple way to give back to SonyAlphaLab.com for the effort and info we provide.
Tip Jar: https://www.paypal.me/SonyAlphaLab
Support SonyAlphaLab by becoming a | Patreon
Also, be sure to keep following us on Google+ | Twitter | Facebook |
Direct Shopping Links – Thanks for your Support!!
BHPhotoVideo | Amazon – US | CA | UK
Thanks,
Jay