Review
In this Sony Alpha A6000 Review I will go over all the details you need to know using multiples lenses, real world and lab sample photos, video, and much more…  I really went in depth with the A6000 because the new 24mp sensor and fast hybrid auto focus needed a thorough testing after all the hype. Does it really replace a DSLR? The short answer is no, but for 90% of photography, yes it could effectively replace a DSLR for most users and so could the Nex-6 for that matter. Please read on as I break down the camera feature by feature using real world situations and testing.
The lenses used for my Sony a6000 review include the E-Mount 18-105mm f/4 OSS G PZ Lens, the Full Frame E-Mount 70-200mm f/4 OSS G Lens, and other lenses via lens adapters.



24.3MP APS-C Exmor APS HD CMOS Sensor
BIONZ X Image Processor
Tru-Finder 0.39″ 1,440k-Dot OLED EVF
3.0″ 921k-Dot Xtra Fine Tilting LCD
Full HD 1080/60p AVCHD at 24/60 fps
Built-In Wi-Fi Connectivity with NFC
Fast Hybrid AF w/ 179 Phase-Detect Points
Up to 11 fps Shooting and ISO 25600
Eye-AF, 4k output, Uncompressed HDMI Out
Multi-Interface Shoe and Built-In Flash
Auto HDR and Multi Frame NR
Sony A6000 Overview and Design
The Sony Alpha A6000 Mirrorless Digital Camera is the most versatile and advanced mirrorless camera from Sony to date! The A6000 is going for only ~$598 US  (Body Only until June 14th with rebate) Normal price will be $648 US (body only) Sony Alpha A6000 @ BHPhoto Click Here That is a really fair price in my opinion and trounces the competition when you factor in all the features, versatility, and IQ for the money. It's just a fact, Sony is the best value for the dollar hands-down 😉 Sony says this is a replacement for both the Nex-7 and Nex-6, so keep that in mind.
The Alpha A6000 has a new 24.3MP APS-C-sized Exmor APS HD CMOS sensor and BIONZ X image processor which produces high-resolution still images and full HD movies with up to 20% better low-light quality than the Nex-7 and about the same as the Nex-6. Like the full frame Sony A7r sensor, which I recently reviewed Click Here,  the A6000 sensor also has a gapless on chip micro lens design, which helps focus the light to each individual pixel more effectively. It certainly helps when comparing to the older Nex-7 sensor design and high ISO performance.
The A6000 also features blazing fast auto focus with up to 11 fps thanks to an intelligent Fast Hybrid AF system that uses both phase and contrast detection methods to quickly and accurately acquire focus. It's really fast and accurate!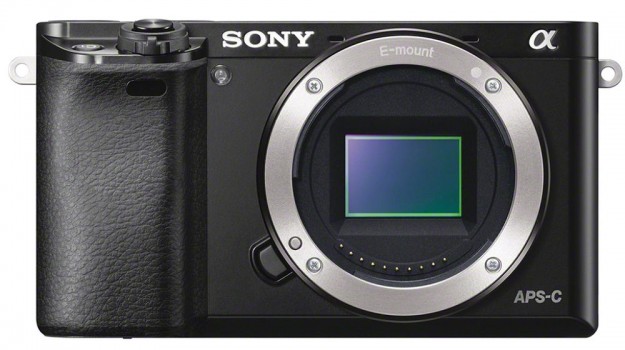 For live view monitoring, image playback, and menu navigation, both a large rear monitor and detailed electronic viewfinder are available. The 3.0″ 921k-dot XtraFine LCD screen features a tilting design to facilitate easier use from both high and low angles and also incorporates WhiteMagic technology for easier viewing in bright conditions.
The 0.39″ 1,440k-dot Tru-Finder OLED EVF offers 100% frame coverage and a refined optical design to provide a natural viewing perspective and magnification. It is lower resolution from the Nex-6, but I can't tell the difference even when A and B testing.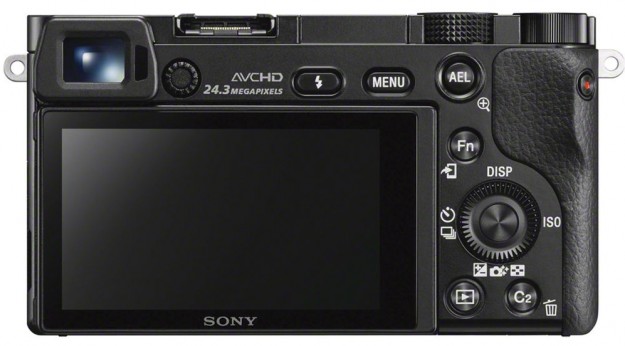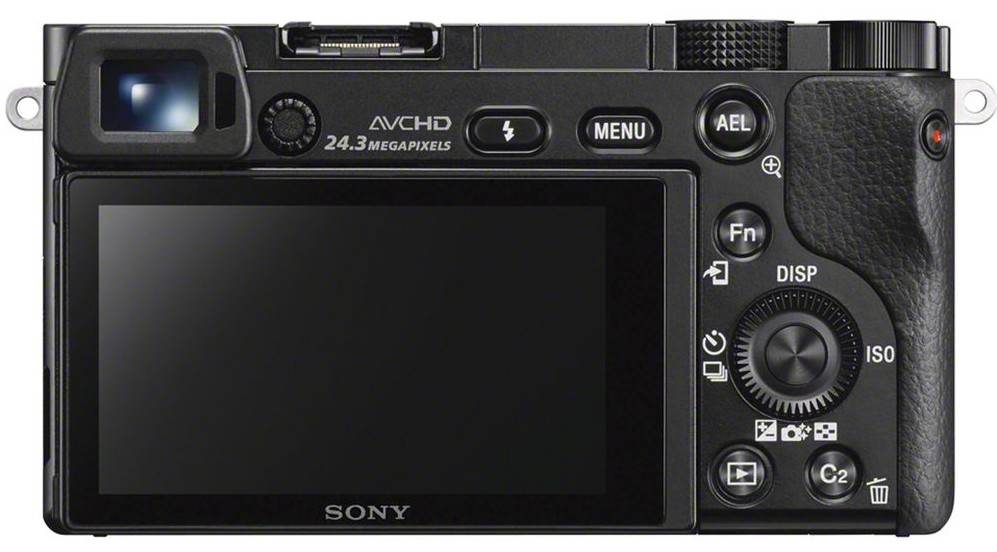 The body design of the A6000 incorporates the best from the Sony Nex-6 and Nex-7, in my opinion, by including several customizable buttons, two control dials, a built-in flash, and a Multi Interface shoe for attaching external flashes, continuous lights, or microphone type accessories. I also used it for tripping the studio lights with my Alien Bee flash trigger transmitter and it worked as expected in the shoe. The grip is slightly taller than my Nex-6 grip which I also like better.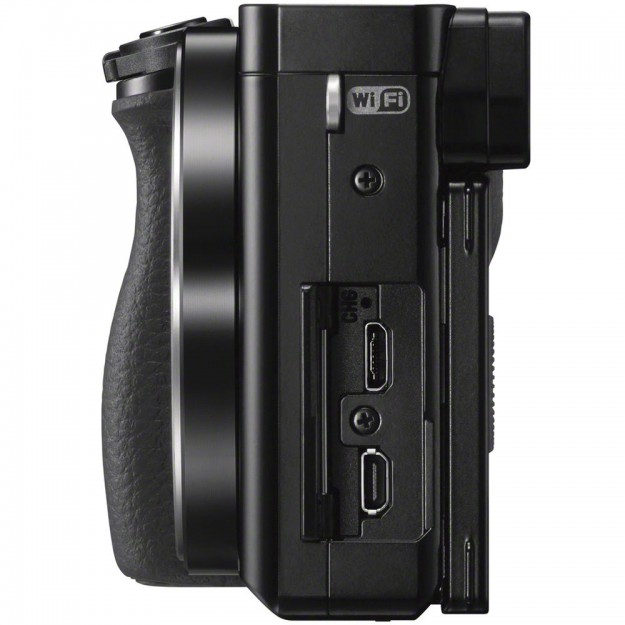 The A6000 also has Built-in Wi-Fi connectivity, with support for NFC-enabled devices, and the ability to remote control via apps and so fourth. Lightroom tethering support is not working yet, but you can remote capture and then auto-import that folder to Lightroom which is a very effective work around if needed 😉
The grip and in hand feel is very similar to the Nex-6 in my opinion and great overall. The top right control wheel could be moved to the left a bit so it's not on the actual corner of the camera, because I have hit the record button a few times by mistake. I don't hit the record button by mistake on my Nex-6 very often because the thumb contour design is different. Moving the pop-up flash to the far left of the camera body might help resolve this, but may cause other internal engineering issues. Overall I must say really well done Sony!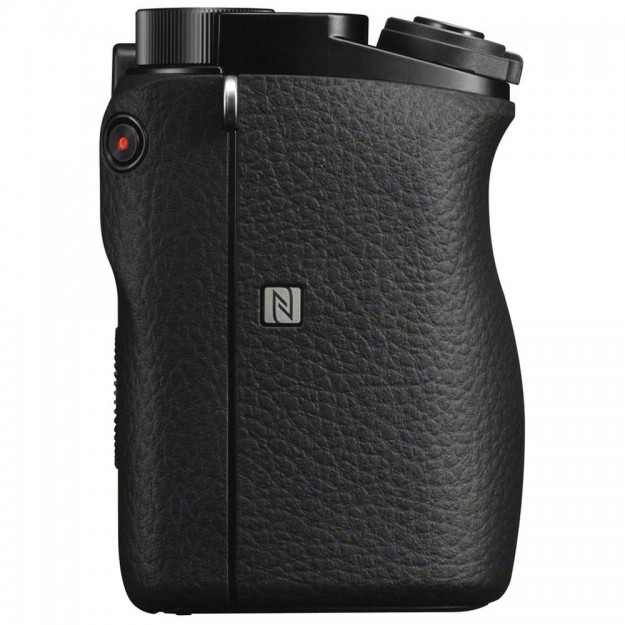 The A6000 features a few extra buttons on the camera body which makes it more usable in the real world without having to go into the menu system like on the Nex-6 for example. Plus the new function menu has two rows of six items that can be loaded with all the camera settings you would ever need. This makes it a one stop shop in combination with the C1 and C2 buttons that can be used for the really fast access features you use most often besides the already dedicated soft keys. C1 for example, I have set to focus magnify for when using manual focus. This is really helpful when using fully manual lenses and lens adapters, or when you just want to double check your focus accuracy. C2 I have set to the default still because the function menu has everything else I needed honestly. The configuration options are highly customizable and the menu system as a whole is a huge improvement over my Nex-6.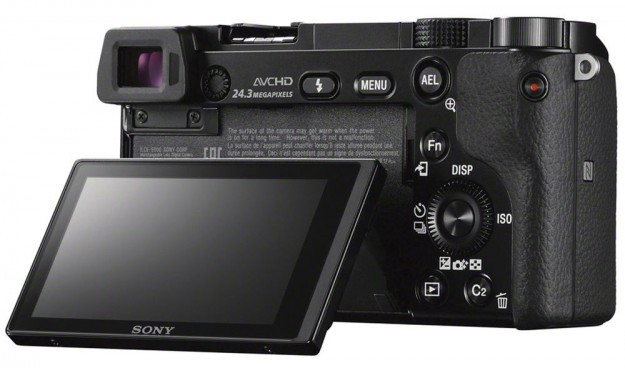 Not having a dedicated wheel for ISO, aperture, and shutter speed like the Nex-7, the A6000 lacks true manual control with physical dials unfortunately. Sony decided to keep the costs down and go for a more simple design. This leaves Nex-7 owners pissed off though, and I really can't blame them. Sony really should come out with a higher end model at some point, but I don't think their current marketing structure is set-up for that particular competition. I would like to see the tri-navi system brought back somehow and the incorporation of an exposure comp wheel would be a nice bonus. Slightly beefier build quality would also be welcomed if they could keep the cost under $1000 US. Pro's want the full manual control is the bottom line and Sony really needs to accommodate their users in my opinion, because not everybody wants to go full frame. Yes, a lot of folks do, but many don't have the money and prefer the larger APS-C depth of field plus smaller size/ weight etc..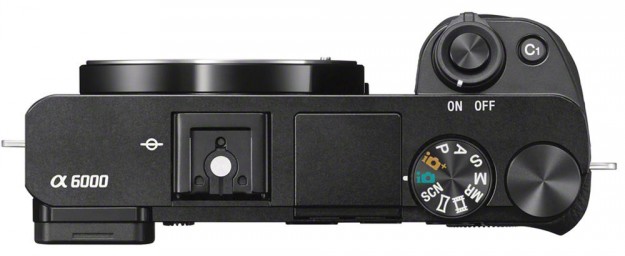 A suggestion for the menu system would be the addition of a favorites area, or most commonly used history for example. Finding the format option for example is harder than it should be, and this would save users a lot of menu scrolling time in my opinion. Format is in the suitcase area of the menu system by the way 😉
The user manual linked below has a detailed breakdown of the menu system and explains what each item is in order. A great reference for learning the camera!
A6000 Manuals
Sony A6000 Manuals @ Sony US (Click Here)
Sony A6000 Features Breakdown
24.3MP Exmor APS HD CMOS Sensor and BIONZ X Image ProcessorThe 24.3MP APS-C-sized Exmor APS HD CMOS sensor and BIONZ X image processor work together to produce high resolution, well-detailed imagery with minimal noise and notable low-light quality and sensitivity to ISO 25600. The sensor utilizes a gapless on-chip lens design, which fills the gaps between neighboring pixels with optimized lenses that match the angle of incidence to increase light gathering ability and produce edge-to-edge sharpness and quality. The processor also contributes to providing a wealth of speed throughout the camera system, including Fast Hybrid AF, a top continuous shooting rate of 11 fps, and full HD 1080i/p video recording in multiple frame rates. Fast Hybrid AF System The Fast Hybrid AF system utilizes both a 179-point phase-detection system and 25-point contrast-detection system to achieve precise focus in as little as 0.06 sec. Utilizing a Spatial Object Detection algorithm, this fast focusing system first employs the phase-detection AF points to quickly bring the subject into focus and then uses the contrast-detection AF points, with wide AF coverage, to fine-tune the sharpness for ensured accuracy. Beyond supporting single shot modes, this system also provides AF tracking when shooting up to 11 fps in continuous high mode and functions seamlessly when recording full HD movies.For further refinement, a series of distinct AF modes can be selected from depending on the subject. Eye AF is a detail-oriented focusing function that can prioritize a subject's pupil and dedicate focusing performance on that for sharply-rendered portraits; Lock-on AF is a dedicated focusing method for use with moving subjects and adjusts the target frame size as the subject moves throughout the image frame; AF area settings allow you to prioritize specific regions within the frame for increased accuracy; and AF-A (Automatic AF), AF-S (Single-shot AF), AF-C (Continuous AF), DMF (Direct Manual Focus), and Manual Focus modes can also be chosen.
Full HD Video Recording

Full HD 1080i/p video recording is supported at both 60 and 24 fps frame rates to produce high resolution movies with a smooth, cinematic look. Full HD videos are recorded using the high-quality AVCHD codec, while 1440 x 1080 and 640 x 480 formats are also supported in the Internet-friendly MP4 format.Benefitting advanced video applications, clean HDMI output is available for recording uncompressed video via an optional external recorder. Additionally, a Zebra function is available, in 70 to 100+ levels, during recording for easier detection of exposure clipping to prevent overexposure.
Body Design

Revolving around a compact and lightweight profile, the A6000 incorporates both an electronic viewfinder and a large rear LCD monitor. The Tru-Finder 0.39″ 1,440k-dot OLED EVF features a refined optical system that integrates four double-sided aspherical elements to provide 100% frame coverage and a wide 33° viewing angle for clear edge-to-edge viewing. The electronic viewfinder's design offers a true live view image, which is able to simulate the appearance of the finalized image prior to shooting and also avails focusing aids, such as MF Assist and the Peaking function. The 3.0″ 921k-dot rear Xtra Fine monitor is a larger alternative, suitable for making accurate compositions, reviewing imagery, and navigating the menu system. It features a tilting design that can tilt upward approximately 90° or downward 45° to benefit working from high and low angles. Additionally, WhiteMagic technology works to increase the overall brightness of the screen to better support use in bright or sunlit conditions. Complementing the overall handling of the A6000 is a customizable user interface that includes an Fn function button and seven other buttons that can be adjusted depending upon user preferences and assigned to one of 47 different functions. Furthermore, two top dials offer an intuitive means for selecting crucial camera settings in a deft manner. A built-in pop-up flash, featuring a guide number of 19.7′ at ISO 100, is available for working in difficult lighting conditions and a Multi Interface Shoe is also available for attaching additional on-camera accessories, such as flashes, video lights, and microphones.Built-In Wi-Fi ConnectivityBuilt-in Wi-Fi connectivity enables the A6000 to instantly share imagery to mobile devices for direct sharing online to social networking, via email, and to cloud storage sites. NFC (Near Field Communication) is also supported, which allows for one-touch connection between the camera and compatible mobile devices; no complex set-up is required. Once connected, the linked mobile device can also display a live view image on its screen and remotely control the camera's shutter.Additionally, PlayMemories Camera Apps are also supported via the built-in Wi-Fi connection, and allow you to personalize the camera's features depending on specific shooting styles. Apps are available to suit creating portraits, detailed close-ups, sports, time lapse, motion shot, and other specific types of imagery.Other Camera Features

The Sony E-mount affords compatibility with an extensive number of lenses and lens adapters.
An advanced 1200-zone evaluative exposure metering sensor delivers consistent and accurate results using multi-segment, center-weighted, or spot metering modes.
Auto Object Framing is an intelligent shooting mode that can automatically analyze the scene and subjects within it and determine an aesthetically-pleasing composition. The subsequent imagery will be cropped according to subject matter, resulting in a well-balanced composition that utilizes Face Detection and Tracking Focus to ensure high image quality and sharpness.
Clear Image Zoom can be used to magnify the center of scenes by 2x to effectively extend the reach of any focal length lens. This digital zoom technology uses an intelligent interpolation process to minimize the amount of image degradation in order to produce realistic, high-quality images.
Picture Effect modes allow you to apply creative settings and emphasize certain facets of individual images for a richer, more aesthetic picture quality. Posterization (Color/B&W), Pop Color, Retro Photo, Partial Color (R/G/B/Y), High Contrast Monochrome, Toy Camera, Soft High-Key, Soft Focus, HDR Painting, Rich-Tone Monochrome, Miniature, Watercolor, and Illustration modes are available.
The Photo Creativity feature provides quick access to Picture Effects as well as dedicated controls for adjusting Background Defocus, Brightness, Color, and Vividness. Additionally, these effects can be combined for nearly limitless adjustment options.
Superior Auto mode is an intelligent automated setting that can quickly identify the current shooting environment and adjust crucial camera settings to deliver optimized results. This mode also utilizes Auto HDR and Hand-held Twilight modes, which employ image compositing techniques to better handle difficult lighting conditions.
Anti-Motion Blur automatically corrects for subject movement in order to deliver clean, sharp imagery in low-light conditions. This is accomplished by recording six sequential frames and compositing portions of each image to ensure overall sharpness.
Hand-held Twilight Mode automatically composites details from six sequentially-recorded images in order to attain higher overall image sharpness when working in low-light conditions.
Multi Frame NR records consecutive images at a reduced ISO sensitivity and then composites them into a single image to realize higher effective sensitivity with minimal image noise.
Dynamic Range Optimizer (DRO) works to improve images featuring backlit subjects or scenes with high contrast where details can be lost in the shadows or highlights. This mode can be controlled automatically or fine-tuned using five settings.
Auto HDR automatically records three sequential frames of an image and composites them into a single frame to realize greater shadow and highlight detail with an extended range of mid-tones.
Creative Style settings provide control over how the camera processes images based on six different predetermined styles: Standard, Vivid, Portrait, Landscape, Sunset, and B&W. Within these settings, contrast, saturation, and sharpness can also be adjusted depending on personal preference.
In-camera creation of 4K slide shows is possible for rich playback to ultra high definition televisions. An HDMI port is incorporated into the camera's design, too, to enable direct connection to HDTVs.
TRILUMINOS Color support is afforded by the A6000 to produce rich, natural colors when imagery is viewed on a TRILUMINOS Display.
Convenient USB charging allows you to charge the included lithium-ion battery in-camera via USB connection from either an AC outlet or PC source.
Sony A6000 Specs
Software

Operating System Compatibility : supported, Windows Image Mastering API(IMAPI) Ver.2.0 or later is required to use the function for creating discs.) Windows Vista® SP2 (Starter Edition is not supported) Windows® 7 SP1; Windows® 8; Mac OS X (10.6-10.8)
Supplied Software : Supplied Software: PlayMemories Home, Image Data Converter Version 4

Camera

Camera Type : Mirrorless Camera
Lens Compatibility : Sony E-mount, (Sony A-mount, Minolta/Konica Minolta Maxxum lenses confirmed via optional LA-EA adaptor)
Lens Mount : Sony E-mount
Color : Black

Drive System

Continuous Shooting Speed : Continuous mode: 11fps (hi), 6fps (mid), 2.5fps (low) with AF
Flash Sync Speed : 1/160 sec.
Shutter Speeds : Still images: 1/4000 to 30 sec., Bulb Movies: 1/4000 to 1/4 (in 1/3 step), up to 1/60 in AUTO mode, up to 1/30 in Auto Slow Shutter mode
Self-timer : 2-sec. or 10-sec. delay
Shutter Type : Electronically-controlled, vertical-traverse, focal-plane shutter
Drive Mode : Single Shot, Continuous shooting (Hi/Mid/Lo selectable), Self-timer (10/2 sec delay selectable), Self-timer (Cont.) (with 10 sec delay 3/5 exposures selectable), Bracket: Cont. / Single/ WB / DRO

Exposure System

D-Range Optimizer : Off, Dynamic Range Optimizer (Auto/Level (1-5)), Auto High Dynamic Range (Auto Exposure Difference, Exposure Difference Level (1-6 EV, 1.0 EV step))
Auto Exposure Lock : Yes with AE lock button (AE also locked when shuter button is halfway: Auto/On/Off selectable)
Exposure Compensation : Still images: ±5.0 EV(1/3EV, 1/2EV steps selectable) Movies: ±2.0 EV(1/3EV steps selectable)
Picture Effect(s) : 13 modes: Posterization (Color, B/W), Pop Color, Retro Photo, Partial Color (R, G, B, Y), High Contrast Monochrome, Toy Camera, Soft High-key, Soft Focus, HDR Painting, Rich-tone Monochrome, Miniature, Watercolor, Illustration
Exposure Settings : iAUTO, Superior Auto, Programmed AE (P), Aperture priority (A), Shutter priority (S), Manual (M), Memoru Recal (MR), Sweep Panorama, Scene Selection, Movie
Scene Mode(s) : Portrait, Landscape, Macro, Sports Action, Sunset, Night Portrait, Night View, Hand-held Twilight, Anti Motion Blur
Exposure Bracketing : Cont. Bracket: x3 or x5 image in 1/3 EV, 1/2 EV, 2/3 EV, 1.0 EV, 2.0 EV, 3.0 EV increments, Single Bracket: x3 or x5 image in 1/3 EV, 1/2 EV, 2/3 EV, 1.0 EV, 2.0 EV, 3.0 EV increments, White Balance Bracket: Low (LO), high (HI) DRO Balance Bracket: Low (LO), high (HI)
Metering Modes : Multi-segment, Center-weighted, Spot
Metering Sensitivity : EV 0 to 20 EV (at ISO100 equivalent, with F2.8 lens attached)
Metering : Advanced 1200-zone evaluative metering
ISO : Stills: ISO 100-25,600 selectable in 1/3 EV steps, Still Auto: ISO 100-25,000 selectable upper and lower limit, Movies: ISO 100-12,800 selectable in 1 EV steps, Movie Auto ISO 200-12,800 selectable upper and lower limit
Noise Reduction : Long exposure NR: On/Off, available at shutter speeds longer than 1 sec., High ISO NR: Normal/Low/Off selectable, Multi-frame NR: Auto/ISO 100 to 51200
Creative Style : Standard, Vivid, Neutral, Clear, Deep, Light, Portrait, Landscape, Sunset, Night Scene, Autumn leaves, Black & White, Sepia, Style Box(1-6), (Contrast (-3 to +3 steps), Saturation (-3 to +3 steps), Sharpness (-3 to +3 steps))
Color Temperature : 2500 to 9900K & Color Filter (G7 to M7: 15-steps, A7 to B7: 15-steps)
White Balance Mode : Auto WB, Daylight, Shade, Cloudy, Incandescent, Fluorescent (Warm White, Cool White, Day White, Daylight), Flash, Color Temperature (2500 to 9900K) & Color Temp. Filter (G7 to M7: 15-steps, A7 to B7: 15-steps), Custom, Underwater Auto

Flash

Flash Modes : Flash off, Auto flash, Fill-flash, Slow Sync., Rear Sync, Wireless, Red-eye reduction (On/Off)
Flash Bracketing : 1/3, 1/2, 2/3, 1.0, 2.0, 3.0 EV steps, 3/5 frames (1.0/2.0/3.0 EV : only 3 frames) selectable
Guide Number : 6 (in meters at ISO 100)
Flash Coverage : 16mm (focal length printed on lens body)
Flash Type : Built-in, Pop-up
Flash Metering System : Pre-flash TTL
Flash Compensation : ±3.0 EV (switchable between 1/3 and 1/2 EV steps)

Focus Control

Focus Features : Lock-on AF, Eye AF, Predictive control, Focus lock, AF illuminator (with Built-in LED type) Approx. range; 0.3- approx. 3.0m (with E PZ 16-50mm F3.5-5.6 OSS lens attached)
AF Illuminator : Built-in LED, Range: approx. 3′ 4" – 9′ 9" (0.3m-3.0m)
Focus Sensitivity : EV0 to EV20 (ISO100 equivalent with F2.8 lens attached)
Focus Area : Wide (179 points phase-detection AF, 25 points contrast-detection AF), Zone, Center-weighted, Flexible Spot (Small, Medium, Large)
Focus Points : 179 points (phase-detection AF) 25 points (contrast-detection AF)
AF Modes : AF-A (Automatic AF), AF-S (Single-shot AF), AF-C ( Continuous AF), DMF (Direct Manual Focus), Manual Focus
Focus System : Fast Hybrid AF(phase-detection AF/contrast-detection AF)

Imaging Sensor

Processor : BIONZ X™ image processor
Pixel Gross : Approx. 24.7 megapixels
Focal Length Conversion Factor : 1.5x
Color Filter System : RGB primary color
Effective Picture Resolution : Approx. 24.3 megapixels
Anti Dust : Charge protection coating on Optical Filter and ultrasonic vibration mechanism
Imaging Sensor : Exmor™ APS HD CMOS sensor (23.5 X 15.6mm)

Interface

NFC : Yes (NFC Forum Type 3 Tag compatible, One-touch remote, One-touch sharing)
HDMI Terminal : HDMI® micro connector (Type-D)
DC IN : Yes via optional AC-PW20AM (sold separately)
Memory Card Slot : Dual compatibility slot: Memory Stick PRO Duo™/Pro-HG Duo™/PRO-HG HX Duo™ media – SD, SDHC and SDXC memory card
HD Output : HDMI micro connector (Type-D) BRAVIA Sync (link menu) PhotoTV HD 4K Still Image playback via HDMI to compatible 4K TV
Tripod Mount : Yes (1/4″ diameter, 20 threads per inch)
Remote Commander : Yes, via optional RM-VPR1
USB Port(s) : USB 2.0 Hi-speed (mass-storage, MTP)
Wi-Fi : Yes(Wi-Fi Compatible, IEEE 802.11b/g/n(2.4GHz band) )
Accessory Shoe : MI (Multi-interface shoe), Standard ISO 518:2006 design with multi-pin configuration for additional accessories
A/V Remote Terminal : Yes, via optional RM-DSLR2 wired Multi-terminal remote

LCD Display

Peaking : Yes (Level setting: High/Mid/Low/Off, Color: White/Red/Yellow)
Real-time image adjustment display : Yes (On/Off)
LCD Type : 3.0″ TFT LCD (921,600 dots)
Coverage : 100%
Customization : Graphic Display, Display All Info, No Disp. Info, Histogram, For viewfinder
Angle Adjustment : Tilt up by approx. 90 degrees, down by approx. 45 degrees
Zebra : Yes (levels 70, ,75, 80, 85, 90, 95, 10, 100+, off)
Histogram : Yes (On/Off)
Live View : Continuous Live View
Brightness Control : Auto, Manual (5 steps between -2 and +2), Sunny Weather mode
Grid Display : Yes (Rule of Thirds, Square 4×6, Diagonal & Square 4×4, Off)

Power

Battery Type : InfoLITHIUM® NP-FW50 (7.2V)
Number of Still Images : Approx. 310 shots (Viewfinder), Approx. 360 shots (LCD monitor) (CIPA standard)
External Power : AC Adaptor AC-PW20
Battery Capacity : 1080 mAh
Power Consumption (in View Finder Operation) : Approx. 2.8W (still images, with E PZ 16-50mm F3.5-5.6 OSS lens)

Power consumption

Power Consumption (in LCD Screen Operation) : Approx. 2.4W (still images, with E PZ 16-50mm F3.5-5.6 OSS lens)

Recording

Panorama Still Image Size : Wide: Horizontal 23M (12,416 x 1,856), Wide: Vertical 12M (5,536 x 2,160), Standard: Horizontal 15M (8,192 x 1,856), Standard: Vertical 8.4M (3,872 x 2,160)
Audio Format : Dolby Digital (AC-3) / MP4: MPEG-4 AAC-LC, 2ch
Video Format : AVCHD Ver. 2.0 / MP4 (MPEG-4 AVC (H.264))
Video Mode : AVCHD: PS – 1920×1080/60p @28Mbps FX – 1920×1080/60i @24Mbps FH – 1920×1080/60i @17Mbps FX – 1920×1080/24p @24Mbps FH – 1920×1080/24p @17Mbps MP4: HD – 1440×1080/30fps @12Mbps, VGA – 640×480/30fps @3Mbps
Color Space : Still: sRGB standard (with sYCC gamut), Adobe RGB Movie: xvYCC standard (x.v.Color™ when connected via HDMI cable) Compatible with TRILUMINOS™ color
Still Image Size 16:9 : L: 6000 x 3376 (20M) M: 4240 x 2400 (10M) S: 3008 x 1688 (5.1M)
Still Image Size 3:2 : L: 6000 x 4000 (24M) M: 4240 x 2832 (12M) S: 3008 x 2000 (6.0M)
Still Image Mode : RAW, RAW & JPEG, JPEG Fine, JPEG Standard
Still Image File Format : JPEG (DCF Ver. 2.0, Exif Ver.2.3, MPF Baseline compliant), RAW (Sony ARW 2.3 format)
Media Type : SD, SDHC and SDXC memory card Memory Stick PRO Duo™/Pro-HG Duo™ media
Still Image Max Effective Resolution : 24.3M pixels (approx.)

Service and Warranty Information

Limited Warranty Term : 1 Year Parts & Labor

Viewfinder

Type : 0.39″ (1.0 cm) OLED electronic viewfinder (color), 1,440,000 dots
Field of View : 100% (approx. 33° vewing angle)
Magnification : Approx. 1.07x (35mm camera equivalent: Approx. 0.70x) with 50mm lens at infinity, -1m-1 diopter
Diopter Adjustment : -4.0 to +3.0m-1

Weights and Measurements

Dimensions (Approx.) : Approx. 4-3/4″ x 2-7/8″ x 1-13/16″ (120mm x 67mm x 45mm)
Weight (Approx.) : Approx. 10.1 oz (285 g) (body only) Approx. 12.1 oz (344 g) (with battery and memory stick)
Sample Photos
I took almost 1000 sample photos with the A6000 and in that mix I have a few pretty good real world captures that I believe show off what the camera can do best 😉 The Lab photos should clear up any other concerns you may have about color and what not, but please feel free to ask questions below in the in the comment area!
Real World
For these real world A6000 sample photos I used both the APS-C designed E-Mount 18-105mm f/4 OSS G PZ Lens and the Full Frame E-Mount 70-200mm f/4 OSS G Lens. Exif info is below the image in the captions and please click the photos for the ~1100px high res versions!
Random shots:
My little photographer:
Taylin with Layla running in the background.
High ISO and Low Light

From the Aquarium I got a lot of low light sample photos and I was very pleased with low noise considering the high resolution sensor and pixel density.
Layla at school enjoying her ice cream under the horrible florescent lights using Auto ISO.
More Aquarium photos this way >>
Lab Testing and High ISO
Check out the current lab scene via the e-mount 70-200mm f/4 OSS G lens first for a really high quality sample of what the camera and sensor can do.
High ISO Testing – Raw Quality

A6000 Auto Focus Testing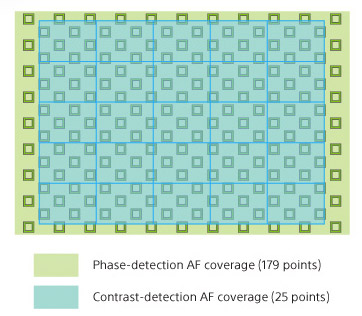 So I tried on a few occasions to see just how fast the Sony A6000 is in the real world and I came to a few conclusions. The new 172pt Hybrid AF is really fast and can track a moving subject at a relatively low speed when a shallow depth of field is being applied. At high speed and low depth of field, the hybrid AF is just not as good as the modern DSLR like the A77 II, A77, A58, A57, A99, and so on. It just can't keep up in some situations like Layla on a swing and me zoomed in to 105mm so she fills the frame. Her movement relative to the camera and depth of field is too fast for the A6000 when I tested it like this. If I zoomed out and created a much larger depth of field I did have some success, but I think that was more the fast shutter speed that saved the day rather than the actual AF speed.
The swing test is a really hard one, so I went for Layla riding on her bicycle next and that was also really hard due to the shallow depth of field I created by zooming way in. The A6000 did capture a few frames and did a decent job overall, but again did not perform to a DSLR standard that some might be looking for if debating a format switch.
Lastly I was playing around with the dogs at my brothers house and Sandy was running out to get her football and just trotting back to me at a reasonable speed. So, I went and got the A6000 and mounted up the killer 70-200mm f/4 OSS Lens and set the camera to High Speed shooting mode, Continuous Focus, and the Center Focus area. I then tossed the football and zoomed in to the dog while also trying to get as low as possible. Sandy is one of the fastest dogs ever, so by the time I get down she is at the ball 😉 In any event, the slower trotting speed that Sandy carried on her way back to me me with the ball was captured by the A6000 with success. Shot after shot was sharp and it tracked accurately for almost the entire sequence of images over and over. I was very impressed by this even though the speed was slower, because the fact that it tracked continuously on a moving dog is amazing in any situation. The Nex-6 for example can't do this from my extended testing, but a DSLR can. A really good DSLR can track the dog at full speed with practice just for reference.
All that being said, the A6000 AF performance is really good and a noticeable jump in tracking ability and hit rate over the Nex-6, Nex-7, and A5000.
Here's a few sample photos showing off the fast tracking capabilities of the A6000, and first a photo of Sandy edited a bit from the testing.
Here is a few from the series but I have all of the straight off the camera uploaded here on Google+ (Click Here) if you want to look at all the frames. Keep in mind I got several sets of images just like this in a row!
Sony A6000 Sample Video
| | |
| --- | --- |
| | I took tons of sample video with the Sony A6000 using mostly the 18-105mm f/4 OSS G powerzoom lens which I'm also currently reviewing. The video quality is far superior to my older Nex-6 which is one of the reasons I took so much video in the first place. The focus is also significantly better in video mode with way less hunting. The new BionzX processor really helps speed things up and allows for the camera to process the video more in the limited time available. The results are really good in my opinion, although the output format is still the same AVCHD which is limiting for editing purposes, but small in file size as a compromise. Regardless of the format, the output quality is much less grainy and has much less moire'. |
First a low light video from an aquarium trip the family and I took a few weekends ago 😉 Be sure to select the HD Video Quality once the videos start playing!!
I then took even more video in good light to see how it performs and was very impressed yet again! See for yourself:
Sony A6000 vs Sony Nex-6
Below is an illustration I made up in Photoshop comparing the A6000 vs the Nex-6 side by side, but I also wrote an article dedicated to this linked below.

A6000 vs Nex-6 Comparison Video
I also recently created an entire article dedicated to comparing the A6000 vs the Nex-6 Here >>
Sony A6000 vs Nex-6 VS Nex-7 – Sensor Scores
Courtesy of DXOMark.com (Click here and scroll down a little), we have the sensor scores from all three cameras and see for yourself their scientific testing and scores: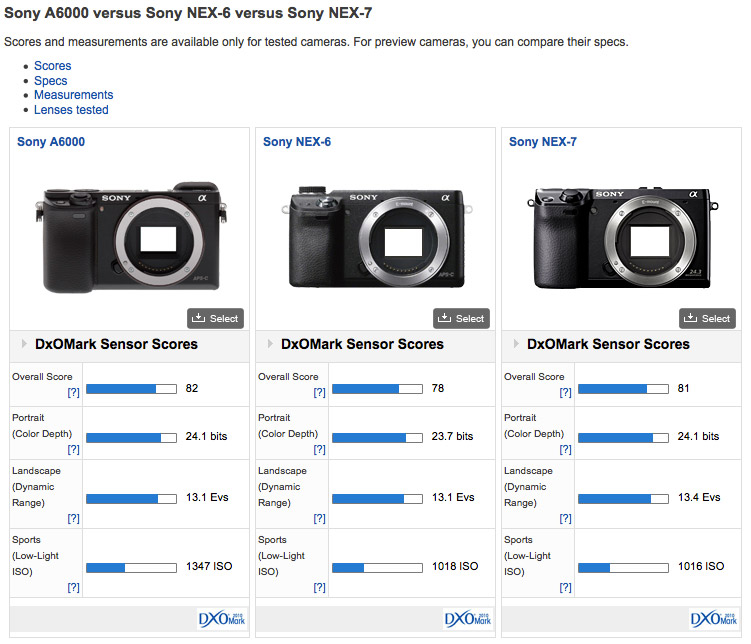 Sony A6000 and Lens Adapters
I tested a few lens adapters on the A6000 including the powerful Metabones III electronic unit which I use with my Canon EF lenses, and the passive RainbowImaging adapter which mounts to the old school Minolta lenses. I created an entire article on this with tons of sample photos and much more detail here: Sony A6000 and Using Lens Adapters >>, but I do want to share a few shots I took with the various adapted lenses in this review though, so first a simple flower photo taken with the Canon EF 24-105mmmm f/4 L IS Lens via the Metabones III lens adapter.
I took the next two photos with the Minolta MC 50mm f/1.4 Rokkor-X lens and you see just how narrow the depth of field can be 😉
Sony Alpha A6000 Video Review
Be sure to select the HD Video quality once the video starts playing so you can go full screen and have a nice crisp view!
Conclusions
The Sony Alpha A6000 is the best all around mirrorless camera Sony has made to date! It really has everything we "need" to get the job done in one convenient well made and affordable package. Is it perfect? Well considering everybody wants slightly different things in a camera, of course it's not perfect. However, it's as close as you can get for the given price point in my opinion. It could use another manual control dial though for a true tri-navi system and a touch screen would be nice. I also notice the level gauge is gone which I did really like and use often on my Nex-6. The cost is really kept down though by leaving these few things out. Remember it's only $648 Off for the A6000 Body Only!
| | |
| --- | --- |
| | So, coming from the Nex-6 the A6000 has more mega-pixels, faster processor, a much better auto focus system, much better video quality, better build quality, and an overall refined design. Coming from the Nex-7, you get an updated 24mp sensor that has lightning fast auto focus in comparison, huge high ISO improvements for low light shooting, and a new body design that does not have the killer tri-navi layout. It's worth upgrading for the faster auto focus, high ISO abilities, and better video if you use those features, otherwise not really worth it in my opinion. Same goes for the Nex-6 as the image quality is not that much better in the real world. |
The A6000 has a lot to offer and if you are ready to upgrade from a point and shoot or try out the mirrorless cameras for the first time instead of the bulky DSLR you are lugging around, it's a great option! The older Nex-6 is also a great option being on sale and all with the newer A6000 in the spotlight and all. If you need a 180 degree flip screen, then the A5000 is the way to go which I recently reviewed here>>
I hope you got what you're looking for in my Sony Alpha A6000 review, and please feel free to ask questions below if you have them.
Support and purchase links:
Your support is greatly appreciated as we run this site in our spare time and are not paid. We can however, make a small commission if you click a product link that your interested in. That click will then give us credit if you choose to purchase any given item. This has no effect on the cost of the product, and is a simple way to give back to SonyAlphaLab.com for the effort and info we provide.
Tip Jar: https://www.paypal.me/SonyAlphaLab
Support SonyAlphaLab by becoming a | Patreon
Also, be sure to keep following us on Google+ | Twitter | Facebook |
Direct Shopping Links – Thanks for your Support!!
BHPhotoVideo | Amazon – US | CA | UK
Thanks,
Jay