Review
I received the Sony a35 or SLT-A35 about 3 weeks ago and in this Hands on Review I will cover everything you need to know including Sample Photos, HD Video Samples, Hands on Input, Advice ect…
The A35 is Sony's current introductory SLT (translucent Mirror Technology) Camera featuring a 16.2mp Image processor and goes for $599.99 (Camera Body Only). It's capable of shooting 5.5fps continuous and 7fps in the Tele-zoom High Speed mode. The a35 features an A-mount lens housing which supports a ton of lenses! Check them all out over Here after you read this review! The HD Video capabilities are also quite impressive at 1920 x 1080/ 60i, especially for the price point of this camera!
To Start off this review I just wanted to preface that I last reviewed the Sony Nex-C3 and I thoroughly enjoyed the experience and camera, but when I got my hands on the Sony A35 I felt much more at home.  I didn't expect I would say that, but the larger camera body and all the physical buttons on the camera make usability much easier.  On the Nex-C3  you only have a few physical buttons that you can program to access those ever so important features like metering mode, WB, exposure comp, focus mode, shooting modes, etc….  The Sony Alpha 35 has all those buttons right at your fingertips, so you don't have to hunt through a menu system which from a usability perspective is much faster and better in my opinion.
Please keep in mind I'm an experienced photographer, so depending on your skill level and intentions with the camera, this might not be the biggest deal to you. For me however, it was huge and incredible apparent once I had the DSLR style camera body in my hands vs the Nex style camera body. That being said, the Nex-7 looks like it address a lot of these issues with it's dials and viewfinder, so I can't wait to get my hands on that little powerhouse!!
Moving back to the Sony Alpha 35 review, I chose the Sony SAL-1680Z DT Carl Zeiss 16-80mm f/3.5-4.5 Zoom Lens  for a mate to this camera body as it's pretty much the best professional grade all around lens available 😉 The other lens I considered was the Sony SAL-16105 DT 16-105mm f/3.5-5.6 Zoom Lens, but it's just not the same quality and I really wanted to show off the A35's image quality as accurately as possible.  On a side note, all my Canon Lenses are L glass which makes me a bit spoiled in the optical department, but it also makes me used to seeing razor sharp images through top quality optics. Therefore the better optics makes it easier and more fair for the camera being reviewed, in this case the Alpha 35.  Pardon the rambling, but I like to explain my methods for those who wonder.
I also shot exclusively in jpeg mode as the Raw program provided by Sony is horrible on my Mac and Adobe has yet to release the raw codecs for the A35 🙁 Come on Adobe!! Jpeg mode is great though on this camera and a lot of the features require you use jpeg mode anyway as they are not available in Raw. AutoHDR is one of those features that only works in jpeg mode.
High Res Photos:
Lets get a closer look at the Sony Alpha 35 and be sure to Click on the images for a nice large Gallery style view!! Once in gallery view you can hover over the image and navigate to the next and previous photos. Also note the image info is on the bottom of each photo. All the photos in this review are also available in my Sony Alpha 35 Full Resolution Sample Photo Gallery >>

You get a really nice lens pouch with the Carl Zeiss 16-80mm lens and that is always a nice plus when purchasing a lens!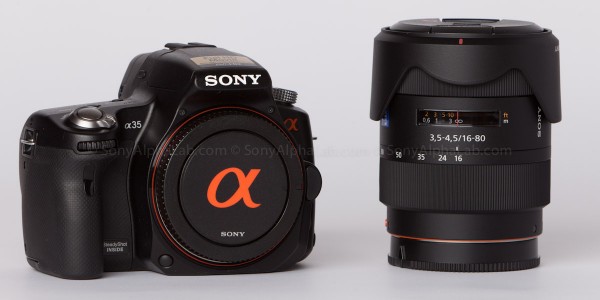 Out of the Box & Pouch – Sony Alpha 35, Sony SAL-1680Z 16-80mm f/3.5-4.5 Carl Zeiss Lens – Extended to 80mm
Notice all those buttons at fingers reach!!
 Check out the Flash
Be sure to click the Next Page Buttons Bellow!!