Review
Hello, and in this Hands-On Review I will cover the Sony A-Mount 70-300mm f/4.5-5.6 SSM G II Lens using the full frame Sony A7II via the Sony LA-EA3 Electronic Lens Adapter.
I had a lot of fun using this lens thanks to the extreme reach and range offered, but the Sony A7II was not the best at focusing speed due to the first generation on sensor phase detection technology. As you will see in the lab focus testing, it did perform pretty good overall, but not super fast like the lens is actually capable of thanks to the SSM technology. The Super Sonic Wave Motor allows for crazy fast focusing when using a DSLR style Sony camera like the A77 II or A99 for example. The Sony LA-EA4 lens adapter would have been a better option for fast focusing because it has the translucent mirror technology and DSLR like focusing system. I specifically wanted to test the A7II focus performance though, because many of readers have requested this test in particular.
SAL70300G2 – Key Features:
A-Mount Lens/Full Frame
Aperture Range: f/4.5 to 29
One Extra-Low Dispersion Element
Nano AR Coating
SuperSonic Motor AF System
Improved AF Tracking Algorithm
Minimum Focus Distance: 4′
Moisture and Dust-Resistant Design
Rounded 9-Blade Aperture Diaphragm
62mm filter thread
Lens Hood and Carrying Case Included
APS-C effective 105-450mm
16 elements in 11 groups
Weight = ~750grams
Price = ~$1148 US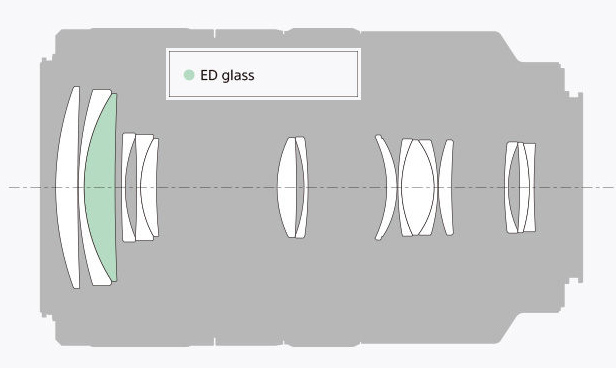 My Youtube Review
Here is my video review that covers all the ins and outs of the lens and includes hands on footage plus focusing testing in the lab! Be sure to select the best possible quality and viewing on a smart TV is great option!
Sample Photos
I took several sample photos using this lens, but not as many as I normally do honestly. The weather and limited time I had with the lens made it pretty hard to get really good shots, but I did get plenty to see how it actually performs in the real world and lab!
Be Sure to Click the Photos for Large ~1200px Version
Lab Testing
I covered the range in the lab so you can see how the lens performs at the minimum focus at the most common focal length. Note how the background changes as the zoom and aperture vary…
300mm @ f/5.6
300mm @ f/8
300mm @ f/11
200mm @ f/5.6
200mm @ f/11
100mm @ f/5
100mm @ f/11
70mm @ f/4.5
70mm @ f/8
70mm @ f/11
Real World
I took a decent amount of photos with this lens and the 70-300mm range was really impressive on the full frame A7II as tested. You would however get an effective 105-450mm if using the Sony A6000 or any other crop factor E-mount camera encase you are wondering 😉
Be Sure to Click the Photos for Large ~1200px Version
Some snapshots from around the house.
Bones Jones in the house 🙂
Check out the real world 70-300mm range:
Conclusions
When using this lens I could not help think of the competition like the Tamron 70-300mm for example. It also has killer optics and goes for less than half the price of the Sony 70-300mm SSM G II Lens . This makes it very hard to recommend this lens, based on the killer sample photos I have seen from the Tamron in particular. A very talented forum member (Obelix) from Wisconsin posts amazing bird photos with the Tamron and can be seen here if you would like to see what that lens is capable of in the real world via skilled hands.
So, with that being said this review is about the Sony 70-300mm SSM G II Lens, and it did perform really well overall. I did have a few shots that looked sharp on camera, but when viewing on my computer they were slightly soft. I am not sure if the focus was the issue or of camera shake was the issue in all honestly. I have a very steady hand and the shutter speeds were over 1/300sec, so they should have been sharp in my opinion. This could be due to the A7II focusing accuracy for sure, but worth noting.
In the end I would say, go for the Tamron lens over the Sony in this particular case. I have seen tons and tons of killer photos from the Tamron and like I said, it's less than half the price! Sony should consider making this lens more affordable in my opinion although the technology is arguable better. Nano lens coatings and the SSM motor should yield advantages when shooting high speed sports in high contrast situations, but in the real world I still think the Tamron is a better deal and bang for the buck.
I really hope you guys got what you were looking for in this review and please feel free to ask questions and comment below as always 😉
Jay
Learn more about the Sony 70-300mm SSM G II Lens @ BHPhoto (Click Here)
Your support is greatly appreciated as we run this site in our spare time and are not paid. We can however, make a small commission if you click a product link that your interested in. That click will then give us credit if you choose to purchase any given item. This has no effect on the cost of the product, and is a simple way to give back to SonyAlphaLab.com for the effort and info we provide.
Tip Jar: https://www.paypal.me/SonyAlphaLab
Support SonyAlphaLab by becoming a | Patreon
Also, be sure to keep following us on Google+ | Twitter | Facebook |
Direct Shopping Links – Thanks for your Support!!
BHPhotoVideo | Amazon – US | CA | UK
Thanks,
Jay